Elvis's '69 Las Vegas Opening
A Pivotal Event in His Career
Elvis historians would be hard pressed to find a more pivotal date in his career than July 31, 1969. Others might argue for the first Sun session in 1954, the Sullivan shows in 1956, or the "Comeback" special in 1968. To me, though, Elvis's return to live stage work at the International Hotel that mid-summer night in 1969 was the most significant and consequential event of his career.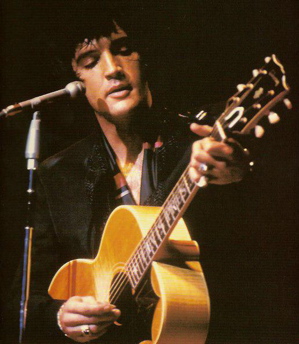 It was significant because it made him accessible to his millions of fans and jump- started his career again after nearly a decade of self-imposed exile in Hollywood. It was consequential because it also started Elvis down the road to excessive work, drug dependence, ill health, and an early death. The gloomy outcomes of his return to live performing in 1969, however, are fodder for discussion on another day. Now let's recall the excitement and anticipation triggered when Elvis opened his run at the International Hotel 40 summers ago.
The nation's entertainment press covered the event en masse. After all, Elvis had not performed live on stage since a 1961 benefit concert in Hawaii. The press, Elvis's fans, and certainly Presley himself wondered if he could recreate the stage excitement he had produced in the fifties.
• Variety and Billboard covered opening night
Of course, show biz's two major journals, Variety and Billboard both reviewed opening night at the International. Variety's review appeared in the magazine's issue of August 16, 1969. James D. Kingsly wrote Billboard's analysis for its August 9, 1969, issue.
Variety opened with the following proclamation of Elvis's return to the Las Vegas stage after a long absence.
"The Elvis Presley who was a freakish kid curiosity when he was third feature on a New Frontier showbill in 1956, is no more. He has become 'ELVIS,' not only in huge electric letters on the International's marquee, but in most publicized and verbalized affirmations of his superstar niche. His month in the International is practically a sellout as he returns to two-a-night (at $100,000 per week) after nine years away from such in-person sorties."
In Billboard, Kingsly focused on the challenge that Elvis faced that night. "The greatest rocker of them all came and met one of his toughest audiences," Kingsly noted. "It was probably Elvis' toughest musical challenge since he rocked out of the South with long sideburns, rotating pelvis and a banged up guitar."
• Elvis worked hard to reproduce the old magic
Both Kingsly and the Variety reviewer, identified only as Will, watched as Elvis strove to meet the challenge. Variety observed that Elvis had obviously worked hard in preparation for his return to live performing. At age 34, however, he had a little trouble replicating the boundless stage energy he displayed in 1956 at age 21.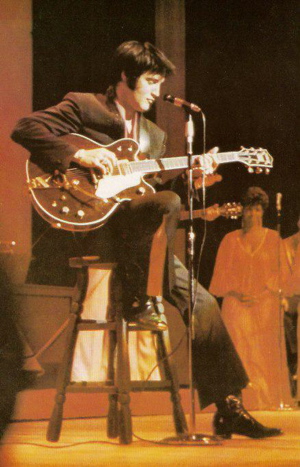 "Presley has had to get in shape physically as well as musically for this month," observed the writer. "Long, grueling rehearsals have put him back into the old groove, with warbling synchronizations emerging from okay to excellent. The typical body turbinations, however, leave him huffing and puffing after several particularly wild onslaughts to recapture the early physical and sexual image."
Billboard's review was more generous, however. "It was not the Elvis with the rough edges of the middle 1950s on stage Thursday," Kingsly concluded. "It was a polished, confident and talented artist, knowing exactly what he was going to do and when … it was the Elvis of the past as he 'Put the feeling into the songs, and let the vibrations of the music have their say, swinging hips, revolving pelvis and moving shoulders.'"
Though pop music morals had changed (and no one was more responsible for sending popular music down that road than Elvis) in the 13 years since his last Vegas engagement, Variety remarked as follows that Presley's early rock classics were still well received by his audience at the International.
"The early siren strains that elevated him into leadership of the 1950s' vanguard (who converted black rhythm & blues into white rock & roll) seem rather quaint in relation to some of the open permissiveness in lyrics and gestures now in vogue. Each one is accorded huge acclaim as he opens with 'Blue Suede Shoes.'
"Similar paeans of approval accompany gyratory, thrusting motions during 'Jailhouse Rock,' 'Don't Be Cruel,' 'Heartbreak Hotel,' 'All Shook Up' and 'Hound Dog,' which latter he dedicates to the International engagement in a tossaway put-on."
• Presley delivered "throaty purrs" on ballads
Recalling that in the early years of his popularity, Elvis had received some "serious accolades" for his ballad singing from critics who disapproved of his wilder numbers, Variety praised the older Elvis's ability to deliver the softer tunes. "He proves his mastery," the reviewer wrote, "of this more sensitive element of his oeuvre in some throaty purrs of 'Love Me Tender,' 'Memories,' 'In the Ghetto' and 'Yesterday.'"
Variety offered special praise for Elvis's performance of the soon-to-be-released "Suspicious Minds." "It is driving, sensuous medium rock that whips the audience into a frenzy," read the review of the tune destined to become Presley's first #1 single in seven years.
Colonel Parker had his say in the Billboard review. "Elvis has worked extremely hard for this show," Kingsley quoted the Colonel. "But then he is one of the most dedicated entertainers I have ever been associated with." Kingsley added that Parker "enjoyed his stay working over the roulette tables, and putting everything together for the show."
Apparently a technical problem interrupted the flow of Elvis's opening night performance, with "severe feedback oscillations causing discomfort on both sides of the stage," according toVariety.
• Presley engagement broke Vegas $ and crowd records
That historic, initial performance at the International on July 31, 1969, was a star-studded event on both sides of the stage, as well. In the last paragraph of its review, Variety declared as follows that Elvis proved to the audience, and himself, that he was back where he belonged.
"Presley took all things in fine stride throughout the invitational VIP preview, with most star acts on the Strip in attendance and a total of about 2,000 comped. No verbal hurrah or musical fanfare accompanied his slouching, grinning amble from the wings, dressed in open-neck black blouse and bell trousers. He was immediately affable and, although nervous, very much in command of the entire scene as he went on to prove himself as one of the more potent Vegas lures."
Elvis closed at the International on August 28, 1969. Two weeks later Variety reported the record numbers. During the engagement's 29 shows, Elvis set Las Vegas attendance and gross records. With the minimum charge set at $15 per customer, the 101,509 attendees paid a total of $1,522,635 to see Elvis. Average attendance in the 2,000-seat capacity show room was 1,750. Weekends were standing room only. Following Elvis at the International were his recent movie costar, Nancy Sinatra, along with the Osmond Brothers.
• Las Vegas found its greatest stage superstar
It was obvious from Variety's and Billboard's reviews that Elvis's first triumphant run at the International Hotel had established him as an immediate superstar on the Las Vegas stage. Over the next seven years, he would return to the desert for 14 more engagements at the International and the Hilton, claiming the honor of being the most successful big name act ever to play Las Vegas. And it all started on one magical mid-summer night—July 31, 1969. — Alan Hanson | © November 2009


Go to Elvis on Stage

Go to Home Page