Elvis Presley and Liberace
Shared a Love for "Opulence"
"Elvis and Liberace had two things in common, other than the fact that they were both musicians. They were both twins who lost their brothers at birth, and they both loved opulence." | Lamar Fike in Elvis Aaron Presley: Revelations from the Memphis Mafia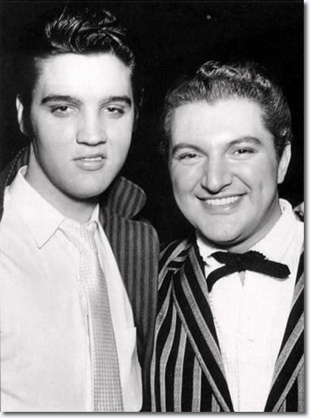 On the surface, it seems unlikely that Elvis and Liberace would have had anything in common. They were born a generation apart. The latter catered to a conservative adult audience in the mid-fifties, while Elvis appealed to a youthful generation trying to escape the conformist world of their parents. Yet, through mutual respect, the two men, who were each savaged by the press for different reasons, were able to bridge the generational and cultural gaps between them.
Wladziu Valentino Liberace was born on May 19, 1919, in Wisconsin. Unlike Elvis, who was closest to his mother, Liberace's father had the greater influence on him. "My dad's love and a respect for music created in him a deep determination to give his legacy to the world," the son recalled. His mother, on the other hand, considered her children's music lessons a wasteful use of the family's meager resources.
In the 1940s, Liberace created and refined his musical act. Using the candelabrum as his signature stage prop, he billed himself as "the most amazing piano virtuoso of the present day." Finding Las Vegas the perfect venue for his extravagant and flashy act, Liberace accumulated wealth and a rapidly expanding fan base. By 1955 he was making an unprecedented $55,000 a week at the Hotel Riviera and had over a quarter million fans in better than 200 fan clubs across the nation. Before Elvis Presley burst on the entertainment scene to displace him, Liberace was the biggest pop culture superstar in the country, and the highest paid one.
• Both Elvis and Liberace put on "shows" not "concerts"
Although their music genres were obviously different, there were some parallels in the tremendous popularity that both Liberace and Elvis enjoyed as entertainers. Both were the biggest draws in Las Vegas during they heydays—Liberace in the fifties and Elvis in the seventies. Both made record-breaking appearances at Madison Square Garden in New York—Liberace in 1954 and Elvis in 1972. In the 1950s, as critics questioned the musical talent of both, they drew huge audiences by putting on "shows" rather than "concerts."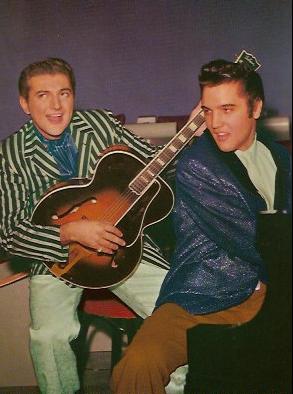 They crossed paths twice in Las Vegas in 1956. The first meeting came during Elvis' two-week engagement at the Frontier Hotel in April and May. According to Presley biographer Peter Guralnick, Liberace was one of the "curiosity-seeking celebrities" who showed up to see Presley's act at the Frontier. Later, Elvis stopped by the Riviera to catch part of Liberace's act. Guralnick describes the interaction between the two entertainers at that time as follows:
" … there is even a film of Elvis and Liberace clowning it up for the cameras. Liberace, one of his mother's favorite performers (Elvis made sure to get the flamboyant showman's autograph), is pretending to play Scotty's guitar, while Elvis flings himself into it, throwing his head back and laughing easily, as he sings, perhaps, 'Blue Suede Shoes.' Not about to be upstaged, Liberace draws a square in the air, pointing at his brother George. It is, in many ways, a picture of perfect innocence."
The second encounter of the two entertainers took place six months later on the evening of November 14, 1956. The premiere of Love Me Tender, Presley's first movie was set for New York City the next day, but Elvis was instead in Las Vegas on vacation. From the Riviera's showroom stage that evening, Liberace introduced Elvis, who was sitting in the front row. The United Press reported that the "audience roared with laughter" when Liberace told Elvis: "Keep your sideburns if you like them, and I'll keep my gold jackets and piano swimming pools—by golly, we can afford them."
• Jackets and instruments switched for jam
In his Liberace biography, Bob Thomas described what happened next:
"Liberace sent a message that he would be willing to meet with the new musical sensation in his dressing room. The Riviera press agent hurriedly notified reporters and photographers, and they were present to record the meeting of the two musical idols. 'Elvis, why don't you and Lee change jackets?' suggested the press agent. Elvis donned the gold-sequined tuxedo jacket, and Liberace put on Elvis' sports jacked. The cameras clicked. The press agent had borrowed a guitar from a member of the band and he handed it to Liberace, saying, 'How about another switch? You play the guitar and Elvis can play piano.' The photographers shot furiously as Liberace and Elvis conducted a jam session for 20 minutes, playing 'Hound Dog' and 'I'll Be Seeing You," and other songs associated with each of them."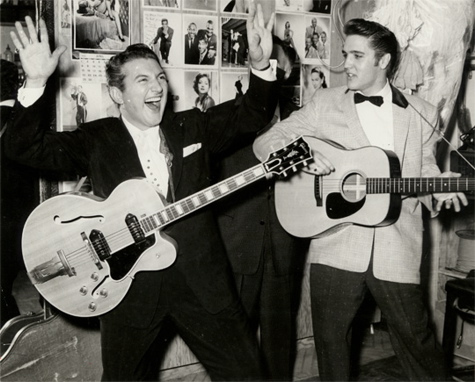 An Associated Press article the next day noted that, "some 200 persons jammed around the pair as they performed." One observer noted, "Elvis played a mean piano, but Liberace said he was an amateur on the guitar—and he sounded like one." Liberace declared, "Elvis and I may be characters—he with his sideburns and me with my gold jacket—but we can afford to be."
Colonel Parker must have liked the look of Liberace's gold jacket on Elvis that evening. He soon had Nudie Cohen of Hollywood fashioning a full gold lamé suit for Presley to wear on his spring tour, which opened in Chicago just four months after the November dressing room jam with Liberace in Las Vegas.
Liberace had been right that evening—he and Elvis both were making so much money that they could afford to do and buy whatever they wanted. Both enjoyed showering gifts on those around them. There was a difference in how the two men went about it, though, as Thomas explained in his biography:
"Liberace was almost childlike in his gift-giving. He adored watching the faces of those to whom he gave outrageously lavish presents. He was not like Elvis Presley, who reportedly would hand over a ring to a fan on impulse. All of Liberace's gifts were well thought out, and given to people he thought deserved them."
• With Elvis and Liberace, sense of "opulence" varied
As Lamar Fike noted, both men "loved opulence" and spent extravagantly to surround themselves with it. Each, however, had a different sense of what "opulence" meant. "Let's face it—Elvis' taste sucked," Fike noted. "Linda [Thompson] tried to teach him that red shag carpeting wasn't befitting a man of his income bracket, but she wasn't successful." Fike was remembering Elvis' 1974 interior remodel of Graceland. Elvis brought in faux French Provincial furniture and changed the house's color scheme to red. "It was red crushed-velvet everything, and red satin drapes, and red shag carpet," recalled Marty Lacker. "Real kitschy. It looked like a French bordello."
Like Elvis, Liberace spent lavishly to incorporate materialism into his personal life. Unlike Elvis, though, he had a more traditional sense of "opulence." In 1953 his first celebrity house was designed and built with a piano theme throughout, including a piano top shaped swimming pool. Lavish furnishings, an ornate bathroom, and antiques throughout were included in his dream home.
While Elvis made Hollywood movies in the sixties, Liberace's act continued to be a major box office attraction in Las Vegas. Even though Presley displaced him as the top draw on the strip in the seventies, Liberace continued to attract respectable crowds at the Las Vegas Hilton, where both entertainers performed.
Liberace outlived Elvis by nearly 10 years, dying in Palm Springs, California, on February 4, 1987, at the age of 67. Cardiac arrest was the cause of death, resulting from, according to Hank Greenspun of the Las Vegas Sun, complications from AIDS. This final allegation of homosexuality was one that Liberace could not answer. He had denied the charge vigorously throughout his life, even filing and winning two lawsuits against journalists who made the claim. — Alan Hanson | © July 2011


Go to Elvis History

Go to Home Page