In 1970 Elvis Presley Played His
Los Angeles "Comeback Concert"
"I'm sure of one thing. He will build no more fires in L.A." So concluded Los Angeles Mirror News Entertainment Editor Dick Williams a month after Elvis Presley's two-night stand at the Pan Pacific Auditorium in 1957. After Elvis' first show on October 28, during which he rolled across with stage with a plaster statue of Nipper, the RCA dog, Williams called Elvis a "sexhibitionist" in his column and labeled Presley's act a "corruption of the innocent on a scale such as I have never witnessed before." The column caused the L.A. police to film Elvis' act the next night, and the rock 'n' roller tamed down his stage antics as a result.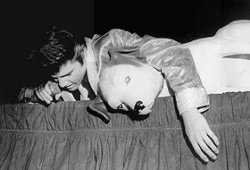 To Elvis the uproar was just another episode in his controversial career, but long after he had left town, Williams continued in his column to savor the notoriety he received for running the vulgar Presley out of town forever, as he obviously believed he had done.
And events conspired for many years to make it appear Williams was right. Elvis was in the army within months after his October 1957 appearance in Los Angeles. Coming out two years later, he embarked on a film career throughout the 1960s. Many years would pass before Elvis would bring his stage show back to L.A.
• When Elvis returned to L.A., venue and crowd size had changed
When Elvis made his Los Angeles "comeback" with two shows on November 14, 1970, many things had changed since his legendary appearances there 13 years earlier. The venue was different. With a capacity of 9,000, the Pan Pacific was then way undersized for Presley's show. He instead appeared at the Los Angles Forum, where a total of 37,396 fans were on hand for his matinee and evening shows combined. That was over twice the total who saw his two shows in 1957.
According to Variety's review of the 1970 shows, the crowd "did not look very different from those who were his fans back in the beginning … Their dress had a few concessions to the new mod styles, but there were as many crewcut men in suits as there were long haired, funky hippies, but not many of either … The fact is that the crowd was not that old. There were as many teenagers as there were those in their late 30s and early 40s. They may be the 'silent majority,' but they screamed as loudly and shrilly as any Mick Jagger crowd when Presley came on."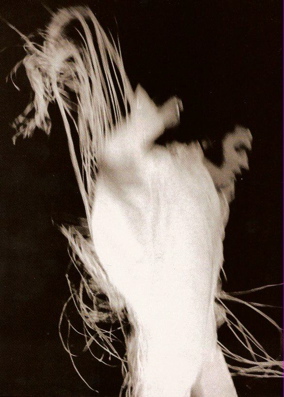 Unlike during his 1957 L.A. shows, however, the screaming of the 1970 crowds did not overwhelm Presley's voice. In the intervening years, technological advances had tremendously improved concert sound systems. In 1970 the speakers at the Forum drowned out the crowd instead of the other way around at the Pan Pacific in 1957.
• Elvis experienced "wardrobe malfunction" in 1970 L.A. show
Although Elvis seemed as physically fit for the 1970 shows as he was in 1957, his stage attire reflected the flashiness of the later era. In 1957 he wore his gold lamé jacket over a black shirt and pants for his first show in L.A. and a conservative suit for his second one. Variety described Elvis' sartorial splendor on the Forum stage in 1970: "Presley came on in a ice cream white jump suit with high-back collar, bell bottoms, gold embroidery, and cape wings with floor length fringes." The tassels caused what might today be called a "wardrobe malfunction." They kept getting tangled up with the microphone cord and Elvis' guitar. "Damn fringes," Elvis said to the crowd, "seemed like a good idea at the time."
Of course, Elvis' stage gyrations, which had earned him the ire of critics like Dick Williams back in '57, had evolved over the years. "Presley does a lot of posing, whirling and wide-stanced dramatic posturing on stage," noted Variety's reviewer of Elvis' act at the Forum. "He has studied karate, and he consciously employs the powerful striking stances, that are also the essence of Kabuki drama—thrusting out with his guitar like Torshiro Mufune in a samurai duel—The crowd loves it."
As for the music, there were obviously changes in the playlist from 1957 to 1970, but not that much, according to Variety. "He sang some newer songs, but not many. It was more of a retrospective of his career, and it is surprising how well Presley's old songs and his delivery have stood the test of time. 'Heartbreak Hotel' is a great wailing blues and 'Blue Suede Shoes' still great rock, both of which would probably hit the charts if originally introduced today."
In 1957 Elvis' vocal delivery in Los Angeles was ignored by critics, who thought it of little consequence compared to the danger posed by his stage gyrations. In 1970, however, Variety praised Presley's mature voice. "At its best, it is better than ever—a deep, powerful and stirring welding of back bay Memphis blues and hillbilly … On contemporary ballads like 'Bridge Over Troubled Waters' … with two back groups, the Imperials and Sweet Inspirations, both behind him with a soaring power and emotion, nobody can touch him."
• Variety offered measured criticism of Elvis in 1970
While Variety's review of Elvis' 1970 "comeback" show in Los Angeles was generally positive, it did contain some criticism. All of it was compacted into the following paragraph at the end of the article.
"Saturday night there was too much of a tendency to stay in the past musically and an old timer's habit of reminiscing, of immodestly pointing out to the audience not once but several times that he had 'outsold the Beatles, Tom Jones, all of them.' It undermined the entire performance, defusing any explosive excitement he might have created. Presley is a young man, with an honest masculine power and virility that few other contemporary singers possess, but he has to concentrate on where it's at, and now where he's been."
In the end, though, Elvis' return to Los Angeles on November 14, 1970, was every bit a triumphant one. This time no one in the press or community suggested that he never come back. In fact, he returned to the L.A. area for sold out concerts in 1972, 1973, 1974, and 1976. I wonder if Dick Williams was still around Los Angeles in the 1970s and if he still stood by his 1957 assertion that Elvis had done permanent damage to the moral fiber of the city's impressionable young girls. — Alan Hanson | © April 2009


Go to Elvis on Stage

Go to Home Page