Elvis Presley and the
Curious Case of the Missing Lyrics
Even after 45 years as an Elvis fan, I still listen to his music as much as I ever did. I have about a thousand songs on my iPod; over 600 of them are by Elvis. His music is what made me an Elvis fan, and it is what has kept me one for all these years. As you can imagine, I've become very familiar with the lyrics of most of Elvis' recordings.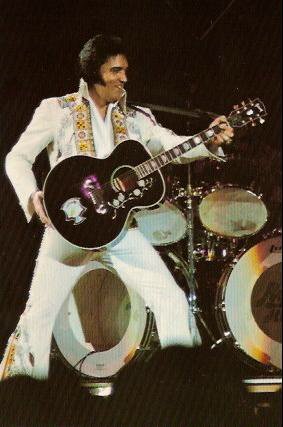 One thing that I've always wondered about is Elvis' decision to skip a verse in a few of his songs. Take "Johnny B. Goode," for instance. Elvis started singing this Chuck Berry composition during his first Vegas engagement in 1969. In fact, I think Elvis' performance of "Johnny B. Goode" on his "In Person" LP is one of his best live performances ever. That rendition has so much energy, provided both by Elvis and his band, that I can't resist singing along and pounding out the beat whenever I hear it.
"Johnny B. Goode"
I've always wondered, though, why Elvis never sang the second verse when he did "Johnny B. Goode." In every recording I've ever heard of Elvis doing the song, he sings the first verse and then the third verse twice, omitting the second verse altogether. For those unfamiliar with the lyrics of the second verse, they are:
He used to carry his guitar in a gunny sack,
and sit beneath the trees by the railroad track.
The engineer would see him sittin' in the shade,
strummin' to the rhythm that the driver made.
People passing by would all stop and say,
'My, that little country boy can play'
Why did he choose to leave that verse out? The only reason I can come up with is that he had trouble memorizing that particular set of lyrics. Even Elvis, who demonstrated in his concerts that he could commit to memory the words to dozens of songs, had trouble at times with some lyrics. For example, in That's the Way It Is, the documentary about his February 1970 engagement in Las Vegas, Elvis expressed his fear that he might forget the words to "I Just Can't Help Believin'" and then went out and flubbed the lyrics on stage.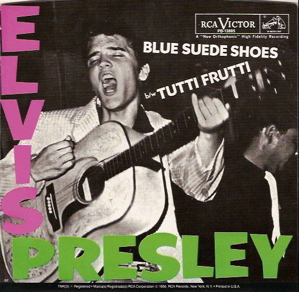 "Blue Suede Shoes"
"Blue Suede Shoes" is another song in which Elvis chose to skip a verse, or stanza, on stage during the concert years of the seventies. Tracing his performances of the song backwards through his career provides some insight into why he decided to leave a verse out of the song in the latter stages of his career.
The verse in question in Carl Perkins's classic song reads as follows.
You can burn my house, steal my car,
drink my liquor from an old fruit jar.
Well you can do anything that you wanna do,
but uh uh, honey, lay offa my shoes.
Elvis sang this verse in all his recordings of "Blue Suede Shoes," both in the studio and on stage, for many years at the start of his career. It was part of his classic RCA studio cut in 1956. The verse is also there in live 1956 recordings on the Dorsey Brothers show and on stage in Las Vegas, Tupelo, and Little Rock in 1956. Even Elvis's soundtrack recording of the song for G.I. Blues in 1960 contains the "fruit jar" verse.
So why did he leave it out after returning to the stage in later years? I believe than answer lies in his 1968 "Comeback" special. You may recall that Elvis filmed two black-leather "sit-down" and two "stand-up" shows for the special. He sang "Blue Suede Shoes" in all four of those segments. In the first sit-down show, he tried to sing the "fruit jar" verse but forgot the opening line and mumbled through it before getting back on track later. In one of the stand-up shows, he again stumbled on that same verse. It's possible that to avoid embarrassment and frustration in the future, he simply decided to omit the "fruit jar" stanza during his Vegas opening the following summer and in all future performances of the song.
While a concern about forgetting some lyrics might have led to Elvis omitting verses from a few songs on stage, it doesn't explain why he did the same thing a few times in the studio. There he had all the lyrics on paper right in front of him. For some unknown reason, though, verses were omitted in a handful of his studio recordings.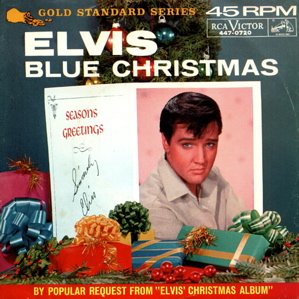 "Blue Christmas"
The earliest example is his 1957 recording of "Blue Christmas." All recordings of the song by other artists that I've heard through the years include the following stanza that is missing from Elvis's original version.
I'll have a Blue Christmas, that's certain,
and when those blue heartaches start hurtin' …
Elvis restored these lyrics when he sang the song for his 1968 special.


"One Broken Heart for Sale"
The one missing-verse Elvis song that baffles me the most is "One Broken Heart for Sale," recorded in 1962. When Elvis sang the song in It Happened At the World's Fair, it had three verses, including the following.
Hey Cupid, where are you? My heart is growing sadder.
That girl rejected me, just when I thought I had her …
That version ran 2:23 minutes, about average for a commercial single at the time. But when Elvis's single of the song was released, it omitted the above verse, reducing it to a mere 1:45 running time, one of the shortest singles of Presley's career. What could have been the reason for cutting a verse from the song?
"Goodtime Charley's Got the Blues"
During the 1970s verses were skipped in at least a couple of Elvis' studio recordings—"Spanish Eyes" and "Goodtime Charley's Got the Blues." I don't know why the first title was cut back, but I've got a good idea why a stanza was cut from "Goodtime Charley." The omitted lines read:
I got my pills to ease the pain.
Can't find a thing to ease the rain.
I'd love to try and settle down,
But everybody's leavin' town
Doncha you think that "pills" line might have struck a little too close to home for Elvis? Yeah, let's leave that one out! — Alan Hanson | © January 2009
Go to Elvis Music

Go to Home Page