Elvis on Stage in the '70s
Seldom Inspired Reviewers

Elvis on stage in the 1970s never inspired me as much as his work in the fifties and sixties. I have been reminded in recent years that I am in the minority in that judgment. For instance, several years ago, Elvis Presley Enterprises conducted a poll on its "Elvis Insiders" web site. Members were asked to select their favorite Elvis era from among the following choices: (a) the Fifties, (b) the Sixties, and (c) the Seventies. I was torn between (a) and (b), but finally voted for the sixties. To my amazement at the time, (c) was the runaway winner in the poll.
Really, though, it's not surprising that so many Elvis fans identify with him in his jumpsuit years. That's when most Americans finally had a chance to see him perform, either in Las Vegas or when he came to their hometowns. There are still many who saw him on stage in the fifties, but their numbers are dwindling with each passing year.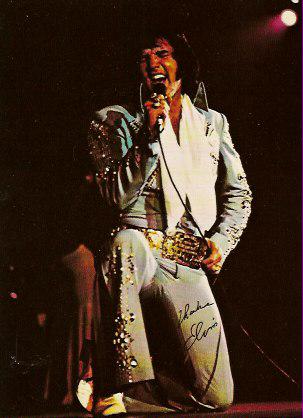 I'm among those Elvis fans who first saw his '70s road show. It was in Seattle in 1970. Don't ask me for an account of that event, though, because, aside from the treasured memory of actually seeing Elvis in the flesh, the performance wasn't memorable. I mean, he looked great and his voice was powerful—but that's about all I can say about it. I have very few visual memories of the show, and I can only remember one song that he sang that evening ("You Don't Have to Say You Love Me").
My view is (and please keep in mind that I am and always have been a loyal Elvis fan) that Elvis' stage show in the seventies was nothing special. There were other entertainers at the time (Tom Jones is one who comes to mind) who were capable of generating as much excitement on stage as Elvis. In the fifties, on the other hand, Elvis was unique. Everyone I've talked to who saw Elvis then still has the image indelibly burned into their memories, and most call it one of the most exciting experiences of their lives.
The same applies to journalists in the fifties. Most had never seen anything like Elvis, and so they reacted to him on an emotional level, one way or the other. That's why the newspaper reviews of Presley's shows in 1956 and 1957 are so interesting to read. In an effort to help readers visualize Elvis in motion, writers conjured up amazing metaphors and creative narratives. Most journalists in the seventies, however, seemingly struggled to make their reviews of Elvis' shows sound interesting. Most of them failed to do so.
I've read dozens of local reviews of Elvis' stage shows in the '70s, and most of them are, honestly, tedious and repetitive. They all describe the jumpsuit he was wearing. They note that his fifties stage gyrations have been replaced by occasional karate moves. Then they take note of the scarves being handed out to desperate thirty-something women. Finally, they list a few song titles he sang, and close with "Elvis has left the building."
Occasionally, though, a handful of creative reviewers came up with colorful comments about Elvis' shows in the seventies. Below are some pearls to be found in the sea of mediocre writing about Presley during that period.
Best Lead Paragraph: "His lips pursed in a half-pout, half-smile, his white jumpsuit embedded with gold, a shiny red satin scarf tucked into his navel-deep décolletage, Elvis Presley tucked up his broad, jeweled white belt and did just the barest hint of a bump and grind, and instantaneously an Aurora Borealis of flashcubes eclipsed the 16 super-Trouper spotlights, and the cavernous interior of Olympia Auditorium was lit with the light of a thousand flares. The King was back." (John Weisman, Detroit Free Press—April 6, 1972)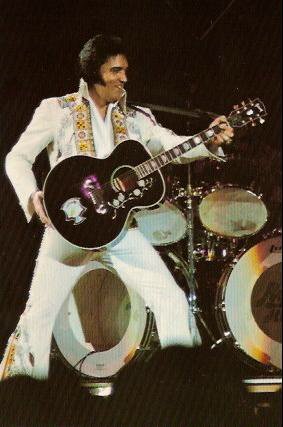 Best Comment Overheard in an Elvis Concert Crowd: "If I die before he gets here I want my corpse left right here." (Tom DeLisle, Detroit Free Press—September 11, 1970)
Worst Cheap Shot: "Elvis worked hard, there's no doubt about that. Unfortunately, the work he did could have been done by any clown in P.T. Barum's entourage, and the $10 price tag on tickets proved the value of another of Barnum's wise adages." (John Wendeborn, The Oregonian—November 12, 1970)
Best Description of Elvis' Audience:"They're old girls now, with cloth coats and husbands and crow's feet and bouffant hairdos, but deep down inside every one of them is the teenage idol-worshipper she once was, just waiting for the flip of that pelvis to loose the shrieks again." (David Dejean, The Kentucky Times—November 7, 1971)
Best Contrast of '50s Elvis with '70s Elvis: "Elvis obviously will never be what he once was. A country boy who sang the life out of a blues song. It's all too slick now. But he is a showman. Maybe that's the trouble. It's all so well planned and choreographed." (Jack Lloyd, Philadelphia Inquirer—November 8, 1971)
Best Description of an Elvis Jumpsuit: "Elvis is dressed in one of those hillbilly horrors, all black with gold-colored spangles glistening from all sides. He has a cape that Count Dracula wouldn't have been caught dead in, and spattered with sequins laid out as if following the holes of a fusillade from a machine-gun. In other words, his costume is a smashing success." (Scott Cain, The Atlanta Constitution—November 15, 1971)
Best Poignant Description of Elvis: "Gone is the sneer. Gone, the gyrating hips—tucked neatly into a girdle cinch which he wore underneath a white jumpsuit with the silver studs and garish gold belt. Gone, too, is his wife. And Wednesday night The King seemed a little bit melancholy … a little preoccupied with his own problems to really get into a dialogue with the audience. Presley's four-year-old daughter, Lisa, was in the audience. She was, he said, "Watching her daddy perform for the first time … making a fool of himself in front of 14,000 people." (Denise Kusel, Long Beach Press Telegram—November 15, 1972)
Best Description of Heavy-handed Actions by an Elvis Bodyguard: "Photographer Terry Moore was in the parking lot of the Sheraton-Campus Inn … when the limousines bearing Elvis and his entourage arrived yesterday … He aimed his camera in the direction of a limousine and was confronted by Presley bodyguard Sonny West who jumped out of the limousine and said 'no pictures.' The bodyguard grabbed for Mr. Moore's camera and Knoxville policeman Carl Rowan, who was standing nearby, grabbed Mr. Moore around the neck in a stranglehold. A walkie-talkie Mr. Moore was carrying was taken by the bodyguard but later returned by Knoxville police." (Lois Thomas, The Knoxville News-Sentinel—April 9, 1972)
Best Review Closing Line: "Elvis didn't sing in Oklahoma City—he happened to it." (Jon Denton, The Daily Oklahoman—November 17, 1970)
I probably would have fonder memories today of Elvis in the seventies had I seen him early on in the cozier confines of a Las Vegas showroom instead of in cavernous arenas like I did. By all accounts, his energy and magnetism expanded the closer he was to his audience. Still, I did see him perform—albeit from a distance—and I'll always be thankful for that opportunity. — Alan Hanson | © April 2010


Go to Elvis on Stage

Go to Home Page