Paul Anka Remembered Elvis
In 2013 Autobiography 
Although he was over six years younger, Paul Anka was Elvis Presley's contemporary on the pop music charts in the late fifties and early sixties. Anka's singles charted 29 times between 1957-1962, with 8 of them reaching the top 10. "Diana," his debut single in 1957, spent 29 weeks on the "Top 100," longer than any Elvis record other than "All Shook Up." A friendship developed between the two entertainers when they both played Las Vegas often in the 1970s. Anka, who turned 72 on July 30, discusses his relationship with Elvis at length in his 2013 autobiography, My Way.
Paul Anka was born to parents of Lebanese decent in Ottawa, Canada, in 1941. His father ran a successful restaurant and his mother worked at Sears Roebuck, so his youth was not marked by the poverty that Presley knew as a child. As boys, both got their first experience singing in church, and by 1954 both were singing professionally. While the 19-year-old Elvis worked small town venues around the South that year, 13-year-old Paul performed in nightclubs in the Ottawa area.
Like Presley, Anka's music incorporated a variety of influences, Elvis among them. In My Way, he describes how his style evolved:
"Different people, singing different styles, from Presley to country to rhythm and blues to doo-wop groups—it all fed into my brain. I absorbed these styles and either subliminally or consciously incorporated them into my own. Once I started finding my way around the piano, what came out was not so much a copy of any one of them as a blend of all of them—which eventually turned into my own style."
As a youth, Anka idolized Frank Sinatra and longed to be a crooner like him. When Elvis hit it big in 1956, however, Anka realized that if he were going to make it in the pop music scene, he'd have to enter through the door marked, "Rock 'n' roll." In April 1957, at age 16, he headed to New York with four songs he had written. He was able to record one of them, a quasi-rock number named "Diana," which was released on the ABC Paramount label. An immediate hit, "Diana" soared up Billboard's pop chart and made Anka a teen idol overnight. Appearances on American Bandstand and The Ed Sullivan Show were followed by a spot on the "Biggest Show of Stars" rock 'n' roll tour that fall.
• Paul Anka on Buddy Holly and Elvis
One of the other performers on the tour that Paul got to know well was Buddy Holly. In his book, Anka compared Holly and Presley, two performers he described as "forces of nature in pop music":
"In comparison, Elvis was a different animal altogether—sexy and dangerous. The look couldn't have been more different. There was no overt sexuality with Buddy like there was with Elvis. Buddy was also a singer-songwriter and that was the big difference between Elvis the entertainer and Buddy the confessional storyteller of his own life. That was the key change for The Beatles, the Stones, etc., so Buddy's influence in the end was more far-reaching than Elvis's. Elvis was a larger-than-life CinemaScope American image. Buddy provided the scaled-down guitar-band blueprint for most of the '60s bands, especially in Great Britain.
"Buddy Holly's story was that of love. He sang about what he knew and the pureness and the simplicity of his voice reinforced that sincerity. Elvis, on the other hand, performed his songs; he personalized them with his own theatrical delivery, but by the sixties this type of song interpreter had become less convincing than groups and singers like Buddy writing their own material."
There was one habit that Buddy and Elvis shared that irritated young Paul. "[Holly] and Presley are all about the 'yes sir, yes sir,' and 'yes ma'am' country courtesy that always sounds a bit put-on to Northern ears," Anka explained. "You could get a toothache listening to these guys!"
After "Diana" gave Paul a foot in the door to pop music, he soon began writing and recording pop ballads, like "Put Your Head on My Shoulder," "Puppy Love," and "Lonely Boy." "I was essentially a crooner anyway," he explained in My Way. "My idols, after all, had been Frank Sinatra, Frankie Laine, and Johnny Ray, not Chuck Berry and Little Richard."
• "Clubs and the World" became Paul Anka's strategy
After the bus tours played out, Paul changed the focus of his career to a strategy he called, "Clubs and the World." In addition to playing Las Vegas and other ritzy clubs like the Copacabana in New York City, Anka often performed overseas in cities like London, Paris, and Tokyo. It was his songwriting talent, however, that allowed him to survive the British Invasion in the sixties. Among his many successful compositions over the years were "It Doesn't Matter Anymore" for Buddy Holly, "She's a Lady" for Tom Jones, and "My Way" for Frank Sinatra.
Paul Anka first met Elvis in the early 1960s after signing on with RCA Victor, Presley's label. When Paul married his wife Anne in 1963, another connection was forged with Elvis. Anne had been raised in a strict convent school in which the nuns prohibited the playing of certain kinds of music, including that of her favorite singer, Elvis Presley. Anka explains how his wife's obsession with Elvis helped the couple make friends with Presley: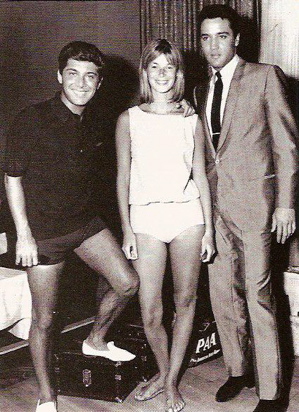 "We lived in Vegas for eight and a half years and Anne (right) mostly hated it. One of the few things she liked was Elvis. She had such a crush on Elvis, they got to be friends. She would put the kids to bed, get dressed up, go with her girlfriend, and see Elvis's show twenty-five times in a row or something. Elvis was sweet to her. He would always come up to her table and say, 'Hello, there!' and smile and give her a hug and a kiss. Then we would go backstage and hang out with him, so that was fun for her."
Anka recalls how his relationship with Elvis developed during their shared years in Las Vegas:
"In Vegas, we'd meet and we'd talk about everything: music and girls and movies. You'd sit there with him drinking and there'd be all these guys around him, so it was mainly small talk … Slowly he started coming over to see my show; he'd sit up there and I'd come back after the show and we'd talk music … He would show up, this incredible God-like figure. He had everything. And the voice—what a great voice he had!"
• Paul Anka on Frank Sinatra and Elvis
Since Paul spent even more time in Las Vegas with his boyhood idol, Frank Sinatra, he naturally offered a comparison of his two superstar friends:
"Frank was very different from someone like Elvis. Elvis just read self-help and spiritualist books, and had no real curiosity about the world. But Frank was a big reader. He socialized. He wanted to better himself even though he felt inferior to those people. He read as much as he could so that he could participate and get involved. He wanted to learn. He was very conversant with whatever was in the air. He was a lot more social than Elvis; he liked to go out. Frank starved for an audience. He was a totally different creature from Elvis, although the ironies and the paradoxes of life prevailed, and Elvis was always fascinated by Frank—even by Frank's rejection of him.
"You wouldn't see Elvis in a public restaurant the way you'd see Frank almost any night of the week holding forth at a table full of friends. Ever. That kind of thing didn't interest him. Elvis was scared to death to do that. He thought he had to be Elvis all the time and he wasn't always sure who that was. You can't do that—you can't be Elvis twenty-four hours a day. If you are smart about it, you separate your persona from all the other stuff so that you can have some kind of life."
Anka commented further on what he called Elvis' "social terror." When Paul suggested to Elvis that they just go out too dinner somewhere in Vegas, Elvis would decline, almost in horror. Paul recalls the aluminum foil on Elvis' windows at the Hilton, as if "he never wanted to see the daylight." When they were both in Vail, Elvis would only come out at night to ride his snowmobile under the floodlights on the mountain. "He was that kind of creature," Paul noted. "Nice guy, but so locked in that prison of celebrity, of who he was, and his image, the person inside shriveled up. Sometimes you sat and talked to him and it was as if he were already gone. You couldn't save him."
• Paul tried to save Elvis
Despite that judgment, Anka says he did try to save Elvis. "I would sit with him and just try to tell him, 'Man, you've got to get it together, you can't live this twilight half life. Get a hold of this situation or it's going to pull you under.' But he couldn't."
Anka also had a unique perspective on Elvis' weight gain:
"All of a sudden he started growing out of his skin. There seemed to be a different Elvis; you saw this guy gradually becoming disfigured. What I've discovered is that all of us have our natural face and when you go too far with weight, you stretch your skin to the point where you no longer have your real face anymore. If you're a little overweight it's livable—most of the world's overweight—but Elvis was way beyond that."
"My Way" was the only Paul Anka composition that Elvis Presley recorded. In his autobiography, Anka reveals that he tried to talk Elvis out of recording it:
"'My Way' meant so much to him as a song, he was going to do it. And I'd say, 'Elvis, it's not really your kind of song.' And he'd say, 'Nooo, Paulie, but those words, they mean so much to me. Boy, I want to do that song one day.' It was one of the last songs he recorded. In the end, that song and those words had resonance for him but not in the way I intended. Basically, given Elvis's pathetic state at the end, it was in the opposite sense that the words had had for Sinatra. There was nothing defiant or heroic about Elvis at that point."
• Paul … Elvis "destroyed himself"
When Paul woke up in Las Vegas on August 16, 1977, he turned on the news and learned of Elvis Presley's death. "I cried that day," Paul admitted. "He was a cool guy, a nice man, but was too young to go … he destroyed himself. Just went too far. He became another statistic. Life is about construction and destruction. It's all in that balance, everything we see when we can look far enough.  When you lose track of that, you self-destruct. And that's what happened to my talented friend."
In My Way, Paul Anka ended his discussion of Elvis Presley with the following haunting but honest observation:
"Elvis imprisoned himself, and lived in a perpetual night. And then there were the guns … There were bullet holes all over the room. He was shooting at ghosts and in the end became one himself." —  Alan Hanson | © August 2013