Elvis Press Reports in 1975-77
Gave Clues to His Failing Health
Each year, August 16 is the anniversary of Elvis Presley's death. Although Elvis fans generally prefer to recall happier times in Elvis' life, they should allow themselves one day each year to look back on the events that led up to his untimely death. Although most Presley fans choose not to dwell on it, Elvis' self-destructive behavior near the end of his life is an integral part of his great American story.
---
"Elvis Forty and Fat"—That headline over a brief article in my local newspaper on the morning of January 8, 1975, startled me. How could Elvis suddenly be overweight? When I saw him on stage in Seattle in 1971, he was lean, energetic, and handsome. He was just as slender in his 1973 Aloha From Hawaii TV special. All the cover pictures on his records over the next two years showed the same sinewy Elvis. And now he's let himself go? At first, I couldn't and wouldn't let myself believe it.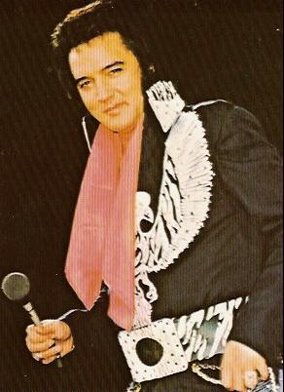 In April 1976, though, I was forced to believe it when Elvis walked on stage at the Spokane Coliseum. Honestly, at first I thought he had tucked a pillow under his jumpsuit as a joke, but when the pillow never came out, it became painfully obvious that Elvis had lost control of his waistline. Still, like most Elvis fans, I was absolutely stunned at learning of Elvis' death a year later at the age of 42. Surely, carrying some extra weight couldn't be enough to end the life of a man so young.
 death. In turns out that the drug use, the hospital stays, and the bizarre behavior, both on and off stage, had been shielded as much as possible from public view by a group of conspirators who benefited from a perceived healthy and working Elvis. They included Colonel Parker, RCA, Presley insiders, and even Elvis himself. And, of course, we fans, with our unwillingness to surrender our dreams of a forever-young Elvis, were unwittingly co-conspirators as well.
What if Elvis' fans had been more alert, though? Could we have somehow been aware of Elvis's physical decline and done something to help save him? Could we have put the puzzle pieces together? Maybe the answers to those troubling questions are somewhere in the hundreds of articles published about Elvis from his 40th birthday in January 1975 until his death two and a half years later.
Of course, "social media" didn't exist back then to bring news and rumors about Elvis to us in real time. The best national sources of information about Presley were entertainment journals like Variety and Billboard. As fans, though, and not industry insiders, most of us didn't read those sources. If we had, though, what would we have learned about Elvis's deteriorating health? Let's go back and take a look at what they were reporting about Elvis' public and private lives from 1975-77.
• Elvis' Hospital Visits
On February 5, 1975, less than a month after Elvis' 40th birthday, Variety reported that he had been "rushed" to a Memphis hospital on January 29. Since the reason for the hospital admission was not revealed, Variety had to flush out its article with speculation. "Local press quoted a source close to the singer as saying Presley had a liver problem that was not related to alcohol since the performer does not drink," Variety noted, adding, "Conflicting reports about possible weight and liver problems surround Elvis Presley's stay at the Memphis Baptist Hospital."
According to a hospital official, Presley's stay was described as being for "tests," the results of which were not revealed. While there, Elvis was said to be "under the supervision of Dr. George Nichopoulos, his personal physician." As an indication of the unreliability of the hospital's official information, Variety ended its short article with the following note: "Press sources said Presley's last visit to the hospital, in June 1973, was related to the liver problem, not to treat pleurisy as officially reported."
The Variety article reveals how those close to Presley at that time obviously withheld news from the public about Elvis' health, even to the point of providing misleading and false information. That perilous strategy would continue until the day Elvis died.
Elvis had 2 ½ years left to live.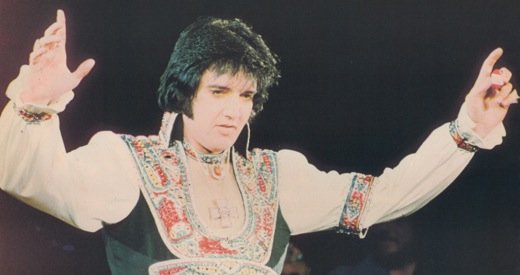 • An ill Elvis no-shows Nashville recording session
Another article that should have raised some concern about Elvis's health appeared in the Memphis Press-Scimitar on February 2, 1977, headlined "Elvis Presley No-Shows RCA Recording Session." The source for the article was Bill Hance's column in the Nashville Banner.  According to Hance, Elvis came to Nashville for eight nights of scheduled recording sessions, but Presley never left his room in the motel where he was staying. Hance added:
"Presley, claiming he was sick with a cold, left here Saturday night promising to return Monday to fulfill his recording contract with RCA and to live up to his own slogan, 'Taking Care of Business.' When he failed to show in the studio, RCA officials and his personal manager, Col. Tom Parker reportedly 'got hot.' Parker … was quoted as telling Presley, 'Get off your tail, in that studio, fulfill your contract or there will be no more tours.'"
Hance talked to a motel staff member who said, "This guy has his days and nights backwards. He sleeps all day and is up all night. At 6 p.m. he wants breakfast. The first night he ordered cheese omelets, four orders of bacon and six sweet rolls. The next thing you know he's demanding soup. No wonder his weight goes up and down like a balloon."
The Press-Scimitar article, again, was based mostly on speculation and dissembled information. For those willing to admit it, though, it should have raised another red flag about Elvis' health.
He had just 6 ½ months left to live.
In its May 18, 1977, issue, Variety reported that three men had sued Elvis Presley for $150,000 over his withdrawal of personal and financial support for a planned racquetball and handball courts business in Memphis. Although no direct connection to Elvis' health is mentioned in the article, it was not a good sign that one of the trio suing him was his personal physician, the infamous Dr. Nick.
Elvis had 3 months to live.
• Elvis walks off stage in the middle of his show
In its June 1, 1977, issue, Variety reported on Presley's bizarre concert at the Civic Center in Baltimore on May 29:
"A physically and artistically sub-par Elvis Presley walked out on a strange concert performance for half an hour here Sunday night, but eventually returned. A Civic Center spokesman attributed the vet rock and roll singer's murmuring, swearing and unscheduled hiatus to the reported intestinal problem that had kayoed Presley from an earlier portion of his tour."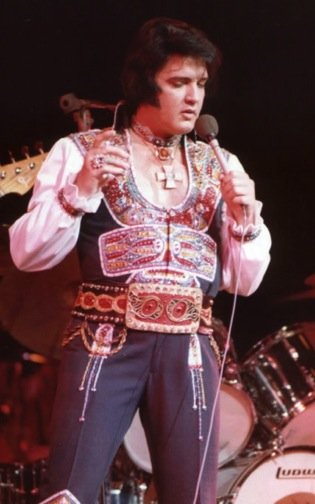 Writer Marty Bennett noted that "Presley was heavy-eyelided and appeared to most observers to be weak and tired." The first 30 minutes of his show included "anemic singing, a few stilted attempts at his patented gyrations, bewildering patter and awkward stage movement that included having an aide hand-hold his voice mike." Then the "paunchy and apparently pained" Presley walked off stage without explanation, leaving his side musicians to cover for him.
When he returned to the stage, Elvis explained he had left for two reasons—"a twisted ankle and nature calls." A Civic Center spokesman later said Presley was on medication and had been treated by a doctor during his absence from the stage. Although Elvis later told the crowd, "there's nothing wrong with my health," Bennett noted that "patrons exited shaking their heads and speculating on what was wrong with him." There was obviously more "wrong with him" than any of them, or us, knew at the time.
Elvis had 2 ½ months left to live.
• Why did Elvis die?
Following Presley's sudden death on August 16, 1977, speculation continued concerning the cause of his death and what led up to it. A short obituary notice in the following day's issue of Variety stated that Elvis had died from "acute respiratory failure," followed by a rather hazy, un-medical declaration: "His physical condition had been erratic for the past year."
Variety's next weekly issue dated August 24, 1977, was filled with Presley tribute articles. Tucked between the lines throughout were statements indicating just how little even people within the industry knew about Elvis' fragile health in his final few years. The journal was now listing the cause of death as a "heart attack" and attributing it to his weight problems:
"In recent years, Presley's career boomed while his personal health fared far less well. He became noticeably obese, up as much as 70 pounds from his 175-lb best weight. Associates point to his steady diet of junk food, especially soft drinks, jelly doughnuts and banana splits."
Of course, the world was about to learn, for the first time, about Elvis' reckless prescription drug use, leading to speculation that it was a contributing factor in his death. The information, which most Elvis fans simply refused to believe at the time, came in a newly published book written by three Elvis insiders. Variety gave brief notice to the book in an article about the many who were "cashing in" on the King's death:
"Ballantine paperbacks held a press conference for Red West, Sonny West, and Dave Hebler, former members of Presley's 'Memphis Mafia' corps of friends, hangers-on and bodyguards. The three wrote a book titled, 'Elvis: What Happened?' which reputedly reveals the singer's heavy reliance on various medications and other purportedly sordid aspects of his private life."
I bought a copy and read the book in the first couple of weeks after Elvis' death. The revelations shocked me, of course, and although I didn't want to believe it all, I couldn't escape the unpleasant conclusion that my idol was all too human, after all, and that his drug use, to some degree, probably hastened his death,
• Rumors abound after Elvis' death
Articles in Billboard's August 27 issue revealed how well Elvis and those around him had sheltered his erratic health problems:
"Presley was overweight at his death, a problem he had fought for several years. Rumors circulating in the music and recording industries in Memphis and Nashville are to the effect that Presley had cancer and was taking cobalt treatments, which were causing him to gain weight.
"Another rumor was that Presley knew he had a terminal illness and was being religious of late and reading the Bible a lot. Neither of these two rumors could be confirmed.
"'We've all heard so many rumors about his health,' says Jo Walker, executive director of the CMA. 'Of course, we prayed they weren't true. It's hard to believe. We're distressed and shocked.'
"For some, however, news of Presley's death was not entirely unexpected. According to Ray Walker, a member of Presley's long-time backup group, the Jordanaires, 'This wasn't really sudden. Elvis had been in bad health for the past two or three years. In fact, more serious than he knew himself.'"
Over the next couple of years, most Elvis fans were forced to accept, reluctantly, that drug use was probably the major factor in their idol's early death. Those of us who lived through those cruel days have long since chosen to concentrate our memories on the gifted and generous sides of his character.
Local newspaper reviews of Elvis' stage shows in 1976-77 also should have raised red flags about his failing health. To learn more about the clues in those concert reviews, use the link below.— Alan Hanson (© August 2016
Read about Elvis' concert reviews in 1976-77