The Long, Dark Road …
Elvis on Tour in 1976-77
It's hard to believe that Elvis Presley has been gone for so long. August 16 is the anniversary of his death in 1977. That day a sense of disbelief overwhelmed Elvis fans like me. How could it happen? Why didn't we see it coming?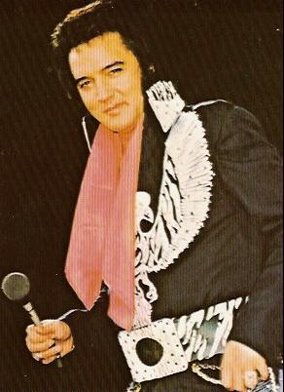 In retrospect, we know that Elvis' health was unstable for several years leading up to his passing. And yet, he kept up a personal appearance schedule that would have taxed the energy of a much healthier, younger man. Between mid-March 1976 and the end of June 1977, a period of less than 16 months, Elvis spent a total of 141 days on tour around the country, plus engagements of 10 days in Lake Tahoe and 11 days in Las Vegas. During breaks in the grueling schedule, Elvis dealt with legal problems, stressed relations with fired employees, and recurring health issues. Many reviews of his stage shows during this period provided clues to his deteriorating condition. Unfortunately, Elvis was moving too fast from city to city for the public to put the puzzle pieces together.
Elvis opened his 1976 tour schedule in March with a six-day, four-state hop through the Southeast. Writing in the Cincinnati Enquirer on the 22nd, Cliff Radel was brutally honest about Presley's appearance and movements during his show the night before:
"The years have not been kind to Elvis. His eyes are puffy. His ample cheeks and fleshy neck overemphasize his surly lips. If he gains any more weight, they may be squeezed from his face. Presley's girth is regal in the manner of Henry VIII. The man's legendary hip gyrations are there in spirit, but not in action. The enormous six inch wide belt which before Presley split a rear seam in his powder-blue pants was a matching blue number encircled with the Presidential Seal—and the equally enormous paunch drastically restricted his movements."
• "The pounds only make Elvis more imposing"
Elvis then had a month off before heading out on a seven-day swing through the Midwest and West. Reviewers at his first two stops in Kansas City and Omaha were much kinder to Elvis. Jess Ritter in the Kansas City Star on April 22 claimed, "From the moment he strode onstage last night, though, he proved clearly that, at age 41, he is still one of the most charismatic entertainers in America," and in Omaha, reviewer Doug Smith noted, "The King is still the King, despite of reports that he has been depressed, debilitated and overweight. Indeed, Presley is maybe 30 or 40 pounds over his playing weight … But the pounds only make Elvis more imposing, if slightly less mobile."
But out west Denise Kusel wasn't pulling any punches in her review of Elvis' Long Beach show on April 25:
"Watching Elvis at the Long Beach Arena Sunday night was like watching a parody of a dying legend … mostly it was like watching a chubby puppet wrapped in a double chin and a foreign body work through a series of Elvis songs. But heroes die and even the best sunrise melts into sunset and then darkness."
In the spring and summer of 1976, Elvis worked a grueling tour schedule with only occasional breaks, all too short to restore his all to apparent precarious health. On May 28 in Bloomington, Indiana, writer Rich Stim noticed Elvis' weight problem, but dismissed it as unimportant. "I might as well start out by saying that I could care less if Elvis was rolled out in a wheelbarrow, as long as his attitude was okay and his voice was in tune." After Presley's June 27 show in Largo, Maryland, though, reviewer Charlie McCollum roasted the overweight singer. "Here was a fat (chubby is no longer the word) man … The lean, mean Elvis is long gone and, in his place, is a William Conrad-figure wearing a Sonny Bono wig. Instead of the lithe movements of a panther, this Elvis moved with the grace of a pregnant water buffalo."
• "Elvis is fine, period"
Most reviewers that summer were content to make unflattering comments about Presley's weight. Few wondered about the potential it posed to his overall health. One who did was Matt Damsker in the Philadelphia Bulletin:
"His spokesman—tight-lipped and hard to reach at the Hollywood offices of his manager, the iron-handed Col. Tom Parker—insist that Elvis is fine, period. Still, the past year has produced a flurry of items concerning his various hospitalizations: for 'an intestinal blockage from a twisted lower colon'; for 'an enlarged colon that interfered with his breathing;' for 'flu,' 'fatigue' and 'exhaustion.'"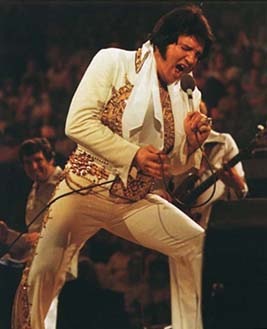 By the end of August, Elvis was completely worn down, or so it seemed to reviewer John H. Anderson in Tuscaloosa:
"After two or three numbers it became painfully obvious that whatever Elvis had in his youth has escaped him in recent years. His outfit included an incredibly large belt and baggy pants, both designed to hide his expanding waistline. His face was puffy and his black-dyed hair was swept back into a middle-aged ducktail. The overall effect was that of a forty-year-old Fonzie with a beer gut. The vocals were disappointing. At times he sound tired. His occasional bursts of energy were short-lived."
Elvis had five weeks off before starting another tour, this one 14 straight one-nighters, starting in Chicago on October 14, 1976. At first, it appeared Elvis had put his time off to good use. In Chicago, Jack Hafferkamp wrote, "Rest easy, ladies, Elvis is not as fat as you feared … Before he came to town, the gossip columnists had it that ol' El had turned into a 41 years old butterball. But he fooled us." And in Duluth, Jim Heffernan observed, "At 41, Presley is amazingly well preserved. He's a little huskier now, but still trim."
• "He seems to have matured into a sensitive artist"
With all the past angst about his weight gain, it was heartening to read Connie Trexler's description of Elvis on October 26 in the Fort Wayne News-Sentinel!
"Those saddening reports that Elvis had gone fat—in his attitude as well as in body—were probably true, but he seems to have overcome both physical and attitude problems. He seems to have matured into an excellent and sensitive artist. He is an impressive sight. He's lost all the fat that recently plagued him, and he looks as young and sassy as he ever did."
Even Robert Hilburn, the respected entertainment writer for the Los Angeles Times, noted with optimism, "Most importantly, the loss of weight may be a sign of increased discipline that will now carry over into Presley's recordings."
And after Scott Cain wrote the following in the Atlanta Journal on the last day of 1976, Presley fans might have thought the King  had overcome all of his physical problems:
"There's good news for Presley fans. Elvis is back in the groove. This Thursday show at the Omni was tops, the best possible year-end present for his Atlanta fans. From a vocal standpoint, Elvis was operating at his peak, both in tonal quality and exertion. He has lost a little weight and looks much healthier than he did last June. His vitality is restored and he was full of pep. Furthermore, he was in a good mood. He was giving his best and knew it, adding a wonderful aura of self-confidence to the show."
• Elvis brushed aside his manager's help
Unfortunately, the optimism about Elvis' health faded quickly in the new year. In his Miami News concert review of February 13, 1977, Jon Marlowe described an over-the-hill, overweight idol—and his fans—just going through the motions:
"An Aging Rock Star's Guide to Concert Appearances: Although your bulging stomach is now hanging half-way over your traditional hips, as soon as you walk out on stage, try shaking them at least once. The audience will give you a standing ovation and scream with sheer delight just for your effort."
We now know Elvis' manager was aware that his client's condition, both physical and emotional, was in decline. When Elvis brushed aside the efforts of the Colonel and other insiders to help him, there was nothing Parker could do but shield Presley's true condition from the press as best he could. After Elvis's February 20 appearance in Charlotte, Frank Zupan wrote in the Columbia Record:
"The 42 year old singer gave the hour and 15 minute performance with a touch of the flu, [a Presley spokesman] said. 'Due to the fact that he had a virus, he was unable to do all the numbers he wanted to do.' He said that there was no talk of Presley's retirement by anyone in the singer's party. 'The way Colonel Park and them talk, they look forward to years and years of continued performing for the fans.'"
Although his condition did not improve, Elvis continued to take the stage, even though his illness sapped all the energy from his performance. Elizabeth Roberts wrote of Presley's show in Alexandria, Louisiana on March 30:
"Presley was on stage less than an hour; he was impossible to understand when he talked between numbers … he never said one word to the audience or mentioned how nice or not nice it was to be in Alexandria or said 'hi, how are you, we're going to have a good time tonight and hope you enjoy the show.' He came on stage, did a few numbers and then dashed off."
• Cancelled shows … hospital stay … back on the road
The next night, Elvis was unable to go on stage in Baton Rouge. Sold out shows in Mobile, Macon, and Jacksonville were cancelled, and Presley returned home on April 1 and checked into Memphis Baptist Hospital. Four days later he went home, and, incredibly, by April 21 he was back on the road for shows in 11 cities over 12 days.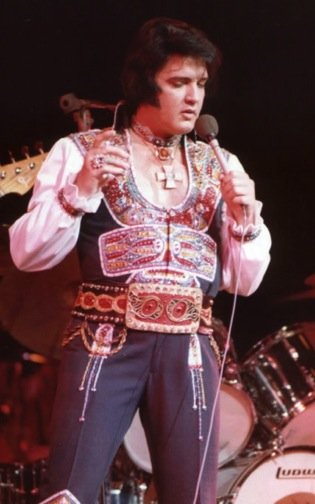 The first show was in Greensboro, North Carolina, and, according to Jerry Kenison in the Greensboro Daily News, Elvis was in no shape to start another grinding tour:
"There was no magic. The tremendous energy, humor, movement and emotion that characterized Presley's 1972, 1974 and 1975 appearances here just weren't on the stage much of the time … in general, Elvis moved very slowly, giving the impression that sudden or extreme motion would be painful … No matter how much he seemed to be trying … Elvis' energy was lagging. He mumbled through 'Hound Dog,' seeming not to care. He improvised on other old standards, missing notes here and there."
While a bout of the flu had been the excuse for a poor showing earlier in Charlotte, it was a "bad cold" that caused Elvis to cut short his show in St. Paul on April 30. Pioneer Press writer Charley Hallman reported, "Several times during Presley's appearance, the singer had to stop for a drink of water and an assistant, Charlie Hodge, stood by with a box of Kleenex for Presley to use. Presley's early cutoff of the music stunned many of the concertgoers. There was no applause at the end of the show."
Elvis' last concerts in May and June 1977, revealed a tired, disinterested superstar apparently just trying to survive the nightly ordeal on stage. For Presley fans, the reviews now are painful to read, knowing what lie just three months ahead. A couple of excerpts:
"Elvis '77 is paunchy, puffy, lumbering, frequently off-key, apparently under-rehearsed (he has to read the first verse of 'My Way' from a page of sheet music) and, for all that, the most outrageously condescending showman I have ever seen. He performed Saturday as if just roused from a drunken slumber, slurred his witless patter as if still slightly in-the-bag, and otherwise gave no sign of artistic integrity. There are dolphins who perform more affectingly. What's worse his fans don't mind. They remain adoring and uncritical." — Matt Damsker, Philadelphia Evening Bulletin, May 27, 1977
"Elvis Presley is 42, fat and losing his voice. His once famous bone-grinding wiggle has now shifted to an occasional twitch that leaves the so-called 'king of rock' breathless … The songs speak to those who have known deep joy and sorrow. Do they speak to him, an adored millionaire who lives as a recluse—a star who must keep alive the fantasies of millions, though he grows tired, and occasionally ill? The puffy face, the added weight are there, perhaps the toll of years of being what Elvis was marketed to be." — Randall Savage, Macon News, June 2, 1977
• "Elvis, we love you, but please don't do this to us"
No one saw Elvis' sad ending as clearly, though, as Ken Williams, who reviewed Presley's next to last concert in Cincinnati on June 25, 1977. No need to frame his comments. They were a final plea for Elvis to save himself:
"There comes a time when a performer should retire for the sake of his fans as well as for himself. I'm sad to say Elvis Presley has reached that time. Reports of recent Elvis concerts have been disheartening indicating that the King of Rock 'n Roll is dead. Apparently the reports are founded upon truth, and the King confirmed the suspicions with his listless, lifeless performance Saturday night at Cincinnati Riverfront Coliseum before another sellout crowd.       
"The King looked awful. Though loyal fans attending the concert with me insisted he has lost weight since last year's concert, Elvis still has a paunch which could do a Santa Claus suit without needing padding. Ghastly pale, eyelids nearly swollen shut, Elvis tried to exercise his booty as in the golden years. I've seen senior citizens with better acts.
"There was an emptiness at the end. Yes, there comes a time when a performer should step down, retire or rest. Elvis, we love you, but please don't do this to us. We prefer remembering you at your peak, rather than at your funeral. 'The King is Dead. Long live the King!'"
• Could Elvis' fans have saved him?
So we come to the heartrending question that accompanies our memories every August 16th. If we had known everything described above, would we, Elvis' fans, have done everything possible to save him? Sadly, it's very doubtful.
What Elvis needed in 1976 and 1977 was to stop touring and concentrate on regaining his physical and mental health. He deserves most of blame for what happened to him, of course, but we fans who saw him on stage in his final years will always experience a soul-searching dilemma. To save Elvis, would we be willing to erase our special memories of seeing him perform and hearing him sing? The only thing that would have kept him from the grueling tour schedule that surely contributed to his death would have been if we had refused to attend his shows. Not a chance of that happening.
Shifra Stein, writing in the Kansas City Times on June 20, 1977, said it best:
"Urged on and on around the country by fans who rely on his past glories to fuel their image of him, Elvis is like a bull in the ring. He belongs to the crowd—and they refuse to let him go."
Alan Hanson | © August 2016