Rumored Elvis Racism Still
Clouds His Musical Legacy
Over 30 years after Elvis Presley's death, the concept of Elvis racism still lives in certain circles of the American music industry.
In May 2002, just three months before the twenty-fifth anniversary of Elvis Presley's death, hip-hop-soul singer Mary J. Blige sang "Blue Suede Shoes" during the "Divas Live" special on cable network VH1. Reacting to criticism, she later told the Atlanta Journal-Constitution, "I prayed about it because I know Elvis was a racist. But that was just a song VH1 asked me to sing. It meant nothing to me. I didn't wear an Elvis flag. I didn't represent Elvis that day."
Criticism from those who believe in Elvis racism caused Blige to distance herself from Presley that day. The belief is rooted in the anger some blacks still feel toward Presley five decades after he rocketed to fame in the mid-fifties. That anger is fueled by resentment toward Elvis, a poor, southern white boy, who gained fame and fortune using a rhythm and blues style developed by black musicians.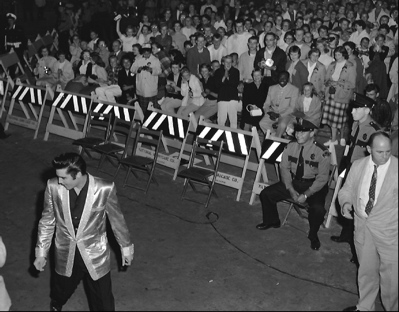 Elvis takes the stage in Seattle, Sept. 1, 1957
(Museum of History & Industry-Seattle photo)
It's not so much a personal thing against Elvis as it is a conviction that those black pioneers have gone unrecognized and underappreciated, while on the anniversary of his death each year, Presley is again acclaimed the "King of Rock 'n' roll."
Even some black singers who have long professed affection for Presley's music are perturbed by the disparity of recognition and credit. "What helped Elvis was that when he did interviews, he would tell that he got it from blacks," singer Mavis Staples told the Memphis Commercial-Appeal in 2002. "Now one thing that I could say for myself was that when I came back to Memphis after Stax (recording studio) closed, maybe about five years later, I only saw Elvis. And that's when I said, 'wait a minute.' Something should be out here about Stax. Just because it folded doesn't mean it didn't happen. And the people of Memphis should have remembered all the music."
Singer Isaac Hayes added, "Elvis was due the respect he had. No animosity. No sour grapes. Elvis was the man. The thing was that we didn't get what we deserved. Ignorance is one of the main things. Racism? It's one of the factors. I would say it took the whole world outside of Memphis to recognize what a treasure black Memphis had."
• The "Shine Rumor" started concept of Elvis racism
In the thirty years since Presley's his death, the Elvis myth has succeeded in doing what Elvis never did—clouding the origins of rock 'n' roll music. Helen Kolawole's article in The Guardian on August 15, 2002, questioned the purpose of honoring Presley a quarter century after his death. "So what is left for black people to celebrate?" she asked. "How he admirably borrowed our songs, attitude and dance moves?" While Kolawole admitted that it was the myth and not the man she had a problem with, nevertheless she went on to brand him a racist. "To contend that Elvis was a racist is hardly shocking. ('The only thing black people can do for me is shine my shoes and buy my music,' he once opined.)"
It was back in 1957 that Presley first was accused of making that infamous remark. In April of that year, the lurid, white-owned Sepia, a magazine for blacks, ran an article, entitled, "How Negroes Feel About Elvis." Early in the article the following paragraph appeared.
"Some Negroes are unable to forget that Elvis was born in Tupelo, Mississippi, hometown of the foremost Dixie race baiter, former Congressman Jon Rankin. Others believe a rumored crack by Elvis during a Boston appearance in which he is alleged to have said: 'The only thing Negroes can do for me is shine my shoes and buy my records'."
That was the first time the statement appeared in print, according to University of Mississippi professor Michael T. Bertrand, author of the 2000 book, Race, Rock, and Elvis, which explores the whole concept of Elvis racism.
• Tracing rumor … "like running a gopher to earth"
Knowing the dubious reputation of Sepia, Louie Robinson, the black associate editor of the black-owned JET magazine, decided to investigate the authenticity of the alleged statement and report to his readers. "Tracing the rumored racial slur to its source was like running a gopher to earth," Robinson later wrote. "No matter what hole it dived back in, it popped out of another one."
Running down Elvis was easier. In the summer of 1957, Robinson interviewed the star in his Hollywood dressing room on the set of Jailhouse Rock. Presley categorically denied making the statement. "I never said anything like that," he declared, "and people who know me know I wouldn't have said it."
Robinson then talked with some blacks who knew Elvis and included their remarks in his JET article. "He faces everybody as a man," said Dudley Brooks, a Los Angeles piano player who worked on Presley recording sessions. "I never heard of the remark, but even so I can't imagine Presley saying that, not knowing him the way I do."
Back in Tupelo, Dr. W.A. Zuber told Robinson, "I knew him when he was a kid. He used to play the guitar and go around with quartets and to Negro 'sanctified' meetings. He lived near the colored section, and people around here say he's one of the nicest boys they ever knew. He just doesn't impress me as the type of person who would say a thing like that.
Indeed, in heavily segregated Memphis of that day, Presley was regularly seen at black-only events. In June 1956, a Memphis newspaper reported that Elvis had attended the Memphis Fairgrounds amusement park on a designated "colored night." The next month, he attended black radio station WDIA's charity event, featuring all-black talent, including Ray Charles, B. B. King, the Moonglows, and DJ Rufus Thomas.
• B. B. King defended Elvis
In a Sepia article, B. B. King supported Elvis. "What most people don't know," stated King, "is that this boy is serious about what he's doing. He's carried away by it. When I was in Memphis with my band, he used to stand in the wings and watch us perform. As for fading away, rock and roll is here to stay and so, I believe, is Elvis. He's been a shot in the arm to the business and all I can say is 'that's my man'."
In his 1957 investigative article in JET, Louie Robinson concluded that not only did blacks know Presley; he also knew blacks. "I always wanted to sing like Billy Kenny of the Ink Spots," Robinson quoted Elvis. "I like that high, smooth style." When Robinson asked about the origin of his "earthy, moaning baritone" singing voice, Presley responded, "I never sang like this in my life until I made that first record—That's Alright, Mama. I remembered that song because I heard Arthur (Big Boy) Crudup sing it and I thought I would like to try it."
Robinson did confirm that Presley was making more money singing rhythm and blues than black performers of the day. While Elvis's nearest competitor, Fats Domino, was expected to earn $700,000 in 1957, Robinson suggested Elvis would earn twice that much.
And as for the accusation that Presley was making buckets full of money off songs written by blacks, who earned very little for their songwriting talents, Robinson quoted Otis Blackwell, writer of two huge Presley hits "Don't Be Cruel" and "All Shook Up." Without giving specific numbers, Blackwell confirmed, "I got a good deal. I made money. I'm happy."
• Elvis … "I always liked that kind of music."
Robinson was impressed with Presley's honest evaluation of his contribution to the genre. "A lot of people seem to think I started this business," Elvis explained, "but rock 'n' roll was here a long time before I came along. Nobody can sing that kind of music like colored people. Let's face it; I can't sing it like Fats Domino can. I know that. But I always liked that kind of music."
As for the "shine rumor," it was easy for Robinson to discard the Sepia magazine allegation that Elvis made the remark in Boston, since the twenty-two-year-old singer had never been in that city. Robinson had also heard, by "word of mouth," that Elvis made the infamous comment to Edward R. Murrow on his CBS-TV show. Since records verified that Presley had never appeared on "Person to Person," Robinson ultimately concluded that no proof existed that Elvis had ever made the alleged racial statement anywhere.
Thus, JET magazine, highly respected among American blacks in 1957, not only cleared Elvis of voicing the racist comment, but also portrayed him as a young white man who fostered race equality in both his professional and private life.
Elvis probably thought he had put the rumor to rest for good. Little did he know that 30 years after his death it would continue to live on as an urban legend. The idea of Elvis racism would not die so easily. — Alan Hanson | © January 2008



Go to Elvis History

Go to Home Page