Rolling Stone Named Elvis One
Of the Greatest Singers of All Time
In its November 22, 2008, issue, Rolling Stone listed the "100 Greatest Singers of All Time," according to its own poll. The magazine was issued with four different covers, one each featuring Elvis, John Lennon, Aretha Franklin, and Bob Dylan. Fortunately, the copy that showed up in my mailbox had the Elvis cover.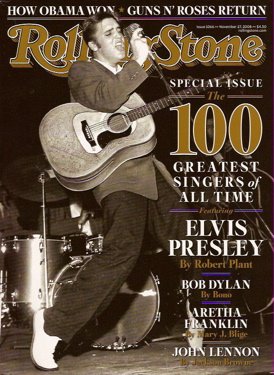 The top 10 in the poll were: (1) Aretha Franklin, (2) Ray Charles, (3) Elvis Presley, (4) Sam Cooke, (5) John Lennon, (6) Marvin Gaye, (7) Bob Dylan, (8) Otis Redding, (9) Stevie Wonder, (10) James Brown.
Of course, these kinds of polls are completely subjective, not to mention thoroughly meaningless, but they do fuel spirited discussion and disagreements. Some Elvis fans were doubtless incensed that anyone finished ahead of their guy. As you might be able to tell from the top 10, the complete list leaned heavily toward established male rhythm and blues singers. Intermixed along the way was a smattering of straight country, hard rock, and mainstream pop vocalists.
Such a list begs two questions: "Who had a vote?" and "What makes a singer great?"Rolling Stone answered the first question and vaguely addressed the second one. The magazine listed the names of 179 singers, musicians, producers, executives, journalists, etc., who were asked to list "20 favorite vocalists from the rock era, in order of their importance." The only voter on the list with a direct connection to Elvis was Scotty Moore.
• "Influence in the rock era" more important than voice quality
The instructions made it clear that voters were to consider each singer's influence in the rock era more than voice quality. In a lead-in article, titled "What Makes a Great Singer?" Jonathan Lethem admited the subjectivity of such a question. "The beauty of the singer's voice touches us in a place that's as personal as the place from which that voice has issued," he explained. That, of course, explains why Elvis fans think his voice is the greatest ever, while non-Elvis fans can't stand to listen to his music.
The job of justifying Elvis' #3 spot on the list was given by Robert Plant, the former lead singer of Led Zeppelin. He didn't do a very good job of it. He starts out with a few generalizations, such as, "I just heard this voice, and it was absolutely, totally in its own place. The voice was confident, insinuating and taking no prisoners." Plant spends the rest of his allotted space listing his favorite Presley recordings and telling about his meeting with Elvis in the early seventies.
It's presumptuous to think I could better answer the question, "Why was Elvis Presley a great singer?" but I'm going to attempt it anyway. I'm well aware that all Elvis fans have their own favorites among his recordings, and many feel very passionate about them. Recently, I've communicated with fans who have listed the following recordings among their most-treasured Elvis titles: "Where Do You Come From?" "Until It's Time for You to To Go," "Is It So Strange," and "A House That Has Everything."
Now, I wouldn't have put any of those titles in my list of "Hanson's Top 500 Favorite Elvis Recordings." I only mention that to show I understand that many of you will disagree with some of my personal favorites that are listed below. Therefore, I'm going to save some space by asking you to mentally add the phrase, "in my opinion," to the end of each sentence that follows from now on.
• Beauty of Elvis' voice first attracted me
When I first became an Elvis fan in 1963, it was the beauty of his voice that attracted me initially. His voice then was crystal clear, smooth, and pleasing to my ear. I didn't make the connection, then, but now it seems clear to me that Elvis's vocal style in those days showed the influence of Dean Martin. I was especially drawn to ballads, such as "There's Always Me," "Starting Today," and "They Remind Me Too Much of You." The beauty of Elvis' voice also was evident in rhythm songs, like "I Got Lucky" and "Follow That Dream."
As I began to delve into his recordings of the fifties, I became aware of the versatility of his voice. No one then could match Elvis' strength and energy on a rock 'n' roll song. Take "Blue Suede Shoes." Although it was Carl Perkins' song, Elvis' version was much more compelling and demanding than Carl's version. Elvis gave that same hard edge to other rockers like "Ready Teddy," "Hound Dog," and "A Big Hunk O' Love." At the same time, the strength of his voice and natural timing was also evident in softer, rhythm numbers, like "Don't Be Cruel," "Anyplace Is Paradise," and "All Shook Up."
"Love Me Tender" notwithstanding, Elvis' voice was not mature enough to handle ballads in the 1950s. His uneven and strained efforts on "Is It So Strange," "Blueberry Hill," "Don't," and others, make his ballads of that era among his worst vocal efforts. Two years away in the army gave his voice time to mature, and ballads became one of his strengths. "Are You Lonesome Tonight?" was one of the best vocal performances of his career.
In the end, though, it is the versatility of Elvis' voice and his ability to handle a variety of musical genres that makes him one of the rock era's greatest singers. Through the years he could always handle the rockin' numbers. "Such a Night" in the sixties and "Promised Land" in the seventies are evidence of that. He could deliver a soulful number, like "In the Ghetto," and sing the blues, as in "Reconsider Baby."
• Presley's vocal range evident in some '70s recordings
Elvis' vocal output in the seventies was very uneven. He was at his best then when singing tunes like "An American Trilogy" and "Bridge Over Troubled Water." Such recordings featured his voice in soft ballad segments that built into strong, big voice endings. "How Great Thou Art," among the best of his critically acclaimed gospel recordings, was another effort that put Presley's great vocal range on display.
The single recording that best represents Elvis Presley's voice, however, is "It's Now or Never." The ability to branch out into a different kind of music; the beauty of his voice throughout; the soft delivery in the two verses, followed each time by the passionate chorus; the big finish—all are characteristic of one of the greatest singing voices of the rock era … in my opinion, of course. — Alan Hanson | © November 2008
Reader Comment: Elvis had the most versatile voice of any singer I have heard, adaptable to all genre. He could compete with any of the singers listed. —  David (January 2023)
Go to Elvis Music

Go to Home Page