Trying to Remember Elvis
On Stage in Seattle in 1970
I first saw Elvis Presley in 1970—I mean really SAW him. Not as an image in some magazine or on a theater screen. I mean live in the same building. In September 1970, I was 21 and had just started my senior year at the University of Washington in Seattle. One day a fraternity brother told me he'd heard on the radio that Elvis was coming to Seattle. I guess he thought I might be interested because of the Elvis music that continually blasted through the walls of my room.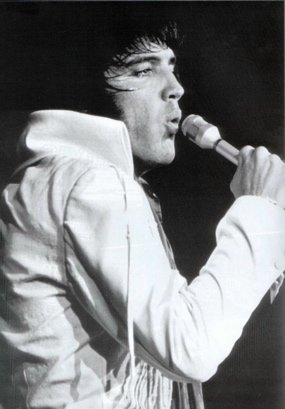 Within minutes of hearing the news, I was in my car heading downtown to buy a ticket. It was surreal to think I was actually going to see and hear Elvis. I became an Elvis fan in 1962 at the age of 13, and I had long since conceded that the closest I would ever get to him would be a front row seat at a movie theater. Even when Elvis started playing Las Vegas in 1969, it didn't occur to me that he would actually start touring the country again. But he was actually coming to Seattle, and to me it seemed like a dream come true.
The evening of November 12, 1970, I had a good seat in the Seattle Coliseum—second level, close in, stage right. Forty years later I don't have the slightest remembrance of the opening acts. According to press reports, Sammy Shore did his comedy bit, and "The Sweet Inspirations" and "The Imperials" sang a few numbers. I tolerated them then, but my memory has completely excised them ever since.
Actually, I don't remember a whole lot about Elvis' show either, which is strange, considering that it was one of the most significant events in my life to that point. He was dressed in all white; I recall that, and his voice was strong and clear. Strange, though, that I can only remember the title of one song that he sang that evening. He stood still, back to the audience, then suddenly swung around and broke into "You Don't Have to Say You Love Me." I can see that image clearly in my mind, but, honestly, that's about it.
Hoping to revive a few more memories of that night, I recently dug out the Seattle newspapers' next day reviews of Elvis' 1970 show. First was Janine Gressel's review in The Seattle Times, an edited version of which follows:
---
Presley's Show No Blockbuster

All of the conditions were right for Elvis Presley's concert at The Coliseum last night to have been a smash hit. The concert was sold out and the audience was "up" for it to the point of frenzy.
But despite Elvis' personal magnetism and incredible popularity, the show was disappointing. His performance was short—perhaps 40 minutes, but it seemed much less. He sang only 14 songs and of those, only six were original Elvis hits.
Much of the time was spent with the star horsing around on stage—jokingly putting down Tom Jones, Engelbert Humperdinck and Glen Campbell (for no apparent reason), continually striking ridiculously "dramatic" posses (which elicited wild screams from the mesmerized fans), plucking the hat from a policeman standing by the stage and strutting back and forth with the hat on his head.
These actions were mildly amusing, but definitely not worth the price of a ticket.
The tone of the concert was strange, as Elvis clearly had the talent and ability to have been putting on a top-notch show. But instead of satisfying the audience with his music, he relied on blatant gimmickry to garner applause.
His repertoire of original hits was pitifully small considering the number of successes he has had over the past 15 years. He sang "Love Me Tender" (much better than when he first recorded it), "How Great Thou Art," "Heartbreak Hotel," "Blue Suede Shoes," "Hound Dog" and "Can't Help Falling In Love With You."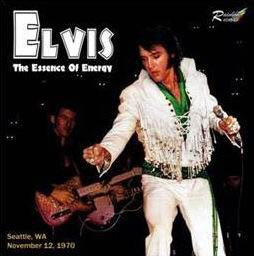 There is, of course, nothing wrong with doing other artists' material—and Elvis did well on his arrangements, but for a performer with such an enormous list of credits to his own name to offer so few of them to his audience is, in a sense, cheating. His fans undoubtedly came to hear Elvis sing Elvis songs. In that respect they were shortchanged.
The audience was in such an emotional state from the time Elvis took the stage that all he had to do was look at a section of the crowd and the fans seated there went wild. Despite the shortcomings of the concert, he undoubtedly would have received a standing ovation—just because he was there. But the audience was cheated of that gesture, too. At the close of "I Can't Help Falling In Love With You," without a warning, Elvis suddenly bolted from the stage. The house lights went on and an anonymous voice announced, "Elvis has left the building."
As if in a state of shock, the crowd was silent. Everyone looked around as if to say, "Where did he go?" With a mass shrug of the shoulders, the audience quietly filed from the hall. What we had seen of Elvis Presley was pretty good, but it was far from satisfying.
---
Well, it certainly wasn't that bad from where I sat. I do remember Elvis saying something to the effect that he had played Seattle (1957) long before anyone ever heard of Engelbert Humperdinck. And I also recall being somewhat disappointed with how Elvis moved on stage. I was expecting a toned-down version of his fifties style gyrations. Instead, he simply prowled back and forth across the stage.
Well, maybe The Seattle Post-Intelligencer's review would remind me of some of the more entertaining aspects of Elvis' show. Stephanie Miller's edited article read as follows:
---
Elvis Still Has It

The houselights darkened. The flashbulbs started popping. Squeals started to swell, and on swaggered Elvis Presley to the Coliseum stage last night wearing slinky white bell-bottoms and white buck shoes, western fringe hanging down his laced up shirt and a Kelly green sash dangling from the swinging hips that made him famous.
He put on a mere 40 minute show for the more than 15,000 fans, but it was a heckuva show. He kept the swoons to a minimum, letting the songs roll off one after the other, and held the crowd in his everlovin' grasp throughout. He still has the sultry, down in the throat quality that made "Love Me Tender, Love Me Do" his heart-breaking trademark.

Stalking from one end of the stage to the other, he conducted the band, the lead guitar and the octet of vocalists that introduced the show through 15 years of songs.
"You Don't Have to Say You Love Me," "Please Caroline," "Go Johnny Go," and "Ain't It Funny"—rolled them off with the ease of a pro. And he never lost contact with the audience. If the teens started to squeal, he cracked a joke mid-medley about how Glen Campbell would sing the song, or pointed to some fellow walking down the aisle.
He kept it real, in spite of his magnetic presence. He didn't take himself seriously, and that's just what the crowd, which took in teens to totterers, liked about him. Introducing himself as Johnny Cash, he launched into an imitation of the bumps and grinds Tom Jones enjoys.
He's got humor. And he still has the Elvis charisma. He threw his head around during "Heartbreak Hotel" until his coal black hair covered his forehead. And he threw his green neck scarf to a blonde in the front row.
But it didn't get out of hand. He came to sing, and sing he did. He gave a new flavor to the greats from the 50s—"You Ain't Nothing But a Hound Dog," "Blue Suede Shoes,"—and sang with appealing richness the gospel tune which won him a Grammy in '66—"How Great Thou Art."
He's a musician, too, in spite of the gimmicks of letting his voice trail off into nowhere and garbling the words for the sake of swagger. His voice has matured measurably since the days when he pulled microphones nearly out from the cords. It's still sexy but it's also mellow and trained.
And that's nice to know, that he's relying on his voice for drawing power. His comeback is attracting all ages, from 15 year-olds who have never heard "Heartbreak Hotel" to 30 year-olds who have.
When the squealers in the crowd scrambled to the stage as soon as Elvis sang his last note, the PA system announced he had left the building.
---
From where I sat the quality of Elvis' performance in Seattle on the evening of November 12, 1970, was neither as good as Stephanie Miller saw it nor as bad as Janine Gressel assessed it. It was probably somewhere between, but in the end neither of them really understood why I, and thousands of other Elvis fans, were in the Seattle Coliseum that evening.
We came to see HIM, and that was enough. For me and other long-time fans, Elvis had become a mystical, even spiritual, presence in our lives. Just the opportunity to see him perform, even if he wasn't on top of his game that particular evening, felt like a reward for remaining loyal to Elvis through the dismal movie years. In 1976, I saw Elvis' show again in Spokane. That night he was clearly approaching the end of his game, but I still cherish that second chance to see him perform, just as I do that first time in Seattle. — Alan Hanson | © January 2011
Reader Comment: It was nice to read your review on Elvis in Seattle in 1970.  I, along with my girlfriend and wife-to-be and sister and brother-in-law, also saw the show.  We came down from Vancouver BC, taking a chance we might get tickets, but, of course when we arrived, the marquee sign said, "Elvis, sold out."  We were going to turn back, but I said let's talk to the ticket guy at the booth and double check.  Well, he said there were a few tickets available, but they were on the right side of the stage and he couldn't guarantee Elvis would turn around.  They were $5 each, and we said, "We'll take them!"  Anyhow, to make a long story short, Elvis did turn around and walked up the side of the stage shaking hands. When he was right beside my girlfriend, I said "stand up and kiss him." But she was too shy, I guess. I could have shook his hand, but I was heeding the warning they gave about not getting out of our seats before the show started. I forgot our camera, wouldn't you know it.  Anyhow, thanks for the memories! Elvis was and is The Greatest! — Farrell (December 2013)
Go to Elvis On Stage

Go to Home Page