Being an Elvis Presley Fan
In the Sixties Was Challenging
Recently, I was scanning through a stack of newspaper reviews of Elvis Presley road concerts in the 1970s. One of them caught my eye. It was Jan Jarboe's review of Elvis' appearance in San Antonio on October 8, 1974. It was her opening line that got my attention: "Elvis Presley and I go back a long time—even if he doesn't know it." I skimmed over her description of Elvis' recent concert, as, honestly, it was no different than hundreds of other Presley concert reviews of that era.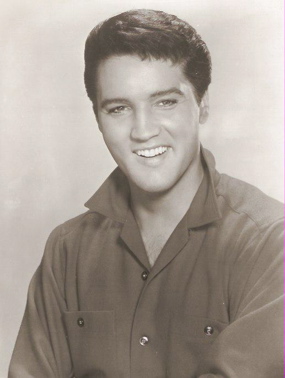 Instead, I was looking for details of how Jan and Elvis "go back a long time," and I found it, starting in the fifth paragraph. "My fascination with Presley," she wrote, "started just about the time the rest of the world lost interest in him, the middle 1960s." Now Jan really had my interest, since I, too, first became an Elvis fan during the movie years of the sixties.
"Reared by fairly strict religious fundamentalist parents," she explained, "Presley was the only one allowable 'sin' in my house. I suppose my parents figured anybody that sings 'How Great Thou Art' with as much sincerity as Elvis does, can't be all bad. It wasn't easy being an Elvis fan on a college campus during the militant 1960s. It was tough, real tough. In fact, it was almost equal to supporting the bombing of Cambodia or wearing dresses—not blue jeans—to classes."
• The faith of Elvis fans was tested in the 1960s
Man, I could really relate to Jan's comments about the difficulty of being an Elvis fan in the mid-sixties. Maybe you can as well, but I know many Elvis fans these days are young people, who came to him in his Las Vegas incarnation of the seventies, or even later, and so have no idea what it was like to be an Elvis fan in the sixties.
I first became an Elvis fan sometime in 1962, but I can't remember how or why it happened. My brother and a couple of friends had Presley records, so I certainly had been exposed to him earlier. Perhaps at age 13, I had finally matured to the point where I could appreciate Elvis's music.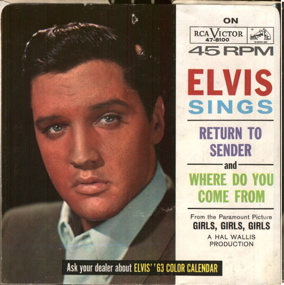 When the Elvis lightning bolt hit me, his current hit single was "Return to Sender," and Girls! Girls! Girls! was playing in theaters. Instantly, I became a devout Elvis fan, spending all my newspaper route profits on his past LPs and 45s. At the start, life as an Elvis fan was great. He was still the hottest singer on the charts in 1962, with "Return to Sender" being but the latest in a long line of top 5 hits since he left the army two years earlier.
• Elvis' career leveled off soon after I came aboard

Of course, I didn't know that Presley's career was leveling off at the very time I became a fan. "Return to Sender" reached #2 on Billboard's pop chart, but after that his singles, with a couple of exceptions, started to stall further and further down on the charts. To be honest, most of Elvis' subsequent singles didn't measure up to the material he had put out prior to 1963. And Elvis' slide down the charts was hasten by the arrival of The Beatles and the accompanying "British Invasion."
As a devout Elvis fan, I hated the Beatles when they came on the scene. They were a threat to my guy. My brother gave me his Elvis records, grew his hair long, and became a Beatles worshipper. The friends who had been Elvis fans went over to the dark side as well. A particularly distressing event occurred sometime in 1964, when Spokane's main rock 'n' roll radio station conducted a call-in popularity poll between Elvis and the Beatles. I can still recall a DJ announcing the final results. "The winner—and the new Kings of Rock 'n' roll—are the Beatles!"
From that point on, my frustration grew as Elvis clearly started losing relevancy as a pop icon. His records were played less and less on the radio, and stations abandoned their yearly tributes on his birthday. He continued making movies regularly, but both quality and ticket sales steadily dropped off.
• I became an isolated Elvis in the mid-sixties
While all of this was happening, I increasingly found myself isolated as an Elvis fan. Before I could always find a friend or two who would go to see a new Elvis movie with me. As I recall, though, Roustabout in 1964 was the last Elvis movie I was able to talk a friend into watching with me. After that, for four years I went to see Presley pictures alone.
Honestly, throughout my high school years, I never knew another Elvis fan. But my devotion never strayed. During those years, I purchased every record and paid to see every movie. Looking back, I and others like me may have fed Elvis' complacency by doing so.
When I went off to college in the fall of 1967, I took my Elvis records with me. At the University of Washington, my fraternity brothers, who were into the Doors, Steppenwolf, Joplin, Hendrix, and the like, enjoyed teasing me about my Elvis obsession. I guess I could understand how Presley meant little in the lives of most young people then. I mean, Elvis was still making films like Clambake and Speedway, while college students were protesting for civil rights and for an end to the Vietnam War.
• Elvis returned to reward his loyal fans of the sixties
In the winter of 1968, however, Elvis started to regain some of the musical relevancy he had lacked for years. First came his TV special, which became known, aptly, as his "Comeback Special." Single releases "If I Can Dream" and "In the Ghetto" were message songs that tapped into the feelings of many socially active young people. Elvis quit Hollywood for the concert stage in Las Vegas. "Suspicious Minds" became his first #1 single in seven years. My fraternity brothers stopped razzing me about Elvis; some even began coming into my room to listen to his music. It was a great time again to be an Elvis fan.
Then came the ultimate payoff. During my senior year, on November 12, 1970, Elvis brought his show to Seattle. To see him perform live on stage was a dreamlike experience. It was truly a reward, not only for me, but also for Jan Jarboe and for thousands like us. That one performance was well worth the long, lean years we had remained loyal to him. It confirmed the faith I had always had in Elvis Presley. The seventies looked bright for Elvis fans. We had no idea it would all end tragically in less than seven years. — Alan Hanson | © October 2008


Go to Elvis Universe

Go to Home Page