How Song Lyrics Helped Keep Elvis On the Charts for Two Decades
"Elvis Presley hit the top of the charts in the sleepy 1950s with the anything but sleepy 'Jailhouse Rock.' In the turbulent 1960s, when the nation was losing the war in Vietnam and our cities were exploding in riots, he was back at the top again with the hymn 'How Great Thou Art.' Like the songs, those two decades couldn't be more different.
"Was there a relationship between those songs and the times? Was the commercial success of 'Jailhouse Rock' and the successful resurrection of an old hymn due as much to the tempo of the times as to the music itself? Quite possibly." — Lee Dye
---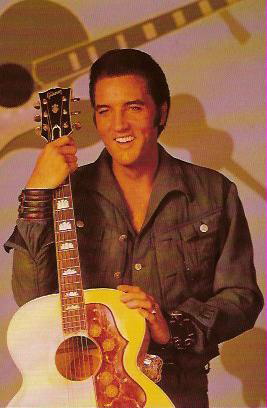 Lee Dye brought up that interesting question in an article posted on ABC News' website. For starters, let's overlook his getting wrong the title of Elvis' 1965 hit hymn. (Presley's "How Great Thou Art" was a Grammy winning album that year, but it was "Crying in the Chapel" that was a Billboard chart hit in 1965.) Let's also lay aside the article's puzzling headline, "How Mariah Carey Topped Elvis Presley," which has no relation to the article's subject.
The article instead describes a study by David H. Henard and Christian L. Rossetti of North Carolina State University on nearly 1,000 songs that topped Billboard magazine's "Hot 100" singles chart. After analyzing the lyrics of all No. 1 Billboard songs from 1960 through 2009, a 50-year period, the researchers concluded there was a "rough correlation between the social tempos of the various decades and the prevalence of these themes: Loss, desire, aspiration, breakup, pain, inspiration, nostalgia, rebellion, jaded, desperation, escapism and confusion."
In other words, while the tune, the beat, and the performance influenced the success of songs through the decades, the lyrics were important too. Looking specifically at lyrics of No. 1 songs during the two decades in which Elvis was active, the researchers concluded the 1960s were "marked by themes such as pain, nostalgia, and rebellion. During the troubled 1970s, themes of nostalgia, rebellion, and jadedness ruled."
Of course, by starting with music in 1960, the study excluded Presley's phenomenal chart success in the 1950s. Just for the fun of it, let's see what happens when Henard and Rossetti's research boundaries and theme categories are applied only to Presley hit records from 1956 through 1977. For our "study," we'll define "Presley hit records" as his songs that reached No. 40 and above on the "Top/Hot 100." (Elvis had many other recordings that charted in the No. 41-100 range, but they were too far down the chart to be considered "hits.")
That gives us a pool of 109 Presley songs for our study. First, we'll assign them all, according to their lyric subjects, to the 10 themes Henard and Rossetti identified in their study. Then we'll be able to see if there's any significance to the dispersal of Elvis' hits across the decades. We'll consider the themes in ascending order, from the one with the least songs to the one with the most.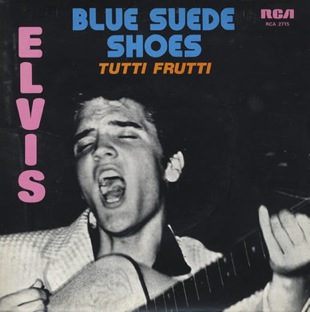 • Rebellion (3 songs)
Elvis was surely a rebellious figure in pop culture of the fifties, but you'd never know it by looking only at the lyrics of his single record releases. "Blue Suede Shoes" obviously has an openly rebellious theme. Other songs with a lesser dose of rebellion in the lyrics are "Wear My Ring Around Your Neck" and "Big Boss Man." "Trouble" from King Creole would certainly fit in this category, but it was never released on a 45.
• Loss (4 songs)
Only occasionally did Elvis choose songs about the discomfort associated with loss. The most poignant was "Mama Liked the Roses," a B-side single in 1970. Several ballads, such as "Are You Lonesome Tonight?" and "They Remind Me Too Much of You" reveal the sadness of lost love.
• Nostalgia (4 songs)
In choosing recording material, Elvis clearly preferred to focus on the present and not the past. "Memories," from the 1968 Comeback Special, is Presley's most obvious nostalgia number. "My Little Friend," a 1970 B-side single, is another example of a Presley song with a nostalgia theme. In its lyrics, Elvis recalled the "thrill and disappointment, fear and shame that first love brings." "Flaming Star" and "Wild in the Country" both had nostalgia based lyrics, but Elvis might not have recorded either of them had they not been title songs of 1961 films.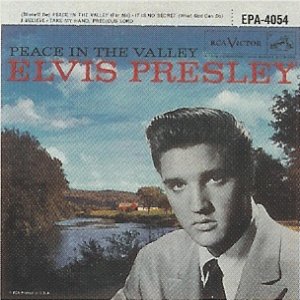 • Inspiration (4 songs)
There are many recordings in Elvis' gospel catalog that fit this theme. Technically, though, most can't be categorized here, as either they were never released as singles or, if they were, they didn't make Billboard's pop singles chart. A couple did, though—"Peace in the Valley" and "Crying in the Chapel." Also, the lyrics of "Follow That Dream" and "King of the Whole Wide World," both of which made the "Hot 100" in 1962, convey inspirational messages.
• Desperation (4 songs)
The lyrics of "Suspicious Minds" reflect a lover's desperation to avoid an impending breakup. The desperation in "If You Talk in Your Sleep" is of a different kind, but just as intense. "I Beg of You" and "Little Sister" are other Presley songs with lyrics that reveal anxiety.
• Jadedness (5 songs)
"Hound Dog" and "Hard Headed Women" are a couple of Presley songs with lyrics that scream, "I'm fed up!" The frenetic pace of both recordings, however, completely overwhelms the meaning of the lyrics. Elvis' best example in this category is "I Feel So Bad," the lyrics of which reflect a complete weariness with life. The lyrics of the ballad "Lonely Man" also depict a life devoid of joy.
• Breakup (6 songs)
Elvis sang lots of love songs, but then love doesn't always work out. Two of Presley's earliest RCA recordings, "I Was the One" and "My Baby Left Me," fit the category. "Return to Sender" from the sixties and "Separate Ways" from the seventies also tell breakup stories. The lyrics of all of these songs were able to look at a failed relationship philosophically. Other Presley songs that portrayed a breakup as a painful experience were put in the "Pain" category below.
• Confusion (7 songs)
Otis Blackwell's anthem of a lover's confusion, "All Shook Up," is perhaps the song title most associated with Elvis Presley in American pop culture. Two songs from the sixties, "I Gotta Know" and "Devil in Disguise," also voice the confusion of a man trying to figure out what's happening. The same theme is in the lyrics of "Moody Blue," Presley's next to last single released in 1977.
• Aspiration (8 songs)
"If I Can Dream," the 1968 single that heralded Elvis's return to the higher reaches of the "Hot 100," was Presley's most eloquent statement of aspiration. It was an unusual song for Elvis. He more often voiced simpler dreams in song lyrics, like wanting to be a "Teddy Bear" or to get a "Good Luck Charm." His longing for love was answered in "My Wish Came True." And then he occasionally aspired to what he already had in song titles like "Fame and Fortune" and "Rags to Riches."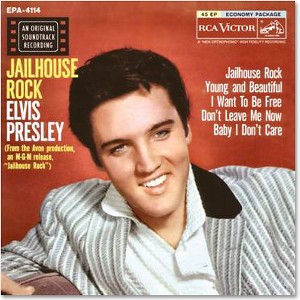 • Escapism (12 songs)
Elvis' first escape chart record was 1957's "Jailhouse Rock," with Leiber and Stoller lyrics that made being in prison seem fun. During the movie years of the sixties, Presley regularly stepped outside the realm of reality in his single releases. Examples are "Viva Las Vegas," "Kissin' Cousins," and "Spinout." Then there were the dance songs—"Rock-A-Hula-Baby," "Bossa Nova Baby," and "Spinout." The humorous "US Male" also invited listeners to forget the serious side of life for a few minutes.
• Pain (18 songs)
Elvis first soared to the top of the chart singing about being "so lonely I could die." As with "Heartbreak Hotel," most of Presley's later songs in this category concerned emotional pain resulting from love lost. Examples are "A Fool Such As I," "His Latest Flame," "Anything That's Part of You," "Indescribably Blue," and "Hurt." Perhaps Elvis' most sorrowful song, both in its lyrics and its delivery, is "In the Ghetto," which describes the pain of a mother losing a son.
• Desire (35 songs)
The most common theme for Presley chart songs, "desire," as Henard and Rossetti named it, can be broken down into two sub-categories. The first is love in its purest form, as Elvis expressed in many songs, including "Love Me Tender," "Loving You," "Can't Help Falling in Love," and "Love Letters." Then there are the songs that convey a desire for love in a physical sense. Elvis certainly had the ability to express lust in songs like "One Night," "Such a Night," "Its Now or Never," "Surrender," and "Burning Love."
So, is there anything to be learned from applying Henard and Rossetti's findings on pop song lyrics to Elvis Presley's chart output? The researchers found that the single word that dominated the lyrics of No. 1 "Hot 100" songs in the turbulent '60s and '70s was "love." Of Presley's 109 "Top/Hot 100" chart singles between 1956-1977, 94 of them (86%) dealt with some aspect of "love," whether it was the desire, pain, confusion, breakup, inspiration, or loss involved. It appears, then, that early on in his career, Elvis discovered the secret to success on the pop charts. It was what John Lennon later openly declared … "All You Need Is Love." — Alan Hanson | © April 2014