Elvis Presley's "Hit" Songwriters …


A Top Ten List
Elvis Presley was not a "singer-songwriter." He had a unique talent for interpreting songs—injecting his own brand of emotion, energy, and feeling into them. He was not above putting his stamp on songs from the past, such as "Are You Lonesome Tonight?" But to fuel his career through the years, he depended on contemporary composers to provide him with quality new material to record and perform.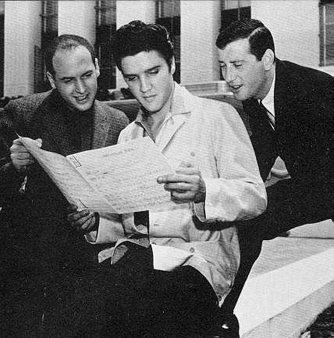 Early in his career, Elvis was fortunate to have at his disposal some of the business's best rhythm and blues and rock 'n' roll songwriters, such as Jerry Leiber and Mike Stoller (right). However, Elvis never allowed himself to be tied into one style, and so he recorded songs written by dozens of composers and writing teams. There were some, though, that were especially important in Elvis' career. They were the "hit-writers," the ones who composed Presley's most successful chart records. Below, then, are listed Elvis' top 10 "hit" songwriters.
First, though, let's set up the selection criteria. For a song to be considered, Elvis's recording of it had to make it into the top 25 of Billboard's Top or Hot 100 chart of pop singles. I know that eliminates many great Elvis songs that were never released as singles, but limiting the tunes only to those making Billboard's chart makes the ratings objective. Why set the line at the top 25 on the chart? Let's face it. For most of his career, both sides of any Presley single usually made it into the Top or Hot 100 just because his name was on the label. To climb within the top 25 on the list, however, indicates the recording had the characteristics of a "hit" song. Even with that qualifier, there is a large group of eligible songs. Elvis placed 71 recordings in the top 25, and involved in their composition were 85 different writers.
Points were assigned to songwriters on a scale of 1-25 according to how high Elvis' versions of their songs reached on the charts. For example, for an Elvis recording that reached #1, 25 points were awarded to its composer(s). A song that peaked at #2 earned 24 points, and on down the line. A record that peaked at #25 received 1 point.
Using those criteria, here, in descending order, are the top 10 "hit" songwriters in Elvis Presley's career.
#10: Florence Kaye (40 points)
The only female composer on the list, New York City born Florence Kaye usually wrote as part of a team with Bill Giant and Bernie Baum. Together they composed over 40 songs for Elvis, most of which were used in 14 of his movies. However, the trio also composed two non-movie top 25 hits for Elvis—"Devil in Disguise" (#3) and "Ask Me" (#12). Florence, however, finishes alone above Giant and Baum on the list because she gets credit for "Rock-a-Hula Baby" (#23), which she wrote with Ben Wiseman and Fred Wise. Florence Kaye passed away in 2006.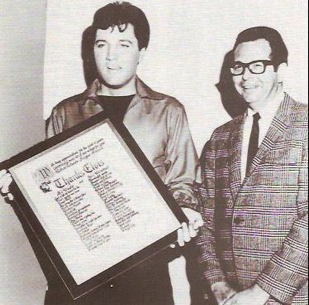 #10: Ben Weisman (40 points)
Rhode Island native Ben Weisman, co-writer of over 50 of Elvis' songs in the '60s, finished in a tie with Florence Kaye on the list. Although Weisman penned five Presley top 25 songs, he is down on the list because none of them reached the top 10. They were: "Fame and Fortune" (#17), "Rock-a-Hula Baby" (#23), "Follow That Dream" (#15), "Do the Clam" (#21), and "Frankie and Johnny" (#14). According to Wikipedia, Elvis' nickname for the demure-looking Weisman was "the mad professor." Weisman died in 2007.
#8: Mac Davis (43 points)
The Texas singer-songwriter only wrote a handful of songs for Elvis. However, they came at a critical time, when Elvis was reshaping his career in the late 1960s. Neither "A Little Less Conversation" nor "Memories," both co-written with Billy Strange, reached the top 25, but Davis is #8 on the Elvis composer list on the strength of two top 10 Elvis hits he wrote on his own: "In the Ghetto" (#3) and "Don't' Cry Daddy" (#6). Davis went on to have a very successful career as a country singer in the 1970s and 1980s.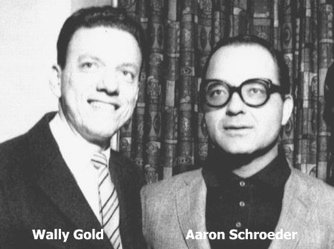 #7: Wally Gold (50 points)
Like Mac Davis, Wally Gold earns a place on the list based on just two Elvis songs he co-wrote with Aaron Schroeder. "It's Now or Never" and "Good Luck Charm" were both #1 hits for Elvis. Gold also co-wrote several other memorable sixties pop hits, including "It's My Party" for Leslie Gore" and "Half Heaven-Half Heartache" for Gene Pitney. After leaving the music business, Gold worked as a travel agent until his death in 1998.
#6: Winfield Scott (54 points)
Elvis recorded less than 10 songs written by Winfield Scott, but three of them, all co-written with Otis Blackwell, finished well up on Billboard's pop chart. They were "Return to Sender" (#2), "One Broken Heart for Sale" (#11), and "Such an Easy Question" (#11). Among his other songs recorded by Elvis were "Stranger in the Crowd" and "Long Legged Girl (With the Short Dress On.)" Several years ago Scott made news when he discovered in his effects an acetate of a lost Presley recording, "I'm a Roustabout."
#5: Mort Shuman (68 points)
Brooklyn born Mort Shuman teamed with Doc Pomus to compose many hit songs in the 1960s, including "A Teenager in Love," "Turn Me Loose," "This Magic Moment," and "Save the Last Dance for Me." "Viva Las Vegas" was one of their songs that Elvis recorded. While that Presley standard did not chart in the top 25, three other Pomus-Shuman songs reached the top 5—"Surrender" (#1), "Little Sister" (#5), and "His Latest Flame" (#4). Mort Shuman died in 1991, just 10 days shy of his 55th birthday.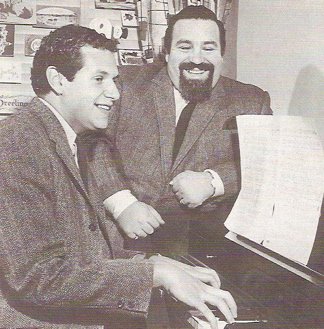 #4: Doc Pomus (89 points)
Born Jerome Felder, "Doc Pomus" provided the lyrics for Mort Shuman's melodies, although occasionally they worked on both together. According to Wikipedia, in 1957 "Pomus asked Shuman to write with him because Doc didn't know much about rock and roll at the time, whereas Mort was well versed in many of the popular artists of the day." Pomus finishes one notch ahead of his long-time partner because Doc also worked with Leiber and Stoller on "She's Not You," a #5 record for Elvis in 1962. Doc Pomus died of lung cancer in 1991, the same year his partner Mort Shuman passed away.
#3: Otis Blackwell (104 points)
Although best known for writing some of Elvis' smash hits, "Otis Blackwell (pictured below) is without question one of the select songwriters whose songs literally helped redefine American's popular music in the early and mid 1950's. (Wikipedia)" His more than 1,000 songs have sold nearly 200 million records. Of the 10 Blackwell compositions that Elvis recorded, half were top 25 hits. When Elvis recorded "Don't Be Cruel" in 1956, Blackwell agreed to give Presley credit as co-writer, even though Elvis had no input on the tune. The recording spent 7 weeks at #1. Blackwell also penned "All Shook Up," the biggest hit in Elvis' career. It spent 30 weeks on the Top 100, including 8 weeks at #1. As noted earlier, Blackwell teamed with Winfield Scott to write later Presley hits "Return to Sender," "One Broken Heart for Sale," and "Such an Easy Question." Otis Blackwell was inducted into the National Academy of Popular Music's Songwriters Hall of Fame in 1991. He passed away in 2002.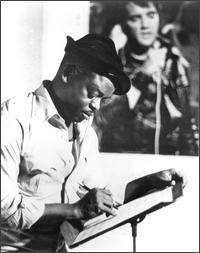 #2: Aaron Schroeder (122 points)
Writing with various partners, Aaron Schroeder helped compose 16 songs recorded by Elvis Presley. Six of those reached the top 25, starting with "I Was the One" (#23) in 1956. Schroeder helped pen four of Elvis' #1 records. That's twice as many as any other composer or team. In addition to "It's Now or Never" and "Good Luck Charm" with Wally Gold, Schroeder also co-wrote the chart-toppers "Big Hunk O' Love" with Sid Wyche and "Stuck on You" with J. Leslie McFarland. In addition, Schroeder also wrote (with David Hill) Elvis' "I Got Stung" (#8). Schroeder might have written even more hits for Elvis, but he stopped writing for him after a legal battle over publishing rights in 1962. At the age of 83, Aaron Schroeder died in 2009.
#1: Jerry Leiber and Mike Stoller: (133 points)
According to Wikipedia, Leiber and Stoller "are among the most influential American songwriters and record producers in post-World War II popular music." By the time Elvis came along, Leiber and Stoller were already successful R&B songwriters with hits such as "Kansas City" and "Hound Dog." Elvis' recording and controversial TV performances of "Hound Dog" tied the composers and the singer together. Elvis eventually recorded 23 Leiber-Stoller compositions. Six of them, starting with "Hound Dog" (#2) and "Love Me" (#6) in 1956, reached the top 10 on Billboard's pop chart. "Jailhouse Rock" and "Don't" both topped the chart in 1957. "She's Not You" (#5) was a rare collaboration with Doc Pomus. Finally, in 1963 Elvis took Leiber and Stoller's "Bossa Nova Baby" to #8 on the chart. The legendary duo was inducted into the Songwriters Hall of Fame in 1985 and the Rock and Roll Hall of Fame in 1987.
Runners-up
Sid Wayne, Fred Wise, and the tandem of Bill Giant and Bernie Baum just missed the top 10 list of Elvis composers. Wayne had a hand in Presley hits "I Need Your Love Tonight" (#4), "Flaming Star" (#14), and "Do the Clam" (#21). Wise helped write "Fame and Fortune" (#17), "Rock-a-Hula Baby" (#23), "Follow That Dream" (#15), and "Kissin' Cousins" (#12). Giant and Baum wrote "Devil in Disguise" (#3) and "Ask Me" (#12) with Florence Kaye.
Finally, this list left one of Presley's most prolific songwriting teams out in the cold. Sid Tepper and Roy C. Bennett wrote over 40 songs for Elvis, most of which were used in his movies. But they didn't make this Top 10 list because only one Bennett-Tepper tune reached the top 25 on the pop charts, that being "Puppet on a String" (#14) in 1965. — Alan Hanson | ©  January 2011
Go to Elvis Music

Go to Home Page