Sharing Memories of Seeing Elvis
On Stage in Spokane in 1957
"I loved this book. And with 95% of it being from newspaper reports before, during and after the concerts it doesn't rely on memories, instead on what people said right then. Not for those who want to know who Elvis' girlfriend was at the time but a book for those who want to know the effect of Elvis in 1957 on people and popular culture. Fascinating stuff."
In 2008 Amazon.com printed the above brief review of my book, Elvis '57: The Final Fifties Tours. I like it because in just a short paragraph it makes two very good points, not only about the book, but also about Elvis in 1957. First, when it comes to people who saw Elvis perform in the 1950s, fifty-year-old memories are often unreliable. Second, how people reacted to Elvis in 1957 is indeed "fascinating stuff."
When I was doing research for the book, I gathered as much information about Elvis' tours in 1957 as I could find. Since Elvis '57 was published, however, much more about those concerts has come to my attention through various sources. Since it's too late to include that material in my book, I'm passing newly discovered information about Elvis' "final fifties tours" in this forum. So here's some additional "fascinating stuff" about Elvis's 1957, appearance in Spokane, Washington.
Here are the basics. After a two-day train trip from Memphis, Elvis arrived in Spokane late on the evening of August 29, 1957. The next night he opened his four-day, five-city Pacific Northwest tour with a concert in Spokane's outdoor Memorial Stadium. After the show that evening, he caught a train to Vancouver, B.C., for an appearance there on August 31.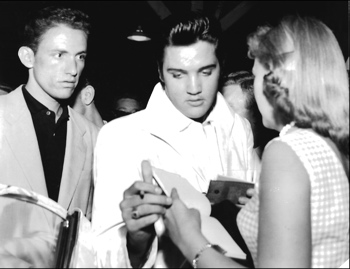 • A picture with Elvis—first seen 50 years later
In my book there is a photo of Elvis signing an autograph for a girl soon after his arrival at Spokane's Great Northern station. That picture appeared, along with a excerpt from my book, in a local history magazine, Nostalgia, in August 2007. Soon Gaylene Moos Pope, who lives in Wenatchee, about 150 miles west of Spokane, contacted the magazine publisher. "What a shock to see the picture of Elvis signing an autograph for a young girl in your last issue." Gaylene recalled being at the train station that night.
It seems in 1957 Gaylene and her sister went along when her father, who was the manager of a local Cadillac dealership, to the train station to pick up Elvis when he arrived. She described her encounter with Elvis as follows:
"Oh my gosh, he's really coming right over to us. My heart was pounding. I just kept looking at him. His hair was dark black, shiny clean—not greasy. His complexion was beautiful (not greasy). And what a nice young man—a real gentleman! I finally mustered up the ability to ask for his autograph at which time he smiled at me, leaned over and kissed me on the cheek, took hold of my hand and nicely said, 'I already signed your book dahlin'.' I embarrassingly looked down at my book, and sure enough, there was his autograph. He had actually taken the book out of my hand, signed it, and slipped it back into my hand without my realizing it."
(You can read Gaylene's full account of her encounter with Elvis in Spokane elsewhere on Elvis-History-Blog.com.)
• Teenager attended Elvis' news conference
When teenager Karen Larson first heard Elvis was coming to Spokane, she wrote to Tom Diskin, Colonel Parker's assistant, asking for a back stage pass. The day of Elvis's show, Diskin called to tell Karen to report to the dressing room at the stadium to pick up her pass for the press conference that Elvis would hold there before going on stage. The following is an excerpt from her online account of her meeting with Elvis.
"Then it happened, the door opened, and in he came … My heart was pounding so hard I thought it would come right out of my chest. He sat up front on a desk and you could ask him questions … When the conference was over you could get autographs and have your picture taken with him. The shy person I was, kept bugging him for a picture and finally he put both hands on my cheeks, got right down in my face and said, 'Honey, I ain't got no picture,' and kissed me on the cheek. Elvis was only 21 years old [actually 22], and the most handsome hunk you could ever hope to see. Those beautiful blue eyes and long lashes would make anybody's blood go past the limit."
• Memories of seeing Elvis in Spokane in 1957
Nostalgia magazine asked readers who had seen Elvis in Spokane in 1957 to send in their memories of the event. Following are a few of the responses that appeared in the magazine.
"Though Elvis performed on stage, separated from his fans by a dirt track, he would still cause a commotion. During his last song, he jumped onto the track and sang 'Hound Dog,' while kneeling in the dirt. After Elvis left the stadium I remember fans going wild. The girls jumped out of the stands and onto the dirt track. They were on their hands and knees, grabbing their hands full of dirt and throwing it in their purses and yelling and screaming. It was a madhouse. It was neat, so neat." — Tom Jackson
"We arrived to find mobs of people, mostly teenage girls, crowded down front. It was so jam-packed that we couldn't get to our seats … All of a sudden all the lights went out, and the stadium was completely dark. When the lights came on there he was: The King. Elvis! Then the screams really got loud. Elvis stood at the mike and would say a few words before launching into a song. The screams got louder, if that was even possible. I remember Elvis would just say something, twitch his leg or make some gesture to the crowd, and the girls would again go crazy. It was quite a sight—and a good concert when you could hear him." —Paul and Charlotte Cooper
"That summer Elvis came to town for the first time. I was the ultimate fan and desperately wanted to go. A friend said she would trade days off with me, but then changed her mind. I burst into tears! My boss felt so sorry for me that he gave me the night off anyway. I had a date and we, like most everyone else, dressed in black to attend the concert." — Sharon Carlton Brazington
"My wife had purchased the tickets and was somewhat taken up with him, in that era. I had heard his name mentioned, but didn't know who he was or what the magnet was that attracted all the young ladies … We had good seats as I recall, and when Elvis came on the outdoor stage he started out quickly with all the wild gyrations for which he was already gaining popularity. His singing was great and he could have doubled as a contortionist, in my opinion. I found myself enjoying the performance." — Richard "Dick" Reidburn
"My mother was a pantry cook at the Ridpath Hotel at that time and she was the only one in the kitchen when Elvis sent his eggs back. They were undercooked. So she slapped them on the grill till they were hard as a rock and sent them back. Apparently, that's the way he liked them and there were no further complaints." — David Wagner
"Elvis was very polite [at the press conference], addressing everyone as Sir or Madam. And he said two of his favorite singers were Bill Kenny of the Ink Spots and Dean Martin! If you play any records by these people you can certainly hear Elvis singing in that higher register and sliding some of the notes like Martin. Then someone asked what was the deal with the gold medallion around his neck. He said he liked it because it caught the spotlight and really shined. He was really something." — KNEW disc jockey Bob Adkins (aka Addy Bobkins)

— Alan Hanson | © July 2009
Reader Comment: I was there in the stands at the Spokane stadium screaming with my girlfriend when Elvis performed.  I think I was about 13 years old...too young to drive so my Dad took us out there & picked us up.  It has remained a lifelong memory.....yup, I'm now 73 but will never forget Elvis in Spokane. — Carol (August 2017)
Reader Comment: My friend and I hitched a ride from Trail, B.C. (150 miles north of Spokane) to attend the 1957 Elvis concert at Memorial Stadium.  We were separated from the stage by a dirt track, which everyone was grabbing handfuls of dirt following the show. Carol and I could not get a ride back to Trail, since it was so late, and had to call my mother to drive down to get us.  We are both grounded to this day and we are now 75 years of age.  What a wonderful experience.  So the young people of today are no different than we were in 1957. — Bonnie (July 2017)
Reader Comment: In reference to the photo on your site labeled, "Gaylene Moos, 15, meets Elvis at the Spokane, Washington, train station on the evening of August 29, 1957," the photo is not of Gaylene Moos. The photo is of my mother (she has an additional photo taken earlier in the day from the front wearing the same dress).  Also, my mother was given an autographed copy of the photo. Several years ago, when a man from the Spokesman Review visited my mother, she talked about Elvis coming to Spokane, and her meeting him at the train station. Mom's neighbor was driving one of the cars at the train station. If Gaylene is anything like my mother, who was also 15 at the time, the memory of Elvis is one that is very cherished. If Gaylene wants to believe that she is the girl in the photo, that is fine. But, please do not identify the girl in the photo as Gaylene when it is not. — Anne (2018)
Go to Elvis 1957

Go to Home Page