Ed Sullivan & Elvis Presley




How the King of  TV and the King of Rock 'n' Roll Connected in 1956
It's been called one of the first great moments in the history of American pop culture and the show that first brought rock 'n' roll to a mass audience. Elvis Presley's first appearance on The Ed Sullivan Show on September 9, 1956, brought the singer's meteoric career to an apex just over seven months after he had burst on the American cultural landscape. Just when Presley's road to the Sullivan show began is a matter of perspective. Some would say it was in the early months of the year when Presley's six national network appearances on the Dorsey brothers' show first made the American public take notice of him. Elvis took another big step upward when Milton Berle featured him on his variety show on April 3 and June 5.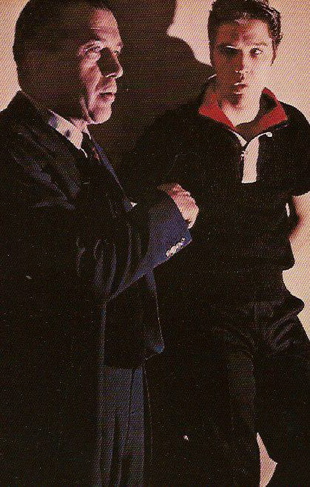 The second Berle show, in particular, forced the American press to comment on Presley's image and racy style. Elvis' "bumps and grinds" while performing "Hound Dog" drew near unanimous outrage from newspaper columnists around the country. At the time, Ed Sullivan gave Elvis a little cover—in a roundabout kind of way. "I don't know why everybody picked on Presley," Sullivan said. "I thought the whole show was dirty and vulgar." Later, though, it became obvious that the controversy generated by that Berle show soon led to Elvis's next network TV appearance.
Steve Allen stood up to sharp criticism from Presley detractors when he booked Elvis to appear on his new NBC Sunday night show on July 1, 1956, opposite The Ed Sullivan Show on CBS. When he shackled his guest in tails and had him participate in a hillbilly skit, he drew sharp criticism in turn from Presley supporters. In the immediate aftermath, Ed Sullivan publicly denied interest in having Elvis on his show. "I wouldn't have him on my show at any price," he famously declared. "He's not my cup of tea." But the overnight TV ratings caused Sullivan to do an aboutface.
Every Sunday night over the preceding two years, Sullivan had easily fought off everything that NBC and ABC had thrown against him in the 8 p.m. primetime slot. But on the morning of July 2, United Press reported that on the previous evening, "Steve Allen, aided by a non-wriggling version of Elvis Presley, toppled Ed Sullivan off his throne as king of Sunday night TV." Allen, in just the second week of his variety show opposite Sullivan, racked up a 20.2 Trendex rating as Sullivan skidded to 14.8. That meant Allen took a 55.3 share of the audience compared to Sullivan's 39.7. A sore loser, Sullivan sent a one-word telegram to Allen: "Stinker."
• "If they use Presley, they'll beat me again"
Both men knew Elvis Presley was the difference in their ratings competition on July 1. "I don't think there's any doubt that Presley was responsible for some of our jump this time, but we'll go to our graves wondering exactly how much," said Allen a few days later. Ed Sullivan, though, had no doubts about Presley influence. "If they use Presley, they'll beat me again," he told reporters. "He's hot and apparently here to stay. He looks like he might be another edition of Sinatra or La Rosa or Johnny Ray. Fellows like that just don't fade away." While not admitting he wanted to get Elvis, Sullivan did acknowledge the magic of the Presley name. He grumbled to a reporter, "I tell you, I'd like to sign up somebody named Presley. Anybody. Right now, I'd sign up Elvis Presley's father if I could find him."
Quietly, though, he was pursuing Elvis. He watched kinescopes of Presley's appearances on the Dorsey and Berle shows. Satisfied that there was "nothing objectionable" in Elvis' stage behavior, he contacted Colonel Parker and opened secret negotiations. Meanwhile, Steve Allen, who had no agreement to get Presley for another show on NBC, clearly wanted him back. Publicly, he seemed to have the inside track, since RCA Victor, the singer's recording label, was a sister corporation of NBC. It came down to who would pay the most to get Presley. Allen refused to shell out more than $7,500, which was top dollar in the industry at that time for primetime guest shots.  Ed Sullivan was willing to pay Elvis more than double the going rate.
On Friday, July 13, 1956, Sullivan went public, announcing he had signed Elvis Presley to appear on The Ed Sullivan Show. According to CBS, Presley would receive $50,000 for three appearances on the network. His first appearance was set for September 9, and the other two would be "at approximately eight-week intervals." In a United Press report the next day, Sullivan said he had bowed to "teenage pressure" when he reversed course and signed Presley. He had been besieged by teenage mail demanding Elvis, he said, causing him to surmise that Elvis is "apparently here to stay."
• Sullivan claims the teenagers made him do it
Within a few days after getting Presley's name on a contract, Sullivan's publicity department sent out the following telegram to entertainment writers for dozens of the country's leading newspapers.
"Mr. Sullivan's decision to hire Mr. Presley was prompted by thousands of letters from teen-agers throughout the country asking him to have Presley appear on 'The Ed Sullivan Show.' Many of the youngsters claimed that Johnny Ray's success was basically to his appearance on 'The Ed Sullivan Show' and they felt Elvis' appearance on the same program would do much to further the young singer's career."
Sullivan's magnanimous gesture to help Presley's career ignored the reality that his career was already so far advanced that it allowed Steve Allen to trounce Sullivan in the ratings. Columnists quickly berated Sullivan for denying his true motivation for booking Elvis—his desire to reinforce his crown as TV's greatest draw. Columnists Tom O'Malley and Bob Cunniff noted, "Ed Sullivan got his severest critical scolding in years over his signing of Elvis Presley. 'Compromiser,' "hypocrite,' 'me-too Ed' were among the unkind cuts dealt out by critics around the country."
The pundits were especially concerned about a claim made at the end of the initial UP article on July 13: "A CBS spokesman said Presley would not be under wraps on the Sullivan program." A week later, just before he took off for a trip to England, Sullivan tried to soothe his critics. "Presley was terrible on the Berle show," he allowed, "but wait till the critics see what he does for me. There's not going to be anything offensive on my stage. I can tell you now that he'll sing no suggestive lyrics with us. As for his gyrations, the whole thing can be controlled by camera shots. After they see the show, let's see how many newspaper men blast me."
• Colonel Parker didn't want his boy "tied down"
One person who was concerned about Sullivan's plans to "control" Elvis was Colonel Parker. On July 12, the day before Sullivan announced he had signed Elvis, Parker sent the following telegram to his William-Morris agent Harry Kalcheim:
 "I spoke to Sullivan today and there seems to be some misunderstanding regarding presentation of Presley. I will do whatever is fair but must insist on complete control of presentations as to songs. We had too much adverse publicity on last show (Steve Allen) regarding Elvis being tied down at least 10 to 1."
After the show was aired, Sullivan told columnist Marie Torre that he had exercised no censorship on the Presley. He did admit, though, to dispatching producer Marlo Lewis to California, where the Presley portion originated, to make sure no vulgarity would slip through. "There was really nothing, though, that was changed in his routine," Sullivan declared. "Presley submitted three songs to us and we went over the lyrics to check anything that might offend viewers. We found nothing wrong, and we had Presley's full cooperation."
As the June 9 show date approached, the nation's press could supply no clarity about what viewers would see, or not see, when Elvis Presley appeared on The Ed Sullivan Show. Would it be the "old" Presley seen on The Milton Berle Show or the "new" Presley unveiled on The Steve Allen Show? Ed Sullivan seemed to be signaling that it would be somewhere in between, and the uncertainty, whether engineered purposely by Sullivan or not, seemed sure to guarantee a mammoth audience for his Sunday night show.
• Sullivan's cameras moved around with Elvis
The program aired out of New York City, but both of the major figures were not there. Recuperating from injuries sustained in a recent auto accident, Sullivan watched the show at his Southbury, Connecticut, home. Elvis' spots were dropped in live from Hollywood, where he was working on his first film, Love Me Tender. Actor Charles Laughton refereed the back and forth from New York. Elvis had spent all afternoon in California rehearsing his three songs with the Jordanaires and his trio of musicians. During rehearsals, Sullivan's cameramen got some practice mixing long shots and close ups for the evening broadcast, which included a 350-person audience in Hollywood, 90 per cent of them bobbysoxers.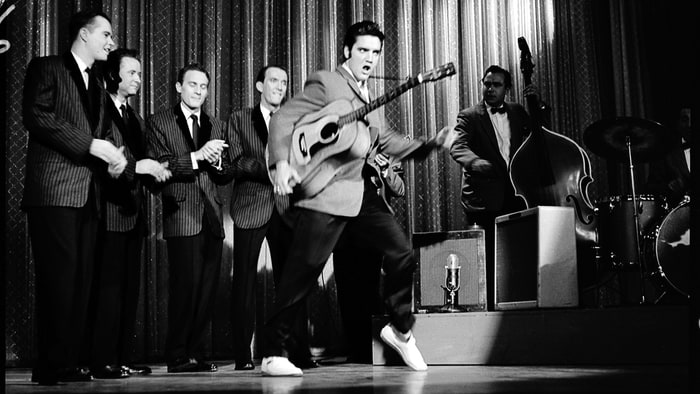 The now iconic episode of The Ed Sullivan Show beamed live across the country beginning at 8 p.m. Eastern Time on June 9, 1956. Writer Jack W. Roberts of the Miami News noticed a pattern in the camera behavior. "The cameras acted rather curiously while Elvis was on stage. Every time he started a wiggle, the shy cameras switched to just a head and shoulders shot. Elvis apparently realized this was going on, because one time on the long shot he got in several fast wiggles before the camera broke and ran." Not so obvious was Elvis' state of mind. He was nervous, according to Jordanaire Gordon Stoker. "He believed the Sullivan show could make or break his career."
The next morning, Harry Harris of the Philadelphia Inquirer provided an overview of Presley's three segments. 
"He was all of a piece as he strode out in horse-blanket jacket and open collar shirt and went into his legs-apart, toes-turned-in singing stance. But then the camera soared to his waist and resolutely aimed there or higher, so that Elvis the Pelvis could just as well have been Elvis the Epigottis. Judging from the girlish shrieks and shouts, a lot was going on out of camera range while Presley was singing 'Don't Be Cruel.' Certainly it couldn't have been his voice—or even his shoulder-twitching, forehead-wiping, lip-smacking or lip-licking—that inspired all the commotion. Or could it?
"The first song Presley's second time around was allegedly 'Ready, Teddy,' but you can't prove it by us. We couldn't make out the words. But, in all justice, with all that eye-popping, neck-thrusting, body-shaking and funny face-making, it's a miracle the fellow produced any sound at all. The cameramen gradually gained a little confidence, so that by the time Presley went into his finale, 'Hound Dog,' he was on display from tip to toe, every wildly squirming inch of him. No sexy 'bumps,' though."
• Praise and criticism for Elvis the next day
Ben Goss, a past rancorous critic of Presley, was surprisingly pleased with Elvis's behavior. He noted in his New York Daily News column, "I'll say this for the fellow. He merely moved and hopped about a bit; he did not gyrate his pelvis. In fact, he gave a completely antiseptic and sterilized performance. Even a prissy spinster could not have objected to it."
Conversely, columnist Glen Graham had some choice words for Ed Sullivan. "We heard some fancy words from you after Presley's appearance on the Allen show with regard to 'camera angles.' The only angle right for him begins just above the top of his head and continues on up. Can't you pay the performer off and fumigate the stage?"
Graham also had a tough love message for Presley's young fans.
"Open Letter to the Kids who seem to be "sick, sick, sick! I watched Elvis on the Ed Sullivan show last Sunday night. And youngsters—I'm worried about you. Never in the history of the American stage has sex been treated in so ugly and so shabby a manner. You see kids, sex is one of the vital treasures of our existence … that stuff you saw on the Ed Sullivan show Sunday night doesn't even faintly resemble anything you will want or need in your lifetime. Nor is Elvis Presley representative of the average American male whom I regard with considerable fondness. Perhaps because his type of sex appeal is based on something more fundamental than a glassy stare, a swirling haircut and a banjo hung around his neck. What you did see was a pretty good example of a very inferior type of entertainment for which people often have been arrested in some sections of various cities."
Elvis' act surprised Miami journalist Jack Roberts. "I'm beginning to worry about my reaction. I actually enjoyed his performance," he confessed. "True, he can't sing. His motions are slightly suggestive and it's difficult to distinguish one word he's singing from another. But the boy does have a flair for showmanship." He was surprised again the next day. "Practically everyone I talked to asked if I had watched the controversial hillbilly the night before."
• Sullivan vindicated by huge ratings
The overnight ratings were off the scale for Sullivan. Trendex gave the Presley show on CBS a 43.7 rating, NBC a 4.2, and ABC a 3.6. Granted, by running movies against Sullivan that night, the two competitor networks had thrown in the towel ahead of time. Still, the Sullivan show made history by being watched on a single network by more people than President Eisenhower drew during his acceptance speech at the Republican Convention on all three networks. Elvis's performance drew 82.6% of the nation's TV audience. Ike drew 78.6%.
Ed Sullivan was ecstatic. "I feel as if I've been vindicated," said the smiling Sullivan. "People told me I was nuts to give Presley $50,000 for three shots. It's the most I've ever paid a performer. If I had been wrong, I'd have had to eat crow, and who likes to eat crow? I saw the show with my wife and daughter, both of whom were dubious about Presley before he came on. When he finished, we were all delighted with his performance. He's a very boyish, likeable kid."
There was a price to pay for Ed Sullivan's decision to feature Elvis Presley on his program. The editor of the Muncie Evening Press was representative of some journalists whose respect for Sullivan had been diminished. 
"We have always admired Ed Sullivan, both as an outstanding newspaperman and as a producer of good variety shows, but we would be a little happier if Mr. Sullivan would keep Mr. Elvis Presley out of our living room on Sunday nights. We don't expect Mr. Sullivan to take cognizance of our advice since he's more interested in the popularity ratings given his show."
• Ever connected, Ed Sullivan and Elvis Presley moved on
In November, following Presley's second appearance on his show, Ed Sullivan tried to win back some of the support he had lost by giving Elvis access to his prestigious stage. Sullivan arranged with the Metropolitan Opera Company, at a price more than double what he paid Elvis, for scenes from five Met operas to appear on his show, starting November 25, 1956. Sullivan said the action was his answer to "the people who wrote me saying they didn't like Elvis Presley and we should get some fine music."
For his part, Elvis made his final appearance on The Ed Sullivan Show on January 6, 1957. Turning his attention to a Hollywood movie career, Elvis would not appear on network television again until after his discharge from the army in 1960. But Elvis Presley's first appearance on The Ed Sullivan Show on June 9, 1956, continues to live on as a defining event in America's pop culture history of the 20th century. — Alan Hanson | © January 2019