"Surrender"


Elvis' Vigorous Vocalizing
& Doc Pomus's Lyrics Made
It a #1 Hit in '61
On a spring afternoon in 1961, I sat in a booth in a Spokane record store trying to make one of the most important decisions of my young life. In my pocket was a dollar bill, doled out to me by my mother that Saturday morning as my weekly allowance. Although it was a considerable amount of cash for a 12-year-old in those days, it was still only enough to pay for one 45 rpm single record at The Music Box on West Riverside. From the dozens of records that filled the racks on one wall of the store, I had narrowed down my selection to two—"Blue Angel" by Roy Orbison and "Surrender" by Elvis Presley.
It was a tough call. As a leery clerk kept an eye on me, I played one record and then the other several times before finally making a decision. As I approached the counter with my choice, however, indecision gripped me, and I returned to the booth to play each disc one more time. Finally, I stepped to the counter and, laying down one of the records and my dollar bill, said, "I'll take this one … "
---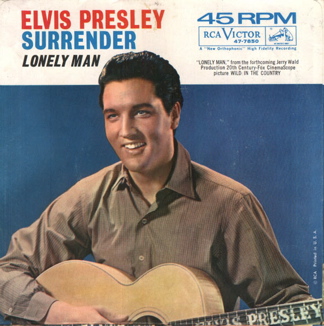 By 1960 Doc Pomus and Mort Shuman had established themselves as one of pop music's top songwriting teams. That year Elvis's recording of their "A Mess of Blues" had appeared on the flip side of Presley's mega-hit single "It's Now or Never," which had been adapted from the Italian classic melody "O Sole Mio." For a follow-up, Elvis asked Freddy Bienstock of Hill and Range Music Publishers to come up with a new English-language version of "Torna a Surriento," another old, Italian ballad. An Anglicized version, "Come Back to Sorrento," had already been recorded by Frank Sinatra and Dean Martin, but Elvis's style required something more of an uptempo version.
Although Pomus and Shuman shared writing credit for "Surrender," according to Pomus's biographer Alex Halberstadt, Shuman wanted nothing to do with the song. "Why should I want to write for some redneck idiot who wants to sound like Mario Lanza?" Shuman asked. "You write it Doc, you've already got the music."
For Pomus, the lyricist in the duo, the assignment was not much of a challenge. "Writing words to an existing melody obviously took less work than coming up with a whole new song," Halberstadt explained, "and in the case of 'Surrender,' even Doc's title was just a near-homonym. The whole thing smacked of mediocrity." A blues nightclub performer prior to settling down into the song-writing business, Pomus recorded the demo himself. It was sent off to Hill and Range and neither Doc nor Mort thought too much more about it.
• "Surrender" recorded amidst a "religious epiphany"
Elvis recorded "Surrender" late in the evening of October 30, 1960, in the middle of a marathon session that produced his gospel LP "His Hand in Mind." Elvis's recording closely followed Pomus's demo. "Doc's lyric was dressed up in state-of-the-art schmaltz that made it onto the record," according to Halberstadt, "the Jordanaires egging [Presley] on to scale heroic vocal heights. Doc could hardly believe that Stuart Hamblen's 'Known Only to Him,' a sublime performance that inflamed Elvis's voice with what sounded like true religious epiphany, was recorded on the same night that yielded 'Surrender's' Neapolitan glitz."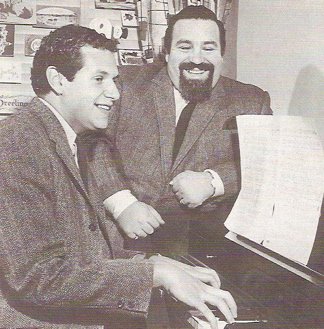 ---
Mort Shuman (left) and Doc Pomus in a Hill and Range publicity photo, c. 1959
---
Initially Doc viewed "Surrender" as nothing more than just another job, but Elvis' delivery of the song astonished him, according to Halberstadt. "Presley imbued 'Surrender' with sly humor and an almost maniacal ardor, transforming it into a dramatic showcase for his genuinely amazing chops … Doc was humbled by the result. He had to admit that Elvis was a songwriter's dream. He could make a mediocre song distinctive, make a good one great, and make a great one indelible. When he wanted to, he sang anything—from spirituals to novelty pop—brilliantly, finding just the right emotional shading."
In February 1961, RCA shipped Elvis' "Surrender" single to distributors. On the flip side was the ballad "Lonely Man," which had been recorded for the soundtrack of Presley's soon to be released film, Wild in the Country.
• Variety and Billboard reviewed "Surrender"
In its February 15, 1961, issue, Variety reviewed Presley new single in its "Best Bets" column as follows:
"Elvis Presley's 'Surrender' is an updating of the classic 'Come Back to Sorrento' and will be another runaway click because of the vigorous vocalizing that nobody seems to be able to match. 'Lonely Man' has a flavorsome country touch at which Presley is a sure hand, and it, too, is headed for big returns."
That same week, Elvis' new single led off Billboard's "Spotlight Winners of the Week" list. Amazingly, though, Billboard picked "Lonely Man" as the "A" side on the disc:
"Elvis Presley will continue his million hit string with this fine pairing. Top side is from his new movie 'Wild in the Country,' and it is sung with warmth. Flip, just as strong, is an updated version of 'Sorrento.'"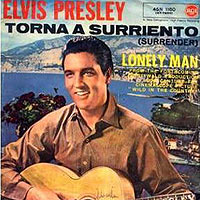 "Surrender" fulfilled expectations on the charts. It debuted on Billboard's "Hot 100" at #24 on February 20, 1961. The next week it jumped all the way up to #4, and after spending two weeks at #2, it took over the top spot from Chubby Checker's "Pony Time" on March 20. "Surrender" held the top spot for two weeks, before yielding to "Blue Moon" by the Marcels. Presley's fifth straight #1 single rode the "Hot 100" for a dozen weeks, half of them in the top 5, before dropping off the chart in May.
"Surrender" had an almost identical run on Cashbox magazine's "Top 100 Singles" chart. From February through May 1961, it remained on the chart for 13 weeks, including two weeks at #1 and six weeks in the top 5.
• Pomus-Shuman became favorite writers in "House of Elvis"
"Surrender's" chart success was business as usual for Presley, but it boosted both the reputation and bank accounts of Doc Pomus and Mort Shuman. Halberstadt explained, "By the spring of 1961, when 'Surrender' rocketed to number one in nearly every market in RCA's global operation, Pomus and Shuman were already anointed as the favorite writers in the House of Elvis. Presley was again the world's biggest act, and Doc and Mort were each earning close to fifty thousand dollars a year, an amount unimaginable even a year earlier."
The duo would go on to write the Presley hit songs "Little Sister," "(Marie's the Name of) His Latest Flame," and "She's Not You," as well as iconic Elvis recordings, such as "Suspicion" and "Viva Las Vegas."
Ironically, though, although it was Elvis' twelfth #1 single and his fifth straight chart-topper, "Surrender" can also be viewed as the end of Presley's singles chart domination. He would only have two more #1 singles over the remaining 16 years of his career. The following short article in Billboard on June 19, 1961, a month after "Surrender" exited the "Hot 100," indicates that RCA may have overestimated the record's sales potential.
• Copies of "Surrender" given away in Canada
"Station CKWX [in Vancouver, B.C.] gave away 3,000 recordings of 'Surrender' by Elvis Presley this month in a contest which pulled in more than 10,000 letters. According to CKWX deejay Red Robinson, RCA Victor had 'over-pressed' the Presley disk, so they turned the excess wax over to the jock and suggested he build a promotion around it. Robinson offered the disk free to the first 3,000 dialers who wrote in and merely said they like Elvis."
I accept responsibility for one of those "excess" records. You see, when I stepped up to The Music Box sales counter that spring day in 1961, it was not a copy of Elvis' "Surrender" that I had decided to purchase. I put that back on the rack and went home with the Roy Orbison record that day. It wasn't until a year later that I became an Elvis fan. Then, flush with the weekly profits of a paper route, I returned to The Music Box and purchased a half dozen Presley records each week until I had them all, including "Surrender." — Alan Hanson | © November 2011
Go to Elvis Music

Go to Home Page