Memories Through the Years
Of Elvis Presley in Tacoma 1957
I've always regretted that I didn't go to see Elvis Presley when he played my hometown in 1957. Just think of all the great memories I missed out on. If I'd have been at Spokane's Memorial Stadium the evening of August 30, 1957, I could have seen Elvis on stage in his gold lamé jacket gyrating to "Heartbreak Hotel," "Don't Be Cruel," "All Shook Up," and "Teddy Bear." And Scotty Moore was there, playing his historic guitar licks, a sight and sound that would never have been forgotten. Then there was the screaming and pandemonium in the stands. Certainly that would have been seared into my memory. And how about at the end, when Elvis jumped off the stage and slid on his knees in the dirt as he sang "Hound Dog"? For those who were there, it was an event filled with memories for a lifetime. And I missed it!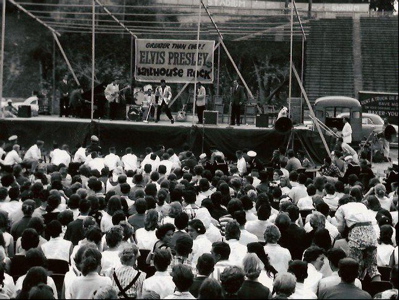 (Photo above by Sharon Brown)
It's been over 50 years since Elvis came to the Pacific Northwest for a four-city Labor Day weekend tour in 1957, and while I have no memories of seeing the King of Rock 'n' roll then to sustain me now in my old age, there are many others who do. Two days after Elvis appeared in Spokane, he gave another concert across Washington State in Tacoma on September 1 (above). In 2007 News Tribune writer Ernest Jasmin compiled the memories of Tacoma area citizens who had attended that show. Most of them were teenagers that remarkable day in 1957. As senior citizens in 2007, their memories, though recalled through the haze of 50 years, were vivid, as though the event happened just days before instead of decades ago.

Several factors made Elvis' 1957 Tacoma show especially ideal for creating memories. The Lincoln Bowl was an intimate venue, with steeply sloped bleachers and rows of chairs set up close to the stage at ground level. The crowd numbered but 4,000 (not the 6,000 usually reported), so all in attendance were close in and had a good view of Elvis. Finally, it was Elvis's only outdoor daylight concert that year (show time was 2 p.m.), making conditions perfect for camera-carrying fans.
After seeing Elvis on an Ed Sullivan Show, 18-year-old Arlene Heldreth just had to see Presley in the flesh when he came to Tacoma. "I can remember lying on the floor in the living room watching that and my dad just howling," she recalled 50 years later. "And my mother was having a fit because I was watching him do these things. My mother was having a cow because I was going to go to this thing." Arlene told her boyfriend, "You know, you gotta get those tickets or we won't be boyfriend-girlfriend any more." He got them.
Kent Morrill's male ego, however, wouldn't allow him to buy a ticket to see Elvis in Tacoma. "I was in high school. We wouldn't go to see Elvis because all the girls were crazy over him and we were jealous," he recalled. "We went and we climbed up and used binoculars, and we watched the show from high above in the woods back there."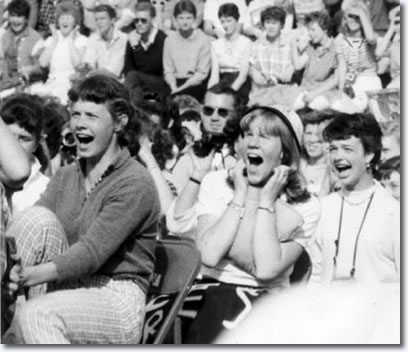 Twenty-year-old Walt Kaplin was one man who was not embarrassed to be seen at Elvis' show. "I purchased a photo booklet of Elvis from a vendor," he explained. "And as we were going into the stands I saw my uncle, Jim Steele, a police officer. I asked him to have Elvis sign one of the photos in the booklet. My uncle went into the small building and within a minute came back out and waved me over to the door. I was admitted in to personally meet Elvis in private … It was a wonderful experience. Elvis signed one of the photos in the booklet, which I still have to this very day."
Carol Norman was at the lower end of Presley's demographic spectrum in 1957, but the experience was all the more intense because of her tender age. "Elvis roped the crowd in and had them in his control. 'Heartbreak Hotel,' 'That's All Right Mama,' 'Too Much,' Ready Teddy,' 'Don't Be Cruel,' 'Hound Dog.' I thought I would go deaf. The screaming, it just got louder and louder. I was 11 and I had never been a part of anything so awesome."
Working girl Sandy Rice refused to let the high ticket price deter her from seeing Elvis. "My girlfriends and I were so excited when we heard Elvis was coming to Tacoma. I was working at Puget Sound National Bank as a messenger earning $75 a month before taxes. So $5 to see Elvis presented quite a lot, but we would've paid almost anything to be able to see 'the King' in person." (Actually, the top ticket price to see Elvis in Tacoma was $3.50.)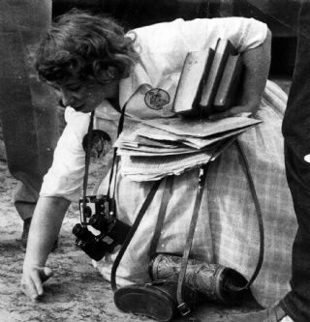 Living in a small town southeast of Tacoma, Janet Meyer and her friend were on the road at 5:30 in the morning, hoping to be first in line for the 2 p.m. show. They got seats right up front, which led to Janet's photograph (right) appearing in the News Tribune the next morning. "They had a barricade set up in the front," she explained, "and they had some young men in black pants and white shirts. And for some reason my girlfriend and I went right through the barricades. And what I was doing when they took that picture was I was picking up some dirt from where he walked for a girl who was on the other side of the barricades. She had a baby food jar."
Fifty years later Meyer still mourned the passing of the dirt she collected for herself that day. "One day when I was moving it fell off the shelf in the cupboard and my husband sucked it up with a vacuum and I was devastated. Goodness sake, it probably lasted 20 years. To everyone else it was just dirt in a mayonnaise jar. But to me it was a treasured footprint."
Heldreth was among the girls who came prepared. "Most of us had these fruit jars or napkins or whatever they could gather to scoop up this dirt that he walked on. And at that time, girls wore skirts that were full circle—and they were cut out of felt. The poodle skirts, and you wore all those petticoats underneath them. So here you're down on your hands and knees scooping up dirt in a skirt you can't wash, you have to dry clean. So we had to go home and have our mothers look at us like we'd been scrambling in the mud or something."
Not all of the girls in the Lincoln Bowl that day were teenagers, of course. Beverly Ahnert went to show with her 10-year-old daughter, a friend, and a 12-year-old neighbor girl. "I jumped up and down, yelled and yelled some more, enjoying each note Elvis sang," Beverly confessed. "Well, my daughter and her friend were almost embarrassed to tears to see me making such a spectacle of myself and sat down on the floor of the stadium seats so that no one would know they were with us. But we did not care one bit."
Beverly reflected on the lasting impact of having seen Elvis in Tacoma in 1957. "I did not realize that it was a historical and hysterical moment, and have always been glad that I got to be there and see young Elvis at the beginning of his huge career. How could we know that he would be the King for so many years? I did see Elvis two more times, once in Las Vegas and once in Hawaii. But it was never, ever as exciting as that first time."
I, too, saw Elvis twice in the 1970s, but, like Beverly, I know that seeing him then could never have been as memorable as seeing him on stage in the fifties. And just why didn't I go to Elvis' 1957 show in Spokane? I blame my mother. Not because she wouldn't let me go to see Elvis, but because she had me too late. I was only eight in 1957. At that age I was heavy into The Mickey Mouse Club and didn't give a hoot about Elvis Presley. — Alan Hanson | © May 2011


Go to Elvis 1957

Go to Home Page