Elvis Rock 'n' Rolled in 1961
For the USS Arizona Memorial
"This is the first time I've appeared live in nine years." That's what Elvis Presley told his opening night audience at the International Hotel in Las Vegas on July 31, 1969. Actually, it had been exactly 8 years, 4 months, and 6 days since he had last performed live on stage. During the interim, Elvis toiled in Hollywood, starring in an amazing total of 24 films. When Elvis walked off the stage in Honolulu the evening of March 25, 1961, he couldn't have imagined that it marked a turning point in his career. That it did so made that Hawaii concert a key event in his career.

According to Ernst Jorgensen and Peter Guralnick in their book, Elvis – Day By Day,the genesis of the '61 concert in Hawaii occurred on December 4, 1960, when Colonel Parker read an editorial in the Los Angeles Examiner about the effort to raise funds for a memorial to the USS Arizona in Pearl Harbor. It occurred to Parker that Elvis could perform a benefit concert in Honolulu before filming of his next movie began there in March 1961. After getting the OK from Elvis, Parker began making plans. The Colonel held a press conference to publicly announce the coming concert on January 11, 1961, at the Hawaiian Village Hotel in Honolulu.
The next day both of the city's newspapers, the Advertiser and the Star Bulletin reported on the press conference. Parker revealed that Elvis would appear in Honolulu on Sunday, March 26, at a benefit concert for the USS Arizona Memorial Fund. "Every penny of that taken in must go to the fund," Parker explained, "otherwise, we are not interested in doing the show. In fact, Elvis told me over the telephone last Tuesday night that he'll buy the first ticket for $100."
• Tickets ranged from $100 to $3
Bloch Arena at Pearl Harbor would be the venue. Of the 4,000 seats available, 100 "ringside" seats would be sold for $100 each. The rest of the tickets, scaled at $10, $5, $3.50, and $3, would go on sale March 13. "Not a living soul will get a free ticket to this show," stated H. Tucker Gratz, chairman of the memorial fund commission. "And that includes the performers, and even Colonel Parker." Parker said he and Elvis would pay all other performers out of their own pockets, and all expenses would be donated.
"This is a little bit like a kid who has heard of Santa Claus and can't believe it," Gatz said. "Our sincere thanks to Colonel Parker. It's hard to believe this is real."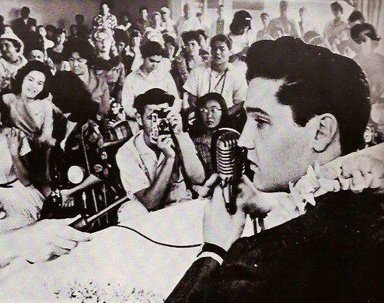 "It is," Parker confirmed. "You know, Elvis is 26 (last Sunday was his birthday) and that's about the average age of those boys entombed in the Arizona. I think it's appropriate that he should be doing this." Setting a fundraising goal for the show, Parker added, "There's no excuse for Elvis to leave this island without his raising $50,000."
Shortly after Colonel Parker returned to Los Angles, he announced a couple of changes in the benefit concert's schedule and seating arrangements. The show date was moved a day earlier to Saturday, March 25. Also, the "ringside" $100 ticket section was expanded from 100 to 300 seats.
On Monday, March 20, 1961, five days before the Pearl Harbor show, Elvis reported to Paramount studio in Hollywood to begin work on Blue Hawaii. On the same day, his single release of "Surrender" reached #1 on Billboard's Hot 100. It was Elvis' fourth straight #1 record in less than a year.
• Long day for Elvis begins at LA airport
The morning of March 25, 1961, Elvis boarded a Pan American Airways jet in Los Angeles to start what he knew would be a long, tiring day for him. Even before the plane took off from LA, an estimated crowd of 3,000 began gathering at Honolulu International Airport to greet Elvis on his arrival. At 12:15 p.m. the plane carrying Presley touched down in Honolulu, and at 12:27 Elvis, wearing a black suit and a ruffled white shirt, appeared at the rear door.
"For 10 minutes the handsome lad with the baby blue eyes passed in review," reported a local newspaper, "just like they do in the Army—up and down before the crowd with the wire screen and a cordon of Honolulu and military police between him and the fans. Some of them looked as though they were ready to tear him limb for limb, and take home the pieces for souvenirs … Soon, Elvis was weighed down with leis and smeared with lipstick (lucky girls). Presley and his party didn't venture into the crowd. Looking pale, Elvis paused only twice in his march up and down outside the fence. Once he stopped to let a little girl give him a lei and he rewarded her with a sweet smile."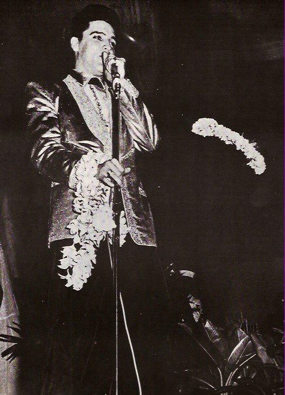 Then Elvis jumped into a waiting car and was escorted by police to the Hawaiian Village Hotel, where he would stay for three weeks while filming Blue Hawaii. At 3:45 p.m. Elvis entered the hotel's Carousel Room for a press conference. Local columnist Shideler Harpe reported that "Elvis sauntered in, looking sleepy-eyed and rumpled because he'd just finished a little nap, and before you could say 'Blue Hawaii,' a little girl hung a lei around his neck and wouldn't let go. Elvis looked a bit wild-eyed and Colonel Tom Parker finally disengaged him from the kid's clutch."
Then Elvis answered questions from about 100 high school newspaper reporters and Honolulu newsmen and radio DJs before returning to his hotel room to rest up before the show that evening. Meanwhile, lines were already forming at the entrances to Bloch Arena. "At 6:30 p.m., two hours before show time, the crowds extended for blocks," according to a news report. "Traffic began jamming in the area about 7 p.m. as parking lots and later all available space on nearby lawns and streets filled to overflowing. The arena filled quickly when the gates were opened at 7:15 p.m."
• Elvis wears gold lamé coat for the last time
The show began at 8:30 p.m., but Elvis didn't take the stage until after intermission. Among the opening acts were pianist Floyd Cramer, the Jordanaires, jazz saxophonist Boots Randolph, and comedienne Minnie Pearl. After intermission, Rear Admiral Robert L. Campbell introduced Elvis.
"When Elvis came on the teenagers screamed for 2 ½ minutes without let-up," according to an article in the Advertiser the next day. "Elvis was wearing his famous gold jacket with the silvery glints like sequins, dark blue trousers and a white shirt and a blue string tie. He wiggles as much as he ever did. The Army didn't make him a bit conservative."
During an hour on stage, Elvis sang 15 songs: "Heartbreak Hotel," "All Shook Up," "A Fool Such As I," "I Got a Woman," "Love Me," "Such a Night," "Reconsider Baby," "I Need Your Love Tonight," "That's All Right," "Don't Be Cruel," "One Night," "Are You Lonesome Tonight," "It's Now or Never," "Swing Down Sweet Chariot," and "Hound Dog."
Advertiser Managing Editor Buck Buchwach labeled Presley "the hottest commercial attraction in the entertainment industry" in an editorial on March 27. "Elvis is a musical Messiah," he proclaimed. "For his fans, he has an animal magnetism that communicates itself more strongly than any entertainer we've ever seen or heard … he's much more handsome, much more appealing, much more likeable, and a much better entertainer in person … than on records, over TV, and in movies."
• Elvis does "Hound Dog" knee slide for the last time
Elvis concluded his performance by sliding six feet across the stage on his knees while singing "Hound Dog." The screaming and applause continued even after Elvis left the stage. Reporter Phil Mayer noted, "This acclaim saluted more than his performance. The applause also was for a man helping build a monument the best way he knows how."
Gross ticket sales were $52,000, surpassing the $50,000 goal Colonel Parker had originally set. An additional $5,000 check from Colonel Parker and Elvis, along with concessions revenue and additional donations collected at the arena, pushed the memorial commission's proceeds over $62,000. Although the amount was not enough to complete the memorial, it was enough to prepare the memorial for dedication. "I can assure you that on December 7 of this year there will be a memorial," stated fund chairman Gatz after all the receipts had been added up.
The USS Arizona Memorial was dedicated on May 30, 1962. When I was at the memorial in 2007, the plaque below was on display recognizing Elvis Presley's contributions to the memorial. Various Presley merchandise and artifacts from the 1961 benefit show are kept in the memorial archives and can be viewed by appointment. — Alan Hanson | © September 2010

Reader Comment: As the coxan, I was on the boat that took Elvis on a tour and out to the memorial. It was a Sunday morning at 11:00 am. I got the call to be at the boat landing at 9 am. I was 18 years old and worked for RADM Henry S. Persons. What a thrill for a young sailor.— Craig
Reader Comment: I came from the United Kingdom via LA to Australia and New Zealand in 2006/7, and during that time my wife and I stopped off in Hawaii for about four days. We took a trip to Pearl Harbor and I stood on the bridge above the Arizona. I thought about all the servicemen who lost their lives in a barbaric attack, and I thought of the concert Elvis played to raise money for the memorial I was standing on. I thought of Elvis' final trip to Hawaii in March 1977, when he went to visit the memorial and was photographed deep in thought.  And as I thought, I realized I was standing on the memorial on December 7, 2006 — that's right, coincidentally exactly 65 years to the day since the attack itself. It was one of the most special moments of my life. — Stephen (February 2023)
Go to Elvis on Stage

Go to Home Page