Canadians Remember Elvis'
1957 Show in Vancouver, B.C.
On August 31, 1957, Elvis Presley gave one of the most legendary concerts of his career at Empire Stadium in Vancouver, B.C. It would be his last performance outside the U.S. Crowd estimates ranged from 16,000 to over 26,000. Either way, it was the biggest crowd he faced in 1957. Thousands of spectators left the stands and charged down the football field before halting just short of the goal line, where Elvis gyrated on stage. Fear that the excited crowd might advance on the stage caused Elvis to cut his performance down to 22 minutes, about half his normal time on stage in 1957. After Elvis split, hundreds of fans burst through the security line and overran the stage. Eventually the crowd dispersed, and Elvis's Vancouver show passed into history.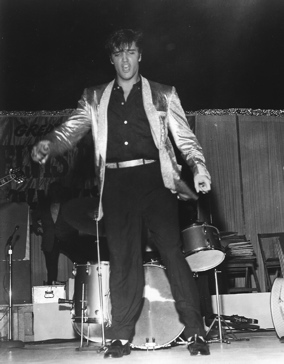 Exactly 50 years later, on August 31, 2007, Vancouver remembered Elvis' controversial appearance in the city with an anniversary celebration at Rogers Amphitheatre. On the bill were two Elvis Tribute Artists, Steven Elliott as the young Elvis and Wally Tiemer as the seventies concert-tour Elvis. At intermission, hall of fame DJ Red Robinson, who introduced Elvis at Empire Stadium in 1957, and Memphis Mafia member Joe Esposito made a presentation on stage.
As they had done with Elvis' live appearance in 1957, Vancouver's newspapers, the Sun and the Province, gave the 2007 anniversary celebration wide coverage. Both papers invited readers who had seen Elvis' 1957 show to send in their accounts of the event. Below are some of the cherished memories readers shared of that hot summer evening 50 years before.
First, Billy of Vancouver, just 13 in 1957, told the Sun what happened when he went to see Elvis with his 16-year-old sister, Donna.
Billy: "It was a beautiful summer evening when we arrived over an hour early. Our seats were 12 rows up on the east side of the stadium near the stage … Donna, who was in the habit of bossing her little brother around, gave me some money and told me to go and get us something to eat and drink. 'I don't want to miss anything,' she said excitedly.
"On my way back from the concession stand I was stopped by a line of burly security guards who had created a path to a doorway. Just then a big black limousine pulled up and out jumped Elvis in black slacks and gold lamé jacket. He was beautiful, even with his pancake makeup. He was so close that I could have touched him had not my hands been full of food and drinks. Donna said on my return, 'Where the heck have you been!?' After I told her what had happened, she grabbed me and started screaming, 'You saw Elvis? You saw Elvis?'
"I must admit that I did not understand the frenzy but I ended up being caught up in it. Shortly after Elvis started singing the crowd ran onto the field and charged the stage. We were all herded back into the stands under the threat of the concert being cancelled. Elvis started to sing again and it did not take long for the stands to empty. Donna grabbed my hand and yelled, 'Let's go Billy!' We were amongst the first to the barrier in front of the stage. A big Vancouver city policeman in the last line of 'defense' tried to push Donna back. He made the mistake of pushing her on her breast to which Donna responded by kicking him in the crotch. I remember running by him as he threw up, suspended over the barrier that he had been protecting. We made it to the stage just in time to hear Red Robinson announce that Elvis had left the stadium."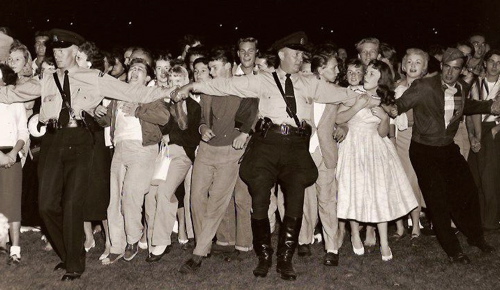 Anita Montague: "My dad was a very strict Italian, so [my mother] had to lie and say I was going baby-sitting in order to go to the show. Before the show, [family friend] Lynn and some other police officers were outside Elvis's dressing room. Of course, being 16 years old I'm hiding behind her, I'm shy, I'm really nervous. Elvis walked out and we kind of made eye contact and he smiled. He looked at Lynn and was teasing, asking her, 'Do you want a kiss?' She burst out laughing and said 'No, maybe [Anita] does.'
"Oh God, when he walked on that stage, I'm tellin' ya, my heart was just racing. I can't really remember the songs. I was just kind of mesmerized. Oh God, he was good lookin' … He was wiggling his little pelvis there. I'm just sitting there with my mouth open."
The following remembrances of seeing Elvis in 1957 appeared in the Province.
Pauline Winter: "At 14 years old, I was the only one of my friends allowed to go to this concert. Much to my dismay, some hoods in black leather jackets started to come across the grass all defiant, but the police moved them out. In no time the crowd could not contain itself and surged forward onto the grass. My cousin Denise and I made our way down to the field and elbowed our way to the front. We were so close and totally enthralled. And there he was: Elvis."
Marion Guild: "It was pandemonium. All around me were other kids and cops. Suddenly, I saw my shoe underneath the foot of a cop. I tried to get his attention, to no avail. The next thing I knew, I was biting the cop's arm. He moved, I got my shoe and ended up right in front of the stage, where I was mesmerized by the beautiful sight of Elvis."
Jack Boyle: The crowd just seemed to want to get closer and security was not well enough organized to stop them, but it wasn't a riot. Kids just didn't riot in those days."
Bob Reid: "Back in the 1950s, Empire Stadium had a policy of having cadet organizations as ushers. It turned out to be my squadron's turn to usher … I was 16 years old. I and some of the other cadets were near the stage.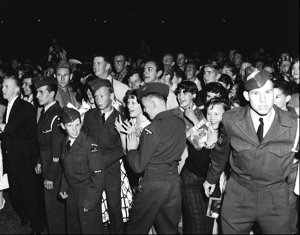 "Elvis came over to us and asked us how we were doing and how we liked the show so far. He said that he liked Vancouver and was having a great time. In a little while he said that he had to get back to work, but before he left us, he reached down and shook our hands. Unfortunately, in the crowd were a number of rowdies who were determined to reach the stage. Being young and naïve, I and other cadets linked arms to stop them. When the wave hit us, our linked arms locked us in place and the crowd swept over us … Several of us were scratched and had minor injuries.
"I saw the Vancouver police with dogs and batons going after the worst of the rowdies, who were fighting and determined to cause real problems. We were heroes at our high school the next week. I did not wash my hand for some time as the girls wanted to shake the hand that Elvis had touched."
Barb Paine: "I found out later that evening that Elvis did not leave the building as everyone thought. My father, Ernie Hancock, was a manager in the works department of the PNE and that evening he told us that they had built a trapdoor in the stage and when the crowd swarmed the stage, Elvis actually went under the stage. A person dressed like Elvis had jumped in the Cadillac and once the stadium was clear, they took Elvis out in another car."
Cheryl MacDonald: "I was 11 years old. My mom took me to see Elvis. I cried all the way home because the concert was cut short. Little did I know that one of the kids storming the stage would be my future husband, and I never let him forget his bad behavior."
Brian Buick: "My mom, Laurene, was at the Elvis show. She carried the ticket stub in her wallet until the day she died, April 29, 2003. She was 65. I now have that ticket stub. Her seat was Section B, Row 8, Seat 2."
In August 2007 the Sun and the Province printed many other remembrances of Elvis's show in Vancouver. All of them share a common theme—that seeing Elvis perform in Empire Stadium in 1957 was one of the most exciting events in the lives of those who were there. — Alan Hanson | © December 2010
Reader Comment: Yes, I was there at age 16 and still can feel the excitement to be a part of the crowd. The cops went absolutely wild and were assaulting people with their sticks without any qualms as to whether or not any of the crowd deserved the whacks. Fortunately, no hits came close to my group, and we all thought we had died and gone to heaven to be able to see Elvis … Just the best!!!! — Jean (August 2013)
Go to Elvis 1957

Go to Home Page