Elvis On Stage February 1970

The Overlooked Las Vegas Shows
From 1969 through 1976, Elvis Presley performed 641 stage shows during 15 engagements at the International/Hilton Hotel in Las Vegas. The entertainment press widely covered his opening Vegas appearance in August 1969, and RCA issued a live album spotlighting his return to the concert stage. Fueled by a subsequent host of recordings, photos, and books through the years, that initial engagement still resonates loudly as a turning point in Presley's career. Nearly as well remembered is his third Vegas run in the late summer of 1970. It lives on as the subject of the MGM film, Elvis: That's the Way It Is.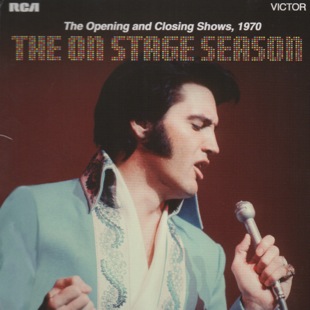 As for the Presley engagement that came between the two celebrated Vegas appearances noted above, it's not quite accurate to say that it has been forgotten. After all, RCA did release a live LP from those January-February 1970 shows, and a hit single, "The Wonder of You," came out of that season as well. However, it is fair to say that Elvis' work at the International that winter was under reported then and has been under appreciated over the years since.
Compared to the '69 engagement, Presley's return to the Las Vegas stage five months later received slight press coverage. Variety and Billboard provided only abbreviated accounts. Robert Hilburn of the Los Angeles Times was one of the few journalists who gave Presley's return to the International a respectful review.
Hollywood correspondent Ann Moses's lengthy first-hand account of Presley's January 26, 1970, opening night show appeared 10 days later in the New Musical Express, a UK publication. Unfortunately, Moses's unabashed pro-Presley bias renders her observations of the event questionable. (Her opening paragraph reads: "The King returned to his throne at the International Hotel, Las Vegas, last week. And there was no doubt he is Monarch! He was everything you could expect and more!")
Also unfortunate is that Follow That Dream (FTD), the Presley collector label, chose to use an expanded version of Moses's essay as the accompanying text for its recent CD release, The On Stage Season, which features the opening and closing shows of Elvis's second Las Vegas appearance in January-February 1970. It was a lost opportunity for a new, independent viewpoint on a long overlooked Presley Vegas engagement.
• Did Elvis change his musical course on stage in February 1970?
Back in 1970 it appeared that a major change in Elvis' musical repertoire occurred between his first two Vegas stints. In the 1971 radio documentary, The Elvis Presley Story, narrator Wink Martindale declared, "In his first engagement there he concentrated on his old hits. The second time at the International Hotel, the emphasis was shifted to songs made popular by other vocalists." The live LPs RCA issued for the two Vegas engagements certainly gave that impression. While the 1969 Vegas album featured Elvis singing a variety of material, including some of his own and some of other singers, the "On Stage" LP from February 1970 contained 10 tracks, all of which featured Elvis doing covers of hits by other singers. Included were "Proud Mary," "Walk a Mile in My Shoes," "Let It Be Me," "Sweet Caroline," and "Polk Salad Annie."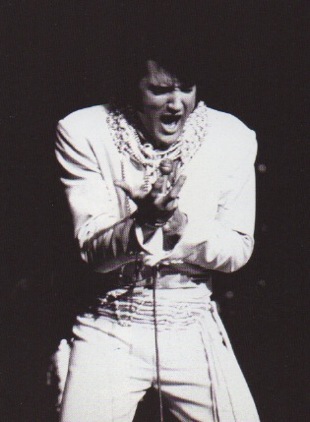 However, the two CDs in the recent FTD release reveal that, although some of the song titles changed, the mix of Presley's stage show material otherwise remained the same for his first and second Las Vegas appearances. For instance, during both engagements he performed "All Shook Up," "Love Me Tender," "Hound Dog," "Don't Be Cruel," and "Heartbreak Hotel." In August 1969 he included his recent hits, "In the Ghetto" and "Suspicious Minds," and the following February he did the same with "Don't Cry Daddy" and "Kentucky Rain." During both runs he included songs from his recent Memphis sessions LPs, such as "Inherit the Wind," "This Is the Story," and "True Love Travels on a Gravel Road." And, like in his February repertoire, the previous August Elvis sang his versions of other singers's songs, like "I Can't Stop Loving You," "Funny How Times Slips Away," Yesterday," and "Words."
If his repertoire remained conceptually the same, then, what was the legacy, if any, of Elvis's second Las Vegas appearance? It lies in the critical entertainment industry concept of "follow-up." Did Elvis build on his initial triumph and keep the momentum going in Las Vegas? Or was the second time at the International nothing more than a rehash of what he had done five months earlier?
For starters, one thing we know for sure is that Elvis' second gig at the International drew even bigger crowds than did his record-breaking first one. During his four-week stint in August 1969, Elvis drew over 100,000 people, who paid over $1.5 million in receipts. At the mid-point of his second engagement, he was doing even better, according to International head maître d' Emilio Muscelli. "I've never seen anything like it," he said. 'The phones ring all day long and people begin lining up at 10 a.m. for reservations. The response is stronger than last summer."
• The stars came out for Elvis in Vegas 1970
The opening star-studded audience included Dean Martin, Juliet Prowse, Ringo Starr, and Zsa Zsa Gabor. Elvis' wife Priscilla and father Vernon sat stage side. According to Hilburn's review in the LA Times, though, the mainstream crowd that night and through the four-week run had to be won over by the performer:
"Though both shows (the 8 p.m. dinner show and the midnight cocktail show) fill with equal ease, there is a vast difference between them. The truth is Presley is not appearing before 'his' audience in Vegas, particularly at the dinner show. While there are some younger faces in the audience, it is mainly a 40ish and above crowd. They are drawn by the Presley fame and the fact that it is 'the' show in town."
When Elvis walked on stage, the audience "merely applauded," Hilburn observed, "except for some shrieks from the younger women." Even so, Hilburn had to admit there was a sense of excitement in the room. "The charisma of Presley and the fact he has been so hard to see in person make it an exciting moment."
Of course, the adoring eyes of Ann Moses saw things differently. Between numbers, she observed, "Elvis was forced to wait as the crowd just couldn't stop clapping." He received two standing ovations opening night, she noted, and then added the following sexually suggestive observation:
"He was dressed in a one-piece jumpsuit, well-fitted to his body with a low-slung, sexy, beaded-tasseled belt knitted tightly to his hips. Even the older women in the crowd were sighing and moaning as the tassel swayed back and forth across his body."
• Music and delivery key to Elvis' Vegas legacy
Although sell-out crowds and sex appeal had always been colorful backdrops for the Presley legend, his legacy had always been based on his music and high-energy delivery in the '50s. Hearing his performances during the opening and closing shows of his 1970 winter engagement at the International reveals a more relaxed Elvis but also one who is just as serious about his music as he was during his opening run in Las Vegas. Elvis delivered every number on the 1970 On Stage LP and on the current FTD CD package (44 tracks in all) with passion and commitment. Not once did he simply go through the motions or turn a song into a joke, as he often did in his final Vegas shows of the mid-seventies.
If you're a regular reader of elvis-history-blog.com, you know I've never shied away from calling Elvis out when he failed to deliver. I didn't attend any of the 57 shows he gave at the International in the winter of 1970, but everything I've heard on the available recordings of those performances shows Elvis at the top of his game. "What impresses us is the great aura and attitude that permeates the entire presentation," wrote columnist Joe Delaney in the Las Vegas Sun. "Sheer magic throughout."
In his first Vegas appearance in August 1969, Elvis Presley started to reinvent himself. It was during his second stint at the International, however, that he firmly reestablished himself as one of the country's top stage performers. Priscilla Presley once said she wished everyone could have seen Elvis on stage during his early Las Vegas shows because it was then that he was full of energy and at his best vocally and physically. As Robert Hilburn noted in his LA Times review of Presley's 1970 winter season in Las Vegas, "Elvis … has done what once seemed impossible. He has become king on his own terms." — Alan Hanson | © November 2013