Ken Sharp's Elvis Vegas '69 Book
Lets the Players Tell the Story
Much has been written about Elvis Presley's return to the stage in 1969 at the International Hotel in Las Vegas. However, in his book, Elvis Vegas '69, Ken Sharp has come nearest to telling the full story surrounding Presley's record-breaking comeback that summer.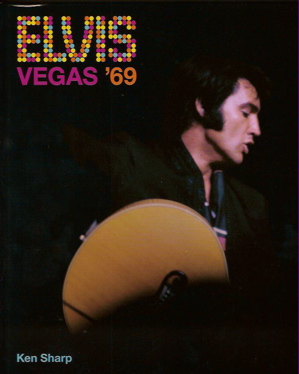 First, the tale of the tape on Sharp's book: hard bound, 8 ½ X 10 ¼ inches, 208 pages, published by Jetfighter in 2009.
Bursting with photos, Elvis Vegas '69 is visually striking, and for those fans who never tire of seeing new images of Elvis, this book will certainly be worth the $50 price tag for the pictures alone. I counted nearly a hundred shots in color and black and white of Elvis on stage in Vegas. Full-page treatment is given to over 20 images, including the front and back cover. In addition, there are several dozens backstage photos and another 30 or so images of promotional material relating to Elvis's '69 Vegas stint. For visual variety, a sampling of Presley photos from the fifties and sixties are also included.
• Text of Elvis Vegas '69 presented in creative way
Personally, when it comes to Elvis, I'm more into information than images. The text of Elvis Vegas '69 is organized in a conventional manner (chronologically) but is presented in a most unusual way. There is no table of contents. Rather, the information is presented in 25 unnumbered chapters. Actually, "chapters" is not the right term; it feels more like a "storyboard" presentation with 25 topics arranged in chronological order. After a couple of introductory sections, the "storyboard" topics begin with Elvis's decision to return to the stage and then flow through his first show at the International on July 31, 1969, and on to its aftermath.
While Ken Sharp is represented as the author of the volume, his role is actually that of editor. On the 123 pages of text, Sharp only contributes about 1,500 of his own words. That includes a one-page introduction, brief lead-ins to each of the 25 sections, and several editor's notes. The remainder of the extensive text consists of quoted passages from over 100 people connected in some way with Elvis' 1969 Las Vegas run. They include musicians, "Memphis Mafia" members, entertainers, Presley family members, songwriters, journalists, fans, music business workers, and hotel executives and staffers.
Downgrading Sharp from author to editor should not be seen as downgrading Sharp's effort, since he has done quite remarkable work in assembling Elvis Vegas '69. Most of the hundreds of interview snippets in the book come from longer interviews Sharp personally conducted with dozens of his contributors. One can only imagine the difficulty and commitment involved in contacting all those people and coaxing them into contributing meaningful comments. Equally difficult must have been the job of organizing segments from all those interviews to tell a story without the help of narration.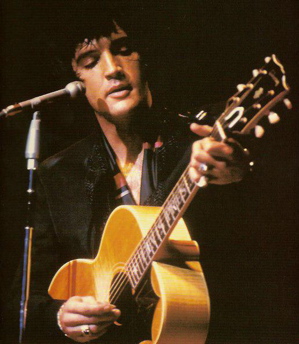 Such a unique approach, however, has inherent problems. Extensive as Sharp's interviews were, there were inevitable gaps in the chronological sequence of events. Sharp covered some of them with passages from interviews previously printed in other publications, all properly credited. This tactic was also used to sprinkle in along the way the comments of Elvis and Colonel Parker. Also, Sharp's "let-the-players-do-the-talking" design resulted in some overlapping of information. A number of times while reading through Elvis Vegas '69 I stopped momentarily to ask myself, "Didn't I read that same comment a few pages back?"
• Elvis Vegas '69 caters to the Presley faithful
In his introduction to Elvis Vegas '69, Sharp makes his intended audience clear, and it clearly didn't include Elvis fans like me. "Elvis delivered the show of a lifetime," Sharp declared of Elvis on opening night, "proving to all in attendance that he was clearly back where he belonged and poised to carve out an exciting new chapter in his illustrious career." Could Sharp really vouch for the positive reaction of "all in attendance" to Elvis's performance? Of course not.
I knew at that point that Elvis Vegas '69 would be preaching to the choir. That is, catering to those fans who had bought into the myth that Elvis was divine and infallible. At one point, Sharp quotes Bill Jost, an assistant maître d' at the International: "I watched the audience as he walked out on stage, and so many had their faces in their hands. They'd sit there and cry. It was almost Biblical, as if the clouds had parted and down a shaft of light came the angels."
Now, I'm a loyal Elvis fan, but not a blind one. With Elvis, as with all things, there are always varying points of view. After reading Sharp's intro, I suspected only the viewpoint of the Elvis faithful would be portrayed in Elvis Vegas '69. And indeed it is pretty much an Elvis love fest throughout.
"Elvis came out and rocked that city like it had never been rocked before. He reinvented Vegas and did it in his style," commented Elvis's friend George Klein. Seemingly hundreds of those types of Presley platitudes are scattered throughout the pages Elvis Vegas '69. After awhile, even the most fervent of fans must start skipping over them.
The following assessment by journalist Frank Lieberman was one of the very few negative comments allowed in the book: "Elvis was magnificent on opening night but there was a controlled mass hysteria and to be honest, opening night, which was by special invitation only, wasn't as exciting as the shows that followed on that first engagement."
• Elvis anecdotes highlight Sharp's book
Still, I resolved to slug my way through the text, and I'm glad I did, because there are some very interesting Elvis anecdotes in Elvis Vegas '69. They include: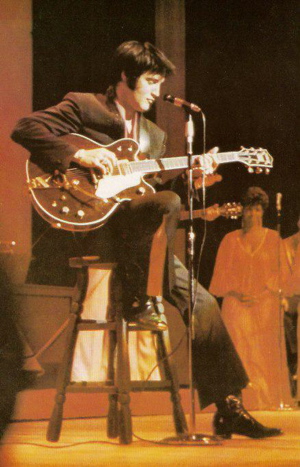 • How Colonel Parker fought to keep admission to Elvis' Vegas shows low so that his real fans could afford to see him there.
• How head maître d' Emilio Muscelli allegedly became a millionaire by accepting tips to assign prime seating at Elvis' shows through the years at the International and Hilton.
• How Elvis intended in the seventies to continue making movies, "but of a more serious nature."
• How Tom Jones claimed not only that he was the one who gave Elvis the confidence to return to the stage, but also that he "inspired" certain moves that Elvis did on stage.
• How drummer Ronnie Tutt claimed that Elvis was not proud of his music in the fifties.
• How Elvis sat in the lounge one night and hollered out songs titles for Chuck Berry to sing on stage.
• How Bill Medley reacted when Elvis walked on stage while Medley was singing "You've Lost That Lovin' Feeling" during his lounge act.
My favorite story in Elvis Vegas '69, though, is how Elvis fan Ian Fraser-Thompson brazenly snuck into Elvis' dress rehearsal, his opening night show, and his post-concert press conference, all on the same day!
• Elvis Vegas '69 concludes with Presley love fest
Elvis Vegas '69 concludes with a section titled, "Elvis for Everyone." In it, 16 entertainers, ranging from Dave Clark to Paul Simon to Paul Stanley, lineup to extol the influence and significance of Elvis Presley. However, singer Bobby Vinton offered the most telling anecdote about Elvis' in Ken Sharp's book:
"What I'll always remember about Elvis is him saying, 'I kind of envy you' and I said, 'I don't understand, what do you mean?' and he said, 'You're so relaxed, you get out on stage and sing and play all of the instruments. In my case people expect so much from me. When I go on stage I've gotta be the King and it puts a lot of pressure on me. It's hard to live up to those expectations every night … I've got to be the greatest thing you ever saw.' He had to be better than people remembered and that put a lot of pressure on him. In a way I kind of felt a little sad for him."
That Vinton-Presley conversation provides the only hint in Elvis Vegas '69 that Elvis' triumphant return to the stage in 1969 can also be seen as the first step leading inevitably to his downfall and early death just eight years later. But then, Sharp's intention in this book was not to dwell on that, but only to show that on that glorious final day of July in 1969, Elvis delivered "the show of a lifetime." Elvis apparently agreed. At his press conference after the show, he called it, "one of the most exciting nights of my life." Elvis Vegas '69 celebrates that one shining moment, and Ken Sharp does it better than any other author—so far . — Alan Hanson | © November 2010


Go to Elvis Books

Go to Home Page