Elvis 2009: The 40th Anniversary
Of Elvis' Return to Vegas in '69
Elvis anniversaries—there have been a bunch of them noted and celebrated to various degrees in recent years. In 2004 we had the 50th anniversary of Elvis' first commercial recording, "That's All Right." The next year marked 70 years since his birth. The year 2006 featured multiple anniversaries, including Elvis' first #1 record, his first movie, and his appearances on the Sullivan show. Then in 2007 we remembered the 50th anniversaries of Elvis' gold lamé suit and the films Jailhouse Rock and Loving You. (That year, however, Elvis Presley Enterprises chose to focus on the 30th anniversary of Elvis' death.) In 2008 we recalled both Elvis's 1958 entry into the army and his 1968 TV special.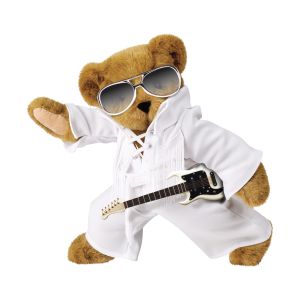 In 2009 and the big anniversary push seemed to be Elvis' return to live performing in Las Vegas 40 years ago. I use the term "push" because all of these anniversaries are perfect themes for EPE to use in promoting their Presley merchandise. And the perfect product to fit all the anniversaries is the Teddy Bear. Of course, the cuddly toy has a perpetual connection to Elvis thanks to his charting topping record in 1957. Just by changing the bear's outfit, EPE has been able to align it with each new Elvis anniversary. They've sold the same bear in gold lamé, jailhouse stripes, army fatigues, and black leather. And in 2009 year all they had to do was slap a little jumpsuit on the bear, and they created the perfect collectible to remember Elvis' 1969 Las Vegas debut.
• "Elvis Insiders" address effect of the Vegas years
Now, those of you who are regular readers of this blog know I don't often deal with Elvis collectibles. It's certainly not that I look down upon those who enjoy accumulating Elvis items. It's just that this is elvis-history-blog.com, and I see collectibles as playing a minor role in the "history" of Elvis Presley. Neither is it my intent to demean EPE, which is ultimately a business that must sell Elvis collectibles to thrive.
In fact, in addition to selling doodads, EPE offers some services that are very useful to fans like me who are interested in Elvis history. One of those is the "Elvis Insiders" club that EPE administers. I became a member in 2002, the year the group started. From time to time, I'd scroll through the Insiders' on-line forum searching for interesting discussion threads. Occasionally, the site administrator posed a question and invited members to respond. In 2009 a thoughtful question drew some thoughtful replies.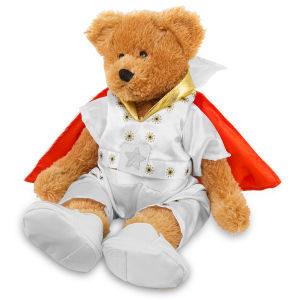 The question—"What effect do you think Elvis' years performing in Las Vegas had on his career?" Of course, many responses portrayed Elvis as being like a Saint presiding over the faithful masses who made their pilgrimage to the desert. However, many others offered more balanced views of Elvis' work during those years. They were able to see how the Vegas stage influenced Elvis' career in both positive and negative ways. Here are a few examples.
"Some of his best live performances were on the Las Vegas stage. I do believe that Elvis should have concentrated more on 3-5 day engagements in large venues such as Las Vegas, Los Angeles, New York, Atlanta, Dallas and Houston rather than a grueling one or two day appearances in smaller venues …" — GiGi, Tennessee
" … Being in Vegas was probably good in the beginning but I think he performed there for too long. Two shows a night for seven years plus touring as well I think had a detrimental effect on his health. No stars today would do such a thing …" — Gary, United Kingdom
" … to his fans he was within reach again. Being Elvis, that sure was good for his career. However, as the years moved along the show with its repetition and high frequency of performances must have felt to Elvis somewhat like his once promising movie career—stuck. Elvis' professional career could have benefited more had he been able to pursue some other creative challenges that were offered to him. The blessings of the Las Vegas contract expired long before its duration was up." — Claudia, Canada
• Elvis made himself available to fans but overdid it
Claudia made a couple of important observations. First, by returning to live performances, Elvis made himself available to his fans once again. During the Hollywood years, most of his fans, including me, had no hope of ever seeing Elvis in any venue other than a movie theater. Without doubt his popularity began to dwindle away during the middle sixties. His return to the stage revitalized his career. It reawakened many of his old fans and won him multitudes of new ones.
I never saw Elvis perform in Las Vegas. (Once in 1970, however, I was visiting my father in Las Vegas while Elvis was appearing there. I couldn't get in, of course, but one night I went to the International, stood outside the closed showroom doors, and faintly heard Elvis singing inside.) Later, when he went on the road, I was able to see him perform, and it is something I'll never forget, something that would never have been possible without him first appearing in Las Vegas.
But, as Claudia pointed out, instead of focusing solely on live performances, Elvis's career would have been better served had he focused on a variety of "creative challenges." In the 1950s Elvis performed on stage often, but he also appeared on TV occasionally and made several movies. When he came out of the army in 1960, however, he made the mistake of concentrating solely on making films. There were no multiple TV appearances or annual concert tours. That course eventually drained his creativity and enthusiasm.
Unfortunately, when he returned to live performing, Elvis made the same mistake. For the rest of his life, he focused on concert work only, forsaking all other "creative challenges" open to him. That decision—and make no mistake, it was Elvis' decision alone—was inevitably fatal to his creative spirit.
Elvis was not a big fan of Frank Sinatra, but it would have done him some good to emulate Sinatra's career path. Frank played Vegas, but not nearly as often as Elvis. In addition to his recording work, Sinatra also went on tour occasionally (both in the U.S. and abroad), usually made one movie per year, and appeared on TV from time to time. Sinatra lived to the age of 82. Perhaps if Elvis had chosen to be moderate in his Vegas work and had learned to better diversify his career, he might have lived to celebrate his 75th birthday in January 2010. — Alan Hanson | © August 2009
Go to Elvis on Stage

Go to Home Page