Elvis Presley Was Always
Too Busy to Vote for President
"Elvis politics"—There's a rare Google search topic for you. Sure, during his career Elvis occasionally crossed paths with politicians. On March 8, 1961, he addressed the Tennessee State Legislature in Nashville, and then there was his well-known encounter with President Richard Nixon in December 1970. Neither of those encounters really had anything to do with politics, however. He wasn't in the Tennessee State House to advocate the passage of some law, but rather to receive an award from the legislature. And getting into see Nixon was all about getting a federal badge for his collection. The truth is, Elvis never had a whole lot of interest in politics.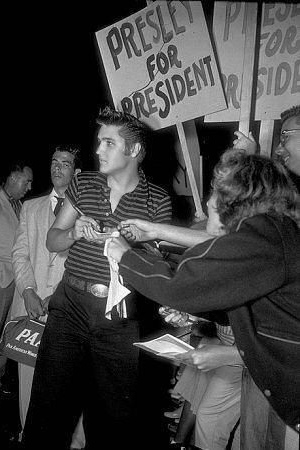 Certainly, though, even Elvis would have understood the significance of an African-American being elected to the presidency in 2008. After all, Elvis graduated from a whites-only high school and as a young entertainer often played to segregated audiences (whites on the main floor, blacks in the balcony). And his music certainly helped to bring black and white people together at a time when the civil rights movement was just getting started.
During his lifetime, Elvis had the opportunity to vote in six presidential elections. However, it is probable that he never exercised his right to vote in any of those elections. In Peter Guralnick and Ernst Jorgensen's book, Elvis Day By Day, there is no mention of Presley ever casting a vote for president. Let's take a look at what Elvis was doing on each of the six presidential election days during his lifetime.
• 1956—Eisenhower vs. Stevenson
Elvis first became eligible to vote on his 21st birthday, January 8, 1956. (The 26th Amendment, giving 18-year-olds the right to vote, did not go into effect until 1971.) The first presidential election in which he could have voted came later that year on November 6, 1956. As with most young people then, as well as now, voting was no doubt a low priority for Elvis. It was one of few presidential election days during his life that Elvis was actually in his hometown of Memphis. That would have made it relatively easy for him to vote for Democratic challenger Adlai Stevenson. (On August 17, Elvis told reporters in Los Angeles, "I'm strictly for Stevenson. I don't dig the intellectual bit, but I'm telling you, man, he knows the most.") Instead, Elvis was probably more excited about his upcoming vacation. On November 8, two days after Republican Dwight Eisenhower won a second term, Elvis took the train to Las Vegas.
• 1960—Kennedy vs. Nixon
Elvis' next opportunity to cast a vote for president came on November 11, 1960, when the candidates were Democrat John Kennedy and Republican Richard Nixon. On that day, Elvis, then age 25, spent the morning in Hollywood finishing up the soundtrack recordings for his seventh movie, Wild in the Country. As he was away from his home state, if Elvis had wanted to vote, he would have had to do so by absentee ballot. The day after the election, when John Kennedy became president-elect, Elvis was in Napa, California, starting principal photography on Wild in the Country.
• 1964—Johnson vs. Goldwater
Four years later, Elvis was again in Hollywood on November 3, 1964, when the Democratic president, Lyndon Johnson, faced off with Republican Barry Goldwater. On election-day Elvis was in the middle of shooting his 18th movie, Tickle Me for Allied Artists. Again, there is no evidence that Elvis, at age 29, exercised his right to vote via absentee ballot in the election, won easily by Johnson.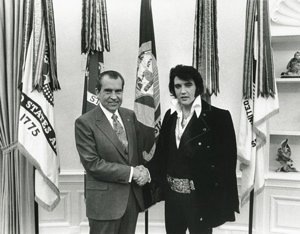 • 1968—Nixon vs. Humphrey and Wallace
When presidential election day came around again, it was during one of the most troubled years in the nation's history. Protests against an unpopular war in Vietnam and race riots in many American cities had caused President Johnson to forego running for another term. So, on November 5, 1968, the contest was between Republican Richard Nixon, Democrat Hubert Humphrey, and independent George Wallace.
While a bad year for the country, 1968 had been a successful and exciting year for Elvis. He was in the early stages of a career transition from acting to live performing. In June he had taped his "Comeback" TV special for NBC, which would air on December 3. On election day itself, RCA released Elvis's new single, "If I Can Dream," which would herald his return to the top of the record charts. That election day Elvis was again in Hollywood, making The Trouble With Girls, his 30th and next to last theatrical film.
Elvis probably didn't vote for winner Richard Nixon in 1968, but a little over two years later the King of Rock 'n' roll stood in the White House shaking hands with President Nixon. The morning of December 21, 197o, Elvis had dropped off a letter for the president at the White House. In it he expressed his concern about the "drug culture, the hippie elements, the SDS [Students for a Democratic Society], black panthers, etc." Actually, Elvis was probably more concerned about obtaining a Bureau of Narcotics and Dangerous Drugs badge for his collection. In any event, he persuaded the President of his sincerity and got Nixon to authorize the bureau to issue Elvis the treasured badge. Fortunately, a photographer was on hand to record the meeting, which now lives on as an urban legend.
• 1972—Nixon vs. McGovern
Less than a year later, on November 7, 1972, President Nixon stood for re-election against Democrat George McGovern. On that day Elvis flew from Memphis to Lubbock, Texas, to begin an eight-day concert tour. Again, it is very unlikely that Elvis stopped off to cast a vote on the way to the airport. Nixon won easily but was forced to resign the presidency less than two years later.
• 1976—Carter vs. Ford
Elvis Presley's last chance to vote for president came on November 2, 1976, when Republican incumbent Gerald Ford squared off against Democrat Jimmy Carter. Just exactly where Elvis was that day is hard to determine. According to Guralnick and Jorgenson, Elvis spent much of the first three weeks of November 1976 "flying back and forth between Memphis, Denver, Palm Springs and Dallas." With his career, health, and personal life becoming more and more unstable, it's extremely unlikely he took the time to vote on election day 1976. Elvis passed away less than 10 months later.
Not too much should be made of Elvis' choice to not exercise his right to vote over the years. As noted above, he was often out of town on election day, and even when he was in Memphis at the time, his going to the local polling place would have undoubtedly caused an unwelcome commotion. In the final analysis, his decision not to vote may have been just another example of how Elvis' fame kept him from living a normal life. And besides, when you're a "King," it's hard to get excited about voting for a mere "President." — Alan Hanson | © November 2008


Go to Elvis History

Go to Home Page