May 1, 1967 …
Elvis and Priscilla's Wedding Day
A Gossip Columnist's Eyewitness Account
"Key Elvis Dates" … That's the label on a sheet of paper that I often consult when gathering information for my bimonthly Elvis blogs. The sheet chronologically lists 30 key dates in Elvis's life and career. They begin with July 5, 1954, when Elvis recorded "That's All Right," and end with October 3, 1977, when "Elvis in Concert" was broadcast on TV. The list helps me keep the timeline of Elvis's life in mind while composing my blogs.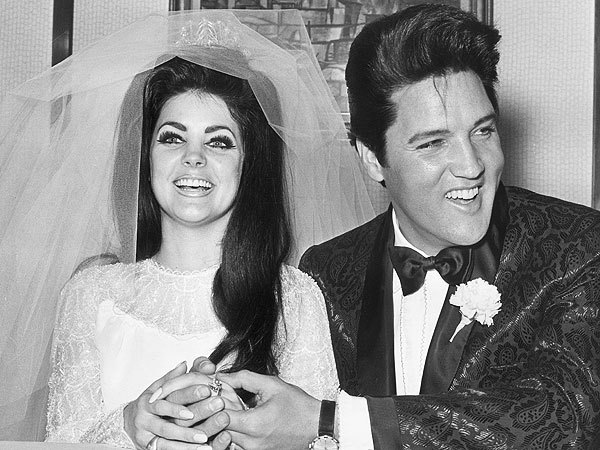 There is only date on the list that I had never addressed directly in the 350 blogs I've written over the past 10 years. It is May 1, 1967, the day of Elvis' wedding. Although obviously an important event in Elvis's life, to me his wedding day had no significant impact on his career. So, with my typical male mindset, I've always assigned little importance to that event. However, I'm sure there are many of Elvis's female fans out there who take it much more seriously, and so, for them follows an account of  that special day in the lives of Elvis and Priscilla.
• The invited press pool waited anxiously
One of the best accounts of Elvis' wedding day was written by May Mann, a Hollywood syndicated columnist among a group of press representatives invited to the Presley wedding reception at the Aladdin Hotel in Las Vegas on May Day 1967. Her lengthy description of what she saw and heard that day was published in the fall 1967 issue of Movieland & TV Time Annual. 
Mann reported that that morning the invited writers and photographers stood quietly in the outer banquet room straining to hear what was being said during the wedding ceremony in the adjoining executive suite of Aladdin Hotel owner Milton Prell. Secrecy had surrounded the event, with most in Las Vegas not knowing it was happening until a radio report that morning. Mann pieced together the timeline leading up to the ceremony in Prell's suite.
"No one had seen Elvis nor his bride-to-be, who had arrived by a private plane flown from Palm Springs by Danny Kaye. Met by a limousine they had been whisked to the county clerk's office, where at approximately three-thirty a.m. they had taken out their marriage license. Then with utmost security, they had been driven in the moonlight to the Aladdin and deposited at a bungalow suite.
"It was daylight and there was much to do. By nine o'clock Elvis was dressed in his wedding suite, while Priscilla's mother and sister surveyed Priscilla in her wedding gown. Then with Priscilla on his arm, Elvis walked down the narrow hall and into the Prell suite."
In the suite beyond the wall, members of the press could hear a violin, string bass, and accordion trio softly playing "Love Me Tender." When the ceremony was complete, the music changed to "Here Comes the Bride," and Elvis and Priscilla, holding hands, walked into the banquet room to a standing ovation from their guests.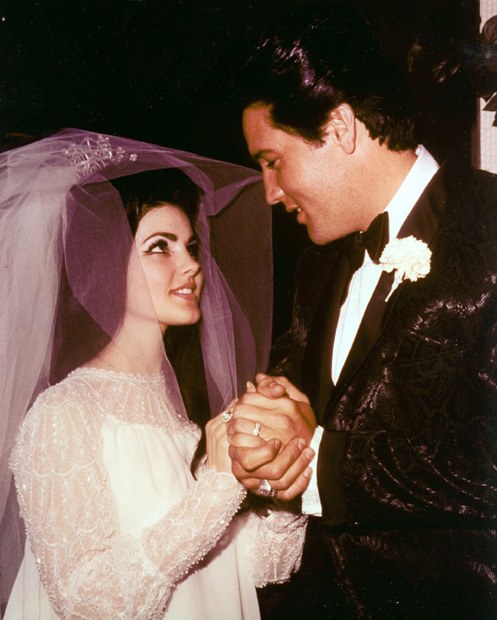 From the outer room, where the press waited, May Mann could see the banquet room was decorated with pink and white mums, tied with pink and white ribbons. A long, "beautifully decorated" head table for the 14 members of the wedding party was circled in front by a few tables for eight. To the side sat the wedding cake, its six tiers each supported by miniature Greek columns. Mann was told that the caterer did not know the cake was for the Presley wedding. Priscilla's name was imprinted on the top layer, but Elvis' name was not added until 30 minutes before the ceremony.
• Priscilla designed her own wedding dress
Elvis wore a black silk brocade tux. Priscilla had designed her own wedding gown of white chiffon over white satin. "It was a long bouffant with long sleeves, and a yoke of seed pearls," Mann reported. "On her natural dark brunette waving hair, which she wore long and soft, sat a tiny bridal tiara of rhinestones. It held the three-feet-long bridal veil in place." Priscilla's sister Michelle and Elvis took turns helping the bride with her gown's seven-foot-long train. Priscilla's only makeup was a pastel lipstick and an "effective bit of eye make-up." Along with her bouquet of pink rosebuds, she carried a tiny white Bible, said to have belonged to Elvis' mother.
Those joining the bride and groom at the head table included Mr. and Mrs. Billy Smith (Elvis's cousin), Mr. and Mrs. Joe Esposito (Elvis's best man), Colonel and Mrs. Tom Parker, Mr. and Mrs. Vernon Presley, Mr. and Mrs. M. Gamble (Elvis' cousins), Colonel and Mrs. Joseph Beaulieu (the bride's parents), and Priscilla's sister Michelle and brother Don. (Mann didn't mention Marty Lacker, Elvis's other best man.)
Colonel Parker came to the banquet room door and invited Mann and the rest of the "legitimate" press to come inside. "Leave your cameras, and your pencils and notebooks outside, please," he said. When they approached the newlyweds, Elvis, with a smile, said, "I guess you're all wondering why we asked you to come in." He then turned and kissed Priscilla. Mann couldn't resist her gossip columnist instincts. She paused in her account of events to describe the kiss.
"You noticed it was a sweet kiss full of pride, warmth and affection rather than the usual Hollywood movie type of kiss which anticipates a love scene. He kissed her tenderly. But then Elvis is not usual nor does he do the usual, but always that which is most admirable."
• "I didn't think they made that kind of woman anymore."
A short press conference, of sorts, ensued. Mann noticed immediately that whenever a question was asked of Priscilla, she turned to Elvis, who then answered the question. In fact, according to Mann, Priscilla never said a word throughout the questioning. "You can plainly see who wears the pants in this marriage," a reporter said to Mann. "I didn't think they made that kind of woman anymore. She lets her husband do the talking for both of them."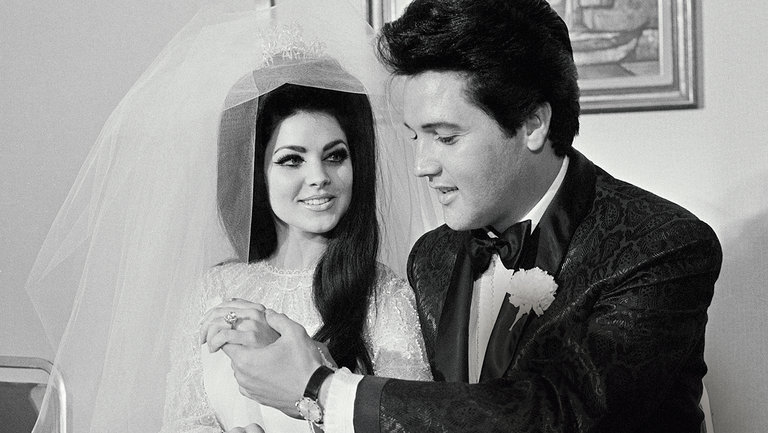 Asked about the length of the ceremony, Elvis responded, "I'm still nervous. I guess it was something like three minutes. It seemed more like eight." In fact, Mann stated the ceremony began at exactly 9:41 a.m. and lasted 10 minutes.
Asked about the engagement period, Elvis said, "We decided six months ago," which would have placed the official betrothal in October or November 1966, although Mann claimed it was at "Christmas time."
After the questioning and five minutes of posing for newsreels and photographs concluded, Elvis invited everyone to join the wedding party for a gourmet breakfast buffet. Three huge swans in pink ice decorated the buffet tables. The breakfast, served by 20 waiters in formal attire and wearing white gloves, featured roast suckling pig, ham and eggs, and caviar. Mann noticed that Elvis and Priscilla only nibbled at their food as they continued to hold hands while eating.
The rings worn by both the bride and groom were prominent. Both still wore their matching "friendship rings," which Mann said "many outsiders misconstrued as secret wedding rings, leading to rumors of a secret marriage, which Elvis had said all along wasn't so." Elvis wore a wide platinum wedding band with a few tiny diamonds. Priscilla's wedding ring was a "platinum band holding a large four-carat diamond in the center with twenty small diamonds on either side."
• "They were in love … In love forever."
May Mann spent the final third of her article in Movieland & TV Time Annual describing how Elvis and Priscilla's love for each other developed over time from their first meeting in Germany eight years before until their wedding day. She had no way of knowing anything about that, of course, but it made for interesting gossip column reading anyway.
"No, it wasn't infatuation with Priscilla. She was not a young girl with a crazy obsession about a movie idol. Her inborn feminine intuition observed much more keenly, and it served her well. She didn't dare hope. She did hope. She prayed that this miracle would happen. That Elvis would realize he loved her. And all the time she knew he wasn't really aware of it nor did he guess what was going on in her little girl's mind all those years—including in wonderful daydreams, considering the future with this remarkable young man, who stands heads and shoulders over any of the young men she could ever hope to know.
"There was no pretense between them. It was a joyous clean wholesome love that developed from a wholesome clean shining beautiful camaraderie. Elvis has never been, nor could he be, the insincere lover. Whatever he says he stands for 100 percent. Priscilla knew this. She became aware when Elvis began complimenting her more often on an adult basis. He stopped the playful teasing—pulling her hair or tweaking her ear with affection. He suddenly became more distant with respect. And when he innocently began talking to her on a level of maturity, of what he wanted from life, what she wanted—a home, children, togetherness, the need of true love and to be loved in return—Priscilla found him the most thrilling man in the world.
"Suddenly there it was, the wonderful miracle of it before them. They were in love. In love forever."
Of course, the fairy tale didn't last forever for Elvis and Priscilla, but on May 1, 1967, all things seemed possible, as they should on everyone's wedding day. — Alan Hanson | © February 2018