Elvis Presley's Pet Names
For Special Women in His Life
Elvis and his guys had some kind of pet name for each other and for almost anybody else who spent some time around him. Below are nicknames given to 10 women in Elvis' life. They range from relatives to girlfriends to movie costars. First, check out the list below and see how many you can identify. Then read on to see how you did.
"Satnin" / "Little" / "Dodger" / "Foghorn" / "Nungen" / "Ooshie" / "Thumper" / "Mommy" / "Gingerbread" / "Josephine"
Unless otherwise stated, most of the following information comes from either the 1992 book, Elvis: From Memphis to Hollywood by Alan Fortas, or the 1995 volume, Elvis Aaron Presley: Revelations from the Memphis Mafia, by Billy Smith, Marty Lacker, and Lamar Fike.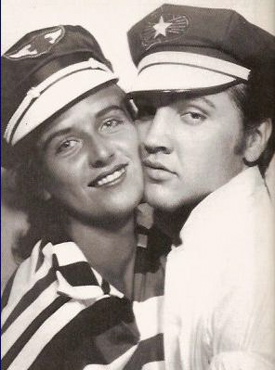 • "Satnin": Gladys Presley, June Juanico, Priscilla Presley
Elvis liked this nickname so much that he used it for three women in his life. His mother was the first. Then there was June Juanico (right), a 1956 girlfriend from Biloxi, Mississippi. Finally, he used "Satnin" as a pet name for Priscilla.
The origin of the term "Satnin" is in dispute. Elvis' cousin, Billy Smith, claims, "Satnin' meant a real condensed round of fattening, and Aunt Gladys was always heavy. Elvis would pat her on the stomach and say, 'Baby's going to bring you something to eat, Satnin'."
However, in her 1997 book, Elvis: In the Twilight of Memory, June Juanico said "Satnin" had a different origin. It was while on a date in Memphis in May 1956 that Elvis first called June, "My beautiful little Satnin." When she asked where the term came from, he explained: "She (his mother) used to sing to me when I was little. You remember the song, 'Mammy's Little Baby Loves Shortnin' Bread'? Well, she used to sing 'mama's little baby has satnin skin.' You know, June, skin soft as satin."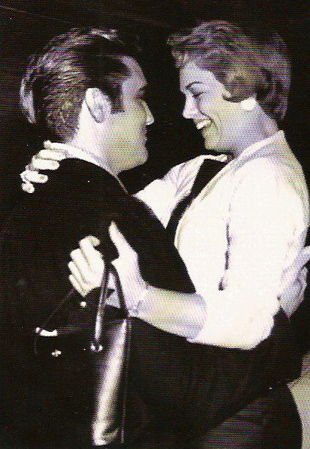 • "Little": Anita Wood
George Klein introduced 19-year-old Anita to Elvis in 1957, and she remained his preferred girlfriend until his induction into the army a year later. She remembers the last thing Elvis said to her before he went overseas: "I love you, Little …" Even after Elvis met Priscilla in Germany, he continued to call Anita and send her presents. She was still in the picture when Elvis returned from the army, and it wasn't until 1962, when she found out about Elvis and Priscilla, that she ended her relationship with Elvis.
Years later she saw his show in Las Vegas and met him backstage. She says Elvis told her, "Little, I wondered if we made a mistake." She responded, "No Elvis, we didn't, you wouldn't have Lisa and I wouldn't have my children and my husband." She never saw Elvis again after that night.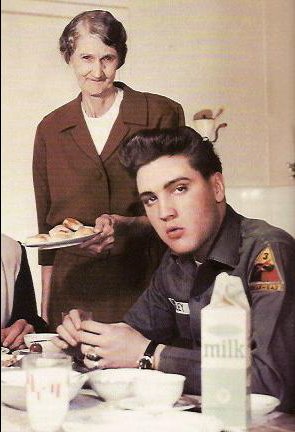 • "Dodger": Minnie Mae Presley
Minnie Mae Presley was Elvis' grandmother and the mother of Vernon Presley. Her husband Jessie deserted her in 1942, and after Elvis became wealthy, he gave her a home for the rest of his life. She even lived with Elvis during his army stint in Germany. Minnie Mae outlived her famous grandson, dying on May 8, 1980.
Lamar Fike described Minnie Mae as a, "tough old bird. Tall, skinny, and peppery. Elvis called her 'Dodger' because he threw a ball once and it missed her face by a fraction of an inch."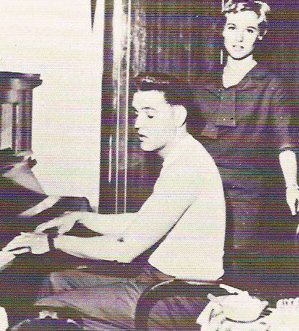 • "Foghorn": Elisabeth Stefaniak
Elisabeth was German-born but as a teenager became an American citizen through her stepfather, a American soldier. She was 19 in 1958 when she met Elvis at the base movie theater in Germany. After they dated a few times, Elvis convinced her parents to let Elisabeth move in with him as his personal secretary. She answered Elvis' fan mail for the remainder of his time in Germany. Privately, the two continued their personal relationship.
When he left Germany and the army in March 1960, Elvis took Elisabeth back to Memphis with him to continue as his personal secretary. In Elvis the Soldier, which she co-wrote, Elisabeth recalls that one day at Graceland, Elvis told her, "Foghorn (a nickname he had always called me because of my low voice), I'm going to take you for a motorcycle ride." Soon afterwards Elisabeth left Graceland to marry Rex Mansfield, Elvis' closest friend during his army hitch.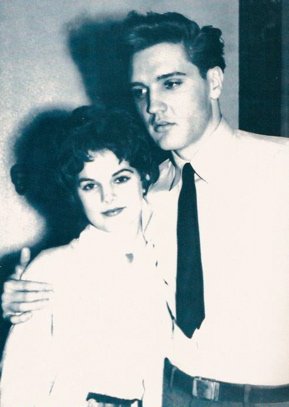 • "Nungen": Priscilla Presley
"They'd baby-talk back and forth," recalls Lamar Fike of Elvis and Priscilla. "He called her 'Nungen,' which was Elvis for 'young one.' But he also started calling her 'Satnin' since Gladys was gone."
Alan Fortas remembers that "Fire Eyes" was one of Priscilla's pet names for Elvis. "Elvis, with his history of baby talk, already had four hard-to-take nicknames for Priscilla," Fortas added. "'Nungen,' which was an affectionate twist on 'young one,' 'Cilla,' 'Little One,' and the one he began using with increased frequency, now that its former owner didn't need it anymore: 'Satnin.'"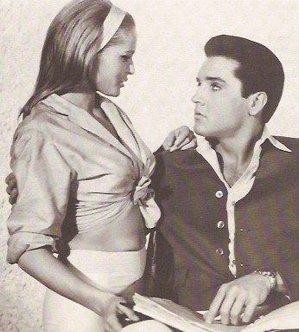 • "Ooshie": Ursula Andress
Marty Lacker remembers seeing a picture of Elvis and Ursula gazing into each other's eyes on the set of Fun in Acapulco. "Like they're ready to gobble each other up. But that wasn't any real big romance. He just enjoyed being with her. She came to visit him on the Roustabout set later on. Her nickname was 'Ooshie'."
Alan Fortas said the guys had a lot of fun when Ursula was around, but Elvis wasn't interested in her romantically because she was married to John Derek at the time. Still, Elvis and Ursula flirted with each other, according to Billy Smith, and she would call Graceland occasionally. "She wouldn't ask for Elvis," Billy says, "because she knew Priscilla was there. So she'd ask for Alan … and Alan would call her back, and Elvis would get on the phone."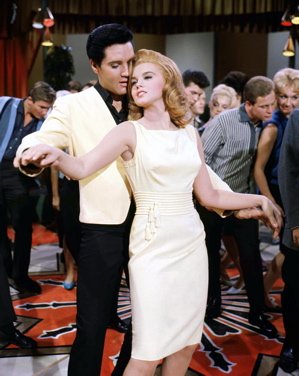 • "Thumper": Ann-Margret
"I believe Ann-Margret really did care a lot for Elvis," said Alan Fortas in his book. "And I think she truly wanted to marry him, even though she knew full well about Priscilla, and used the code names 'Scoobie' and 'Bunny' when she telephoned him at Graceland. (The guys joked that 'Thumper' would be more appropriate.)"
Marty Lacker remembers another nickname the guys had for her. "Ann genuinely liked people, and she liked every one of us. I think she also respected us. We used to have a lot of fun with her. She had a terrific sense of humor. We called her 'Rusty' because that was her name in the movie and because of her red hair."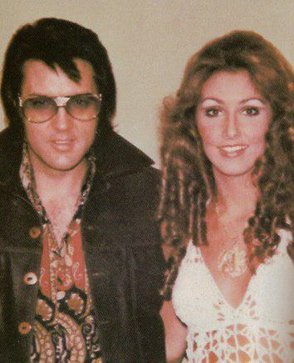 • "Mommy": Linda Thompson
In the summer of 1972, George Klein introduced 22-year-old Linda Thompson to Elvis at the Memphian theater. She soon became his live-in girlfriend and primary caregiver for the next four years. Eventually, Elvis' bizarre behavior became too much for Linda to handle, and she finally left Elvis in November 1976.
"Linda was the best woman he had ever been with," judged Marty Lacker. "He called her 'Mommy,' and she called him 'Little Baby Buntin'.' She cared about him. She wouldn't fall asleep at night until after Elvis did. If something happened while he was sleeping, she'd be up in a minute."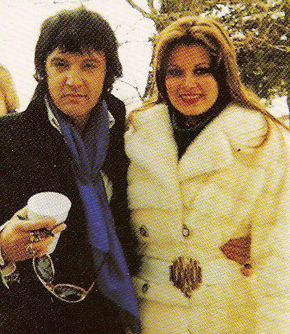 • "Gingerbread": Ginger Alden
George Klein, Elvis' main girlfriend-finder through the years, introduced 19-year-old Ginger Alden to Elvis at Graceland in November 1976, shortly before Linda Thompson's relationship with Elvis ended. "I don't know that there was any way that relationship could work," noted Marty Lacker. "Ginger wanted to go out and party all the time and show Elvis off. And she wanted him to socialize with her group of friends—all sorts of things that Elvis wouldn't do."
Elvis' pet name for his last girlfriend was "Gingerbread." Billy Smith's alternate nickname for her, however, reflected how much the guys disliked her. "Elvis didn't know it," says Billy, "but I always called her 'Gingersnatch.' And I didn't stop there. I called her sister Rosemary 'Poundcake.' Which was really crude of me, but I couldn't help it. I was so pissed off at that family."


• "Josephine": Jo Smith
Billy Smith's wife Jo deeply resented Elvis for taking her husband away from her and their children for long periods of time to make movies. Still, toward the end of Elvis's life, she moved into a trailer with Billy on the Graceland grounds because she knew how close the two cousins were to each other.
"After we'd been back with him a little while, my feelings about Elvis changed," she recalls. "He called me Josephine. That's not my name. But every single time he came down the steps, he sang that Fats Domino song to me, 'Hello, Josephine.' And he'd give me a big bear hug. He told me, "I'm going to make up for all the pain I put you through."
Of course, there were many other nicknames coined by Elvis and the guys for people who passed through Elvis' life. Their use testifies to Elvis' sense of humor and to the childlike part of Elvis's personality that he refused to leave in the past. — Alan Hanson | © November 2010


Go to Elvis Universe

Go to Home Page