Elvis Presley Enterprises 2015:
It's Smooth Sailing Under New Leadership
Since it's been over 2 ½ years since Elvis History Blog last examined the status of Elvis Presley Enterprises, it's time for a 2015 update on the company created to manage the Elvis brand after his death. At the time of our last update in February 2013, EPE was at a tipping point. It had the potential to thrive or to be driven into the ground. And there was nothing Presley fans could do but sit back and watch.
Let's back up a few years to see how the company got to that point. The Presley estate was on the verge of collapse after Elvis died in 1977. Priscilla wrestled control away from Colonel Parker, opened Graceland to the public, and rebuilt the commercial value of Elvis' name through EPE. Ownership of Graceland and EPE eventually passed to Lisa Marie, as the heir to her father's estate.
Most long time Elvis fans were shocked when they learned in December 2004 that Lisa Marie had sold 85% of her interest in EPE to Robert Sillerman's company, CKX, Inc., for $100 million. The deal was for control of Elvis's image only; Lisa Marie retained complete ownership of Graceland and its vast archives. She still owns her father's home today, so it has not shared the fate of EPE, which has since been passed from hand to hand in a high stakes game of corporate football.
Sillerman had made a name by buying companies on the cheap and reselling them to giant media outfits for big profits. He apparently had the same fate in mind for EPE. He talked a big game about building the company but accomplished very little before CKX, along with its subsidiary company EPE, was sold to Apollo Global Management LLC in May 2011. Apollo Global is private equity company, which, like Sillerman, makes money by buying established companies and selling them later at a profit. So it was no surprise when Apollo sat on the Presley brand for 2 ½ years before selling it for a $25 million profit in November 2013 to New York-based Authentic Brands Group LLC.
During the decade EPE was being tossed around, Lisa Marie retained her ownership of Graceland and her 15% stake in EPE. The company also remained in the same capable management hands through it all. Jack Soden is still the president and CEO of EPE, a position he's held for more than 30 years.
So has Elvis Presley Enterprises faired any better in the past two years under the ownership of Authentic Brands than it did under its two previous corporate owners? Let's take a look at what it's accomplished. (Most of the information below comes from online reports in the Memphis Business Journal between November 2013 and September 2015.)
• Authentic Brands takes control of EPE
In November 2013, Authentic Brands announced it had acquired the "Elvis Presley Intellectual Property Assets" managed by EPE. Included were "Presley's name and likeness, the library of photos, artwork, album covers, movie posters, video including television appearances and music specials, and the rights to Elvis-themed events such as Elvis Week." (The purchase did not include the right to market Presley's music, which is owned by Sony.)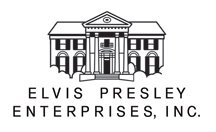 As noted above, Lisa Marie retained her ownership of Graceland and 15% ownership of EPE, and Jack Soden remained president and CEO of EPE. As part of the Authentic Brands purchase, though, another major player entered the Presley business picture. Joel Weinshanker, founder and chairman of the National Entertainment Collectibles Association, became a partner with the Presley family in the management of Graceland.
Soon after Authentic Brands purchased EPE, all the major figures involved made the expected optimistic statements. Lisa Marie explained:
"While I will continue to own Graceland and the original artifacts, we are looking forward to working with our new partners to continue the growth and expansion we have been working toward. The licensing and merchandising aspect of this business is not to be confused with the fact that the property will always remain with me and my family. However, this is a great partnership for our family and Elvis fans worldwide."
Priscilla Presley added, "This is the opportunity the family has been envisioning to expand the Graceland experience and enhance Elvis' image all over the world."
Joel Weinshanker, the new kid on the block, weighed in:
"It is with great honor, and a profound sense of responsibility that we assume ownership of the Graceland operations. We will usher in a new era of an enhanced Graceland experience, run for the fans, by a fan. Graceland is Elvis Presley's castle, and I look forward to helping take this global landmark to new and exciting heights. We look forward to continuing to give visitors to Graceland, whether online or in–person, whether their first visit or their 500th, a world-class experience."
Jack Soden welcomed the resources Weinshanker brought to EPE. "We've always felt within our organization we had more imagination than the resources to do it with," Soden said. "Joel comes with both resources and an exponential increase in ideas. He's the double whammy."
• Plans to take Graceland to "new and exciting heights"
Weinshanker's immediate plans for taking Graceland to "new and exciting heights" were vague at first. In January 2014, he explained that expansion projects were still being developed. Pointing out that only 43 of the 120 acres Graceland owned were developed, he spoke of possible new hotels in the area. As for Graceland itself, Weinshanker indicated a willingness to pump money into the mansion. "If we have to make less money next year to make Graceland better, then we're going to do it," he said. "We're not a big corporation and we're not looking to generate a profit, take the company public and sell the asset. My out plan is my death."
The mission statement of Authentic Brands also indicated that the new owners were committing to EPE for the long run. "ABG owns, manages, and elevates the long-term value of a portfolio of global brands." Their website declares, "We build brand value … We are Owners. Creators. Guardians."
After wandering in the wilderness for a decade, EPE appeared to Elvis fans to be in the hands of a company that would shepherd it into the future with care and commitment. But would the actions of the new owners match their rhetoric?
Among the new EPE's first strategies to increase the Presley profile was to cut back on the glut of cheap Presley merchandise then available and replace it with more "high-end" (aka "expensive") items. It's likely, then, that Elvis images on hats, belt buckles, and plastic swivel hip clocks will be replaced with classier collectible items more focused on Elvis' career and personal tastes. "If you're going to expand the brand, expand in the narrow frame of what Elvis stood for, instead of things that aren't related to his personality," counseled brand executive Ralph Berry.
If wasn't long, though, before plans for Elvis collectibles gave way to talk of much more grandiose plans of expanding Graceland. "There is no corporation that needs to sign off on what we want to do," Weinshanker declared in late 2013. "We've agreed in principle with the family, and we understand what needs to be done." Attendance at Graceland had been falling steadily over the past five years, and Weinshanker's plan called for giving "repeat visitors a new experience at Graceland without taking away what they already love about the destination."
In January 2014 he told the Memphis Business Journal that expansion plans included a "possible new hotel and Elvis-centric entertainment venues" that would encourage Graceland visitors to spend a couple of days rather than a couple of hours to see it all.
• "The Guesthouse at Graceland" … an idea is born
By April 2014, the "possible" new hotel was on the design table. EPE announced that a 450-room, $75 million hotel, tentatively named "The Guesthouse at Graceland," would be built next to Graceland. Plans at that time included a restaurant, a sports bar lounge, and space for meetings and events. It was hoped the hotel would be open for Elvis Week in August 2015.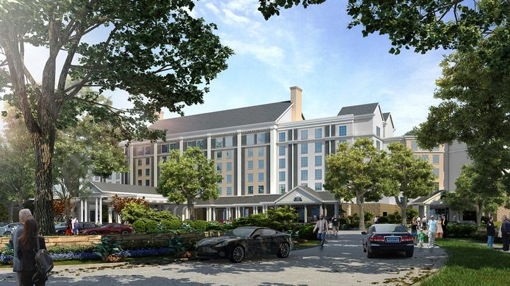 "When we started exploring plans for long-term growth, a new hotel facility was a priority," Jack Soden announced. "We feel the time is right for growth at Graceland and we are excited about this proposed project, which would enable Graceland to enhance the visitor experience and deliver an even higher level of world-class hospitality and customer service to the hundreds of thousands of guests who visit from around the world each year."
By May 2014, demolition of buildings had begun near the corner of Elvis Presley Boulevard and Old Hickory Road. Architectural drawings revealed that the "Guest House" would have a "resort" character, with a large swimming pool, an outdoor events area, and over 400 parking spaces.
During Elvis Week in August 2014, a ground-breaking ceremony was held featuring Priscilla Presley addressing the crowd and wielding a shovel. It had become apparent that the "Guest House," which then had been expanded to include two restaurants and a 464-seat, 6,000-square-feet theater, would not be ready by the following summer, and the hoped for opening was then pushed to "sometime in 2015."
In August 2014, Jack Soden told the Memphis City Council, "It's a big project. It says to the world Graceland is growing and making an exponential investment." The wait for approval of certain conditions by the city of Memphis and the state of Tennessee, along with private funding raising ventures and land purchases, pushed the projected opening back again to "sometime in 2016."
• "Guest House opening set for October 2016"
Finally, during Elvis Week in August 2015, EPE announced that the grand opening of "The Guest House at Graceland" would be held October 27-30, 2016. Scheduled to be on hand for the four-day celebration were Presley family members, friends of Elvis, musicians, and celebrities.
"Lisa and I, and our entire family, are excited to see The Guest House at Graceland take shape," said Priscilla Presley. "The Guest House will be the perfect place to stay while visiting Graceland and experiencing everything that Memphis has to offer. We can't wait for this unique hotel to open."
Joel Weinshanker promised, "The Guest House at Graceland will be like no other hotel in the world — designed as if Elvis built an extension to his own home. Our guests will feel like they are staying in an actual guest room at the mansion, and they'll experience the same warmth and Southern hospitality that Elvis always showed his guests."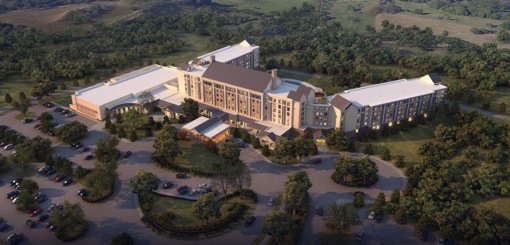 The new hotel brought with it the death knell of the 120-room Heartbreak Hotel across the street. "(It) is getting close to being a very obsolete building that doesn't justify reinvestment," Soden said. "Its high level of occupancy is the basis for the new hotel."
On October 26, 2016, the day before the "Guest House" opens, a ceremony across the street will mark the closing of the Heartbreak Hotel. Starting in October 2015, the old hotel began celebrating its final year. The Memphis Business Journal reported, "Exclusive Heartbreak Hotel mementos will be given to hotel guests and a select number of its most loyal guests will be given the opportunity to take a piece of the Heartbreak Hotel home with them after the hotel closes."
While the construction of the new hotel has been EPE's top project since the change of ownership in 2013, the company has been active in other projects to expand Elvis' profile and appeal. During Elvis Week in 2014, EPE unveiled its new Interactive iPad Tour of Graceland and Archive Studio Presentation. The latter is a $1 million, 200-seat theater that "houses a wealth of Elvis movies, performance videos and music, most of which has never been seen."
• EPE creates permanent Elvis exhibit in Las Vegas
On April 23, 2015, EPE partnered with the Westgate Las Vegas Resort and Casino to open a permanent Elvis exhibit. (The resort was formerly the International Hotel, where Elvis performed hundreds of shows starting in 1969.) The Memphis Business Journal described the exhibit's contents:
"The exhibit will include more than 28,000 square feet of exhibit space filled with items from the Graceland archives. EPE will also produce videos specifically for the exhibit, including a 26-minute retrospective film of Elvis' greatest performances. The artifacts will include Elvis' high school yearbooks, his first Gold Album, his 1957 Harley-Davidson motorcycle, a 1962 Lincoln Continental, 1971 Stutz Blackhawk, jewelry and iconic stage wear from Elvis' live performances, including the first outfit worn on stage for his first concert at the International Hotel in 1969."
The exhibit at the Westgate will also house "Elvis Presley's Graceland Wedding Chapel," operated by Elvis Presley Enterprises.
• Other EPE projects on the horizon
During Elvis Week 2015, EPE offered "Elvis 101," a tutorial for younger fans. Elvis' influence on music and American pop culture was on the course syllabus. "Students" in the class heard talks by scholars, authors, and others with intimate knowledge of Presley's life and career.
It's obvious that at this moment in its existence Elvis Presley Enterprises could not be in better hands than it is under the ownership of Authentic Brands Group and the management of Jack Soden and Joel Weinshanker. Elvis fans all over the world now have multiple reasons to return to Memphis and Graceland. It's no longer simply a "been-there-done-that" experience.
And EPE isn't stopping in its mission to expand the Graceland experience. In September 2015, the company submitted a letter to the Memphis Office of Planning and Development detailing its plan to develop an entertainment complex named "Graceland West" on 45 acres of land across the street from the new hotel. Featured in the project would be a museum of Elvis-owned vehicles, two restaurants, a soundstage, retail stores, and a museum named "Elvis the Entertainer."
A few years ago, Elvis Presley Enterprises was a ship adrift on the sea without the resources to reach its destination. Today it's sailing full speed ahead with the wind at its back. It's a great time to be an Elvis fan. — Alan Hanson | © October 2015