The Eternal Elvis
What Fueled His Rise to Immortality
"When you hear the term, 'The King,' who do you think of?"
 That was one of the questions asked recently on an episode of Family Feud, a popular American TV game show, which asks two competing groups of family members to guess the most popular answers to survey questions. In this case, the show producers had asked 100 people at random to answer the question above. While it was not surprising that the most common answer was "Elvis Presley," the fact that 81 out of the 100 people surveyed gave that answer was astonishing. ("God" was the distant second place response.)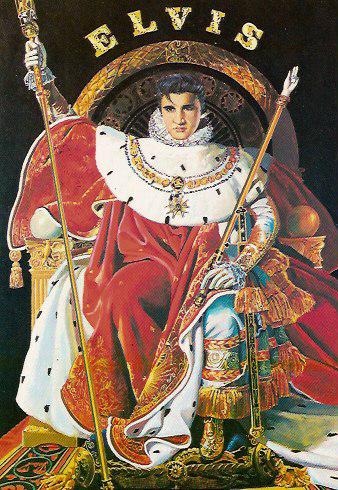 While the survey was hardly scientific in nature, it was another indication that  Elvis Presley remains one of the most recognized and celebrated of America's cultural icons. He has his own satellite radio station. His Memphis home draws 600,000 visitors annually. Dozens of new books about his life, career, and image are published each year. Seemingly every community has at least one "Elvis Tribute Artist" recreating his persona on stage. Then there have been the Elvis-theme musicals All Shook Up, The Million Dollar Quartet, and Cirque du Soleil's Viva ELVIS. And every August, "Elvis Week" draws thousands to Memphis to celebrate his life, pray at his grave site, and interact with people who worked with or for him during his lifetime.
For 2014, Elvis finished second to Michael Jackson on "Forbes' List of Top-Earning Dead Celebrities." (Jackson died in 2009; Presley has been at or near the top of Forbes' list for three decades.) Here's what Forbes said about Presley's earning power in 2014:
"Elvis Presley made an estimated $55 million in earnings over the 12-month period. Authentic Brands Group bought the rights to Elvis last year for a reported $125 million. Presley's estate still rakes in millions thanks to the throngs of tourists who visit Graceland each year and Elvis' extensive music library. But ABG plans to boost earnings with (you guessed it) a hologram Elvis. ABG CEO Jamie Salter told Ad Week that hologram Elvis will be up and running in the spring and that he might return to Las Vegas or even perform with hologram Michael Jackson."
And yet, in an article 10 days after his death in 1977, Billboard magazine predicted no special acclaim for Elvis in the future. "Presley's legacy," it forecast, "like that of other great musical stylists, remains in the grooves of his recordings."
In fact, amid the tidal wave of shock of grief that followed Elvis' death in 1977, no one could have foreseen the increasing impact his image would have on American culture. In their memorials, many writers mentioned his legacy as an innovator and agreed with Billboard that he would be remembered mostly through his music. That, though, could be said of any dead musician who achieved some success in life.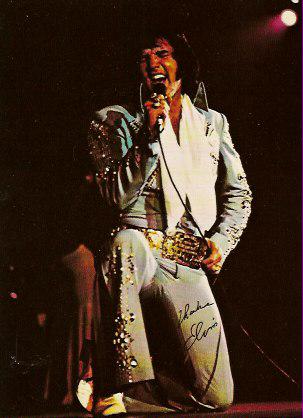 Elvis would be remembered, certainly, but the fuel that powered his fame had dried up. There would be no new music, concerts, TV appearances, or films. The seamy side of his personal life was suddenly exposed in books written by insiders, who suddenly found themselves released from their vows of secrecy. It seemed at the time, then, that Elvis' memory would slowly fade into the collective history of popular culture.
But that's not what happened. In many ways, Elvis Presley became more admired and trendy in death than he had been in life. Why? Pop culture experts provide some answers. In a San Francisco Examiner article on the 20th anniversary of Presley's death in 1997, San Francisco State University Professor Arthur Berger reasoned that a combination of factors led to Elvis' continuing appeal.
"Elvis is a distinctive persona that people can latch onto," Berger said. "He's a pop culture icon. He had a distinctive look, which led to a bunch of clones, and his death made him more interesting. If he had lived, perhaps he would be an old has-been, long in the tooth, fat, druggie. Some of his appeal had to do with sexuality. Elvis the Pelvis. He's a figure from the past that was a lot more innocent than we are now."
Berger focused on Presley's death as the key to his continuing veneration. "A nobody rises to importance and then as a result of a flaw in his character, he dies," Berger explained. "A typical mythological hero. People come to Graceland just as people in other countries come to see the Virgin Mary."
Parodying Colonel Parker, Berger added, "And you can't forget the almighty dollar aspects. Keep the legend alive. Imitations make a buck."
Certainly, Elvis' early death helped raise him to iconic status. It had previously done the same for other entertainers, such as James Dean, Buddy Holly, and Marilyn Monroe. Presley's final resting place on the grounds of his Graceland home in Memphis provided an ideal pilgrimage destination for his devoted followers. When Graceland opened to the public on June 7, 1982, the cornerstone of the eternal Church of Elvis was laid. Then Priscilla made Elvis Presley Enterprises the money-making arm of the empire, and the parts were all in place to perpetuate Elvis' image.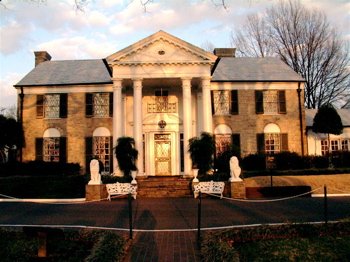 Those are some of the practical reasons why Elvis Presley continues to be commemorated decades after his death. But Graceland would not be a success if there were not legions of Presley fans longing to go there. The first generation fans, those who knew him in the first glow of Presleymania in the 1950s, and others who were drawn to him in his Hollywood and Las Vegas incarnations, have remained steadfastly loyal to his memory. In addition, they often pass their affection for Elvis down to their children and grand children.
Such stories of multi-generational fondness for Elvis are common, but always heartwarming to those of us who knew him in life. The following is one I recently received by email from Jim Bunn:
"I too am an Elvis fan who loves listening to his music, seeing his movies on videos, and reading accurate history on The King. I was born in '73 and actually got to see him in concert when I was 4 years old (almost) at the end of '76 when he made his first and only appearance in Birmingham, Alabama. And believe it or not, 38 years later I can still remember bits and pieces of that concert. I was blessed to have a mother and grandmother who absolutely loved and adored everything about Elvis, and both were there at the start of his career. So I was raised on the stories, and the music of this rock-n-roll icon.
"Before I started any kind of school, I would stay with my grandmother while my parents worked and even stayed with her when they didn't. We would listen to every Elvis album she had, and she had every one of his albums. I remember the day he died, bits and pieces, of course, and remember the time (not long after it opened) my grandmother, grandfather, my sister, and I went and toured Graceland."
When Elvis died, he left behind a large, devoted fan base that has been keeping his memory alive and thriving. A test will come, starting in a decade or so, when death begins to thin the ranks of Presley's original devotees. The task of keeping Elvis' legacy alive will then fall to their descendants, like Bill. Will they be able to keep up the momentum? As they say, only time will tell. — Alan Hanson | © March 2015