Behind the Scenes of …
Flaming Star
Flaming Star, Elvis Presley's sixth motion picture, opened in theaters around the country in December 1960. Its creation, though, can be traced back to August 1956, when Colonel Parker negotiated a contract with 20thCentury Fox for the studio to produce Elvis' first film, Love Me Tender. The contract gave Fox an option on two future Presley films. Four years would pass, though, before the cameras began rolling on the first of those option films, Flaming Star.
As Elvis' army service neared its end in 1960, David Weisbart, who had produced Love Me Tender for Fox, was again selected to oversee the studio's second Presley feature. While Elvis was filming G.I. Blues at Paramount that spring, Weisbart was busy finding a screenplay, signing up cast members, and selecting a director for Fox's Presley film. Finally, on August 12, 1960, principal photography on Flaming Star began at Conjo Movie Ranch in Thousand Oaks, California 
Although the film's set was officially "closed" through October 4, when principal photography concluded, Colonel Parker opened the doors to a steady flow of visitors, including Hollywood personalities, tourists, and Parker-approved journalists. It was the latter group, who, in their newspaper columns, allowed the rest of America "behind the scenes" glimpses into the making of Flaming Star.
Hollywood columnists first reported a problem concerning Presley's eye color. Worried about the authenticity of a blue-eyed Indian, director Don Siegel had Presley fitted with dark contact lenses. The sensitivity of Elvis' eyes to the contacts, however, caused them to tear up excessively, especially under the hot camera lights. After a makeup person had to wipe the tears from the star's eyes between every take, the director decided to let Elvis go on with his natural blue eyes.
• A Leading Lady Comes and Goes
Another problem that arose as soon as filming began involved the miscasting of one actor. Weisbart had chosen a solid group of actors for roles in Flaming Star. Delores Del Rio returned from a 10-year absence from American films to play Elvis' mother. John McIntire was onboard as Elvis' father, as was Rudolph Acosta as the Kiowa chief Buffalo Horn. Fess Parker was originally considered to play Elvis' brother Clint, but that role eventually went to Steve Forrest. It was the casting of an actress to play Forrest's girlfriend that became a major problem for Weisbart and Siegel. Early press reports placed Diane Baker in the role, but by the time Siegel came on board, a new leading lady was being forced on Weisbart.
In his 1993 autobiography, Siegel recalled a conversation with Weisbart about the situation. "The studio wants a tall, black-haired English actress to play the part, Barbara Steele," the producer told Siegel. "She's had very little experience and is not a good actress. I don't like the leading lady towering over Elvis." Weisbart feared Presley's reaction when he was asked to stand on an apple box to be eye-level with Steele.
After Owen McLean, MGM's head of casting, told Weisbart that the studio's decision to play Barbara Steele opposite Elvis was irrevocable, director Siegel reluctantly started filming with her as the female lead. Soon, though, her lack of experience, her strange Western accent, and her height proved her undoing. After Siegel ran the dailies by a group of studio executives, Steele was out. "I had lunch with Miss Steele in my trailer," Siegel explained. "I tried to be as gentle as I could. I explained that she was miscast. It wasn't fair to her. To my astonishment, she seemed relieved."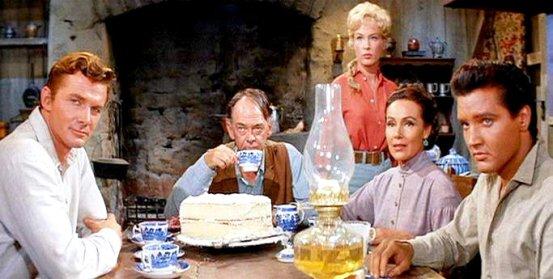 From Left: Steve Forrest, John McIntyre, Barbara Eden, Delores Del Rio, Elvis Presley.
Two days later, Barbara Eden, described by Siegel as an "experienced, beautiful blonde actress," showed up on location at the Twentieth Century Fox Ranch near Malibu. "There was no question that she would give an excellent performance," the director concluded.
• Battle Racket Chases Presley
A month into filming, a wire service article out of Hollywood reported that filming by another studio, Touchstone Pictures, had interrupted filming for Flaming Star. The article's lead read, "Elvis Presley had to beat a retreat from a location battle in the wilds of the San Fernando Valley." It explained that the two film companies were sharing the popular scenic backdrop of the Janss Ranch. But when Touchstone began filming battle sequences for its production of The Sixth Man, a biography of Ira Hayes starring Tony Curtis, the racket on the mountainside made it impossible to hear Elvis' dialogue nearby. 
Seigel finally gave up for the day and returned cast and crew to the studio. The article ended with, "Sy Bartlett, producer of The Sixth Man, sent his apologies and said he expected to win the Iwo Jima battle in three days, at which time Elvis could return"
• Clint connects with Pacer's chin
In his Hollywood column a few days later, Harrison Carroll reported that Elvis had gotten tagged when he misjudged a punch thrown in a fight scene by Steve Forrest. "Elvis got clunked and sailed backward over an embankment," Carroll explained. "Steve lunged forward to catch him, but both wound up rolling down the hill."
The columnist added, "I hear director Don Siegel will keep the shot in the picture, but these punches that accidentally connect seldom are. The faked ones look more convincing."
• Steve Forrest dragged by horse
According to another Hollywood columnist, the filming of a later action scene gave Steve Forrest some additional bumps and bruises. The script called for Forrest to run from a burning building and leap onto a saddled horse. Hampered by a leg injury from a previous scene, his timing was off, and he ended up being dragged along the ground by the horse. 
The camera kept rolling and recorded the whole episode. "A $400 job if ever I saw one," yelled director Siegel. The scene could not be used in the film, though, since "a scraped and bruised actor was inconsistent with the story."
• "Cane and a High Starched Collar" 
Another Hollywood columnist was on set the day that Elvis' only singing scene in Flaming Star was filmed. In the sequence used early in the film, all of the principal actors were brought together in a cabin for a surprise birthday party for Steve Forrest's character. In addition to Forrest and Presley, mother Dolores Del Rio and father John McIntire were present, as were neighbors Barbara Eden, Richard Jaeckel, L. Q. Jones, Douglas Dick, and Anne Benton.
Dick starts the scene when he picks up a concertina and begins playing a tune written for the movie, "Cane and a High Starched Collar." Grabbing a guitar and perching on a table, Elvis starts singing the lyrics. "Most of the others swing into a fast dance, circling the table on which Elvis sits," the observer reported. Siegel yells "cut." "Let's try it again," he says. "And a little more spirit, please." An out-of-breath Forrest gasps, "More spirit! Ye gods, man!"
As the actors reset for another take, Siegel turns to the columnist. "You can see what we are trying to do," he explains. "Elvis sings, but it fits, he just joins in. I don't want him to sound like a professional singer."
• The conspiracy to limit Elvis' singing in Flaming Star
The Flaming Star screenplay originally was a straight dramatic story intended for Marlon Brando.  When Presley was assigned the lead role, producer Weisbart asked Western author Cliff Huffaker to rewrite the script. A seemingly insurmountable challenge faced the writer. How do you make the public accept a serious story with Elvis playing a half-breed and singing at least 10 songs like the studio wanted? Siegel floated the idea of having Elvis sing over the main titles and sing one simple song in the party scene, less than a minute into the picture. "You'll never get away with it," Huffaker predicted.
Hoping to pacify the studio executives, Huffaker included in his rewrite three songs for Elvis to sing along with the title number. While "A Cane and a High Starched Collar" survived the final cut, "Summer Kisses, Winter Tears" and "Britches" were both removed after provoking negative reactions from preview audiences. In the end, Siegel got away with his plan to limit Presley's singing in Flaming Star.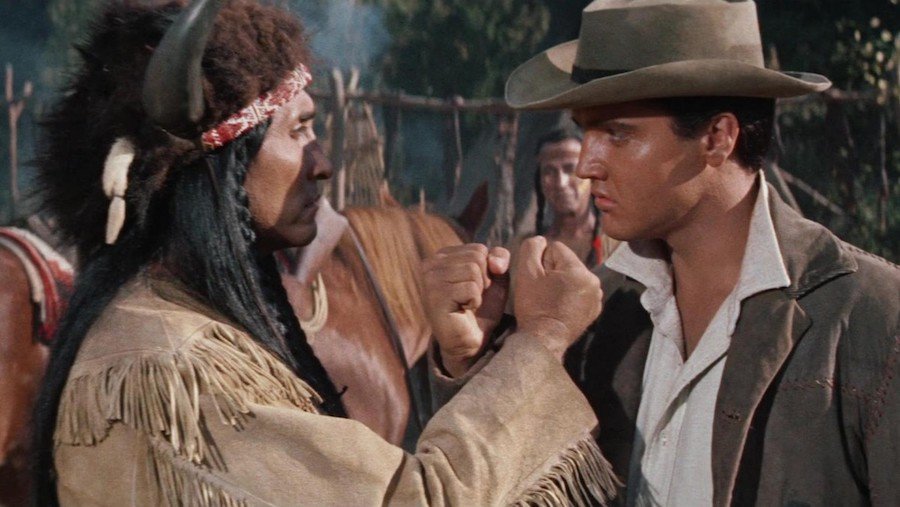 Rudolph Acosta as Buffalo Horn and Elvis Presley as Pacer
• Elvis doubted his ability to do scene
In his autobiography, director Siegel refers to a difficult scene that Elvis, at first, doubted his ability to pull off. The script called for Elvis to attack the while doctor who arrives too late to treat his mother's wounds. Forrest pulls his brother off of the doctor, while a stunned Barbara Eden watches. In a moment of truth, an emotional Elvis declares his unrequited love for Barbara.
Siegel said Elvis told him he didn't think he could do the scene, that his acting talent wasn't up to the task. "When I pointed out to him that we would rehearse until he was satisfied with his performance," Siegel recalled, "he begged for more time to prepare." Elvis was so upset that the director decided to push the shooting of the scene back as far as possible. "When the inevitable time came to do the scene, to Presley's amazement and mine, Elvis gave his finest performance ever," the director declared.
• The burial of Elvis' mother (Delores Del Rio)
Director Siegel felt the burial of Delores Del Rio was one of the key scenes in the movie. His design for the scene was simple but poignant.
"I made it with the five people (Elvis Presley, Steve Forrest, Barbara Eden, Ford Rainey and John McIntire) at the grave on different levels, with each walking away towards the house in descending order of their closeness to the dead woman. The scene closes with her husband, McIntire, standing there alone and the others fading in the distance."
At age 55, Del Rio had just returned to Hollywood after an absence of 18 years. As a glamour girl of 21, she became a star in silent movies in the mid-1920s. She successfully made the transition into the early talkies, but left Hollywood in 1942 to return to Mexico.
"I wanted to go home," she told columnist Bob Thomas on the set of Flaming Star. "Something happens to a person who lives too long in a foreign country. He becomes neither a part of the new country, nor his own. A person needs to have an identity." Flaming Star was her first movie on her second round in Hollywood. And her identity in that movie was, of all things, the mother of Elvis Presley. "I am much impressed with him as a serious, courteous boy who wants to do the best possible work," she told Thomas of Elvis. "I think he is going to be very convincing as an Indian boy."
Del Rio found the set of Flaming Star "much different" than those on which she had worked in the Hollywood of the 1930s. "The studios seem quieter and slower," she explained. "There doesn't seem to be the excitement we used to know. Those were the glamor days, when you had personalities like Valentino and Garbo. You don't find that kind of glamor here now."
• Flaming Star was a crossroads for Elvis Presley
Critics gave Elvis Presley the best reviews of his career, both past and future, for his work in Flaming Star. A few examples:
"Presley, as the tormented twilight son in a world he never made, is strong and right for the part." — The San Francisco Examiner
"A surprisingly good acting effort from the king of the rock 'n' rollers." — The Dallas Morning News
"Presley, as the half-breed, gives every indication of being able to interpret a character honestly … His role in this film is seriously dramatic. He plays with commendable restraint and looks the part in his swarthy makeup." — The Louisville Courier-Journal
Although 20th Century Fox gave Elvis another dramatic role in his next film, Wild in the Country, his fate in Hollywood had already been determined by the time Flaming Star completed its theatrical run in early 1961. While his acting in that film earned him kudos, box office receipts effectively put an end to his dream of becoming a dramatic actor. Paramount's musical comedy G.I. Blues, released just a month before Flaming Star in 1960, brought in nearly $10 million in ticket sales, while Fox's dramatic Western with Elvis earned less than half as much at the box office. Hollywood producers got the message: Presley's fans wanted to see and hear him sing on the big screen, not act. From then on, Elvis' fate in Hollywood was sealed. — Alan Hanson | © September 2019