Ginger Alden vs. The Memphis Mafia:
Who Told the Truth About Elvis and Ginger?
"How can you leave Ginger Alden out of the 1976 Christmas blog? You left her out of a lot of things. History is history. Be fair." — Donna
 That comment was passed to me through elvis-history-blog. After thanking Donna for her gentle nudge, I ordered a copy of Ginger Alden's "Elvis and Ginger" from Amazon. The book, published in 2014, certainly brought some needed fairness to the discussion of Ginger's role in Elvis' life. Before reading it, I admit to having a rather negative attitude toward her, since nearly book I'd read by Elvis insiders in the past 40 years had been critical of her. For instance, Priscilla Presley had this to say about Ginger in her 1985 book. 
"[Elvis'] personal life was not helping the situation. He was seeing Ginger Alden, who was twenty years his junior, and the difference in their ages was becoming more and more of a problem … There were conflicts—many. Ginger did not like touring, one-night stands. She was close to her family and didn't want to leave them. Elvis tried bringing half her family with them, but that only created other problems. 'She spends more time with her sister and mother than she does with me,' he complained."
At least Priscilla was tactful in her assessment of Elvis and Ginger's relationship. Consider the downright toxic comments aimed at Ginger by some of the good ol' boys who had been close to Elvis for years.
 Lamar Fike (1995): "Ginger didn't give a rat's ass about him. At the end of January, something like nine weeks after they met, Elvis gave her an eleven-and-a-half-karat diamond ring. Cost something like $70,000. But when Elvis gave a woman a ring, it didn't mean a damn thing."
 Marty Lacker (1995): "Ginger was one of the worst choices Elvis ever made. She was always disappointing him. She didn't love him—she didn't even want to be around him. She wouldn't move into Graceland, she didn't like to spend the night, and she didn't want to go on all the tours. She didn't seem interested in pleasing him much at all. Ginger probably added to Elvis's downfall. She didn't care anything about him."
 Joe Esposito (1994): "Ginger Alden was not working out. She complained and bitched, and her mother was always hanging around, hoping Elvis would give her something. He did give gifts to Ginger's family—fur coats, new cars—because Jo was always hinting. She learned quickly that all they had to do was hint. 'Oh, my husband's car isn't running right,' Mrs. Alden sighed, and Elvis gave her a new car. I assumed she was telling Ginger to stick with him, so they could get all these presents."
 Billy Smith (1995): "I think Ginger was the first woman he'd run across other than Priscilla who rejected him. You could tell they were having problems. Sometimes she wouldn't come up for a few days, and he'd get all agitated and sullen and say, 'Where is she, man? Why don't she stay here?' And when she did come, she'd get up and go home after Elvis went to sleep."
 • "Speculations, exaggerations, and complete untruths"
 It's amazing that Ginger Alden would let such a disparaging image of her—and her family—go unchallenged for so many years. In her book's opening pages, Ginger tells what finally motivated her to write about her time with Elvis 37 years after his death. 
"I went forward with my life, but over time, I was shocked and hurt to see that speculations, exaggerations, and complete untruths regarding Elvis, me, and our relationship were unjustly being told by a few people who had been around Elvis—people I'd barely gotten to know and some I hardly knew at all. Some of their stories were then picked up and spread by other writers for their own Elvis biographies."
For the record, Ginger Alden was just out of her teens when she met Elvis at Graceland on November 19, 1976. (Her twentieth birthday was just six days earlier.) She lived in a house not far from Graceland with her parents Walter and Jo and her older sisters, Rosemary and Terry. A brother, Mike, was married and no longer lived in the home.
Elvis' four-and-a-half-year relationship with Linda Thompson had just ended when he picked Ginger for his new girlfriend after viewing the three Alden sisters, who had been brought to Graceland by  George Klein. Young, inexperienced, and shy, Ginger suffered in comparison to the slightly older, more experienced, and outgoing Linda. Priscilla wrote, "Linda Thompson became his constant companion and was good for him, I felt. He began taking trips to Aspen and Hawaii, getting out more, because of Linda's outgoing personality." Billy Smith added, "Ginger wasn't a caring, nurturing person like Linda." The guys around Elvis had gotten used to Linda taking complete responsibility for Elvis' care and were disappointed when Ginger didn't step seamlessly into that role. She was only a year-and-a-half out of high school and still had a strong bond with her family.
About two months into their relationship, Ginger says Elvis asked her, "Would you like to move in?"
"To just move into Graceland without being married first was something I didn't believe in or feel was appropriate to do at the time. I came from a pretty conservative background. My sisters and I had been brought up to believe that you lived with someone only after you were married. Hoping he would understand, I looked him in the eye and nervously said, 'Elvis, it just isn't my way.' Fortunately, Elvis seemed okay with that. He smiled and said, 'Fine, I respect you for that.'"
As noted earlier, Elvis' guys took her decision not to move into Graceland as evidence that Ginger didn't care about Elvis. Although they obviously didn't believe Ginger was a good match for Elvis at that time in his life, it would appear that Elvis did. After all, he and Ginger were engaged to be married … or were they really? Some of the guys didn't think so.
• "Ginger, I'm asking you: Will you marry me?"
According to Ginger, on the night of January 26, 1977, just two months after they met, Elvis proposed to her at Graceland.
"Ginger, I've been searching for love so long and never in my wildest dreams did I ever think I would find it in my own backyard. I've been sixty percent happy and forty percent happy, but never a hundred percent. I've loved before but I've never been in love. Ginger, I'm asking you: Will you marry me?"
He then gave her what she called the "most magnificent ring" she'd ever seen. It had a huge center diamond surrounded by six smaller ones. Ginger says that Charlie Hodge, Billy Smith, and Ricky and David Stanley all entered the room "to give us their hugs and congratulations." At the time, no date for their wedding was set. Ginger wrote that she was "willing to wait to marry until the time felt right to Elvis, and intended to leave it all up to him."
But the guys didn't believe for a minute that the engagement was legit. Billy Smith believed, "Elvis was not going to marry her. But she thought he was. But he'd say. 'Yeah, and when we get married … ' and then turn to Jo and me and say, real low, 'Whenever that is.'" Joe Esposito agreed. "Elvis gave Ginger an engagement ring and said they were going to marry. He just wanted to see if she would accept the ring and say yes. 'Oh, we're getting married,' Ginger told everyone. But I knew it would never happen."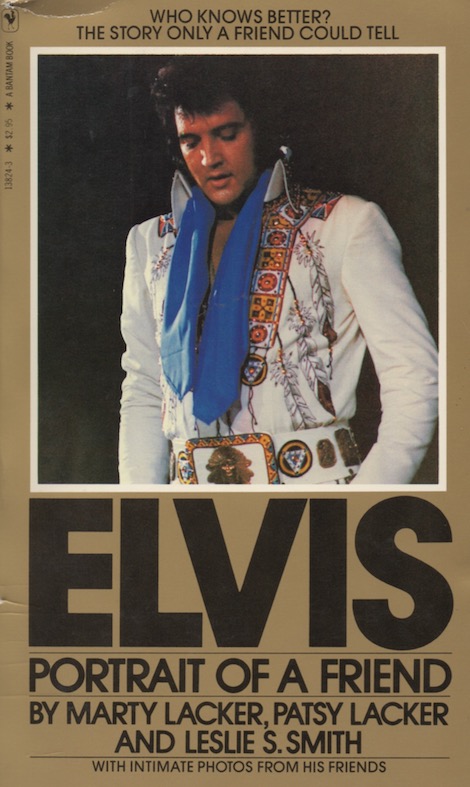 A few weeks later, Ginger noticed something odd at Graceland. "I knew the news of our engagement must have circulated throughout the entire group by now, but I suddenly realized that I had no memory of ever being congratulated by Shirley, Joe, Dr. Nichopoulos, Lamar, or a few others who regularly surrounded Elvis. This certainly was strange and inexplicable." Apparently, most of the people closest to Elvis never took his engagement to Ginger seriously.
Still, Elvis reassured her, she said. He sent her out to look at wedding dresses. By August, Ginger says they were discussing the details of their wedding day. Elvis said:
"I would like certain people there, public officials and friends. And there should be so many police officers to guard the church, so no news media can get to us. I don't want this to be a three-ring circus. The limousines should be so many inches longer than a normal-length limo and in blue. I've thought about your gown. The dress should have a high collar and I would like it to have small rosebuds with gold threads through it. I'm gonna have someone work on it in Los Angeles."
• Engagement to be announced in Memphis
Elvis was finally ready to set a date, according to Ginger. He'd been thinking about his birthday in January, her birthday in November, or Christmas. They agreed on Christmas. Elvis added, "I'd like to announce our engagement to the audience at the end of the tour in Memphis. We'll put it in the local paper too, under the regular engagement section, nothin' fancy." They were to leave on his tour the next day. It never happened; neither did the wedding.
However, Dr. Max Shapiro, a Beverly Hills dentist who treated both Elvis and Ginger while they were vacationing in Palm Springs, substantiated that the engagement was sincere. "I can verify Ginger's story," he stated in 1979. "Elvis told me he loved Ginger very much and that he had asked her to marry him. They were engaged." He added, "Elvis knew I had invented an artificial heart, and the last thing he ever said to me was, 'Max, please make one for me and make one for Ginger.'"
There are many other events that Ginger and the guys described differently, but one dwarfs everything else and trashes the credibility on one side. It involves two widely varying accounts of the events at Graceland on the morning of August 16, 1977. Ginger's version, the one that has long been accepted as the official version, goes like this. About 6 a.m. Elvis and Ginger retired to Elvis' bedroom after playing racquetball with Billy and Jo Smith. Around 6:45 Elvis called downstairs for some sleep medication to be sent up. A Tylenol with codeine was brought up for Ginger, and Billy followed with Elvis's morning sleep packet. Elvis and Ginger then settled in the bed to look over a couple of new books he had been given.
When the medication kicked in, both of them fell asleep. Ginger says she awoke at eight o'clock to hear Elvis calling downstairs for another sleep packet, which Ricky Stanley brought up. They both settled down in the bed again, and Ginger fell asleep. She woke again at 9 a.m. to see Elvis sitting on the side of the bed. Saying he was going to do some reading, Elvis picked up a book and headed toward his bathroom. Ginger once again fell into a deep sleep.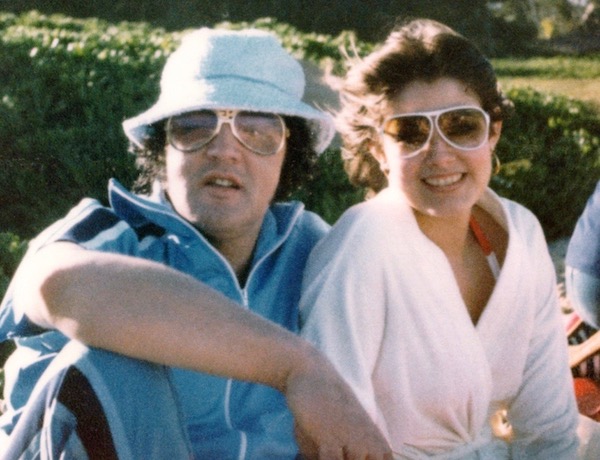 Just after 2 p.m., she awoke and noticed Elvis was not in bed. She wondered where he was, but she had to rush to her bathroom because her period had started. While in her bathroom, Ginger made two phone calls—one to her friend Cindy and one to her mother—both about concerns that her cramps might prevent her from leaving later that day with Elvis on his tour. After finishing in her bathroom at close to 2:20 p.m., she went looking for Elvis. When she found him unconscious in his bathroom, she called downstairs for help.
• Billy's conspiracy theory
In a 1995 book, Billy Smith offered an alternate version of events that day that accused Ginger of conspiring with her mother for financial gain after discovering Elvis's body. Billy explained the conspiracy theory he and Elvis employee Al Strada concocted as follows:
"It seems that when Ginger called downstairs, she might have known Elvis was already dead. We think she may have called her mother first, and they talked about what to do. And then about twelve-thirty—an hour and a half before she called downstairs—she hung up and called this Jim Kirk, who was a freelance writer and a stringer for the Enquirer. We guess she called him twice and struck a deal with him for her story and a page-one fee, for $105,000.
"Now, both Ginger and her mama deny this. But see, she knew this Jim Kirk. A couple of stories had already come out in the Enquirer about Ginger and Elvis. And at the time, we didn't know exactly how they got their information. But now we're pretty sure that's how the Enquirer had people flying in here on August 16, taking pictures and making phone calls three hours before the hospital announced Elvis was dead. We do know for sure that by the time Ginger called Al up there, she was all dressed and made up to perfection. She sure didn't look like she just rolled out of bed, like she said. If she did deal with the Enquirer, she probably figured, 'Well, what have I got to lose? He's dead.'"
Billy's attribution for his wild accusations against Ginger amounts to a stream of vague phrases, such as "it seems," "she might have known," "we think," "we guess," "we're pretty sure," and "she probably figured." And that's the weakness of all the criticism leveled at Ginger Alden by Billy and his fellow "down-home boys," Lamar Fike, Marty Lacker, and Joe Esposito. None of them provide any credible evidence to support their negative opinions about the relationship between Elvis and Ginger.
It's time, then, to assess the credibility of the characters on stage during the closing scenes of Elvis Presley's life. There's no reason to trust the accounts of any of the guys posing as Elvis' friends in those final months. The person who was the closest to Elvis during that time was Ginger Alden. I believe her. Her book supports her account of those nine months with dates, details, and controlled emotion. Her book, "Elvis and Ginger," is by far the best interpretation available of the  months leading up to Elvis Presley's death. 
• Ginger tells the story of Elvis' last nine months
Once one assigns credibility to Ginger Alden's account of her relationship with Elvis Presley in her 2014 book, "Elvis and Ginger," her story qualifies as the best existing narrative of the final nine months of Presley's life. She was clearly the closest person to Elvis during that period. Ginger obviously wanted the focus of her book to be on her love affair with Elvis, but along the way her observations reveal Elvis to have been  a troubled soul desperately trying to escape self-imposed isolation during those final months.
Although many professional and personal issues troubled Elvis in the last year of his life, only some of the larger ones are mentioned here. Ginger discusses others, such as Elvis' reaction to his fired bodyguards' upcoming book, Jerry Lee Lewis's midnight blowup at Graceland's gates, and the reasons for the aborted Nashville recording session in January 1977. I recommend Ginger's book to those wanting to follow her complete chronological account of Elvis's life between November 1976 and August 1977. Here are some of the larger, ongoing concerns in his life at that time that Ginger addresses in her book.
• Elvis struggled to keep control
Dating back to when fame first overwhelmed him, Elvis Presley steadfastly sought to control his private life and all the people who entered his inner circle. The Elvis that Ginger Alden knew struggled mightily to continue that control. She became aware of it the day after they first met. When Elvis revealed that he owned a Ferrari, she asked if they could go for a ride in it. "Not now," she says he replied. "I'll decide when we take a ride in it." Ginger wondered if Elvis wanted her to know early on that he liked to be in control. Later that day, Elvis gave her a gold ID bracelet with "Elvis" spelled out on it in diamonds. "Now everyone will know you belong to me," he explained.
As he had with Linda Thompson during the four previous years, Elvis nearly always wanted Ginger by his side. He insisted that she stop seeing anyone else, even going so far as to hand her a telephone and asking her to call the young man she had dating and end their relationship. It was just one of many examples Ginger gives of Elvis trying to control her behavior. Her resistance then and at other times caused Elvis considerable irritation.
Ginger also observed Elvis' difficulties trying to control the men who worked for him. Long trusted friends Marty Lacker and Joe Esposito then lived in California and were seldom around, and Ginger couldn't figure out what Lamar Fike did for Elvis. Charlie Hodge was still there, but Elvis was losing patience with his old friend. When, after drinking too much, Charlie smashed his hand through a glass window, Ginger says Elvis got angry. "I'm sick of this shit," Elvis told her. "There's gonna be changes around here." And when Elvis fell on the stairs coming off stage in Milwaukee, he told Ginger, "People just aren't doing their jobs. I'm getting rid of Dick, Joe, and whole lot more." Later, when Elvis told Ginger he felt lonely at Graceland, she reminded him of all the people he had around him. "They're not my friends," he responded. "Do you think if it weren't for their paychecks, they'd still be around?"
• Elvis gave Ginger an endless stream of gifts
Elvis may have been trying to bring Ginger under his spell with an endless stream of expensive gifts. In addition to the already mentioned diamond ID bracelet, the amount of jewelry he gave her in nine months time was staggering. There were the rings: a gold and diamond cluster ring, one with sapphires and diamonds, another set in rubies and diamonds, another diamond cluster ring, and the most magnificent of all, an engagement ring with a huge center diamond surrounded by six smaller ones. Then there were the necklaces: a diamond and emerald one, a couple more diamond necklaces, another with TLC spelled out in diamonds, and then what Ginger described as the "most singular piece of jewelry I'd ever seen: his own large ram's head necklace in gold, inlaid with diamonds and emeralds." Finally, Elvis gave Ginger a large jewelry box to hold all her jewelry at Graceland.
Elvis also gave Ginger a new car, mink coats, and her own credit card. Ginger saw only benevolence in Elvis' serial gift giving. "He saw himself as someone who was in a position to enhance other people's lives by bringing beauty into it," she concluded. "He thought that would make them happy." However, whether or not she intended it, in her narrative Ginger leaves the impression that Elvis was attempting with his gifts to make her feel obligated and thus bring her under his control. Maybe so, but his occasional outbursts of temper had the opposite effect.
• Elvis' "hair-trigger temper" scared Ginger
The first time Ginger saw Elvis' "hair-trigger temper" was when she refused to immediately call the man she had been dating and end their relationship. Elvis grabbed a bottle of Gatorade and threw it against the wall. "It troubled me that Elvis had flown off the handle like that," she recalls, but then she adds a naïve rationalization for it. "As odd as this sounds, it also made me feel good to think that Elvis was really that serious about us." She was to find out how dangerous Elvis's anger could be. Weeks later a "deafening bang" awoke Ginger one morning at Graceland.
"I bolted upright and saw Elvis standing at the foot of the bed, holding a 57 Magnum pistol in his hand. I risked a glance behind me and saw a bullet hole in the wall above the headboard. I looked back at Elvis, trying to wrap my mind around the idea that he really had just shot a hole in the wall. By way of explanation, Elvis said he had asked for yogurt again and I hadn't responded. 'It was an attention getter,' he said."
Although she professed to be "in shock and extremely hurt" by Elvis' action, Ginger accepted his apology, sensing "on a deep level, that Elvis honestly was sorry." It wasn't the last time she'd hear gunfire at Graceland. A running toilet in his bathroom so irritated Elvis, that he "blasted it to smithereens" with what Ginger called a "machine gun." That time, Ginger's shock turned to anger, she says, and she fled Graceland and ran home to be comforted by her mother. She soon went back to a contrite Elvis, though.
While Elvis and Ginger were vacationing in Hawaii in March 1977, Elvis' anger resulted in him doing what Ginger called the "inconceivable." It started with an argument between the two because Ginger felt Elvis had been drinking too much juice. When she left the room while Elvis was still talking, he pursued her into an adjoining room and slapped her on side of her body. "No one ever walks out on me when I'm talking," he said. "The dark mood had transformed Elvis into someone I didn't recognize," Ginger observed. Still, she forgave him. "I could tell by his voice that Elvis was deeply remorseful for having struck me."
• Ginger tried to help Elvis improve his diet
The yogurt and juice incidents, to which Elvis responded with violent outbursts, were among a number of occasions Ginger says she tried to get Elvis to change his unhealthy diet. Since Elvis had isolated himself in his bedroom, that is where he and Ginger were served their meals. Ginger says that in the nine months she was with Elvis, she never saw him sitting at a table to eat. Early on in their relationship, Ginger spoke briefly with Priscilla on the phone. "See that he eats right," Priscilla told her, but Ginger quickly learned that was easier said than done.
 "I was concerned about his health. When it came to mealtimes, Elvis and I enjoyed eating similar things such as hamburgers, steak, and omelets but I continued to notice certain foods were being brought to Elvis in larger than normal portions. I hoped to move us toward a healthier diet, but I just didn't know how because he was used to getting what he wanted."
She says she tried to bring Elvis healthier snacks, like fruit, but he only picked at it. Still, Ginger took that as a "step in the right direction." Eventually, she thought he was showing "more awareness of his diet." He was drinking a lot of water and eating less yogurt. But she made that observation on August 15, 1977. It was too late to reverse decades of poor eating habits. Another bad habit, begun in his army days two decades before, would contribute to the fatal event on the next day.
• Ginger was concerned but unable to affect Elvis' drug use
In a San Francisco hotel room in late November 1976, just 10 days after she met Elvis, Ginger saw him swallow the contents of small yellow packet an aide had brought to their room. "Something to help me sleep," he told her. The next day another packet was brought to the room for Elvis. It was a mixture of "vitamins, medication, sinus pills, and aspirin," he said. "These packets were routine," Ginger realized, "delivered in the same casual manner as the jug of water beside Elvis' bedside."
Slowly, Ginger says her awareness of the effects the medications were having on Elvis increased. After watching an aide having to assist Elvis to the bathroom and then back to bed, Ginger says she began to wonder about the yellow packets. "I had no idea what he was taking," she said, "but it seemed quite strong." Watching him on stage one night in December, she noticed Elvis uncharacteristically seemed to be forgetting some of the song lyrics. "Could his water pills or any pain medication be affecting his memory?" she wondered. She thought it was odd that he needed sleep medication every night, whether he was on tour, at home, or on vacation. Early on, though, she says she trusted Dr. Nichopoulos to monitor Elvis' health.
Later she began to attribute Elvis' bad mood swings to the "prescribed medication" he'd been taking. She finally summoned up the nerve to confront him about those medications.
"One morning, as Elvis called for Tish to bring him medication, I … told him, 'Elvis, you don't really need that.' He looked at me and shook his head. 'You don't understand,' he replied. 'I need it.' I wondered—not for the first time—if Elvis had built up an immunity to whatever medication he'd been taking on a regular basis, and that's why he needed an increase in dosage. Whatever the case, I could only hope the medical professionals overseeing his care knew what they were doing."
Six months into their relationship, Ginger says she was becoming more concerned about Elvis' use of "medications" and the long-term effects they might have on him.
"By now it was the middle of May and getting close to the next tour. As before, Elvis seemed anxious about his upcoming performances. He started again asking for more medication to help him get back to sleep whenever he woke up. I had another concern as well. I wondered if this medication could be harmful to Elvis in the long run. A few times, it seemed clear to me that it had affected his mood and behavior in negative ways."
Ginger says she told him about her concerns. "Any conversation about medication would have to be approached carefully and in time," she concluded. "I knew I couldn't change things in one day, but I was determined to keep trying." Apparently, though, she never felt empowered enough to turn her concern into some sort of action designed to reduce his dependence on drugs.
• Accidental overdoses became a real danger for Elvis
The peril of an accidental overdose became clear to her one day when a phone call sent her rushing over to Graceland. When she entered Elvis' bedroom, he was on his bed, eyes closed, and hooked up to an IV. Dr. Nichopoulos was sitting at his bedside. Charlie Hodge told Ginger that Elvis had gone to Las Vegas and had taken too much medication. "It crushed me to see him like this," Ginger says, but she remained powerless to do anything about Elvis' unmanaged use of drugs.
Ginger's depiction of events at Graceland on August 16, 1977, suggests the possibility that another overdose may have contributed to Elvis' death. Ginger observed Elvis take two of his "sleep packets" that morning. The first one he requested was brought up to his bedroom by Ricky Stanley at about 6:45. Still restless at about 8 o'clock, he called down for another packet, which Ricky also brought up. Ginger says she woke up an hour later to see Elvis head to his bathroom to read. She then slept until about 2 p.m., when she awoke and found Elvis's body soon afterwards.
In February 1978, Ginger was subpoenaed to appear before a grand jury investigating George Nichopoulos's medical care of Elvis. At the building where the grand jury was sitting, Ginger says she ran into Nancy Brooks, the Graceland maid. According to Ginger, Nancy told her that Aunt Delta was "afraid because she had given Elvis a third packet of medication the morning he died." If that happened, it must have been when Ginger was asleep. It's just one of many personal anecdotes to be found in Ginger Alden' "Elvis and Ginger."
• "Elvis and Ginger" describes Elvis' spirituality and tours
Although Elvis' health concerns of diet and medication are significant themes running throughout "Elvis and Ginger," the book also contains a wealth of other information that helps bring the last nine months of Elvis' life into focus. For those interested in Elvis' spiritual quest during that period, there is plenty about the books he was reading and his belief in the mystic powers of healing and controlling objects. Also during this period, Elvis went on seven road tours and played Las Vegas once. Ginger provides her memories of accompanying Elvis on many of those occasions.
As a very young woman, Ginger Alden found herself struggling to reconcile her relationship with Elvis and maintaining the ties to her family. In her book, it's an ongoing issue, one for which she claims Elvis did his best to accommodate. Along the way are many interesting anecdotes, such as Elvis's desire to make a movie called "The Mission." All in all, "Elvis and Ginger" provides an interesting narrative of the rollercoaster ride that was the last year of Elvis Presley's life. His bizarre behavior is there, as it should be, but it's tempered by the affection that Elvis and Ginger obviously felt for each other. It made me consider that the months leading up to the end of Elvis's life might not have been as unhappy as I had always thought. — Alan Hanson | © March 2018
Reader Comment: Thank you for a long overdue acknowledgement of Elvis and Ginger. I believe he cared deeply for her. For one It showed when he went to Ginger's grandfather's funeral. Never knew of him attending funerals other than his mother's. Not saying he didn't. — Donna (March 2018)
Reader Comment: Personally, I think its wrong that, after 40 years, anyone should stir up strife concerning who he did and didn't love. Let Ginger have her memories. Let Linda have hers. Let Priscilla have hers. All we as his fans should worry about is how much we love him and how much he loved his fans. His personal life is just that—personal. Let Elvis rest in peace and be grateful for the music he gave us. He will never be forgotten. — Marcia (March 2018)

Reader Comment: Good that you got finally around to reading Ginger's book. Like you, I found it highly credible. I'm not sure Elvis comes out of it too well. And if you are talking about Elvis's death, what about the bombshell of the 3rd pack of sleeping pills that Elvis asked for and got from his Aunt Delta that night / morning? Was he so nervous about appearing in public for the first time following the publication of the 'Élvis, What happened?' book that he couldn't sleep? Did the betrayal by his friends actually lead to him overdosing on sleeping medication that night? These are questions no-one seems to be asking. Why? — Mark (March 2018)
Reader Comment: Having read so much about the life of E.P I seriously have my doubts about this so called 'marriage' - it was pure wishful thinking. Elvis needed to try and counteract the true allegations that were going to come out out his private life and thought he could do this with a 'fresh-faced' family. She most certainly couldn't have loved him after just 2 months - his money yes; nothing else. Unfortunately, I don't believe a word she says.— Celia (September 2018)
Reader Comment: The human condition is so layered and nuanced it is hard to ferret out truth if there even is such a thing to be found.  Truth is subject to each person living. Elvis was a hot mess at the end.  Shooting things up, depressed, isolated, overweight, sick, addicted. Ginger was young and pretty. Who can divy up where awe and love intersect?  Who can know how much Ginger loved Elvis and how much the glitz of it all factored in?  Not even Ginger could know this. The experience of Elvis was so surreal to a twenty-year-old. Elvis was also bereft about the West boys book coming out.  Ginger took his mind off of things.  And, he thought marriage and a baby would redeem him from the horrors the book would paint of him. No one really knows what would have happened had Elvis lived.  And, no one knows his heart and how Ginger's reticence would have worn on him.  Ginger would have gone through with it simply for the insane magic of the whole thing.  Elvis is another story... — Nancy  (May 2021)
Reader Comment: I met Ginger Alden several times. She was sweet, smart, loving and kind. She loved Elvis and they would have had a lovely and happy life together. I heard he would shoot guns at t.v. sets and once over her head. I did not know Elvis would body slap Ginger and cause her concern for her own safety. Was he just spoiled and wanted his way? WHY would Elvis hurt someone he loved so much. Many famous people lose their way. Ginger was a sweet Southern lady from a solid background. — Katy (July 2022)
Reader Comment:  I am a fan of Elvis. I love Elvis, sure, but  he didn't automatically have the right to control everyone and certainly not Ginger (or any woman he loved) who was young with ( probably) her own dreams and hopes of what life should be. It's funny to read in this article that evrything seems either black or white and not in between. In a relationship you consider both parts needs! I can't fathom why people around Elvis back then found it strange that this young girl didn't constantly want to go on tours or be isolated in Elvis' home or whatever. Well, I was just a baby girl back then, and I don't know these people. But I do know what I like: mutual respect and not a prison. I guess people back then were children of their time and gender roles of the time and all, though  Ginger was much younger. So am I a child of my time. And as I said I dont know anything about these people and not even Elvis. I can only  read about him, but it's just that … reading. He is not alive. We don't know who is "right." — Maria (November 2022)
Reader Comment: I agree with one of the comments made by Maria. It isn't black and white. Ginger was young and should not have been expected to be a nurse, mother, and held captive. It was truly unfair what they said about her without knowing about their secret moments. To say she took a shower first before finding him and then blaming her is odd to me. Maybe she did get up and take a shower and brush her teeth. Lord knows I would want to get rid of morning breath and look perfect, since he seemed to expect that from his women. Priscilla and many others have said he expected his women to be dressed and ready before going downstairs or having breakfast. Why would Ginger have been given leeway on that? David Stanley or his brothers probably didn't think of that because they didn't have to deal with that side of him. He told Mindi Miller to never come to breakfast without being dressed and with a full face of makeup. That was only a year prior. So, it would have made sense that Ginger would have gotten ready and looked perfect.  I personally couldn't have lived that way. I say this and please know that that doesn't take away the appreciation I have for him, his music and soul.  He was a legend and amazing! To say Ginger was the reason he died is sick and wrong in my opinion. She was naive and young. Nobody wrote about how that whole day on August 16th must have felt for Ginger. They threw her under the bus. Did anyone ever ask this young girl how she was dealing with what she witnessed and saw? The poor girl saw her lover dead on the floor in a gruesome way, and she had to help his little daughter who witnessed it too. Put yourself there in her shoes for a second. Then they cast her off and talked poorly about her from that point on. Then they accused her of all sorts of stuff. That is just sick and twisted. No wonder why she ran from it and stayed quiet. Since she stayed quiet, untruths developed and took hold. — Robbie (February 2023)
Reader Comment: According to everyone (except her) they were never engaged. In the June 26, 1977, special, Elvis presents her as her girlfriend, not his fiancee! Listen to the special and you will get proof. She was only a rebound after Linda and she was a gold digger. — Ella (February 2023)
Reader Comment: The way people speak of Ginger is positively shameful. It's like they all pounced on Ginger because she had not yet fully "joined the cult." Maybe these angry old bitties can't remember what it's like being a young woman with your first big romance! I definitely remember being Ginger's age and wholeheartedly saying "I love you" a month into a relationship. Of course, Elvis never broadcasted his personal life to the world. Priscilla's book states that the media called her relationship with Elvis "the best kept secret in Hollywood" because nobody knew of it until the day they married. How can anyone call Ginger a gold digger when it was Elvis' prerogative to throw money around at everyone he met like it was candy? There is a clear case of mob mentality whereby people are just following the bandwagon by jumping into an attack mob to go after a woman who may no longer be young but certainly was young and naive from a conservative and sheltered background when this all went down. — Carolyn (April 2023)
Reader Comment: I've just finished reading Ginger Alden's book. Her sincerity and naivety touched me. She lacked at that time self confidence in who she was and was always surprised that Elvis would have a real interest in her. On another side, I could not believe how abusive Elvis could be. Although I really think he had the most beautiful voice and talent and charisma of his generation, his behaving must have been a red light to Ginger. She should have left this man, famous or not. If Ginger thought that marriage would change him for the better, she was badly mistaken. Also firearms must NEVER be in the hands of anybody subject to impulsiveness, violent anger, and lack of self-control. The charisma of Elvis is so great that it put a veil upon our very eyes, to the point that we are ready to excuse or minimize all of his bad behaviors. Ginger Alden has been misjudged a lot in this whole story. I hope things will begin going straight for her after people read her book. —Helene (May 2023)
---