Elvis' Gold Cadillac Tour
Of Australia in 1968-69
Despite repeated pledges that he would, Elvis Presley never performed outside of North America. In spite of that, today he has a more fervent following in some foreign countries than he does in his native land. The best Presley fan magazines have long since been, and still are, published in European countries (e.g. Elvis: the Man and His Music). In fact, with the recent foreign purchase of Elvis: The Magazine, I know of no quality Elvis-themed magazine published in the U.S. The same goes for web sites. Most of the best sources on the net for information about Elvis originate in Europe or Australia (e.g. ElvisInfoNet).
I've often wondered how loyalty could continue to thrive overseas for an entertainer whose only exposure there was on vinyl, celluloid, and radio waves. Sure, there are plenty of American Elvis fans still around, but a great many of them seem fixated on Presley teddy bears, snow globes, and other doodads and trinkets. Overseas there appears to be a greater focus on Elvis' career and his place in entertainment history.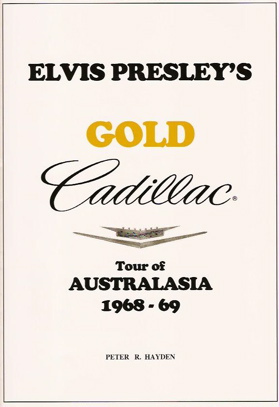 A good example of this historical emphasis on Elvis is abroad is Australian Bob Hayden's book, Elvis Presley's Gold Cadillac: Tour of Australasia 1968-69. It's the kind of Elvis-themed project that would never come out of U.S.-based Presley fandom.
In a 56-page, 8" X 11 ¾" formatted booklet, Bob chronicled the year-long tour of an Elvis limousine across southern and eastern Australia, mostly in 1968. Even though Elvis was half a world away in the U.S. during his Cadillac's tour, the story still reveals much about him through his Australian fans, who came in droves to view his car, knowing that would be the closest most would ever get to him.
• Gold limo tour is a little known story
Before reading Bob's book, my only knowledge of Elvis' Gold Cadillac tour of Australia came from a small article in Variety on October 9, 1968. "One of the biggest, long-running attractions to hit Australia is not even a person but a car," the article began. Over 400,000 people had viewed the car in its first nine months down under, according to the article, with $128,000 having been raised for charitable organizations in Australia.
Of course, Bob's book added an incredible amount of interesting detail to the story. First of all, for those of us who aren't up on the myriad of Caddies Elvis owned through the years, Bob identifies the particular one that went on tour. It was a 1960 Series 75 Fleetwood Limousine that cost Elvis $10,000 new. He paid an additional $65,000 to have it customized by George Barris of North Hollywood. According to Bob, it became known as the "Gold" Cadillac "because of the gold plated fittings in and outside the car."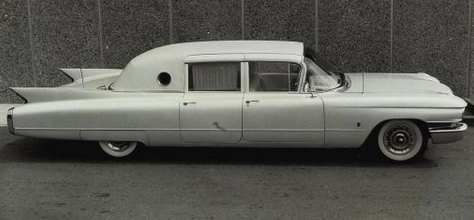 The description of the customization process explains why so many people were interested in seeing the limo. After its original paint was stripped off, the Cadillac was "repainted with 40 coats of translucent pure diamond dust pearl which consisted of crushed diamonds and fish scales flown in from the Orient." The interior of the limo was then fitted out with amenities that included a vanity, a bar, a refrigerator, a TV, a record player, a telephone, and a shoe polisher.
It turns out that repeated damage caused by souvenir-seeking fans eventually forced Elvis to stop using the car. It was then sold to Presley's RCA Victor label to use for promotional purposes. Bob reveals that it was displayed intermittently across the U.S. by RCA from 1965-1967.
• Details given for dozens of Cadillac's appearances
Then it was arranged for the limo to be shipped to Australia for a tour to raise funds for the Benevolent Society of New South Wales. The Cadillac was unveiled in Sydney on January 17, 1968. In 21 pages of text and photos, Bob recorded the vehicle's nearly four-dozen appearances in larger cities like Melbourne and smaller communities, such as Wagga Wagga. Attendance records and eyewitness accounts of those events over 40 years ago are included when available.
One of the more interesting side stories concerns the "Elvis Presley Golden Girls." Most communities selected an attractive young lady to serve as a hostess and tour guide for the Gold Cadillac while it was on display in each city or town. One "Golden Girl" called it "one of the best weeks of her life" when the Caddy came to her town.
Elvis' limousine went on display at shopping centers, auto dealerships, civic centers, and showgrounds. It also stopped at schools and hospitals, as Colonel Parker insisted that disadvantaged and disabled children should be allowed to view the Cadillac at no charge.
Bob Hayden is planning to published an expanded second edition of his book. Readers have provided him more photos and information about the tour, and he is still seeking more of both. In particular, he is looking for details about the limo's tour of New Zealand during the first half of 1969 and about it's American appearances in 1965-1967.
What makes the story of Elvis' Gold Cadillac tour especially interesting is that it drew hundreds of thousands of viewers in Australia at the time when Presley's career was at its lowest ebb at home. In 1968 no Elvis single record release reached higher than #30 on Billboard's Hot 100. His Hollywood career had flamed out and was coming to an end. It wasn't until December 1968, when the Australian Cadillac tour was nearly over, that Elvis began to revive his career with his NBC-TV special.
• Gold Caddy hot when Elvis' career was cool
Bob Hayden's tale reveals the continuing power that the name "Elvis Presley" had over people on the other side of the world even when his popularity at home seemed to be fading. No doubt there are dozens, maybe hundreds, of similar historical tales about Elvis' legacy that remain untold. They await dedicated fans like Bob Hayden to bring them to the light of day. — Alan Hanson |© February 2010