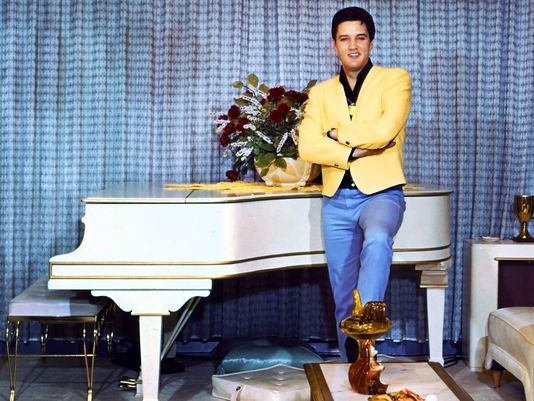 Return of Elvis's Baby Grand Piano
Calls to Mind Many Graceland Stories
Graceland recently announced that it has reacquired the white, baby grand piano that Elvis purchased for his new home in 1957. The piano, which was put in storage in 1968 and later sold in 1976, is returning to Graceland, fully restored with gold accents and a custom-made gold bench with white leather cushion. It will be unveiled at Graceland on December 16, 2017. For the occasion, Graceland's music room will be restored to its "1960s-era" appearance, with white and blue draperies and a gold couch.
Changes to Graceland's interior design occurred often during the 20 years Elvis lived there. Adding to the legend of his home are the many stories that have been shared about events at the famous residence between 1957 and 1977. Here are a few of my favorite Graceland stories.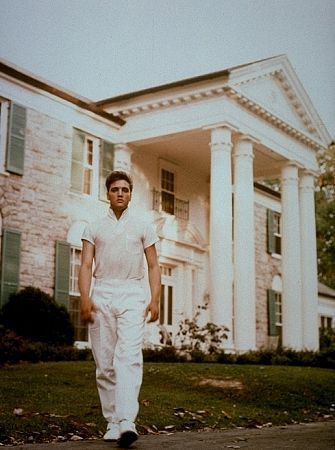 • Great parties in Graceland's basement—1957
Much has been written about Elvis's "wild parties" at Graceland. I never was invited to one, so I can only imagine what they were like. Personally, though, I would much rather have attended one of the 1957 Graceland parties that Elvis's friend George Klein described in his 2010 book, "Elvis: My Best Man." 
"Elvis and the Presleys were still getting the place just the way they wanted it, but no matter what was going on, you walked into that house and it was so easy to relax and shut out the outside world—and that's exactly what Elvis and the rest of us did with those great parties in the Graceland basement."
There were plenty of beautiful girls there, to be sure, and George understood he was expected to use his radio and nightclub connections to recruit them for Elvis's parties.  According to George, though, the purpose of those Graceland parties before Elvis entered the army was not to get drunk and or to score with one of the girls. "It was to truly enjoy the moment of being together in that remarkable place," George poetically put it. "There was a real sweetness to those Graceland nights."
George recalls that there was never any hard liquor, or even beer, in the house. "There were nights when the wildest thing that happened was having Elvis lead us through a game of Name That Tune." Rather than rock 'n' roll parties, these gatherings were based on "easygoing camaraderie," George noted. That being the case, it was crucial that everyone attending one of Elvis's parties for the first time "understood how to act and how to approach Elvis without making him uncomfortable or putting him on the defensive."
George brought many newcomers to Graceland over the years, but before they entered Elvis's home, George went over the "ground rules" for behavior by new visitors. First, "I told them to keep things positive—I'd seen people try to act cool around Elvis by having a negative, critical attitude, and he never responded well to that." Second, "Don't assume you can't say anything nice to him because you think he's probably heard it before. He didn't want to hear anything phony, but he was only human and always enjoyed hearing compliments." As an example, when George introduced his sister to Elvis at Graceland, "she walked up to him without hesitation and said, 'You're not only great-looking, but you've got the most beautiful blue eyes I've ever seen.'"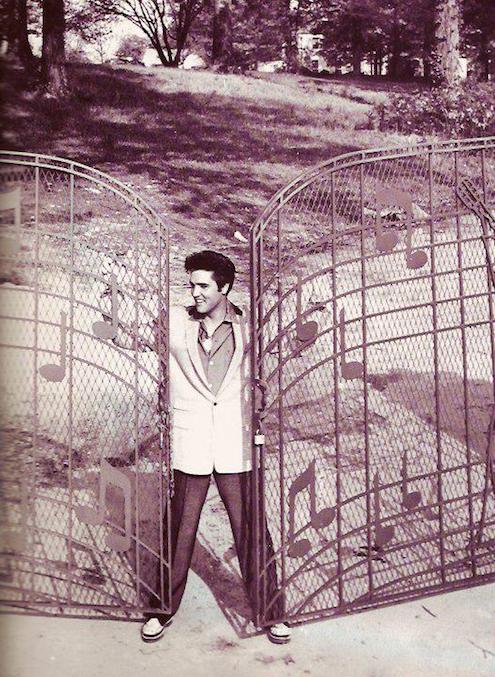 • Blasting through Graceland's Gates—1962
Visitors to Graceland these days pass through the original guitar-themed iron gates that were installed in April 1957. Memphis Mafioso Marty Lacker, though, tells a story about how those gates were damaged late one night in 1962. The previous year, Lacker says Elvis hired his first cousin Harold Loyd, to man the front gates on the night shift.
One summer night in 1962, Elvis and his entourage left Graceland to watch a movie at a local theater. According to Lacker, when they returned about three or four o'clock in the morning, Harold wasn't at the gate. Apparently, he was up checking on things around the house. Elvis, driving a new 1963 Buick Riviera, sounded the horn several times. When the gates didn't open, Elvis started to get angry. Lacker says that Elvis had a lot of people with him in about 15 cars and was embarrassed that he couldn't get into his own driveway.
Since the gatehouse lights were off, Elvis was sure Harold was sleeping. Cursing his cousin, Elvis announced, "Harold, I'm not waiting for you." He backed the Buick up across the highway, and accelerated full speed through the gates. "Tore the hell out of the gates," recalls Lacker, "and did about $800 damage to the car because as the gates swung open and hit the curb, they flew back and slapped the side of the Buick."
A startled Harold came running down from the house and met Elvis about half-way up the driveway. Sticking his head out the car window, Elvis yelled at his cousin, "Goddamnit, I don't know what the hell you were doing, but you better be alert! And from now on, those gates better pop open when I get there!"
According to Lacker, "For years after that, we'd be sitting out in California or somewhere, and about three or four a.m., Elvis would look at his watch and say, 'I wonder what Harold is doing about now. I'll bet he's not sleeping on the job.'"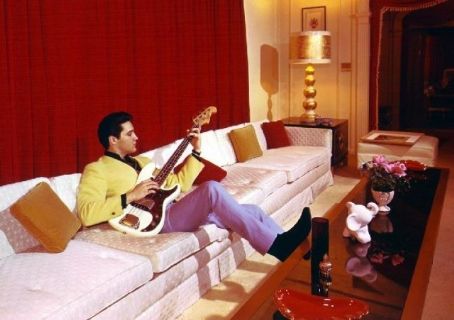 • "All ready on the firing Line?"

Becky Yancey was an Elvis fan who asked him for a job at Graceland. For 13 years, from March 1962 to July 1975, she and other secretaries sorted and answered Presley's fan mail. A blurb on the cover of her 1977 book, "My Life With Elvis," proclaims that she "saw it all" at Graceland. One afternoon, probably in the latter part of her employment there, it was something she heard at Graceland that nearly scared her to death. She and fellow secretary Paulette Lewis were just finishing up their day's work in their office back of the main house, when a series of "short, sharp explosions" sent them scrambling under their desks for cover. "Ragged chips—some as large as dollar bills, others the size of needles and equally sharp showered the room like so much wooden confetti," Becky recalled.
The office was attached to an old wellhouse, and Elvis and the guys were blasting away with .357 magnum pistols at a man-shaped target they had drawn on the wellhouse's wooden door. Becky shuddered, realizing what might have happened if she or Paulette had been in the restroom, which was only a few feet from the wellhouse door.
Becky's husband had just arrived to pick her up when the firing started. He later told her, "If you are Paulette had been hit by one of those bullets your heads would have exploded like watermelons. Those guys had to be crazy to be doing that with two women in there." The girls finally got Vernon to stop the target practice long enough for them to leave for the night. Becky knew they had continued shooting after she left, because she could see new holes in the wellhouse door the next morning.
That year on New Year's Eve, Becky says Elvis and his gang fired so many bullets into the wellhouse that they set it on fire. Just before midnight, Elvis had sent one of the guys upstairs to get some guns "so they could go outside and welcome the New Year in style." Two of the guns looked to her like something that would be used in a war. "They're BARs, Browning Automatic Rifles," one of the guys told her. "They're the next thing to machine guns." The wellhouse lights were turned on, close-by cars were moved, and targets were set up along the building's back wall. Right at midnight, Elvis fired the first shot and then the whole platoon opened fire. Becky watched from a Graceland window.
"Elvis, his body bucking and jerking as he held the BAR under one arm, fired twenty-five or thirty rounds into the wellhouse in less than a minute. Chunks of the clay targets flew in every direction. And the wellhouse door started to burn. I screamed, 'Stop! Don't burn the office down. I need my job.'"
Vernon, who also worked in the office building, ran out and tried to snuff the flames out with his jacket. "Oh hell, Daddy," Elvis yelled. "Let it burn. It's only money." To him it was nothing … just some good ol' boys havin' some fun.
• Redecorating Graceland—1974
When Elvis bought Graceland in 1957, he had some unusual decorating ideas for his new home. "I want the darkest blue there is for my room," he told the Press Scimitar, "with a mirror that will cover one side of the room. I probably will have a black bedroom suite, trimmed in white leather with a white rug." He wanted clouds and stars painted on the ceiling of the entrance hall. For the living, dining, and sunrooms, Elvis ordered purple walls with white corduroy drapes. Finally, Gladys, who had listened quietly to her son's bizarre color scheme, spoke up. She wasn't enthusiastic about purple walls, she said. Lighter colors were her preference.
Graceland's interior "suffered" several rounds of interior design changes through the years that Elvis lived there. In her 2016 autobiography, Linda Thompson described Elvis's last redecoration of Graceland in 1974. According to Linda, in March of that year, he entrusted her with the project. "During this time," she explained, "many of the decisions I made, some based on Elvis's instructions, helped create what has become the iconic interior design of Graceland that so many people know today."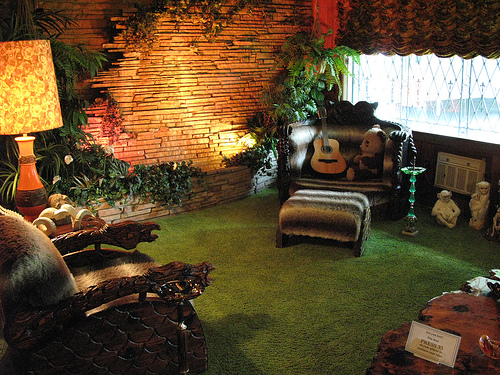 For starters, Elvis told her his plans for a simple basement room that had been a screened-in porch before being enclosed. "Honey, I want this to look like you're in the jungle," he said. "And we're going to put green carpet up the wall … I want green carpet to climb the wall like moss is climbing the wall." At Pier 1 Imports they purchased large, fake fur chairs and other unconventional decorations for the room.
Elvis's bedroom at the time was done in red and black with touches of gold, and so he now wanted the living room and dining room redone in red and black also. Huge, high-backed, studded red chairs were brought in for the dining room. "Everything was exaggerated," Linda explained, "and over the top. It looked like a bordello—it truly did. It wouldn't have been my taste, but it was totally Elvis."
 Linda listed some of the other changes that were part of the 1974 redesign project:
"We did the pool room with a tentlike feel, gathering fabric for the ceiling and the walls. The TV room had three TVs, so one could watch CBS, NBC, and ABC at the same time … I designed the TCB and lightning bolt zinging through the clouds on the back wall, and wanted mirrors on the ceiling to make the room appear higher and more open. I bought cute ceramic monkeys to place around and lighten the atmosphere as well."
Prior to Graceland being opened to the public after Elvis's death, the living room and dining room were restored to their original white design. While admitting that the rooms looked classier and prettier in white, Linda felt the color change diminished Elvis's imprint in Graceland. "He'd had such a strong impulse to redecorate as we did in 1974, and so I feel like something that was a real part of his vision was destroyed." She was happy, though, that the Jungle Room (pictured above) was left unchanged when Graceland was opened to the public in 1982. — Alan Hanson | © September 2017
Read more about Graceland in 1957