Many Familiar Names Appear In Graceland's Celebrity Guest Book
Elvis Presley's home in Memphis, which opened to the public on June 7, 1982, is today one of the most-visited private homes in the country. Presley fans and curious tourists account for most of the average 600,000 sightseers who pass through the gates of Graceland each year. With that volume of traffic, however, it's not surprising that a good number of celebrities have joined the daily throngs visiting the mansion over the past three decades.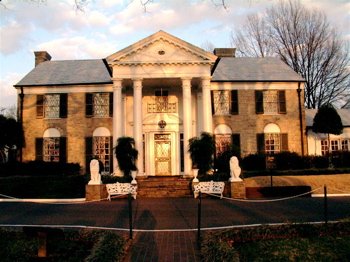 In fact, elvis.com, the "official site of the King of Rock 'n' Roll" maintains and publishes a Graceland "celebrity visitor list from 1982 to the present." Currently the list (last updated on April 9, 2014) contains 752 names of individuals and groups. The list is not well documented, as visit dates are included for only about 10 percent of the names. Still, the website claims to have documented each visit, although how that has been accomplished is questionable in some cases. For instance, Norman Taurog, who directed nine of Elvis' movies, is on the visitor list, even though he died in April 1981, over a year before Graceland opened to the public.
About half of the names on Graceland's celebrity visitors list are unknown to me. That's not surprising, though, considering that as an aging baby-boomer, I have little knowledge about or interest in current pop culture and its young icons. The names recognizable to me on the list, however, indicate that Elvis Presley's fame still cuts a wide swath across American culture nearly four decades after his death. All names appearing below in boldface are on Graceland's celebrity visitors list.
• Visitors from the Sun Years
A number of those who knew Elvis in Memphis before he hit the big time have come back to visit Graceland. B.B. King claims he first met Elvis when the two were hanging around pawnshops on Beale Street. In those days the teenage Presley would sneak in the back door of Memphis clubs to listen to B.B. play the blues. The Browns (Jim, Maxine, and Bonnie) toured with Elvis in 1955-56, as did rockabilly singer Wanda Jackson.
All of Elvis' fellow performers in the December 4, 1956, Sun Records studio Million Dollar Quartet session—Carl Perkins, Jerry Lee Lewis, Johnny Cash—came back decades later to visit Graceland. Roy Orbison, another Sun Records alumnus, also is on the list. Included as well is Scotty Moore, Elvis' first manager and guitar player, along with drummer D.J. Fontana.
• Fellow pop singers make the trip to Graceland
Many pop music singers who competed with Elvis for spots on Billboard's charts in the '50s, '60s, and '70s would later make the pilgrimage to his home. They include Pat Boone, Elvis' first adversary for the loyalty of teenagers in the fifties. Ray Charles wrote two songs that Elvis recorded in studio and sang on stage—"I Got a Woman" and "What'd I Say." Chubby Checker's "The Twist" replaced Elvis' "It's Now or Never" at #1 on the Hot 100 in September 1960. Elvis returned the favor when his "Surrender" knocked Chubby's "Pony Time" off the top spot in March 1961. On American Bandstand, Dick Clark interviewed Elvis by telephone on his birthday in 1959 and later attended his Las Vegas opening show on July 31, 1969.
---
Below: Johnny Cash and Elvis at the Grand Old Opry in Nashville on December 21, 1957. Cash was among the celebrities who visited Graceland after it opened to the public in 1982.
---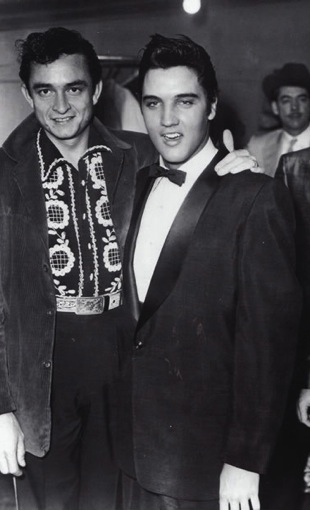 In Las Vegas, Elvis often performed "You've Lost That Lovin' Feelin'," first a hit for the Righteous Brothers, featuring Bill Medley. Also on Elvis' Vegas playlist was "Runaway," a #1 hit for Del Shannon in 1961, and Paul Simon's Bridge Over Troubled Water," also a chart-topper in 1970. Neil Diamond recorded at American Sound Studio in Memphis right before Elvis' legendary sessions there in January 1969. At those sessions, Elvis' recorded Diamond's "And the Grass Won't Pay No Mind" and later that year began singing Neil's "Sweet Caroline" on stage in Las Vegas. Tom Jones and Presley became friends after they met in Vegas in 1968. Elvis recorded two of Jones' hits, "I'll Never Fall in Love Again" and "Without Love." Elvis also recorded two Bob Dylan compositions, "Don't Think Twice, It's All Right" and "Tomorrow Is a Long Time."
The Beatles, of course, dominated pop music in the '60s the way that Elvis had in the '50s. The two entertainment icons got together for a legendary meeting at Presley's California home on August 27, 1965. On May 26, 2013, Paul McCartney made a much-publicized visit to Graceland, leaving a guitar pick on Elvis' grave. Beatle Ringo Starr had made a previous visit to the mansion. Pete Best, drummer for The Beatles until being replaced by Ringo, is also on Graceland's celebrity list.
• Songwriters stopped by Graceland for royalty checks
In addition to the singer-songwriters mentioned above, a half dozen other composers of Presley's music are on the Graceland celebrity visitors list. Among them are Mae Boren Axton, who wrote "Heartbreak Hotel," and Otis Blackwell, composer of "Don't Be Cruel" and "All Shook Up." The team of Jerry Leiber and Mike Stoller wrote many Presley tunes, including "Hound Dog" and "Jailhouse Rock."
The most prolific composer of Presley songs to visit Graceland is Roy C. Bennett, who co-wrote 43 songs, most used in Elvis's movies. Contributing music that fueled Presley's return to the top of the charts in 1969 were Mac Davis with "In the Ghetto" and "Don't Cry Daddy" and Mark James with "Suspicious Minds."
• Hollywood came to Graceland
Many actors, known both for their work in movies and on TV, have come to Memphis to visit Graceland since it opened in 1982. Among them are some of the most respected actors in the industry, including Glenn Close, Russell Crowe, Tom Hanks, and Sir Anthony Hopkins. Also stopping by was Tony Curtis, who was Elvis' favorite actor in the 1950s. Some say Elvis copied his ducktail hairstyle from Curtis.
---
Below: Brenda Lee has just turned 13 when she met Elvis at the Grand Ole Opry on December 21, 1957. With 45 records on Billboard's Hot 100 in the 1960s, she was the top pop female vocalist of that decade and ranked 4th overall, behind only Elvis, The Beatles, and Ray Charles. Her name appears on Graceland's celebrity visitors list.
---
A number of actresses who worked with Elvis in his movies are also on the Graceland guest list. They include leading ladies Debra Paget (Love Me Tender), Barbara Eden (Flaming Star), Anne Helm (Follow That Dream), and Ann-Margret (Viva Las Vegas). Others who appeared in Presley films and later visited Graceland include Millie Perkins (Wild in the Country), Yvonne Craig (It Happened At the World's Fair and Kissin' Cousins), Chris Noel (Girl Happy), Cynthia Pepper (Kissin' Cousins), and Deborah Walley (Spinout). Strangely, male actors in Presley movies are almost totally absent from Graceland's visitor list.
And what would a guest list be without a few old girlfriends? June Juanico from Biloxi, Mississippi, was Elvis' heartthrob in 1955-56. Before she hit the big time, actress Cybill Shepard dated Elvis in 1966. She was 17; he was 31. Surely Linda Thompson didn't need a guide to show her around Graceland when she came back for a visit in August 2006. She lived in the mansion with Elvis from 1972-76.
• Elvis' musicians returned to pay respects
Names of many talented musicians who contributed to Presley's music both in studio and on stage are inscribed on Graceland's list of celebrity visitors. Floyd Cramer played piano on Elvis' classic recording of "Heartbreak Hotel" and continued playing on Presley's Nashville sessions until 1968. The Jordanaires, of course, provided Elvis vocal backup on the road in the '50s, as well as in the studio from 1956-1968.
Many of the musicians who were part of Presley's troop for live performances and studio recordings in the 1970s are also on the Graceland visitor list. James Burton was Elvis' lead guitar player from 1969 until Presley's death in 1977. Ronnie Tutt manned the drums for most of that period. The Imperials provided male vocal backup for Elvis from 1969 through 1971, when that job was passed on to J.D. Sumner and the Stamps Quartet. Elvis' female vocal backup work was done by The Sweet Inspirations throughout the 1969-1977 period, with soprano Kathy Westmoreland coming on board in 1970.
Graceland visitor Bill Belew was not a musician, but he contributed to Elvis' stage shows in Vegas and on the road by designing Presley's jumpsuits and capes in the '70s. Belew also designed the legendary leather suit for Elvis' "comeback" TV special in 1968.
• Politicians got exposure at Graceland
On December 21, 1970, Elvis Presley met with President Richard Nixon at The White House, some say the only private residence that now hosts more visitors annually than Graceland. Nixon never visited Elvis' home, but another President of the United States did. On June 30, 2006, President George W. Bush toured Graceland. The President did not come as an Elvis fan. He was there to escort Prime Minister Junichiro Koizumi of Japan, who was a big Elvis fan.
One former President, Jimmy Carter, also is on the Graceland guest list. Oddly, former President Bill Clinton apparently has never visited Graceland, despite openly avowing his reverence for Elvis. The governors of North Carolina, Mississippi, Kentucky, and Tennessee have all dropped in to see Graceland, as did South Carolina Senator Strom Thurmond prior to his death in 2003. Various diplomats from Israel, South Korea, France, China, and India have also been to Elvis' home.
• Athletes and dubious celebs on Graceland guest list
A good number of star athletes in various sports can also be found scattered down the Graceland celebrity visitor list. Representing football, Elvis' favorite sport, are Peyton Manning and Troy Aikman. Baseball hall of famer George Brett and basketball icon Shaquille O'Neal have signed the guest book, as has tennis star John McEnroe and gymnast Nadia Comaneci. Olympic figure skating champions Katarina Witt, Peggy Fleming, and Dorothy Hamill have been to Graceland, as have current NASCAR drivers Dale Earnhardt, Jr.,Tony Stewart, and Danica Patrick. Perhaps the most legendary athlete to take in Graceland, however, is boxing legend Muhammad Ali.
Then there are the eccentric figures on the list, whose fame was fleeting or unconventional. It's hard to imagine Julia Child scrutinizing the kitchen at Graceland or Mr. Whipple squeezing the tissue in the mansion's bathroom, but they were at Elvis' home, as well. So was Jerry Mathers. If you have ever visited Graceland, then, you can honestly claim that you walked in the footsteps of Elvis Presley and "the Beaver." — Alan Hanson | © September 2014