"Heartbreak Hotel" …


It Made Elvis King of the Charts in '56
Sometime in the early sixties, before The Beatles and while Elvis was still king of the charts, KNEW, the top rock 'n' roll radio station in my hometown of Spokane, conducted a three-night call-in survey. Listeners were encouraged to call the station and vote for their all-time favorite Elvis Presley record. When the votes were counted, the winner wasn't Love Me Tender, Hound Dog, or Don't Be Cruel. It wasn't All Shook Up, Teddy Bear, or Jailhouse Rock. It wasn't even later Elvis hits like It's Now or Never, Are You Lonesome Tonight? and Can't Help Falling in Love. The runaway winner was Heartbreak Hotel.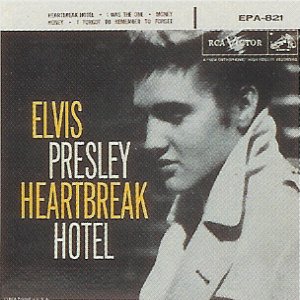 Even though it's rare to come across an Elvis fan these days whose favorite Presley song is Heartbreak Hotel, the recording still holds a special place in the hearts of most long-time Presley followers. It's soulful rhythm and blues sound connected with young people, who had grown tired of the sappy pop tunes of the mid-fifties. The recording catapulted Elvis into the national spotlight, not only as an entertainer but also as a cultural icon.
Elvis' first #1 record would eventually spend over six months on Billboard's Top 100 pop chart. It wasn't an overnight success, however. The history of Heartbreak Hotel shows that the nation was actually slow in embracing what would become recognized as one of the most important recordings of the rock era.
• Elvis committed to the song from the beginning
In a June 1956 article in a Mississippi newspaper, co-writer Mae Boren Acton explained how "Heartbreak Hotel" was written.
"I saw an item in a newspaper about a man who committed suicide in a run-down hotel in Los Angeles. He left a note that just said, 'I get so lonely … ' Those words — 'I get so lonely … lonely … '  just kept running through my mind. Then the word 'heartbreak' crept in and then matched itself with 'hotel,' somehow — and it took us just 20 minutes to write 'Heartbreak Hotel.'"
 Elvis first heard the song in November 1955, just after Colonel Parker had sold his contract to RCA Victor. According to biographer Peter Guralnick, Mae Axton, the song's co-writer with Tommy Durden, played a demo for Elvis, who liked it immediately and announced it would be his first single for RCA. The first session for his new label was still two months away, but in the interim Heartbreak Hotel received its initial exposure during Presley's stage shows throughout the South at the end of 1955.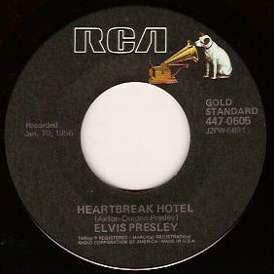 RCA began shipping the new single to distributors nationwide on January 27, 1956. It would be over a month, however, before the record appeared on Billboard's Top 100. There was a lot of work to do before the country's disc jockeys and record buyers accepted the odd sounding tune. The day after the record shipped, Elvis got his first national TV exposure on Stage Show, hosted by the Dorsey Brothers. For some reason, Elvis did not sing Heartbreak Hotel on the show or on his second Stage Show appearance on February 4. (Jorgensen speculates that RCA withheld permission for its use on those two shows.)
• Elvis went national with Heartbreak Hotel on Dorsey show
Elvis finally sang his new record during his third Dorsey show on February 11, as well as on two of his next three appearances on the show in March. Meanwhile, Elvis continued to perform the song on the road. From mid-January through the end of February, Elvis took his road show to 24 cities in Texas, Virginia, the Carolinas, Georgia, and Florida. Both Elvis Presley and Heartbreak Hotel were getting exposure that soon would lead to a breakout nationwide.
While Heartbreak Hotel was having trouble making the Top 100 in the early months of 1956, it was not Billboard's fault. The publication repeatedly touted Presley first record in the weeks after its release. On February 1, just a few days after the single was shipped, Billboard listed the record in its "Best Bets" section. "Elvis Presley, country singer, is a compelling stylist who tears his tunes to tatters a la Johnnie Ray," the magazine noted. "'Heartbreak Hotel' is an ideal piece of material and he goes to town with the help of an excellent background. It could establish Presley in the pop picture."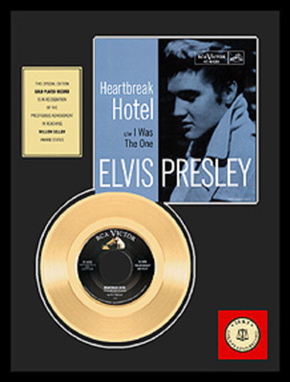 On February 11, Billboard again praised Presley's recording in its "Review Spotlight" column. "Presley's first Victor disk might easily break in both markets. 'Heartbreak Hotel' is a strong blues item wrapped up in his usual powerful style and a great beat … Presley is riding high right now with network TV appearances, and this disk should benefit from all the special pluggings."
A week later, Billboard again endorsed Heartbreak Hotel, this time on its "This Week's Best Buys" list. "Another record that has demonstrated Presley's major league stature," the magazine stated. "Sales have snowballed rapidly in the past two weeks, with pop and r.&b. customers joining Presley's hillbilly fans in demanding this disk." In a March 3 article, Billboard reported that the Presley record was RCA's number 2 seller, right behind Perry Como's "Juke Box Baby." On March 7, the magazine noted that Heartbreak Hotel had reached the 300,000 sales mark.
• Presley finally broke into Billboard's pop chart
In those days, Billboard's Top 100 was tabulated through a combination of record sales and disk jockey surveys. By early March 1956, DJs who had been reluctant to accept the odd sounding Presley record, could no longer hold out in the face of the record's massive sales and Presley's growing popularity. On March 3, 1956, Heartbreak Hotel made its first appearance in the Top 100 at #68. By the end of the month, it was in the top 10 at #9. It would take another month to fight its way to the top, but on May 5 it took over the #1 spot, displacing Les Baxter's instrumental, "The Poor People of Paris." (Ironically, the day his record went to #1, Elvis was laying an egg on stage at the Frontier Hotel in Las Vegas.)
Heartbreak Hotel then settled in at #1 for nearly two months. It wasn't until June 23 that Gogi Grant's "The Wayward Wind" toppled Elvis's recording from its lofty perch. Elvis's first hit single remained on the Top 100 for another three months, finally disappearing from the list on September 8, 1956. When all was said and done, Heartbreak Hotel had spent 27 weeks on the Top 100, 14 weeks in the top 10, 11 weeks in the top 5, and 7 weeks at #1. In Presley's long and successful recording career, only All Shook Up would top the performance of his first RCA single on the Billboard chart.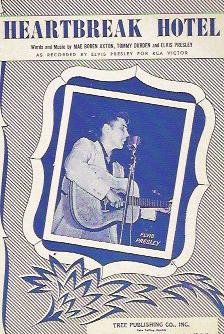 In 1956 Billboard had many other charts besides the Top 100, and Heartbreak Hotel reached #1 on many of them. On May 26, 1956, the magazine announced that Presley's disk had set a multiple chart-topping record. "This week, for the second time," the music journal reported, "the RCA Victor artist hit the No. 1 spot on six charts with his version of 'Heartbreak Hotel.' This makes E.P. the first 'double-Triple Crown' winner in the history of The Billboard's record charts. He topped the retail, jockey and juke box lists in both the pop and country and western categories."
An interesting coincidence regarding Heartbreak Hotel on the Top 100 occurred on August 25, 1956. On the chart that week, two versions of the song were listed side by side. Elvis' version sat at #96 on its way off the chart two weeks later. One notch above it, at #95, was comedian Stan Freeberg's novelty version. While humorous, Freeberg's recording, during which he repeatedly asks for a "little more echo in my voice," served as a tribute to Presley's trendsetting hit.
• Heartbreak Hotel made Elvis an overnight success
It is probably overstating the case to suggest that Heartbreak Hotel made Elvis Presley a star. With wildly popular stage shows, network TV appearances, and the resources of RCA Victor solidly behind him, he probably was destined for stardom even if his first recording on his new label had flopped. Heartbreak Hotel's phenomenal achievement merely accelerated his ascendancy to fame. It made him appear an overnight success, when, in fact, fame came only after two years of working tiring one-nighters across the South and honing his craft in a small recording studio in Memphis. — Alan Hanson | © December 2009
Go to Elvis Music

Go to Home Page