Hollywood Columnist Hedda Hopper
Hated, Then Loved Elvis Presley
"When Elvis Presley first hove into sight like a Kansas tornado on Milton Berle's show, I decided to have none of him. I've neither seen nor met him. I've been appalled by the whole Presley disease."
— Hedda Hopper, October 31, 1957.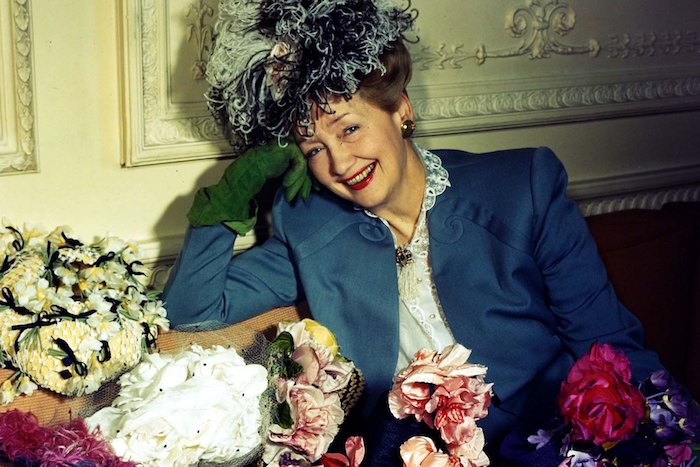 A powerful Hollywood "gossip columnist" during Elvis Presley's career in the 1950s and 1960s, Hedda Hopper was not someone any entertainer would have wanted as an enemy. Millions of devoted readers read her column in hundreds of newspapers across the country. Earlier in her career, she had demonstrated a willingness to damage, and even end, the careers of Hollywood notables by spreading deceitful rumors about them. In the post-war years, she used her column to help create the Hollywood blacklist by accusing many in the entertainment industry of being Communist sympathizers, homosexuals, or living otherwise immoral lives.
In 1957 she was 71, a full 50 years older than Presley. While her power to destroy careers was muted by then, she was still one of the most read Hollywood columnists. Most entertainers wanted to stay on her good side, if only for the free publicity she provided them. Throughout 1956, Hopper ignored Presley, but when columnist Louella Parsons, her great rival, began to embrace Elvis, Hopper had second thoughts. In a column in October 1956, Parsons conceded, "Elvis Presley became such a problem in my life … because of all the letters of blasts from the teen-agers sent to me for calling him 'The wiggly-one.'" When Parsons started covering Presley in her columns, Hopper decided to give Elvis another look.
• Hedda appalled by Presley's act
When Hedda learned Presley would appear at LA's Pan Pacific Auditorium on October 28, 1957, she called Colonel Parker and asked for a couple of tickets. That night she sat in the front row for one of Elvis' most notorious shows. She blasted Elvis in her column three days later.
"He's a split personality—young, likable, wanting to please; but when he went into his act, it was very like a neighbor of mine in Altoona who had fits, fell down, and writhed on the sidewalk. Elvis rolling over and over on the floor still clutching the mike—but his performance isn't sickness. He knew what he was doing and the effect it was having on 9,000 screaming persons. You felt he was mentally winking and saying to himself, 'Do you know an easier way of making a million a year?'"
Hopper barely mentioned Presley in her column during the two years he was in the army. In 1960, though, her negative attitude about him began to change. "I was no great admirer of his until the day his colonel told me: 'I wish I had 10,000 soldiers just like him,'" she noted in an October 1960 column. "Equally phenomenal is his change-over from Sir Swivel to serious actor."
• Hedda wooed Colonel Parker
Before she could start gathering inside information about Elvis, though, she had to cultivate a relationship with another colonel—Tom Parker. Access to Elvis and information about his career and personal life were firmly in the Colonel's control. For example, when Elvis was on a movie set in the early sixties, visitors were rationed and screened before getting through the doors. Press visitors were cut to one per day, with appointments booked a week in advance. Hedda Hopper didn't reach her level of influence, however, without the ability to form relationships with Hollywood insiders. In Colonel Parker she found a kindred soul. Both were masters at maneuvering others into giving them what they wanted.
In her 1963 book, "The Whole Truth and Nothing But," Hopper revealed how her attitude toward Elvis and his manager evolved from bad to good.
"Every time I go out on the town twisting, I murmur a silent apology to Elvis Presley. When I originally saw the act, I was horrified. I said so, loud and clear. But Elvis' audience got the emotional impact of the lines and screamed their undying love for the greatest phenomenon I've seen in this country. He's one of the few new faces in our industry who has been promoted into a living legend, and we need dream stuff like Elvis to survive. Elvis is lucky, too, in having an agent like the 'Colonel,' whose itch for money hasn't outpaced his protégés' talent. A good agent doesn't allow his client to take on more than he can handle."
• Hedda and Elvis finally meet
Through Colonel Parker, Hopper met Elvis for the first time during the filming of "Flaming Star" in October 1960. The information from that interview appeared in Hopper's column of October 25, 1960. It was the first of many opportunities she would have over the next five years to share news about Elvis' professional and private lives with her readers.

"'It's an action film,' he told me, 'with its emotions expressed in terms of action, but I hope in time to be able to handle just straight emotion.' He would like to be just a performer and a complete mystery otherwise. He gives interviews as part of the job but doesn't discuss his private life. Few know the type of existence world popularity has forced upon him. He is slow to answer questions, says, 'When I'm asked something I have to think what the reaction will be to my answer. You can't please all the people all the time but you can try not to offend.'
"Once the most controversial figure in American entertainment, the aura still hangs about him although with little impetus from him in the past three years. It all arose from what he did on stage—never from his off-stage conduct, which has invariably been correct and certainly private. At home he's treated with a citizen's dignity, but must lead a cloistered life. He never reveals the names of girls he escorts. These things make him a serious, wary, and remote young man, who seems older than he is."
(Right: Hedda Hopper and Elvis Presley)
Below are excerpts about Elvis Presley from Hedda Hopper's columns from 1961 to 1965. Her respect for Elvis Presley repeatedly comes through, as does her shrewd understanding of how to keep Colonel Parker feeding her information.
July 2, 1961: "He came back from two years in the army leaner, better looking, and with a new maturity. Close association with many and varied types has developed his sense of humor, his poise, and his understanding of the human race. He stands head and shoulders over many of the young men I've known who've done their two-year stretch in the Army. His mother's death will leave a permanent mark, but I'd say it ripened and deepened his personality … He is a TV enthusiast. He says he rarely misses a Perry Mason mystery and spoke of my son Bill's part in it." (Hopper's only child, William Hopper, played Mason's private detective, Paul Drake, in the TV series.)
October 10, 1961: "Ann-Margret is so excited. She has been an Elvis Presley fan from the beginning. Now the Mirisch Company has asked her to play opposite him in 'Kid Galahad.' She's praying 20th will let her. Incidentally, she comes over the screen like a blockbuster." (Like all Hollywood columnists, Hopper dispensed false rumors at times. Ann-Margret did not get the part in "Kid Galahad.")
November 1, 1961: "Col. Tom Parker, Elvis Presley's manager, was thinking only of Elvis when he told me Presley would appear at the Seattle State Fair. It's the Century 21 Exposition, which Seattle hopes will be as big as the San Francisco World Fair. They're building a whole city and our government already has poured in $10 million."
January 5, 1962: "Last month it was rumored that Presley was engaged to Suzie Ball from Texas, and that her dad was giving them an oil well for a wedding present. Elvis said, "I never heard of the girl." Said the colonel, "Remember, if anybody gives you an oil well, I get 25 per cent."
September 20, 1962:"Many fan-shy stars could take a lesson from Presley. While shooting a picture at the Seattle fair, he gave autographs between scenes, had a big autograph party after shooting was over, and gave over 20,000 photographs to the kids. When Elvis appeared in downtown Seattle, it took 60 policemen to keep order."
October 17, 1962: "Traveling and talking and keeping up with Hollywood doesn't leave me much time for laughs, but I got one when a telegram arrived from Col. Tom Parker: 'Read about your lecture tour. Would like to have the hat concession in the lobby during intermission.' Elvis Presley got an offer to play the Americana Hotel in New York and the Colonel was quoted as saying, 'We'll take the first 10 floors.' If movie producers sold their product like the Colonel sells Elvis, their troubles would be over."
February 15, 1963: "Got a hot tip that Elvis Presley had picked the girl and set the date, so checked with Col. Tom Parker. Ordinarily he refuses to dip into his boy's personal life, but he cornered Elvis and asked him. 'If I had any intention of getting married, you'd be the first to know,' was his answer."
May 23, 1963: "They're going to invent a new camera when Ann-Margret and Elvis Presley co-star in 'Viva Las Vegas.' Both swingers like to move while singing, and when they duet, I don't know what will happen. It's the first time Elvis ever teamed up musically with a leading lady. Exhibitors want action films—this should fill the bill."
August 30, 1963: "Dropped in to see Ann-Margret on the 'Viva Las Vegas' set (Elvis Presley had a week off), determined to get some romantic news on the girl who has been compared to a shiny new missile at Cape Canaveral … "Have you had dinner at Elvis' house?" "Yes." "Were all his boys there?" "I don't care to comment." "Oh, so you're going to be coy?" "No, but you always put me on the spot and I never know what to say."
October 7, 1964: "Elvis Presley drove in from Memphis with two pals in a bus which has a bedroom, bath, kitchen and sleeps three. Col. Tom Parker came up with the title for Elvis' next, 'Tickle Me,' after his boy got his 31st gold record. 'Blue Hawaii' has sold two million. In the film, Elvis plays a drifting cowpoke; sings nine songs to Jocelyn Lane, who got the part after producer Ben Schwalb saw her picture in a national magazine. She's English, 24, and has the proper proportions."
November 23, 1964: "Uncle Sam should give Elvis Presley a medal as his favorite taxpayer. Elvis may wind up '64 the highest paid entertainer in town, and possibly the world; yet he's never incorporated and doesn't take the benefit of any of the tax dodges. He's in the highest bracket and renders unto Caesar."
January 11, 1965: "Colonel Parker explains, 'I don't read scripts. If those studios aren't smart enough to come up with a good story, I can't help 'em. For the kind of money they're paying us, we can leave the problem of making pictures to them. All Elvis has to do is be there on time. He is. We just take the money as we work. We give the government its full share, and we've never had it so good."
January 30, 1965: "By the standards of its golden era, Hollywood has only one real capital-letter Movie Star left, and Hollywood hardly knows him. Valentino and Garbo had cults of worshipers around the globe; they couldn't appear in public without police on hand to prevent a riot. And that's a pair of shoes that fits nobody in town today except the man an international community of the young calls 'Elvis the King.' In Hollywood, he has never set foot in any of its restaurants or night clubs. He never goes to its parties or attends its premieres. He rents a house while making a picture and there gives small dinner parties seldom attended by guests whose names you see in lights or headlines. When the picture is over, he goes back to Graceland. There he holes up with the nine young cronies who accompany him everywhere, attend to his every want and jealously seal him off from all intruders."
July 17, 1965: "Hawaii, here they come! Elvis Presley, Col. Parker, and 63 members of the 'Hawaiian Paradise' company start shooting July 26, which happens to be the 21st birthday of Suzanna Leigh, who got the nod from Producer Hal Wallis to play Elvis' leading lady. This will be Presley's biggest—they'll shoot four weeks over there and seven here."
August 11, 1965: The secret service could take lessons from Colonel Tom Parker. He smuggled Elvis Presley and his 11 boys into Honolulu at midnight, after they'd boarded a plane (in LA) through the cleaning hatch. On arrival in Honolulu, they were whisked by seven policemen and three special security guards to the Ilikai hotel. Took the freight elevator (it will be at Elvis' disposal during his stay) up to the 22nd floor where 14 rooms were reserved for them. A police captain at a desk seals off one end of the corridor and a man is on duty at the other end. There's an officer in the main elevator, another in the lobby. In addition, a Honolulu police sergeant rides with Elvis in his car at all times while he shuttles to the set of 'Hawaiian Paradise.' Those poor frustrated fans!"
August 26, 1965: "After keeping Elvis Presley under wraps behind a security guard for two weeks, Col. Tom Parker finally relented and gave Hawaii a break—paraded 500 fans right through the boy's suite and Elvis signed autographs for two hours. At a strictly private affair, 25 Maori maidens rubbed noses with Elvis, then 125 native girls from Fiji, Tonga, Tahiti, Samoa and Hawaii took turns embracing him. They left him tousled, disheveled and heaped with leis. It was their farewell to him by the Mormon Church's colony of natives who'd worked in 'Hawaiian Paradise' at the Polynesian Cultural Center. 'The most sincere and touching thing that's ever happened to me in public life,' says Presley."
September 27, 1965: "Elvis Presley is grateful to the motion picture industry and keeps on proving it. Since he's been in pictures, he's donated the customary one per cent of his salary to the motion picture relief fund—it adds up to $130,000—and a few months ago donated $50,000 more."
After a run of 27 years, Hedda Hopper's syndicated Hollywood column ended soon after that last mention of Elvis Presley. She died four months later on February 1, 1966, of double pneumonia at the age of 80 in Cedars-Sinai Medical Center in Beverly Hills. — (Alan Hanson © July 2019)