"Hound Dog" & "Don't Be Cruel"
Elvis' Biggest Double-Sided Hit
The term "double-sided hit" has no meaning in the current digital music age. It was a phenomenon of the vinyl record era of the past century, when an artist's "single" record release actually was a "double" release. A recording was pressed on each side of a vinyl disc. One side was usually designated the "A" side and other the "B" or "flip" side. Considered the most commercially viable of the two, the "A" side received a greater advertising push and more radio airplay than the "B" side. Occasionally, though, the flip side would turn out to be the record-buying public's favorite of the two cuts. On rare occasions, both sides separately rose high on the charts, creating a "double-sided hit."
The most successful two-sided hit on Billboard's Top/Hot 100 chart was Elvis Presley's "Hound Dog"/"Don't Be Cruel." One side reached #1 on the chart, the other #2. The two titles spent a combined 55 weeks in the Top 100 in 1956-1957. No other artist in the rock era, not even The Beatles, had a double-sided hit that could challenge the cumulative chart performance of "Hound Dog" and "Don't Be Cruel."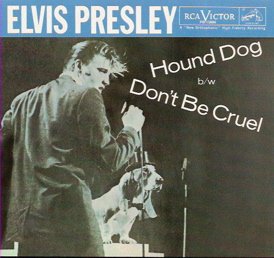 The history of Presley's phenomenal dual record began on July 2, 1956, when Elvis entered RCA's studios in New York City to record two songs for his next single release. Accompanying Presley were the Jordanaires and musicians Scotty Moore (guitar), Bill Black (bass), D. J. Fontana (drums), and Shorty Long (piano).
Going in, "Hound Dog" was the only title on the schedule. Elvis' controversial performances of the song on the June 5th Milton Bearle Show and the July 1st Steve Allen Show had created a public demand for its release on record.
• Photographer sat in on historic "Hound Dog" recording session
Photographer Alfred Wertheimer, who was in the studio that day, detailed the session in his 1979 photo-journal, Elvis '56: In the Beginning. According to Wertheimer, after about two hours and 30 takes of "Hound Dog," the musicians listened to playbacks of the takes that were candidates for the "Hound Dog" master. "The engineer racked take twenty-eight," remembered Wertheimer. "Elvis left his chair and crouched on the floor, as if listening in a different position was like looking at a subject from a different angle. Again he went into deep concentration, absorbed and motionless … At the end of the song, he slowly rose from his crouch and turned to us with a wide grin, and said, 'This is the one.'"
(In Elvis Presley: A Life in Music, author Ernst Jorgensen lists take 31 as the "Hound Dog" master.)
Then Elvis listened to some acetates in search of a song to pair with "Hound Dog" on the RCA single release. After listening to "Don't Be Cruel" twice, Elvis said, "That's the one I want to try." Wertheimer described how the arrangement was worked up in the studio. "Strumming his guitar with the sheet music still held in his hand, [Elvis] quickly found the melody. By the time everyone gathered around the piano, he had already memorized the lyrics. Elvis played his version on the keyboard to Shorty, who noted the changes on the sheet music, while the musicians played it for themselves and the Jordanaires harmonized a bebop."
Scotty Moore came up with a guitar opening, and in twenty minutes they were ready for a couple of rehearsal takes. When the tape machine went on for real, it only took six takes before everyone knew they had it, according to Wertheimer, but Elvis still wanted to try a couple more. (Jorgensen claims it took more than two dozen takes, with number 28 finally being chosen as the master.)
• "Hound Dog"/"Don't Be Cruel" record pressed, shipped in 2 weeks
The "Hound Dog" / "Don't Be Cruel" single was quickly pressed and shipped to dealers beginning on July 13. A Wertheimer photo of Elvis singing to a hound dog on the Steve Allen Show appeared on the record's picture sleeve. The flap caused by Presley's TV performances of "Hound Dog" dictated its designation as the "A" side of RCA Victor single release #6604.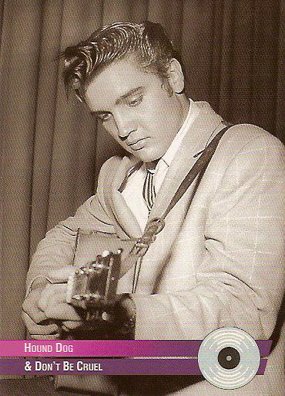 In its July 15, 1956, issue, Variety listed "Hound Dog" at the top of its "Best Bets" list of new singles. "Like Ed Sullivan found out, you can't fight statistics," noted Herm Schoenfeld in his review of the new record for Variety. "Elvis Presley may not be the most polished singer but he's the most popular and these new sides will ride along the top of the wave. He gives 'Hound Dog' a typical word-swallowing, beat-belting workover with some machine-gun drums in the background. 'Don't Be Cruel' is another uptempo ballad with equal chances. The controversy still will go on between those who think he's not even a beginner and those who say he's the end."
Billboard reviewed Elvis' new record twice. The first was in its "Review Spotlight" column on July 21. "Presley hypoed the 'Hound Dog' side on a recent Steve Allen TV airing which gave a solid, early kickoff. It's a highly charged rhythm opus in Presley's characteristic style and should enjoy heavy commercial acceptance. 'Don't Be Cruel' is in a more subdued, frankly popish vein, and demonstrates that the singer is a versatile stylist."
A week later, Billboard confirmed that "Hound Dog" was already a top seller, and that the flip side had potential to become a hit as well. "From the first-week reports, it has become clear already that this will be one of this year's big grossers," Billboard reported of "Hound Dog" in its "This Week's Best Buys" column. "Sales in pop, c.&w. and r.&b. markets have exceeded the impressive starting figures of previous Presley hits—and that is going some. There are some indications that the flip, 'Don't Be Cruel' may also develop, after the initial excitement on 'Hound Dog' dies down a bit."
• "Hound Dog" battled "Don't Be Cruel" for chart position
"Hound Dog" was the first of the two sides to hit Billboard's Top 100 chart when it entered at #24 on August 4. The next week it was up to #11, with "Don't Be Cruel" first charting that same week at #28. Over the next month, both recordings climbed up the list, with "Hound Dog" leading the way. On September 8 it was at #2, with "Don't Be Cruel" right behind at #3. That week "My Prayer" by The Platters was #1. Then, on the September 15 chart, "Don't Be Cruel" jumped over "Hound Dog" and took over the top spot, where it remained for seven consecutive weeks.
Meanwhile, on October 6 "Hound Dog" moved up to #2, giving Elvis an unbeatable chart record of having the two sides of the same single release in the top two spots of Billboard's chart. The two back-to-back Presley recordings eventually spent an incredible 10 weeks together in the chart's top 10.
On October 31, 1956, Variety reported that "Don't Be Cruel" had already topped 3,000,000 in sales and was still going strong at more than 50,000 per week.
Finally, on November 3, Jim Lowe's "The Green Door" toppled "Don't Be Cruel" from the top spot. That same week, "Hound Dog," which had been kept out of the #1 spot by its own flip side, dropped down to #12 after an 11-week run in the top 10.
Both recordings remained in Top 100 for many more weeks. "Don't Be Cruel" didn't drop off the chart until February 16, 1957. "Hound Dog" initially left the chart on January 26, 1957, but a week later showed up again at #85. It seemingly dropped off the chart for good on February 9, but then, five months later, on July 1, 1957, "Hound Dog" inexplicably reappeared on the Top 100 for two more weeks. Overall, "Hound Dog" spent 28 weeks on the Top 100 (second only in Presley chart history to "All Shook Up's" 30 weeks), while "Don't Be Cruel" lasted for 27 weeks.
• Law suits filed over "Hound Dog" & "Don't Be Cruel" publishing
As was common in the music business in those days, the phenomenal success of "Hound Dog" and "Don't Be Cruel" resulted in lawsuits. The first battle for publishing rights came in mid-October 1956, when Valjio Music brought suit against "Hound Dog" writers Mike Stoller and Jerry Lieber and Presley's publishing company.
A week later, music publisher Joe Davis socked Otis Blackwell, who wrote "Don't Be Cruel," with a $500,000 suit. Davis claimed that Blackwell was under an exclusive contract with him when he gave "Don't Be Cruel" to Elvis' publishing company. Blackwell countered that the contract obligated Davis to pay him $25 per week, which hadn't been received in over a year. Otis Blackwell made considerably more income than that on Presley's recording of "Don't Be Cruel." Without revealing just how much, Blackwell told a reporter in 1957, "I got a good deal. I made money. I'm happy."
The colossal success of "Hound Dog" / "Don't Be Cruel" surely brought a smile to the face of everyone who had a piece of the action on those recordings. (Elvis is reported to have made $202,500 on his "Don't Be Cruel" recording in the first year alone.) During his career, Presley had 50 two-sided hits on Billboard's Top/Hot 100 chart. None of the other 49 even came close to the back-to-back chart success of "Hound Dog" and "Don't Be Cruel." It was then, and probably will remain, the biggest double-sided hit single record in the history of recorded music. — Alan Hanson | © June 2010
Go to Elvis Music

Go to Home Page