"I Want You, I Need You, I Love You"

Elvis' Follow-Up Record in '56
In early April 1956, it was clear that Elvis Presley and RCA Victor had caught lightning in a bottle with "Heartbreak Hotel," the singer's first single for his new label. Just five weeks after its release, the record had entered the top 10 of Billboard magazine's pop chart. Although Presley's record was certain to reach #1, Steve Sholes, the RCA executive who signed Elvis to the label in December 1955, was getting worried. He'd been in the music business long enough to know that a "follow-up" record was often more important to a singer's career than the first big hit. It's what separated a "flash in the pan" from a major star.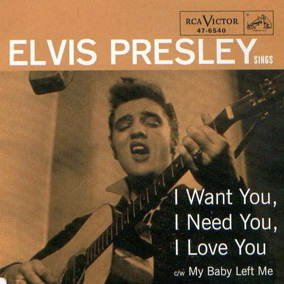 In his 1998 Elvis recording sessions book, Ernst Jorgensen explained Sholes's anxiety about Presley's follow-up to "Heartbreak Hotel."
"The only concern Sholes had was the next single. He was confident of 'My Baby Left Me' for the rock 'n' roll side, but he felt he needed an original song for the A-side, and for that he needed the Colonel to let Elvis get back in the studio. It wasn't that Colonel Parker wanted to deny Sholes a new single, but his constant cautiousness and concern about overexposure were simply fed by the new opportunities he was being presented with every day: opportunities to make money, and to move into new fields. Elvis was scheduled to open in Las Vegas in late April. In the meantime, ongoing discussions with Hollywood and various TV companies required that the singer be available on short notice. And then there was the ever-increasing number of offers for personal appearances, which, by now, were just flooding in."
However, after Parker bought Elvis out of his Saturday nights contract with the Louisiana Hayride, the Colonel and Sholes arranged a recording session in Nashville on Saturday, April 14. Elvis and the boys, who played Amarillo that Friday, had to find some way to get to Nashville overnight. They chartered a twin engine plane and flew off into the darkness in what became a frightening experience that fueled Presley's fear of flying for years to come.
• A scary flight on the way to Nashville
The following account of that event comes from That's Alright, Elvis by Scotty Moore, who was a passenger on the flight. The flight plan called for a refueling stop at Little Rock, but when the plane ran low on fuel, the pilot decided to land at an emergency landing strip near Hot Springs, Arkansas. When the refueled plane took off at dawn, Scotty sat in the copilot's seat as the aircraft climbed to 2,000 feet. Scotty explained how things got a little dicey at that point.
"The pilot turned to me and said, 'Here, hold the wheel while I get the maps out from under the seat.' I said, 'I don't know how to fly a plane.' He said, 'Just hold it a minute.' Just as I put my hands on the wheel, both engines sputtered and quit. Soon as that happened the pilot reached over and threw a switch, then took over the wheel. Both engines restarted, but it was enough to shake everybody a little bit … After we crossed the Mississippi River, we hit a bunch of turbulence. Bill turned white and put his coat over his head. I think he would have jumped if he could have gotten out. When we got to Nashville, Elvis eased up to us and said, 'We're through with this guy.'"
Sholes had scheduled Elvis into RCA's Nashville recording studio from 9 to noon that Saturday morning. In addition to Presley's regular band of Scotty Moore, Bill Black, and D. J. Fontana, other musicians present were Chet Atkins on guitar and Marvin Hughes on piano. Vocal backing was provided by Gordon Stoker and Ben and Brock Speer, the same group who sang on Presley's January session, which produced "Heartbreak Hotel."
• "It came out sounding stiff, no matter what they did"
Also in the studio were Sholes, who presented Elvis with a gold record for "Heartbreak Hotel," and a Life magazine photographer, who shot over a hundred photos during the three hours. According to Jorgensen, the recording session was troubled from the beginning.
"[Elvis] had come to the session with no new ideas, so he had little choice but to go with what Sholes had brought. The first suggestion was 'I Want You, I Need You, I Love You,' a song that under ordinary circumstances Elvis might have rejected. It was a ballad with a beat, but for whatever reason, it came out sounding stiff, no matter what they did. The terrifying plane ride couldn't have helped, nor could the band's crazy schedule or the fact that they weren't used to working that early in the day. For whatever reason they made little progress from take to take, and Elvis, normally the fastest of learners, couldn't keep from messing up the words again and again."
Scotty Moore remembers that "the music didn't sound right to Elvis." Gordon Stoker, however, blamed the stained session squarely on the exclusion of his fellow Jordanaires. The quartet had worked with Elvis in Atlanta in March and since all agreed they should record together in the future, Elvis was surprised that the entire group wasn't at the session. Stoker felt poor vocal backing marred Presley's recording of "I Want You, I Need You, I Love You."
"It was the worst sound on any of Elvis' records. It was a strained sound and a very bad sound. We didn't have a full quartet. Chet didn't even honor Elvis enough to get him a full quartet. Brock was a bass singer, a real low bass singer, and Ben is middle-of-the-road, and here I am first tenor. Elvis was not knocked out by it. He was extremely courteous about it and tactful in everything he said, but he knew exactly what he wanted. So I let him know that I was the only one of the Jordanaires that was asked … he asked me, 'Can the Jordanaires work with me?' And I said, 'We sure can. We'll be there.'"
• Sholes called session "unprofessional"
Over the three-hour session, Elvis and the musicians struggled through 17 takes of "I Want You, I Need You, I Love You" but never came up with a complete version good enough for release. (The version eventually released was spliced together from takes 14 and 17.) Elvis and the boys were in no mood to hang around. They flew to Memphis to spend a few hours with their families before rejoining the tour in San Antonio the next night.
Although Steve Sholes got the recording he needed for Elvis' next single, he was disappointed that the session did not accomplish more. According to Jorgensen, "He wrote the Colonel right away to complain about what a 'hassle' the whole session had been, and to express his frustration that producing a second album seemed to be such a low priority to everyone but him. Elaborate arrangements had been made to fly the musicians into Nashville, and the result was just a single song, when the three-hour session should have produced four masters. In the eyes of a very professional man, this was unprofessional behavior."
• Reviews of "I Want You … " were unenthusiastic
Elvis' follow-up single to "Heartbreak Hotel" was released on May 4, 1956. An article in Billboard revealed that the pairing of "I Want You, I Need You, I Love You" and "My Baby Left Me" had over 300,000 orders before shipping began. A week later, a full-page ad in the magazine touted the growing sales of the record: "213,000 in the first two days; 389,000 in the first six days; 653,219 as this issue goes to press."
The first trade review appeared on May 9 in Variety's "Jocks, Jukes and Disks" column:
"The current phenom of the music biz, Elvis Presley probably could have a hit if his name were on a blank disk. This coupling is sure of a big ride even though the material is not up to the level of his 'Heartbreak Hotel' smash. 'I Want You' is a slow ballad with a strong beat and Presley belts it with his identifying vocalisthenics."
Billboard followed on May 12 with the following assessment in its "Review Spotlight" column:
"Another pair of exciting Presley sides have the big-money look. The top ('My Baby Left Me') features a real blues with that wild r.&b. infusion so well calculated to hit the all-market pay-off. On the flip ('I Want You … "), it's a different, more gentle Presley, but he still vibrates with that husky, coin-pulling charm. Either one or both could be the big 'Heartbreak Hotel' follow-up."
The following week, Billboard recommended the new Presley single to its retail readers. In citing "My Baby Left Me" as the top side in its "This Week's Best Buys" list, the magazine misjudged the allure of the ballad, which would become the hit side.
"In the Billboard last week a story detailed the phenomenal advance sale of this new Presley disk. A spot check in all key markets this week indicated that the ground work for huge volume selling was well prepared, and that the record moved over the counters in expected quantities. Both sides have gotten generous deejay play which has helped stimulate activity, but 'My Baby Left Me' is currently the preferred side."
• Elvis sang his latest single on Berle and Allen TV shows
On May 26, 1956, "I Want You, I Need You, I Love You" entered both the Billboard "Top 100" (#90) and the Cashbox "Best Selling Singles" (#25) charts. On June 5 Elvis performed the song during his second appearance The Milton Berle Show. Backed by the Jordanaires this time, Elvis bungled the lyrics at one point, singing, "I need you, I miss you, I want you." No one seemed to notice or care. Instead, the national press focused on Presley's controversial pelvic performance of "Hound Dog" later in the show.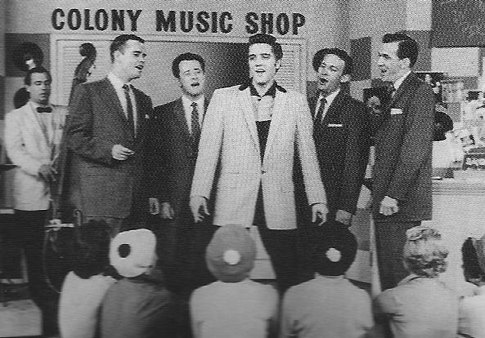 A month later, Elvis again sang "I Want You, I Need You, I Love You" on national television, this time on The Steve Allen Show. As on the Berle show, however, a controversial performance of "Hound Dog" on the Allen show upstaged Presley's current chart single, which had just entered the top 10 on Billboard's chart.
Later in July, "I Want You, I Need You, I Love You" peaked at #3 on the "Top 100." By the time it dropped off the chart in early November, Elvis' second RCA single had spent 24 weeks on the Billboard list. Although it never reached #1, the record's chart longevity was close to that of "Heartbreak Hotel" (27 weeks) before it and of "Hound Dog" (26 weeks) and "Don' Be Cruel" (27 weeks) after it. By the end of the year, "I Want You, I Need You, I Love You" had sold over a million copies, making Elvis the first RCA artist to earn two consecutive gold records.
While the least known among Elvis Presley's regular single releases in 1956, "I Want You, I Need You, I Love You" proved to be a significant recording early in his career. First, while keeping up the momentum created by "Heartbreak Hotel," it demonstrated that Elvis' fans would embrace his ballads as well as his rock 'n' roll efforts. And, ironically, the strained conditions under which it was recorded led to changes in Presley's session routine. Henceforth, the Jordanaires would provide vocal backing, and open-ended evening sessions would allow Elvis and his musicians to work at their own pace. As noted in Scotty Moore's book, RCA learned that "the best way to get records out of these Southern boys was simply to turn them loose and let them play what they felt." — Alan Hanson | © August 2012