"Jailhouse Rock"
Teamwork Produced a Classic Record
On September 24, 1957, RCA Victor released single record #47/20-7035—"Jailhouse Rock"/"Treat Me Nice" by Elvis Presley. Its instant success in record stores and on Billboard's charts made "Jailhouse Rock" Elvis' third blockbuster hit of the year. Once and for all, it blasted the predictions of his early critics that the popularity of Presley's brand of rock 'n' roll was a fad destined to fade away rapidly. In the words of "Jailhouse Rock" co-writer Jerry Leiber, Elvis had become an "automatic hitmaker."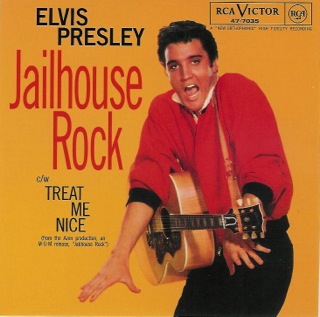 The genesis of "Jailhouse Rock" traces back to around March 1957, when Leiber and his partner Mike Stoller, arrived in New York City for a planned visit of a few weeks. Having established themselves as rhythm and blues songwriters in Los Angeles, the pair came east to check out the New York scene.
While there they had agreed to write four songs for possible use in Elvis Presley's upcoming film, tentatively titled The Hard Way. Since Leiber and Stoller had written a couple of songs used in Presley's previous film, Loving You, Hill and Range music publisher Jean Aberbach included them in a group of writers he had chosen to submit new songs for use in Elvis' next movie.
For Leiber and Stoller, though, writing for Elvis was not a priority for two young men in New York for the first time. In an interview with Ken Sharp, Mike Stoller recalled, "Jean Aberbach had given us a script, and we kind of threw it in the corner with some magazines. We were having a great time in New York, really having a ball, cabarets and jazz clubs and the theater."
Their focus changed on a Saturday morning, when there was a knock on the door of their room at the Gorham Hotel. Stoller explained what focused them on writing songs for Jailhouse Rock:
"Jean Aberbach walked in. He said, 'Well, boys, where are my songs?' We said, 'Don't worry. You're gonna get 'em.' And he said, 'I know, because you're not going to leave this room until I get them.' And then he pushed a big overstuffed chair in front of the door, the only way out. He said, 'I'm going to take a nap.' He literally went to sleep, and we couldn't get out. So we thumbed through the script and wrote four songs in about four or five hours. ("Jailhouse Rock," "Treat Me Nice," "I Want To Be Free," and "(You're So Square) Baby I Don't Care.") I can't say that the songs were overworked. We didn't have time to overwork them. We were in too much of a hurry to get out of that hotel room."
Stoller confirmed that the tune designed for the film's production number came easily to them. "The script indicated that Elvis was in prison and there was an amateur show among the prisoners. That's where the idea for the song came from. We wrote it quickly. Jerry's very fast and very funny."
• "We realized he was a very special talent"
Leiber and Stoller first met Elvis on April 30, 1957, the day that "Jailhouse Rock" was recorded at Radio Recorders in Hollywood. Stoller explained how a comfortable working and personal relationship quickly developed between the songwriters and the singer: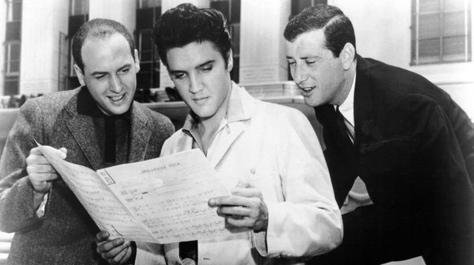 Mike Stoller, Elvis Presley, Jerry Leiber

"Elvis had requested us to be at the Jailhouse Rock recording sessions. He knew of the records that we produced, so he requested that we be there. That's how we met him. He was very easy going and very easy to be with. I was showing him some figures on the piano, and he joined in the upper registers. And we were doing some freehand boogie-woogie. The studio was like his living room … We'd show Elvis the way we thought the songs should go. I think Elvis had heard demos, but I don't remember making them. There must have been because he had approved the songs … While we were working on the Jailhouse Rock recording sessions, we realized he was a very special talent."
In his 2002 autobiography, drummer D. J. Fontana explained how he and guitarist Scotty Moore came up with the intro for "Jailhouse Rock:"
"'Jailhouse Rock' was supposed to be like prisoners breaking rocks on a rock pile. I remembered way back in the '40s they had a song called 'Animal Chorus.' It was a big band thing like Woody Herman or someone like that. I remember someone was beating on what sounded like an anvil, actually. They were playing kind of like a bump, beep, beep, boop. And I said, 'That might be good.' So Scotty and I got over in a corner and I'd play the first beat and he'd play the one in the middle. We were actually just piddling around with it. They had the mics on and they asked what we were doing. So we said, 'Well, we don't know. We were just trying to find something that you could use for the soundtrack to make it sound like a chain gang smashing rocks.' So they said, 'Man, whatever you were doing just then, that's great. Don't touch it. That's exactly what we need.' So that's how we originated that one. It was one of those things that we accidentally came up with."
• Elvis was a "workhorse" in the studio
In a 1990 interview for Rolling Stone, Jerry Leiber recalled Presley's work ethic in the studio. "Elvis was incredibly cooperative. He would try anything. He wasn't a diva, no prima donna. When it came to work, he was a workhorse." Mike Stoller added, "If he didn't like something—his own performance, primarily—he would say, 'Let's do another one.' And this would go on and on until he felt he had it. We thought we already had it! We'd got it twice."
In the Ken Sharp interview, Stoller said, "We were up to take 27 or something on 'Jailhouse Rock' when he finally said, 'OK, let me hear that take that you think is the one.' And he came back in and listened and said, 'Yeah, you're right. That's the one.'" (According to Ernst Jorgensen in his Presley sessions book, take 6 became the record master.)
Although he had already recorded "Jailhouse Rock" and RCA had decided it would be his next single, it had not yet been released when Elvis went on his late summer tour of the Pacific Northwest. So he did not perform the song in his stage shows then. Meanwhile, to capitalize on the anticipated success of the record, MGM had decided to rename Elvis' new movie Jailhouse Rock. The single record's release was set for September 24, 1957, to coincide with the nation-wide opening of the film. The first on-stage performances of the song then came in Elvis' Bay Area and Los Angeles shows in late September.
• Billboard & Variety predicted success for "Jailhouse Rock"
When Elvis' new single hit record store racks, the music industry gave its blessing to "Jailhouse Rock." In its September 23 issue, Billboard put the double-sided disc in its "Review Spotlight": "Another sock platter by the phenomenal artist. 'Rock' is a vigorous rocker and is the title tune from Presley's forthcoming flick. Flip ('Treat Me Nice') is an equally strong side somewhat like 'Don't Be Cruel.'"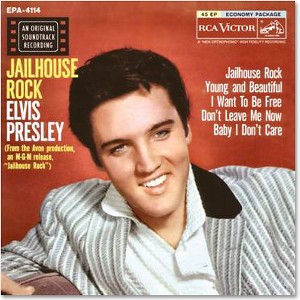 The following week, in its October 2 issue, Variety put "Jailhouse Rock" at the top of its "Jocks, Jukes and Disks Best Bets" list: "'Jailhouse Rock' is a wild blues rocker that can't help but be another hit for Elvis Presley. 'Treat Me Nice' is in the Presley mumbling tradition and will grab his ready-made aud. Both tunes are from Metro's Jailhouse Rock."
On Billboard's Top 100 pop chart, "Jailhouse Rock" took a rocket ride to the top. It entered the chart at #15 on October 15, and a week later leaped up to #3. The next week it went to #2, and on November 11, on only its fourth week on the chart, it push the Everly Brothers's "Wake Up Little Susie" aside and took over the top spot. It stayed at #1 for six weeks, before giving way to "You Send Me" by Sam Cooke on the December 16 chart.
Still "Jailhouse Rock" remained in the top 10 for another six weeks. It slowly dropped down the chart, making its final appearance on the list on April 14, 1958. Its final numbers on the Top 100 came to 27 total weeks on the chart, including 14 weeks in the top 10, 10 weeks in the top 5, and 6 weeks at #1. "Treat Me Nice" on the flip side also charted. It spent 10 weeks on the Top 100, peaking at #27 on November 4, 1957.
"Jailhouse Rock" also dominated "The Cashbox Best Selling Singles" chart in the fall and winter of 1957. It remained on that list for 20 weeks, including 14 weeks in the top 10, 11 weeks in the top 5, and 3 weeks at #1.
• "Jailhouse Rock" made 1957 a "perfect" year for Elvis
Overall, "Jailhouse Rock" was the fifth biggest chart single record in Elvis' career. Only "Don't Be Cruel," "All Shook Up," "Heartbreak Hotel," and "Hound Dog" did better.
In the final analysis, "Jailhouse Rock" became an iconic rock recording due to the teamwork of Jerry Leiber, Mike Stoller, and Elvis Presley. In addition to writing the song, Leiber and Stoller made a vital contribution in the recording studio, noted by Ernst Jorgensen in his "Elvis Presley: A Life in Music":
"The session had been a revelation on every level, with the team of Leiber and Stoller offering just the kind of strong musical counterpoint Elvis thrived on—the first real studio support he'd had since leave Sun. Jerry and Mike had guided him surely toward new musical territory."
Elvis then put his own stamp on the song. "That song was a vehicle that Presley could really work," Mike Stoller noted many years later.
"Jailhouse Rock" remains an iconic recording in the history of rock 'n' roll music. When Rolling Stone magazine compiled its "500 Greatest Songs of All Time," it placed "Jailhouse Rock" at #67, and on the Rock and Roll Hall of Fame's "500 Songs That Shaped Rock and Roll," it's listed at #204.
No list, though, can capture the astonishing success of "Jailhouse Rock" in 1957 and the role it played in making that the greatest musical year in Elvis Presley's career. "All Shook Up," "Teddy Bear," and "Jailhouse Rock"—a trio of back-to-back blockbuster Presley hits—spent a combined total of 21 weeks at #1 on the Top 100 pop chart in 1957. With the help of "Love Me Tender" and "Too Much," Elvis had at least one song, and usually multiple ones, in the Top 100 every week during 1957. And "Jailhouse Rock" was the record that anchored Elvis Presley's only "perfect" year on the record charts. — Alan Hanson | © January 2016