Jailhouse Rock Chronicles:
A Prison, a Cow Bell, and a Riot
Jailhouse Rock, Elvis Presley's third film, premiered in Memphis on October 17, 1957, and was released nationwide on November 8. Variety listed it at #14 on its list of "Top Grossers of 1957," and in 2004 the film was selected for preservation in the United States National Film Registry for being "culturally, historically, or aesthetically significant." While rating behind King Creole in popularity with both critics and fans alike, Jailhouse Rock has proved to be Elvis' most historically significant movie. Fifty years after its making, it remains a classic rock 'n' roll film.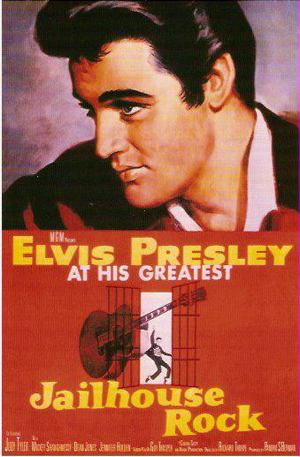 The following three anecdotes appeared in the press within a week following the release of Jailhouse Rock in November 1957. All three speak to the cultural impact of the film at the time.
• "Prison Chief Grimaces; 'Jailhouse Rock' Link to Carolina Unfavorable"
That was the headline over an article in Variety on November 13, 1957, just five days after Jailhouse Rock's national release. It seems that about three minutes after the film's opening credits, an outside view of the prison in which Vince Everett (Elvis) was to serve his sentence for manslaughter, briefly flashed on the screen. A number of North Carolina residents who viewed the film recognized the facility as their state's Central Prison, located outside Raleigh.
Speaking to reporters, North Carolina State Prisons Director W. F. Bailey expressed disappointment that his state's penitentiary appeared as the "big house" in Presley's movie. According to Bailey, Metro-Goldwyn-Mayer had not asked permission to use a shot of Central Prison in Jailhouse Rock. "I wouldn't have allowed it if they'd contacted me," the director said.
In the Variety article, Bailey made it clear that he was not so much concerned about the outside view of the prison as he was about the perception that the interior scenes of prison discipline involving Presley in the movie were representative of what actually occurred in Central Prison. In particular, he referred to the scene in which Presley's character is tied up and flogged for his part in a prison riot. In the scene the callous film warden stands nearby and counts off the lashes.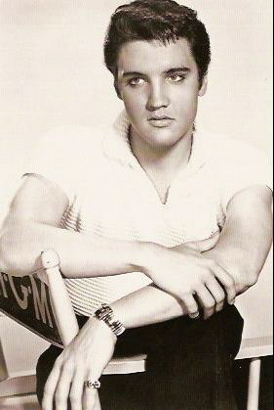 "We sure don't allow lashings here," Bailey told reporters. "We absolutely do not. It's contrary to all our policies and rules."
According to Variety, no one in North Carolina seemed to know how a view of Central Prison got into Jailhouse Rock. One possibility is that stock footage may have been used in a previous MGM film, possibly Carbine Williams.
"Bailey said he regretted the use of the state prison in the picture," explained the Variety article, "because fans who recognized it might think that North Carolina prisons were run like the Hollywood version."
Comment: I've watched Jailhouse Rock at least 20 times over the years and never knew that momentary shot was of a prison in North Carolina. Never even thought about it. Who, besides a few people living on the outskirts of Raleigh, would ever have known if prison director Bailey hadn't made a big deal about it? If he were concerned about Central Prison's reputation, he should have hired Colonel Parker to head publicity for North Carolina's "big house." After all, the prevailing wisdom at the time was, "If Colonel Parker can make Elvis a success, he can put anything over on the public."
• "Threw Cow Bell at Presley, Out on Bail"
The above headline over a very brief article, also in Variety's November 13, 1957, issue, concerned a Texas man who found himself behind bars as a result of his behavior during a theater showing of Jailhouse Rock. The text of the article reads as follows.
"Metro's 'Jailhouse Rock' rocked a young Baytown, Tex., man right into the local jail. His offense: Throwing a cow bell at Elvis Presley on [the] theatre screen. Into the jailhouse went Earl Shanks, a little less than 48 hours after the cow bell incident at the Bronson Theatre. He was sprung on $500 bond but faces malicious destruction of property rap."
Comment: Who throws a cow bell at a theater screen? Wouldn't a tomato have been a better choice? Or eggs? (Some college boys threw eggs at Elvis on stage in Philadelphia earlier that year.) Maybe that Shanks guy brought the bell with the intention of ringing it during Elvis' musical numbers. Maybe his girl was getting so excited over Elvis that he decided to throw the bell instead of ringing it.
• Elvis Film Sparks 'Riot' of Juveniles'
Commotion on a much wider scale occurred at the Paramount Theater in Oakland, California, at a showing of Jailhouse Rock on November 13, 1957. The next day, the Oakland Tribune reported on the "riot."

A packed house had just finished viewing the 6 p.m. showing of Elvis' newest film when the action started. When the theater lights went up to allow the audience to leave, five boys reportedly "grabbed" several girls as they walked up the aisle. Other boys jumped to the girls' defense, and fistfights broke out.
Eighteen Oakland police officers responded to a riot call at the Paramount and found about 1,000 youths milling around inside the theater. Fights were still breaking out, and one boy even took a swing at a special police officer. The theater was closed down for an hour while officers suppressed the disturbance. Five boys were initially arrested, but three were soon released. One 15-year-old was booked for disturbing the peace and resisting arrest. Another boy, age 16, was held for disturbing the peace. Estimated damage to the Paramount building was assessed at about $1,000.
According to the Oakland Tribune, "The showing of 'Copper Sky,' the theater's second feature, was held up for an hour while the management refunded money to more than 500 youngsters who panicked when the scattered fights broke out."
Comment: Did the disturbance in that Oakland theater really qualify as a riot? Let's see—multiple fights, a thousand dollars in damage, some arrests. Let's call it a mini-riot. The amazing thing is that in that one theater a handful of teenage punks were able to cause more of a ruckus than occurred at any of Elvis' 28 live appearances during 1957. The reason there were no riots despite Elvis' wild act on stage?—Colonel Parker. He made sure enough security was on hand to keep things from getting out of hand. It's just one of the many things he did for which the Colonel never received the credit he deserved. — Alan Hanson | © February 2009
Go to Elvis in Hollywood

Go to Home Page