Gordon Stoker & the Jordanaires:
Their Role in Elvis' Gospel Music
In August 2007, I received the following email message from Gordon Stoker of the Jordanaires.
"I'm going to BMI party tonight to kick off Joe Moscheo's book, THE GOSPEL SIDE OF ELVIS. So many have asked me ... 'you are on far more gospel recordings with E than Joe ... why aren't you writing?' But I'm sure you will tell me 'it's a lot and takes a lot of time' ... which I don't feel I have. Minnie Pearl wrote a book and she said, 'honey if you don't have the time to travel and promote, it won't sell.' What are your thoughts?"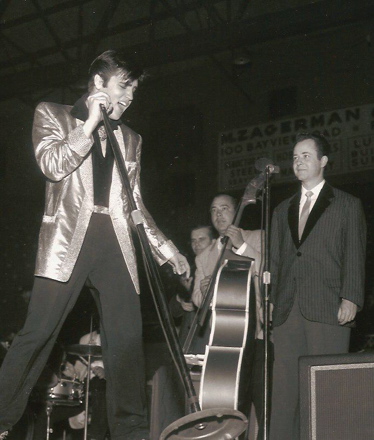 Of course, I encouraged Gordon not only to write about his gospel recording sessions with Elvis, but also about all of his experiences in the studio and on the road with Elvis. However, at the time he sent me the above message, Gordon and the Jordanaires were still a working group in Nashville, and I got the feeling he already had concluded that he didn't have the time to write a book. It's a shame, though, because Gordon Stoker was a virtually untapped treasure trove of Elvis lore. Gordon was an eyewitness to, and participant in, much of Presley's entertainment career in the fifties and sixties.
For the record, Stoker joined the Jordanaires as a piano player in 1950. By 1955, he had become the first tenor/manager of the group, which also included Neal Matthews, Hoyt Hawkins, and Hugh Jarrett. The Jordanaires first met Elvis in 1955 when both performed at Ellis Auditorium in Memphis. Elvis liked the way the group sang fast gospel numbers and said he wanted to work with them if he ever signed with a big recording label. Sure enough, after signing with RCA in 1956, Elvis called Gordon, beginning a fifteen-year professional relationship between them. Their friendship lasted even longer.
• Jordanaires were Elvis' gospel backups for years
I got to know Gordon between 2005-2007, when he graciously provided valuable input for my book, Elvis '57: The Final Fifties Tours. He was fiercely loyal to Elvis' memory and sensitive concerning his legacy.
Gordon was certainly accurate in claiming his Jordanaires sang on far more of Elvis' gospel recordings than did Moscheo's Imperials. The Jordanaires provided background vocals in January 1957, when Elvis recorded his first gospel songs for RCA—Peace in The Valley, I Believe, Take My Hand, Precious Lord, and It Is No Secret (What God Can Do). In September 1957 they backed Elvis again on his Christmas album session, which included the religious hymns, Silent Night and O Little Town of Bethlehem.
It was over three years later, in October 1960, that the Jordanaires participated in the marathon session that produced the 12 recordings for Elvis' His Hand in Mine album, as well as Crying in the Chapel, which was later released as a single in 1965. Gordon and the group also sang on Elvis' acclaimed gospel LP, How Great Thou Art, the 12 cuts for which were recorded in May 1966. In September 1967, the Jordanaires provided vocals on Elvis' recordings of We Call on Him and You'll Never Walk Alone.
• Elvis couldn't get Jordanaires to join him in Vegas
When Elvis went to Las Vegas in 1969, the Jordanaires decided to remain in Nashville and continue their steady studio work for other artists. It was Moscheo and the Imperials, then, who backed Elvis on most of his gospel recordings in the early seventies, including his third gospel album, He Touched Me.
Although the recording sessions in which he participated occurred half a century ago, Gordon Stoker remembered those events clearly when we communicated between 2005-2007. In fact, his memory was so good that Ernst Jorgensen asked him to contribute to the liner notes for RCA's Elvis box set, I Believe: the Gospel Masters. So, at least in that abbreviated format, Gordon Stoker wrote down his memories of working on Elvis' gospel recordings. It's frustrating, though, to know that he experienced so much more with Elvis that he never get around to sharing with us. — Alan Hanson | © November 2009
Addendum: Gordon Stoker died on March 27, 2013, at his home in Brentwood, Tennessee. He was 88 years old.
Go to Elvis Music

Go to Home Page