Juliet Prowse
Elvis' Leading Lady in "G.I. Blues"
"Appearing in 'G.I. Blues' with Elvis did more for my career than anything, including 'Can-Can.' All of my fan mail is the result of  'G.I. Blues.' It gave me a big and important audience." — Juliet Prowse, Associated Press, March 22, 1961
---
Juliet Prowse's road to "G.I. Blues" took her across four continents by the age of 23. She was born in Bombay (now Mumbai), India, on September 25, 1936. Juliet's father died when she was 3 years old. Her mother moved the family to South Africa, where Juliet began taking dancing lessons at the age of 4. A prodigy at ballet, she became the youngest member of the Johannesburg's Festival Ballet Company, dancing all the classic ballets by age 14.
Juliet moved to London at age 17 and continued studying ballet in London, but was refused by British ballet companies when she grew to a prohibitive height of almost 5 feet, 8 inches. She later recalled, "When I got on my toes, some of those male partners were way down there, Charlie!" Turning to modern dancing, she appeared in review shows and nightclubs in Paris, Madrid, and Rome.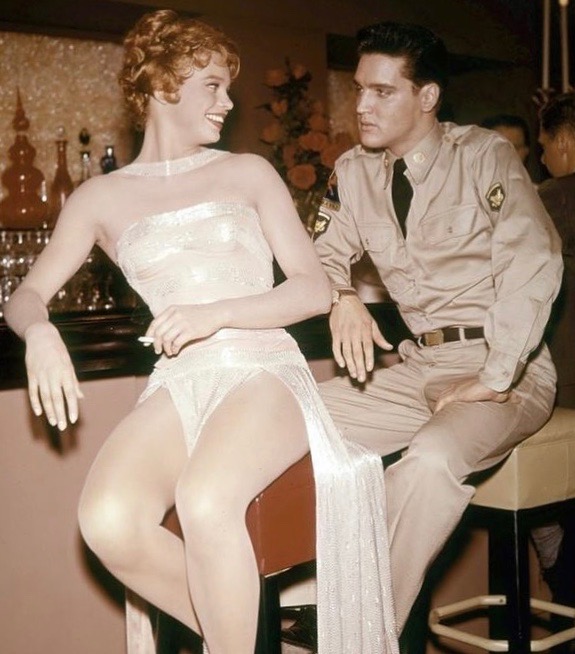 It was in Rome where she caught the eye of Hollywood choreographer Hermes Pan, who judged Juliet one of the best female dancers he had ever seen. When Pan was named choreographer for the Frank Sinatra film "Can-Can" in 1959, he informed Juliet that there was a part for her in the film if she would sign a seven-year contract with 20th Century-Fox. She originally declined the offer, but days later changed her mind and flew to Hollywood. On August 1, 1959, her first day of work on "Can-Can," she met Frank Sinatra. It was the start of both her Hollywood career and her on-going romantic relationship with Sinatra.
On the movie set, Juliet got some publicity when she led the "Can-Can" girls in a dance for visiting Soviet leader, Nikita Khrushchev. The premier seemed to be enjoying the display, but the next day he sounded off, "This is what you call freedom—freedom for the girls to show their backsides. It's capitalism that makes girls that way."
Juliet received universal praise for her dancing in "Can-Can." "That floored me," she later said, " because I had so little to do in it." It was enough, though, for producer Hal Wallis to take notice. He needed a leading lady for Elvis Presley in "G.I. Blues," the singer's first post-army film for Paramount. When Hollywood gossip columnist Louella Parsons heard that Wallis and Prowse had met for lunch, she was sure it was about a movie. "Don't say it's signed," Wallis told her, "because we have yet to make a deal with 20th Century-Fox, who holds her contract. But we want her and we feel quite sure we'll get her." Parsons revealed the news in her column of April 11, 1960.
• Juliet's studio loaned her out to work on "G.I. Blues"
The conditions of Juliet Prowse's seven-year contract, which allowed 20th Century-Fox to loan her out to another studio, would cause her major problems the following year. In April 1960, though, it gave her the biggest break in her career—a leading lady role opposite Elvis Presley. The contract paid Prowse $300 a week the first year, $400 the second, $750 for the third, and on up to $1,500 a week during the seventh year. While Fox paid Juliet her contracted salary while working on "G.I. Blues," she received nothing from Paramount, which paid Fox a negotiated amount for the right to use her services.
When she decided to take a try at Hollywood, Juliet took a substantial cut in the income she had been earning playing nightclubs in Europe. "I get paid practically nothing, and I'm broke all the time," she told columnist Bob Thomas in July 1960, right after completing her work on "G.I. Blues." As a non-citizen working in the U.S., Prowse had to pay an "alien tax." Her nationality in India made it almost impossible for her to gain U.S. citizenship. "India has only a small quota, and I need an act of Congress to stay here," she claimed. Still, Juliet was a trooper during "G.I. Blues." "I'm under contract to 20th," she said. "I know I'll earn my salary." Hal Wallis believed the role would pay off big for Juliet eventually. "This girl will be buying Rolls-Royces before long," he declared. "She's going to be a big star."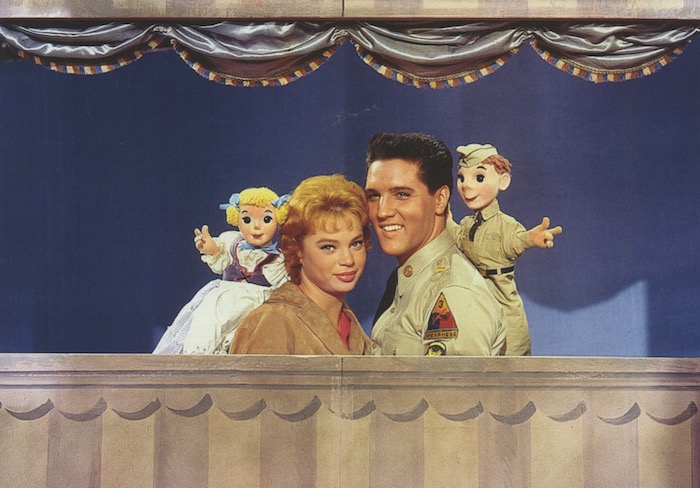 The 23-year old actress was wary about working with Elvis Presley when she arrived for script rehearsals on the Paramount lot on April 29, 1960. "When I first heard I was to do a picture with him, I groaned," she later admitted. "I thought of long side burns and rock 'n' roll, and I hated both." Before long, though, she came to enjoy working with Elvis. "Every day was hysterical. We had marvelous fun on the set—jokes and horseplay." She added, "Now I like a few rock 'n' roll songs. I should because I'm a dancer and it's mainly just a big beat."
• A pixie face, long legs, and a disciplined frame
Juliet Prowse's physical attributes were unique among Elvis Presley's many leading ladies. At age 23 in 1960, she was slender and tall at 5 feet 8 inches, with bright red hair. Her trademark legs measured a full 39 inches in length. Columnist Louella Parsons noted that, "Juliet has a piquant face—she's not in the least pretty, but there's something very attractive about her. I noticed as she talked her eyes changed from green to gray and they sparkled constantly." Susan Barnes, another Hollywood writer, noticed "two widely-set dimples deepening in her puckish face. She has the Leslie Caron kind of face: by just missing being ugly, it makes a particularly poignant appeal." When Juliet laughed, Barnes described her expression as "winningly humorous." Columnist Bob Thomas judged that Juliet had "a puckishly pretty face and a dancer's disciplined frame."
Thomas labeled her personality "wise and witty beyond her years." Louella Parsons agreed. "Juliet is amusing—she has a sparkling wit and philosophy that keeps her from getting annoyed at any real or fancied grievances."
In "G.I. Blues," Juliet performed two dance numbers, both staged by dance director Charles O'Curran. Columnist Harrison Carroll was on the set when the aftermath of one dance was filmed. In his "Behind the Scenes in Hollywood" column of May 28, 1960, he described Juliet's costume. "(She) is wearing a provocative costume of flesh-colored net with diagonal stripes of bugle beads spaced strategically upon her torso and with six hanging panels of bugle beads more or less concealing long legs clad in opera length dress."
Director Norman Taurog prepared to shoot the scene. After her dance, Lili is supposed to pour a class of beer over the head of a fresh guy sitting at ringside. The dance had been filmed the day before. Today's scene begins with Lili whirling out of the last few dance steps. Elvis and a couple of other GIs are watching from the top of the steps leading down into the bar. When Lili comes out of the dance, the script calls for the ringside patron to grab the center panel of her costume and pull her toward him. Before the cameras role, O'Curran calls to Juliet, "Honey, when he grabs the panel and starts pulling you toward him, get that little smile on your face. You know what you are going to do."
The cameras role. Lili holds back until the woozy guy pulls her to the table and raises his arms to grab her, then she picks up the stein of beer and coolly pours it over his head. Elvis turns to his friends and says, "Sure cools a guy off, doesn't she?" As Juliet pivots to the right and strides past the bar, Elvis softly says, "I think I'll do a little reconnaissance," and follows her.
After Taurog called "Cut," Carroll described the activity off camera.
"Juliet has spilled a little beer on her legs. A wardrobe woman rushes up and wipes off the opera length hose with damp sponge. The center panel of the costume has been torn slightly by the man at ringside. As Juliet lifts it for inspection, Elvis grins. 'Can I be of any assistance?' he asks. 'I have a sewing machine in my dressing room.' Juliet says, 'I don't know. Are you good at this sort of thing?'"
For the movie's final scene, in which Elvis kisses Juliet, a call went out for more than 300 extras to watch the" multiple-clinch" finale. UPI reported that the final scene took "five full days to stage."
• Critics praised Juliet Prowse in "G.I. Blues"
 Although reviewers of "G.I. Blues" gave most of their space to commentary on Elvis Presley's work in the film, they were almost universal in praising Juliet Prowse's supporting role. Comments from some reviews follow.
"Miss Prowse is a first rate dancer and has a pixie charm reminiscent of Leslie Caron. She deserves better roles than this." — Variety
"Juliet Prowse, so good in 'Can-Can,' enlivens the proceedings with her pert, pixie-like charm, plus her superb dancing." — The Pittsburgh Press
"Hard-to-catch (except for Elvis) Lili, is that impish delight, Juliet Prowse. With dimpled cheeks, she dances and woos her way through the film with great verve and grace." — The San Francisco Examiner
"Perhaps Wallis' greatest wisdom may be his having chosen Juliet Prowse as Presley's romantic partner. In Juliet the screen finds its most enchanting and promising new star for a long, long time … In her first role as delectable Lili, Miss Prowse is a complete darling. She has a gift for speaking lines without self-consciousness and with charm. She has warmth and personality and a mobile face, which, not exactly pretty, is fascinating. And in her two dances, she is a showstopper, if that's the word for the magic she creates. — The Philadelphia Inquirer
In interviews during the filming of "G.I. Blues" and shortly afterwards, Juliet Prowse spoke kindly and defensively about Elvis Presley. "Here's a boy torn apart by people who don't know him," she told Susan Barnes. "Just because he is vulgar on stage, people assume he is an exhibitionist in private life. He is not, of course. He is a man."  In other interviews she declared, "He has talent and he's a nice man," and that he is "the sweetest thing in the world." In answering writer James Bacon's question, she responded, "I guess what I like most about Elvis is his gentleness."
• Juliet refused the female lead in "Blue Hawaii"
Even before "G.I. Blues" arrived in theaters nationwide in November 1960, Hal Wallis had already decided he wanted to reunite Juliet Prowse with Elvis in his next Paramount picture, tentatively titled "Hawaii Beach Boy." Wallis came to that conclusion after watching the reaction of several audiences reaction during sneak previews of "G.I. Blues" a month before its release. The producer obtained another "loanout" of Juliet from Fox and began working the details out with her. On October 19, 1960, the Honolulu Star-Bulletin reported that, "Advance filming of scenes for 'Waikiki Beach Boy' starring Elvis Presley and Juliet Prowse will begin next month during the international surfing competition at Makaha."
Early in March 1961, though, rumors were appearing in the gossip columns that Juliet was threatening to pull out of the Presley movie. It was said she was demanding better billing, her own makeup man, and transportation to Hawaii for her secretary. Then on March 15, the Associated Press reported, "Actress Juliet Prowse is under suspension at 20th Century-Fox for insubordination while on loanout to Hal Wallis Productions. The home studio announced Miss Prowse's suspension yesterday, noting that she refused to play the lead role opposite Elvis Presley in 'Blue Hawaii.'"
Juliet Prowse was learning about the power that 20th Century held over her through the seven-year contract she signed the year before. First of all, it was a "seven-year" commitment for her but not by the studio. Fox had the right to terminate her contract at the end of any year of the agreement. The studio also could suspend her, which meant she would be barred from working for any Hollywood studio. When she was suspended, Juliet's entire film career was in jeopardy.
• Juliet explained why she declined "Blue Hawaii"
Hollywood columnist Bob Thomas decided to look into the squabble. Juliet told him she didn't like the suspension a bit, but if she had it to do over, she wouldn't change her decision. She made it clear up front that she had nothing against Elvis. Then she explained why she refused the role.
"It all started with two requests. First, I wanted my own makeup man on the picture. I have a face that is difficult to make up; I wanted someone who knew me. Second, I wanted to take my secretary along. If they would pay her fare, I would pay her salary. I wanted a companion. I didn't know anyone else in the company except Elvis, and he's always surrounded by a dozen buddies."
When Hal Wallis answered no to both requests, Juliet said she asked if she could do a screen test with Wallis' makeup man. He reluctantly agreed, and after seeing the results of the test, Juliet felt her makeup looked okay.
But then Juliet took another look at the script. "The part had no character," she concluded. "I was only one of three girls in Elvis' life, and one 16-year-old had a more interesting part than mine." So she declined the role, which, according to Thomas, "started a chain reaction of stacks blowing from Paramount to Fox." Her suspension quickly came down.
What disappointed Juliet most was her studio's lack of support. "Naturally Fox was mad because they wouldn't be making their profit on my loanout," she allowed. "You'd think they'd realize if a new player is in enough poor pictures her career will go out the window. They seem only concerned with getting their money out of me."
Thomas then asked Wallis to comment. The producer reluctantly responded.
"Miss Prowse received her copy of the 'Blue Hawaii' script on February 23. Since that time, she has come in for makeup tests, wardrobe and wig fittings as recently as two weeks ago. It is difficult to understand why she did this and why so much time and effort should be expended before she reached her decision."
On March 25, 1961, Wallis announced he had hired actress Joan Blackman to replace Juliet Prowse as Elvis Presley's leading lady in "Blue Hawaii." On April 18, a day after Juliet performed on the Academy Awards show in Hollywood, 20th Century-Fox lifted her suspension. She went right to work in "Star of the West," with Debbie Reynolds and Steve Forest.
 • An Overview … the Frank Sinatra factor in Juliet's life
Understanding the deep influence that Frank Sinatra had on Juliet Prowse's professional and personal life during her early years in Hollywood requires backtracking to August 17, 1959, the day when the two first met on the set of "Can-Can." Beguiled by the 22-year-old South African girl, Sinatra soon made her his favorite date. She appeared on two of his TV specials and signed on with Sinatra's agency and his publicity firm. When Juliet reported for work on "G.I. Blues" in April 1960, everyone in the Hollywood community knew she as "Frank's girl." "Frank and I are mature people," Juliet told writer James Bacon. "We don't go for this teenage bit about going steady and all that jazz. I'm not ready for marriage yet. I think I'll give my career another eight or ten years and then marry. When that happens, I'll give up this business and get into the business of having lots of babies."
Frank was away on a trip in the Far East when Juliet started working on "G.I. Blues" with Elvis. When the two were spotted together after hours, the gossip columnists began pushing the rumor of a budding romance between them. One wrote, "Starting as a simple Elvis-Is-Back vehicle, 'G.I. Blues' soon acquired a new slug: Elvis-Is-Back-And-Making-Love-With-Juliet-Prowse-Who-Is-Frank-Sinatra's-Girl. Although Elvis did his best to live up to this billing (and cooing), insiders kept the odds at 2-1 on Frankie."
Juliet tried to set the record straight about her relationship with Elvis:
"Yes, we went out a time or two. We went to the movies. We went to the Cloisters to hear Tony Bennett. We went, we saw the show, we went backstage to say 'hello' to Tony, and we left. That is all. But a fan magazine made such a story as I have never seen. His buddies were supposed to have been there, pushing and shoving … the fans were allegedly screaming and saying 'who's the girl?' … we were supposed to have held hands under the table. First and foremost, if I want to hold hands with anybody, I do it on top of the table … There really was never any sort of romance between Elvis and me."
• It was a "panic" when Sinatra walked on the set
Elvis' buddies manufactured some laughs over the supposed relationship between their boss and Juliet. Whenever the two were talking on set, one of the guys would yell, "Here comes Frank." Elvis' usual response was, "Frank who?" A couple of weeks later, Frank actually did walk in. "It was a panic," Juliet recalled, laughing. "I never in the world thought that Frank would ever visit me on the set." If there ever was a real issue, Juliet defused it quickly. In his column, Bob Thomas wrote, "It's a tribute to her diplomatic skill that she managed to avoid a clash between the two singers and is able to juggle both dates without conflict."
"Hollywood's publicity mad," Juliet later told Susan Barnes. "Whatever you do is exaggerated. Like the couple of times I went out with Elvis Presley. Immediately there was this big triangle: Elvis Steals Sinatra's Girl. Elvis has had so much of it, it's like water off a duck's back. But Frank wasn't too happy."
After production of "G.I. Blues" concluded in late June 1960, Frank Sinatra had Juliet Prowse all to himself. Louella Parsons reported of Juliet, "She doesn't hide very well that she thinks Frank Sinatra is the best singer, the greatest talent, and the nicest man she ever met." Juliet later told writer James Bacon, "I've had lots of dates with other men, Elvis Presley, for one, but Frank and I have always been mature about our romance."
• An unexpected engagement
On Monday night, January 8, 1962, while they were dining at Romanoff's in Beverly Hills, the 46-year-old Sinatra proposed to his 25-year-old girlfriend. Juliet announced the engagement two days later in James Bacon's column. "I agreed to marry Frank because he is the only man who asked me to marry him with whom I was ever in love," she said. "He is very much a dominating personality and a man of the world. One reason I fell in love is because I am inclined to dominate people myself. Not this time. Frank is the boss. That's the way I want it."
"She is so beautiful, so much fun," Frank told the Hollywood press. "The wedding probably won't be for some time. Whenever she sets the day, that's okay with me."
No date was ever set. A few weeks later, the engagement was called off. Juliet explained the reason to columnist Sheila Graham. Frank insisted that she give up her career, and she just couldn't do that. "Although I probably would have given it up, it's very unfair to ask somebody to give up their career, especially if you're in the same business and know what it is—it's part of your life, like cutting off an arm."
Juliet told Graham about a conversation she had back on the set of "G.I. Blues." "Elvis Presley and I were discussing marriage. He wanted to know about Frankie and me. Like me, Elvis wants to marry, but won't rush into it. He said, 'I'll know when I meet the girl.' It may not be a person you're madly in love with; that isn't always right for marriage."
Of Elvis she told Graham, "I adore him. I went on his set the other day to see him and we had some laughs. Like me, Elvis hated Hollywood when he first came here. As soon as a picture was finished, he would rush home to Tennessee."
• Juliet Prowse moved on from Frank Sinatra
In Lloyd Shearer's exposé, "Juliet Prowse—Fame by Association," in the April 1, 1962, issue of Parade magazine, the author speculated about the future of Juliet Prowse's career. "Dancing is in her blood," Shearer noted. "The record shows that insofar as men are concerned, she can take 'em or leave 'em. Not so her career."
Shearer concluded his article with a dose of reality for Juliet Prowse. "(She) is talented, industrious, attractive and fun, but the basic truth is that she is famous by association … she achieved no international prominence until a few weeks ago when Frank Sinatra suddenly proposed marriage. She owes her existing fame to him. The future, however, now belongs to her."
Without Sinatra's backing, Juliet Prowse's glowing expectation of stardom, born in "G.I. Blues," was never fully realized. Less often mentioned  in the Hollywood gossip columns, her celebrity slowly waned. After appearing in her last movie in 1965, Juliet continued to find work on the stage and on the nightclub circuit. Her personal life was sparse—one marriage, one divorce, one child, a son.
Juliet Prowse died of pancreatic cancer on September 14, 1996, just 11 days short of her 60th birthday. — © Alan Hanson | November 2018