Kid Galahad 

Behind the Scenes of Elvis' 1962 Film
When Elvis Presley reported to United Artists studio in Los Angles on October 23, 1961, it was to start work on his sixth movie in 18 months. Since leaving the army in March 1960, he had made feature films at a pace unequaled by any other major star. At the time, he told Hollywood columnist Erskine Johnson that he was just making up for lost time. "I was gone two years, so I feel I can risk the exposure," he explained. "I'd say a personality is a fool to make that many pictures in so short a time. But now that I've caught up, I definitely plan to slow down." The reality, though, was that the contracts his manager had already negotiated didn't allow Elvis to "slow down" in Hollywood.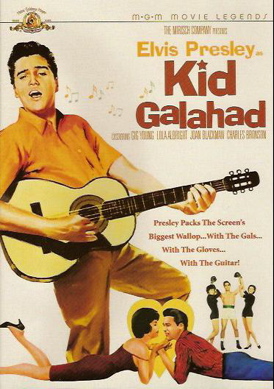 Producer David Weisbart decided to follow the recent Presley trend and chose to cast him in a remake of the 1937 boxing drama Kid Galahad. The earlier film featured newcomer Wayne Morris in the title role, supported by a veteran cast, which included Bette Davis, Edward G. Robinson, and Humphrey Bogart. After buying the remake rights from Warner Brothers, Weisbart hired William Fry to restructure the screenplay to fit a singing boxer. Then he cast established pros Gig Young, Lola Albright, and Charles Bronson to help Presley carry the dramatic load. Since the original movie was 25 years old, and 95 per cent of Presley's fans were younger than 25, as far as they were concerned, Kid Galahad was a new movie, not a remake.
 • Making Elvis Look the Part
Elvis' greatest challenge in the picture was convincing viewers that he looked and performed like a legitimate prizefighter. Just two weeks after Elvis reported for the film, director Phil Karlson circulated publicity photos of Presley as he would look in the ring. "He looks like an electric mixer had been working on his face," columnist Dorothy Manners reported. "One eye is puffed and closed, there's an ugly gash across his cheek, and his lips are swollen out of shape. From the looks of him, Kid Presley must lose every fight in the script." 
Makeup could make Presley's face look the part, but to make the rest of his physique fit would take a lot of work. Weisbart brought in former junior welterweight champion Mushy Callahan as a technical adviser to get Presley in shape for his role and teach him how to box. For 25 years Callahan had taught actors, including Wayne Morris in the original Kid Galahad film in 1937, how to handle themselves in the ring. The 56-year-old Callahan put Elvis on a rigorous training schedule to get him ready for his fight scenes. After the film was released, Elvis claimed he lost 12 pounds under Callahan's regimen. Every morning he ran miles along the roads near Idyllwild in Southern California, where much of Kid Galahad was filmed. Every afternoon he worked the light and heavy bags and boxed with his trainer.
While Elvis was sheltered from the press, Mushy made himself available to anyone who cared to listen. Outgoing by nature, he always had something to say about his special pupil. "I try to break a script down and train him according to what the story calls for," he explained to UPI writer Joseph Finnigan. "We work out routines that Elvis has to do in the ring and he catches on pretty good. He's not afraid to get hit. Of course, he doesn't want to get his teeth knocked out."
As the training progressed, Mushy revealed that coaching Elvis was difficult for an unusual reason. "I'm having an awful time with Elvis because he looks too GOOD. He's supposed to be a clumsy fighter in the film, but he looks and moves like a champ. So my job is to destroy his natural coordination and teach him to look bad. It's a little like being a jockey and having to rein in 'Man of War.' It's kind of hard to do."
Two professional fighters who squared off with Elvis in Kid Galahad were also impressed. Welterweight Orlando de la Fuente indicated, "He is very, very strong. He was very interested. He watched me very carefully so he could learn the body movements." Orlando's brother, Ramon, a light heavyweight agreed. "Elvis hit me pretty hard. There was one scene there where we kept on fighting after the bell rang. He caught me a good right hand on the jaw. It wasn't in the script but they left it in, it was such a good scene."
On viewing the movie, critics were divided on Elvis' portrayal as a boxer. A reviewer in the Austin American dismissed it. "Elvis, of course, is about as realistic in his boxer's role as Fats Domino would be portraying an Olympic sprint star." In his syndicated column, Erskine Johnson disagreed. "As a fighter Elvis looks better than some lugs we've seen on TV's 'Fight of the Week' recently." Alan Ward of the Oakland Tribune also gave Presley a nod of approval. "Presley was more authentic in his fight scenes than either the plot or the direction. He handled himself well. An observer gained the impression he knows more than a little about boxing."
• The Knock Out Scene
Hollywood columnist Harrison Carroll was on set when Kid Galahad's last fight scene was filmed. He described it in a December 1961 syndicated column. "The set has the look of a real boxing arena. It's a field day for extras and bit players. There's not an empty seat in the house. The air is hazy with smoke. A battery of overhead lights makes it hot out there in the ring where Elvis and Ray (sic) de la Fuente, a real light heavyweight, are getting final instructions. They have to lean their heads back to listen because director Karlson is hovering above them on the snout of a camera crane that pokes its steel neck out over the ring." 
Other actors are milling around. Mushy Callahan is in the ring. He'll play the referee. Lola Albright wanders up to Carroll. "Hot, isn't it?" she asks. "By the end of the day this set gets so hot it smells like a zoo." Gig Young crawls into the ring, and yells to Karlson, "Shall I use smelling salts in this scene?" The director responds, "No, your fighter doesn't need it." "I may," Young mutters.
When the cameras are ready, Mushy goes over the flurry of punches that will send De La Fuente to the canvass. On the microphone, Karlson prepares the crowd. "Ladies and gentlemen, this fight has been going on for five rounds. It's been an even fight. This is the knockout. When it comes, let's really tear the roof off."
The cameras run and the fighters meet at ring center. Punches fly, but none land solidly. To Carroll it looks like a real fight. Then Elvis lands a lethal right, sending De La Fuente down and out. As Mushy counts him out, the crowd lets out a thunderous yell. "Cut!" yells the director. As Elvis climbs out of the ring, a makeup man wipes off the movie blood spilling down from an imaginary cut over his right eye. 
• Songs and Dance
The six Presley vocals in the soundtrack of Kid Galahad represented a slight increase over his musical numbers in his recent dramatic pictures. Still, there was plenty of time between the songs for acting to take place. As noted, Elvis himself considered the music incidental to the story. Critics ignored Elvis' singing as well, although some commented on his dance moves when Elvis launched into the twist during a picnic scene. Although the dance style had been popularized recently by Chubby Checker, some reviewers credited Elvis with creating it. "Elvis Presley was ahead of his time," noted writer Hank Billings. "He was doing the twist when he burst onto the scene in front of an unsuspecting public a decade ago. He twists officially in his latest movie." Joan Burke in the Des Moines Tribune also gave Elvis undo credit. "He jiggles his voice around those six songs and tosses in a version of the dance he invented some years ago — the twist."
 • A Veteran Crew and Cast
Phil Karlson, whose directing work dated back to the mid-forties, received appropriate credit from critics for his work on Kid Galahad. The New York Times praised Karlson's direction for its "brisk and deceptive pace," and the Los Angeles Times emphasized his "shrewd handling of Presley." The prominent members of the supporting cast all received mixed reviews. In the picture's publicity campaign, Gig Young and Lola Albright received second billing, while Charles Bronson and Joan Blackman shared third billing.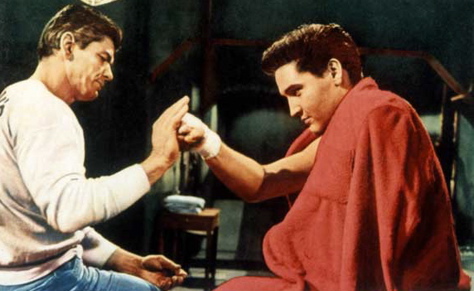 Albright's acting career started in 1946, but she only achieved notoriety when she played a sultry girlfriend in the "Peter Gunn" TV series (1958-61).  After winning acclaim for her racy role in the 1961 film, A Cold Wind in August," she received a dozen offers for sexy starring roles. Wanting to quickly shed the "sexpot" label she'd been given, the 37-year-old actress accepted a supporting role in Kid Galahad instead. "She's a man's woman; so am I," she said of her character Dolly Fletcher. "You know she's been around, but there is nothing obvious about her.  She lives openly with Gig Young, but she's still the most respectable of the lot. I like her and that's why I accepted the part." Critic Bosley Crowther called her "charmingly solicitous as Mr. Young's disillusioned girl." James Thompson writing in the Louisville Courier-Journal disagreed. "Lola Albright, as Grogan's girlfriend is disappointing. After a critical triumph in her recent 'A Cold Wind In August,' she seems to regress back to perpetual girlfriend, her role in television's 'Peter Gunn.'"
Gig Young as Willy Grogan also drew varied reviews. "Gig Young labors through the trite, confusing part of the mixed-up proprietor of the upstate boxing stable," Variety noted. Thompson, though, gave Young some credit. "It's not a particularly strong role," he wrote. "Young makes something of it nevertheless." Crowther gave Young his best review in the New York Times. "Gig Young is attractively wicked as a Catskill hotel-keeping heel who tries to lead the young boxer to slaughter so he himself may drink."
In Kid Galahad, 23-year-old Joan Blackman was reprising her role as Presley's girlfriend in Blue Hawaii. Asked if she feared being typecast at such a young age, she responded, "I have never been able to figure why stars complain about type casting. The biggest stars in the business are victims of type casting. I feel that stars who became identified with a specific type of part are much better off than the players who insist on trying a new characterization each time at bat. Type casting has never bothered John Wayne, Alan Ladd, Marilyn Monroe or Elvis. I should be so lucky." Blackman's reviews were mixed as well. She played her part, "with almost aggressive sultriness," assessed the Detroit Free Press. The Miami News called her "beautiful but just a fixture" in the film, and Variety accused her of "overacting."
Charles Bronson as Presley's trainer received generally good, if not glowing, critical feedback. Alan Ward in the Oakland Tribune declared, "Charles Bronson looked and acted as a professional trainer should. He has the face for it. Additionally, he can act."
Other actors with minor parts earned mention in the picture's reviews. Michael Dante was Presley sparing partner. "He couldn't have been nicer, a perfect gentleman," he said of Elvis. "Once I punched him too hard but he didn't complain." Sixto Rodriguez received $350 a week for playing Elvis' boxing double. Others credited for adequately delineating supporting stereotypes were Ned Glass as Lieberman, Robert Emhardt as Maynard the cook, and David Lewis as gangster Otto Danzig.
• Kid Galahad Hits the Theaters
Kid Galahad received no traditional Hollywood premiere. United Artists released the film nationwide on August 29, 1962. Prior to that, though, preview showings occurred in various communities around the country. One of them was in Paducah, Kentucky. For some unknown reason, the theater's management believed the town of some 35,000 had been chosen to host the official "World Premiere" of Kid Galahad on August 1, 1962. The headline over an article in the Paducah Sun on July 29, 1962, read, "Elvis Presley Invited to Attend World Premiere Here." The text added, "It is not known yet whether Elvis Presley will be able to attend the world premiere of his latest picture 'Kid Galahad,' at the Paducah Drive-In Wednesday night. Definite word has been promised by Tuesday morning. If he does come, a big area-wide welcome is planned, said Jack Keller, head of Columbia Amusement Co." In reality, preview showings of Kid Galahad had been playing in other communities since early July.
In September 1962, a special preview showing of Kid Galahad was held in Los Angeles for the professional boxing community. At least eight former world champions were in the audience, including heavyweight champ Joe Lewis. Other title holders on hand were Fidel La Barba, flyweight champion from 1925-27; Mushy Callahan, junior welterweight champ in 1926; Maxie Rosenbloom, light heavyweight champion in 1933; Gorilla Jones, middleweight champion briefly in 1931; Solly Kreiger, middleweight champion in 1938; and Jimmy Carter, lightweight champ from 1951-1955.
Joe Lewis later told Sports Illustrated that Elvis had the "promise of becoming a better boxer than singer." Mushy Callahan, Presley's trainer, insisted at the event that Elvis had more than promise. "Presley could really have made a good boxer," he declared. "With a little sharpening, he could beat some of the professionals I've fought against. He has very tough hands. When he was in the Army in Germany he told me he had someone teach him karate and judo. The side of his right hand is all callused and he can split a pretty good sized piece of wood with that karate chop."
• Reviews Were Mixed
As for all of Presley's movies made during the immediate years following his return from the army in 1960, the reviews for Kid Galahad were mixed in the American press. Some excerpts follow:
 "The plot gives off the heady aroma of new-mown hay — and is just as easy to sleep on. On the night of the fight — guess what? Presley KOs his opponent and his dressing room is the scene of happy confusion. Then, guess what? Elvis marries Joan. And, guess what happens next? Young marries Lola. Wow! Gosh! Holy mackerel!" — Rochester Democrat and Chronicle
"Presley isn't the world's greatest actor but he can handle a subject like 'Kid Galahad' without too much strain. The young man boasts a good physique, gets around a prize-fight ring like he knows what he's doing, and turns into an unblemished hero." — Los Angeles Times
"Boxing fans who've been hearing that the fight game has fallen on hard times will suspect just how bad things are when they discover that Elvis Presley has taken to the ring in the guise of a powerhouse pugilist. It's enough to floor any box-fight devotee, but actually seeing it happen on the screen in 'Kid Galahad' should be a real KO for any viewer who wasn't in Elvis' corner to start with." — Austin American
"Somehow this clique-ridden picture, which has its origin in an ancient novel by Francis Wallace that has been drawn upon (or snitched from) for any number of Golden Boy films, makes a moderately genial entertainment. It's not explosive, but it has the cheerful top of a lightly romantic contrivance that ranges between comedy and spoof. For a film about a singing prize-fighter (which is silly enough) it will do." — New York Times
• A Turning Point for Elvis the Actor
In 1962 Kid Galahad was 36th on Variety's list of the year's top grossing films. Its total box office earnings of $5.5 million put it in a tie with Wild in the Country and It Happened At the World's Fair for 19th place among Presley's 31 feature films. In the end, 18 Presley pictures took in more money, while only 10 did less business.
After watching the final cut of Kid Galahad, Elvis Presley believed he had taken another step toward becoming an accomplished actor. "I get better with each picture," he professed. " But it wasn't until 'Follow That Dream' that I really got to thinking that all the studying and all the work was paying off. Now I'd like to concentrate on acting. I'll never stop singing, but there's no reason why I can't combine them both. Sinatra did it. Crosby did it. And Dean Martin is really swinging in both dramatic and comedy roles now."
Obviously Elvis didn't realize then that his dream of becoming a serious actor would quickly fade away. Starting with his next picture, Girls! Girls! Girls!, and continuing through the end of his Hollywood career,  acting in his films became incidental to the music. Only a couple of his final films allowed him to showcase his acting talent. By then, though, it was too late for him to make that dream come true. In 1969 he left Hollywood and returned to the concert stage.
 Kid Galahad in 1962, then, was a watershed film in Elvis Presley's development as an actor. As for Mushy Callahan, Kid Galahad remained a memorable highlight in his career of working as a boxing adviser to actors. He never stopped talking about it. In 1969, about the time Elvis walked away from Hollywood, Mushy reminisced in a New York Times article. "Best one I ever had was Elvis Presley, a real nice guy. Always showed up on time. Really interested in learning something. He never had gloves on before. But he was tough. Karate, judo, knew it all. I'd say on the street, Elvis'd have to be the best of them all, quick hands get down there and rip you apart. Very nice guy." | Alan Hanson (© 2019)