Behind the Scenes of …
"King Creole"
Elvis Presley's 1958 Paramount Film
King Creole is widely considered the best of Elvis Presley's 31 theatrical movies. At the age of 23, he received the best reviews for his dramatic acting up to that point. When he went into the army just two weeks after filming concluded, the pause button was pushed on his career, but King Creole promised future fulfillment of Presley's desire to be a good actor. A look behind the scenes of Elvis' fourth movie reveals how he, his fellow actors, and members of the crew worked together to create Presley's signature film.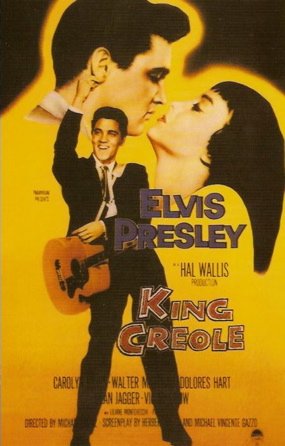 Elvis arrived in Hollywood on January 13, 1958, for several days of soundtrack recording prior to the beginning of principal photography for King Creole on January 20. Shooting continued on the Paramount Studio lot in Hollywood through the end of February. Hal Wallis, who was producing his second film starring Presley, had selected Michael Curtiz to direct. The Hungarian born Curtiz had worked with Wallis on many films at Warner Brothers, but this was the first time the two teamed up at Paramount. Other key contributors behind the camera were choreographer Charlie O'Curran and cameraman Russell Harlan. Writers Herbert Baker and Michael V. Gazzo would receive critical recognition for their script adapting Harold Robbins' "A Stone for Danny Fisher." Robbins' story was a somber one of a northern boy battling upward from the slums. Baker and Gazzo skillfully shifted the setting to New Orleans and made Danny a sympathetic singer-high school dropout.
On February 22, just two days into shooting in Hollywood, actress Dolores Hart, age 19, gave a birthday party for fellow cast member Jan Shepard, who was about to turn 30. (Shepard was cast as Elvis' sister in the film and Hart as his young girlfriend.) Elvis unexpectedly arrived at the party with two gifts for Jan—a stuffed tiger and a movie camera, which was used to record home movies at the party.
In 2007 interview with Joe Krein, Shepard provided some insight into Elvis' character and personality during the five weeks spent shooting in Hollywood. "He was never in his dressing room. He was always out with a group and having fun and playing the guitar," she recalled. "Elvis never had a dime on him. He would follow me to the apple machine. 'You want an apple, right?' 'Yes, please,' he'd say."
Shepard also described how Elvis reacted differently to two fellow stars at Paramount. "One day, Pat Boone came walking onto the set. Elvis spotted him and he started to sing 'April Love,' just the way Pat would sing it. Pat just grinned from ear to ear." Shepard says Elvis reacted quite differently when another actor walked into the Paramount commissary while they were eating lunch. When Jan saw Marlon Brando come in, she told Elvis, but his was too excited and nervous to turn around. When Brando noticed Elvis, he walked over and sat in an empty chair right behind Elvis. Jan whispered to Elvis, "When you get up your chair is going to hit his. So just say 'Hi' to him. Well, that's exactly what happened … Marlon stood up and the two of them shook hands. They did a little small talking." She said Elvis acted cool until they were outside the commissary. Then he erupted with excitement over meeting Brando.
• Carolyn Jones ignored criticism to work with Elvis
At age 28, Carolyn Jones (left) declined other dramatic parts to join Dolores Hart as one of Presley's two leading ladies in King Creole. Carolyn's career was on the rise after receiving a best supporting actress nomination the year before. She received some criticism for working with Elvis, but she was unapologetic. "Most of the time you'll find the loudest critics are out of work. It's so un-chic to earn a living. Those that are employed have a wonderful, healthy respect for Hollywood. The part is brilliant, and I get to sing. Besides, think of the audience the Presley picture will draw. It's Elvis' last movie before the army and that doesn't hurt."
Lilianne Montevecchi, a French actress in the cast, had misgivings about Elvis at first. She told New York reporters how her feelings changed, somewhat, after meeting him.
"I don't want to get too close to him. When they tell me I am to do picture with that man, I am devastated. I think of him only as the belly dancer, the big sexy pot. Then he comes to my dressing room and says to me, 'Why you no like me.' He is like little boy, very sweet. So I am nice to him, only I do not want to get too close. He is too much complexes, young spoiled."
• Elvis asked Walter Matthau for a helping hand
Elvis' main co-star on the male side was Walter Matthau, who, at age 37, was cast as the the dastardly crime boss Maxie Fields. Matthau recalled the first thing Elvis said to him when they met on the set. "Mr. Matthau, I sure would appreciate it if you could help me out with this acting thing." Matthau also got a kick out of director Mike Curtiz. Early on, Curtiz told him, "Matt-ow, you are high-priced actor. Pretend you are low-priced actor. Don't act so much." Matthau added, "He was funny. He called me 'Valty.' He called Elvis Presley 'Elvy.'"
For teenager Dolores Hart, Matthau was a calming influence on the set. She fondly recalled him in Rob Edelman and Audrey Kupferberg's 2002 Matthau biography. 
"My memories of Walter were of a man who was extremely gracious, and quite contrary to the character that he played. I was a young ingénue, and he had no reason whatsoever to go out of his way to be at all courteous to me, and to open conversations with me, or to show me around the set. But he certainly did so, and he made me feel like I was [one] of the 'big guys.' He always acknowledged me as part of the team. He is part of a whole, dear memory of [that] time."
A few years later, Walter Matthau would be reminded of a certain scene with Elvis in King Creole. The scene called for Matthau to break a balsa-wood chair over Elvis' head. After Presley tumbled to the floor, Matthau hit him again with a chair leg. A couple of years later, Walter was working in Tallahassee, Florida, when some girls came out of a church and ran after him. "There's the guy that hit Elvis!" one of them yelled.
• Hollywood columnists banned from interviewing Elvis
At the start of the five-week shoot at Paramount Studio, Hollywood columnists, who had become accustomed to visit movie sets to gather information and quotes for their syndicated columns, found the doors of the Presley film shut to them. Writer Bob Thomas was one who was turned away. 'They've put the lid on Elvis," he complained in his February 5 column. "Hal Wallis has banned all interviews and set visitors while Presley is making 'King Creole.' The producer wants nothing to interfere with the film schedule, since Elvis has a deadline to meet with Uncle Sam." Wallis would later claim that the decision to close the set was Colonel Parker's, not his.
Columnist Sheilah Graham got an interview with Elvis anyway. She flagged him down while he was riding a bicycle down a street on the Paramount lot. She was surprised on three counts. Elvis' sideburns were gone, he was much thinner, and "he sounded like the boy next door." He told her the movie's story was good, even without the songs. "I'm glad I'm going into the Army this year and not last year," he explained. "A year ago, they were saying I couldn't last. I've proved to myself that I can."
Aggressive by nature, the columnists eventually pried open the doors of the King Creole set. James Bacon was the first to be let in to talk to Elvis. In his February 13 column, he reported, "Presley is sporting a normal haircut for his current movie, and it makes him look quite handsome." 
Writer Harrison Carroll was allowed to witness one of the last scenes filmed at Paramount before the cast and crew moved to New Orleans. When he arrived, director Mike Curtiz had a camera up on a nightclub stage behind Presley and the Jordanaires. As Elvis did a number, the camera focused on the audience reaction in a club designed to resemble a Dixieland spot on Bourbon Street in New Orleans. "As soon as the shot is over," Carroll notices, "Elvis and the Jordanaires leave the set. I find them surrounded by a group of extras. Elvis has his guitar. He is singing softly. Not rock 'n' roll, though. First, he does 'True Love,' then 'Tumblin' Tumbleweeds.'"
• Film's choreographer and director talked up Elvis
Carroll got Elvis' two main film instructors to comment on their leading man. First, choreographer Charlie O'Curran:
"When Elvis first heard he would have to do some numbers with a brass section, he was mighty nervous. But once he got used to it, he liked it. He does some typical rock 'n' roll numbers with his guitar. But this picture is the first time rock 'n' roll has been married with Dixieland. It's a wonderful sound."
Then director Mike Curtiz praised Elvis' work in the film:
"Elvis is very conscious of a divided audience. The kids love him; the older people deride him. We are letting him sing various kinds of numbers in this picture. But the main thing is he gets a chance to act. This is the kind of part in which you might cast a young Marlon Brando or a James Dean. It is a challenge to Elvis to prove to the audience he is not just a rock 'n' roll singer with a style and a gyration."
Recounts abound of Elvis' routine and behavior on the set of King Creole. Director Curtiz said Presley was the first one on the set at 7:30 each morning, his lines learned, and always "stayed within earshot of the camera so he would not have to be called twice." Columnist Mike Connolly reported the Elvis' diversions between scenes included, "beating out Cole Porter turns on a baby grand piano and teaching Carolyn Jones and Lllyan Chauvin how to bump-grind." In his "Revelations from the Memphis Mafia" book, Presley associate Lamar Fike revealed an Elvis eccentricity noticeable in a scene in King Creole.
"He had a thing about drinking coffee from a cup. Most people would drink from, say, the middle of the cup with the handle on the far right. He would put his mouth right next to the handle. You can see him do it in 'King Creole' in that kitchen scene with Jan Shepard. I asked him about the cup, and he told me, 'I've always had a thing about people putting their hands on things.' I guess he figured nobody had drunk on that part of it. It probably goes back to him having his own silverware when he was a kid, silverware that nobody touched. He holds his toast with both hands in that scene, too."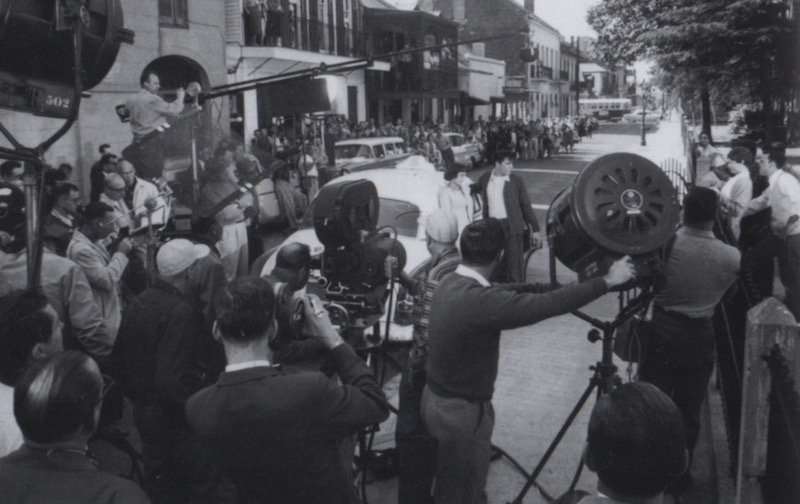 • Enormous crowds faced cast and crew in New Orleans
On March 1, 1958, the cast and crew of King Creole packed up and moved to New Orleans for location shooting, which began on March 3. Elvis and his guys took over the tenth floor of the Roosevelt Hotel, just off the French quarter. Any chance of keeping the crowds down while shooting was going on in the French quarter evaporated when New Orleans' mayor proclaimed an "Elvis Presley Day" in the city.
Dolores Hart recalled the problems created by the enormous crowds that converged on the French quarter. "The kids just absolutely turned us into an island, and in some situations we literally had to go to the top of the hotels because we couldn't go from street to street. They had to put planks from rooftop to rooftop; the kids just wouldn't allow us to move. They wanted to touch Elvis."
Two days of filming were lost in New Orleans when it rained all weekend. When Elvis came into the makeup room on Monday morning, Jan Shepard asked him what he did over the weekend. "I didn't go anywhere," Elvis said. "I was on the phone with my mom all day."
• Carolyn Jones: Elvis a "good man in a clinch"
After King Creole was released nationwide in July, Carolyn Jones began receiving letters, thousands of them, from Presley fans asking if Elvis was a good kisser. Carolyn answered the question publicly in a United Press article published on September 1, 1958.
"I guess I kissed Elvis about 30 times during the making of 'Creole,' but the funny thing is that it's hard to tell exactly how I felt because we were working. You know, there's a certain technique to movie kissing. There are certain things to remember, like not to bump noses. Elvis knew what to do with his nose. He's a pretty good man in a clinch and doesn't need any training. I think the kids watching the shooting in New Orleans got the biggest bang out of it. Whenever Elvis put a hand on me, they would go wild and scream and yell. He enjoyed it. He wouldn't be human if he didn't."
(Left: Col. Parker, Dolores Hart, and Hal Wallis at farewell party for Elvis on March 12, 1958) 
Location shooting in New Orleans wrapped up on March 11. Back in Hollywood the next day, the cast and crew gave a surprise going away party for Elvis in the Paramount Studio commissary. Dolores Hart and Michael Curtiz, along with most of the rest of the cast, were on hand. (Laid low by the flu, Carolyn Jones was unable to attend.) A cake with the image of an army private peeling potatoes was on hand. Dolores presented Elvis with a prop civil war musket as a farewell present. Other actors dropping by to wish Elvis well included Sophia Loren, Valerie Allen, and Anthony Quinn.
On Friday morning, March 14, Elvis and his pals returned to Memphis to rest up. Ten days later, on March 24, 1958, Elvis reported for induction into the army. While on leave after basic training, Elvis took his parents to a showing of King Creole in Memphis on June 4. When the film was released nationally on July 2, 1958, Elvis was undergoing Advanced Tank Training at Fort Hood, Texas.
Along with Elvis, the rest of the cast and crew moved on to other endeavors. All shared a memorable experience working with Elvis Presley on King Creole. Perhaps Jan Shepard best summed up the encounter when she later said, "In the 'Creole' days, Elvis was just a big teddy bear." | Alan Hanson (© May 2019)
(Photos above from "The Elvis Files: Vol. 2," Erik Lorentsen, KJ Consulting)