Elvis Sings Leiber and Stoller:
A Top Ten Countdown
On August 22, Jerry Leiber, the lyricist side of the song writing team of Leiber and Stoller, passed away in Los Angeles. The duo's reputation in the field of pop music, particularly in the rhythm and blues category, has been repeatedly extolled for decades. With the passing of Jerry Leiber, acclaim for his musical collaborations with Mike Stoller has resurfaced all across the national media and online forums. No need to repeat it here. Instead, in memoriam I'd like to offer a list of the top 10 Elvis Presley recordings of Leiber-Stoller songs. The recordings were judged based on both the quality of the writers' composition and Presley's performance in the studio. In the popular fashion of the day, we'll start with the tenth best Presley-Leiber-Stoller recording and work on down to number one.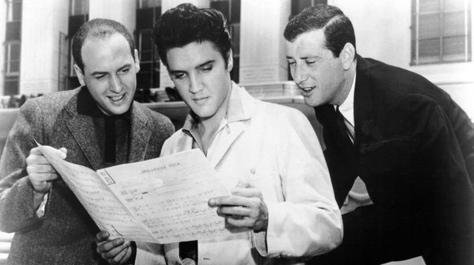 Mike Stoller, Elvis, and Jerry Leiber on the MGM lot in 1957

10: "Loving You" 1957
The first of three consecutive Elvis movie title songs by Leiber and Stoller, "Loving You" is a charming ballad, not typical at the time for the writers who had honed their trade on up-tempo R&B numbers. And Elvis sang it straight, unusual for him early in his career, when he was prone to over emotionalize love songs. Elvis recorded the song in just four takes (unusual again) at Radio Recorders in Hollywood on February 24, 1957. Despite being the B side to "Teddy Bear," "Loving You" had amazing staying power on Billboard's" Top 100." In 1957 it rode the chart for 22 weeks, only 3 weeks less than its mega-hit platter partner.
9: "(You're So Square) Baby, I Don't Care" 1957
The unique deep and distant echo sound on this Elvis recording from Jailhouse Rock was the result of the unusual way in which it was recorded. Elvis is credited with playing the bass part on the instrumental track recorded in early May 1957 at Radio Recorders. A few days later, Elvis overdubbed his vocal on MGM's expansive soundstage. According to Ernest Jorgensen in his 1998 Presley recording sessions volume, Jerry Leiber directed all phases of the recording from the studio floor.
8: "Bossa Nova Baby" 1963
Elvis covered Leiber and Stoller's "Bossa Nova Baby" for the soundtrack of Fun in Acapulco at Radio Recorders on January 22, 1963. "'Bossa Nova Baby' has got as much to do with the bossa nova as Nureyev has to do with the boogaloo," Leiber explained in Watermark's 1971 Elvis radio documentary. "'Boss Nova Baby' is jammed up frantic lyrics … coming at you at a shotgun rate of speed. And the bossa nova is absolutely irrelevant." It was Elvis's last hit single on the "Hot 100" before The Beatles took over the chart a of couple of months later. Reaching #8, "Bossa Nova Baby" was Elvis' last pop top 10 single until "In the Ghetto" 6 years later. (A gospel tune, "Crying in the Chapel," reached #3 in 1965.)
7: "King Creole" 1958
Elvis and the guys had a difficult time finding the groove on this title tune of his fourth movie. The tried it a second time on January 23, 1958, at Radio Recorders. "Right away the song took on new life," noted Jorgensen, "its new, simplified arrangement reducing the role of the horn section and leaving it out altogether for certain passages. More for commercial than for artistic reasons, the introduction was changed to highlight the Jordanaires singing the words, 'King Creole' before Elvis came in. Finally, Scotty Moore came up with a finger-bleeding guitar solo, which completed the song's transformation into straight rock 'n' roll." The song was not released as a single and was never listed in the "Hot 100." However, as the lead song on a 45 rpm EP, "King Creole" appeared on Cashbox's list of "Top Selling Singles" for 13 weeks, reaching as high as #20.
6: "Santa Claus Is Back in Town" 1957
"It's going to be a rock 'n' roll Christmas," Elvis told a stunned press corps in San Francisco when asked about his forthcoming 1957 Christmas LP. Although "Blue Christmas" has become his signature Christmas recording, nothing says "take your traditional Christmas songs and shove 'em" like Leiber and Stoller's "Santa Claus Is Back in Town." Jorgensen set the stage for the September 1957 session: "Seeing Elvis' reaction to all these bland Christmas standards, Leiber and Stoller were asked to come up with something more to his taste, and thus 'Christmas Blues' was born. Its tough blues approach—putting Santa in a big black Cadillac, sending him down your chimney tonight—exuded the kind of down-to-earth humor Elvis loved."
5: "Treat Me Nice" 1957
"Treat Me Nice" was another Leiber-Stoller song that had to be rerecorded for single release. Presley's voice sounded weak in all the soundtrack versions recorded in May 1957, so Elvis tried it again at the September session originally set up for Christmas songs. "This time," explained Jorgensen, "with Leiber and Stoller's new arrangement and their expertise as de facto producers, a proper drum part was established, a piano intro added, and both key and tempo were lowered, creating a less exciting but sexier feel for the song." Elvis was sure "Treat Me Nice" would be a big hit single, but, with the blockbuster "Jailhouse Rock" on the flip side, it faltered on the charts. "Treat Me Nice" spent just 10 weeks on the "Top 100," rising no higher than #27.
4: "Don't" 1958
"It was really one of the most beautiful interpretations Elvis did on any or our songs," Jerry Leiber proclaimed in the 1971 radio documentary. "The mix and the performance and the arrangement were particularly good." Jorgensen declared that "Don't" was a "perfect fit for [Elvis'] style and talents; even its title perfectly fit the teenage mood. They took it at a mournful pace, with the barest of arrangements, and Elvis sang it as if it were his last stab at becoming another Dean Martin … the sincerity of the performance, and the beauty of the simple song, made it an obvious choice for a new single." The record spent 20 weeks on the "Top 100," half of those in the top 10. The week of March 10, 1958, it was the #1 record in the nation.
3: "Hound Dog" 1956
Reportedly, Leiber and Stoller were never really happy with Elvis' signature recording of "Hound Dog." He changed some of their lyrics and transformed their R&B song into a rock 'n' roll landmark. Elvis reportedly wasn't wild about recording the song, but he had to do it after all the controversy surrounding his pelvic rendition on Milton Berle's show on June 5, 1956, and a restrained version on Steve Allen's show a month later. "What they needed to figure out was how to turn the live performance into a record that would have the same effect," Jorgensen explained. "Scotty's guitar sounded loud and propulsive against a churning rhythm from Bill and D.J. The end result was like a musical machine gun." It spent 28 weeks on the "Top 100," and, although it never reached #1 ("Don't Be Cruel" blocked its path), Elvis' recording of Leiber and Stoller's "Hound Dog" was placed in the Grammy Hall of Fame in 1988.
2: "Trouble" 1958
Although "Trouble" was passed over in the King Creole soundtrack for Presley's new single, it was the perfect anthem for the fifties image of the angry, young man that Elvis so effectively portrayed in that movie and Jailhouse Rock preceding it. Leiber's lyrics are defiant: "If you're lookin' for trouble, you've come to the right place. If you're lookin' for trouble, just look right in my face. I was born standing up, and talkin' back … " It was a bad boy's hymn, and Presley sounded and looked the part in 1958. It didn't work as well when Elvis reprised "Trouble" 10 years later in his "Comeback Special," but he made listeners believe he was the "King of the Bad Asses" with his recording of Leiber and Stoller's "Trouble" in 1958.
1: "Jailhouse Rock" 1957
Elvis' cover of "Hound Dog" has gotten slightly more attention through the years, but his recording of "Jailhouse Rock" is clearly Presley's best effort on a Leiber-Stoller song. They wrote it especially for him, and his energetic performance in the studio stamped it forever as his song. "This was Elvis' hardest rocker yet," Jorgensen proclaimed. "Elvis' quick, sure grasp of the tune—and his instinct to sing the song with an urgency that transcended its satirical intent—rocked Jerry and Mike back on their heels." It was deservedly one of biggest hits in Presley's career. "Jailhouse Rock" spent 6 months on Billboard's "Top 100" from October 1957 through April 1958. It was in the top 10 for 14 weeks, including 6 weeks at #1. The single pairing of "Jailhouse Rock" and "Treat Me Nice" marked the only time during Presley's career that both sides of the same single were written by Jerry Leiber and Mike Stoller.
For the record, Elvis recorded 13 other Leiber-Stoller compositions that did not make this top 10 list. They were: "Dirty, Dirty Feeling;" "Fools Fall in Love;" "Girls! Girls! Girls!" "Hot Dog;" "I Want to Be Free;" "If You Don't Come Back;" "Just Tell Her Jim Said Hello;" "Little Egypt;" "Love Me;" "Saved;" "She's Not You" (with Doc Pomus); "Steadfast, Loyal, and True;" and "Three Corn Patches."
"That was a great avenue, to be working with the automatic hitmaker of all time," Jerry Leiber said in a 1990 Rolling Stone interview. Elvis Presley reportedly felt the same about R&B's greatest writing team. Who knows how much greater the Presley-Leiber-Stoller connection could have been had not Presley's manager come between them? When Colonel Parker thought the two song writers were getting too close to his boy, he sent them the following warning. "If you two jerks don't mind your own business and stay away from the business of Elvis Presley, I'm going to put you both out of business." — Alan Hanson | © September 2011
Go to Elvis Music

Go to Home Page