Elvis in Loving You


Interviewed 

For 1957 "Mirror-News" Column
One day during a break in the filming of Loving You in March 1957, Elvis Presley and Los Angeles Mirror-News Entertainment Editor Dick Williams met for lunch at the Paramount studio commissary. Williams reported on the encounter in his March 18 newspaper column. "I'm real beat," Elvis told Williams. "I didn't get much sleep last night. And I had to be here early this morning for the picture."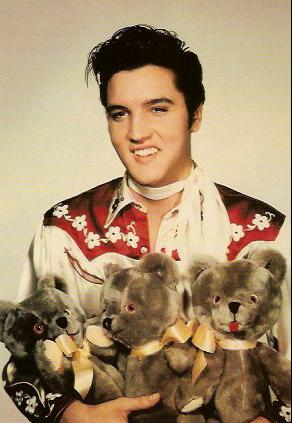 "What were you doing last night?" Williams asked (politely, he claimed).
"I wouldn't ask you that," Elvis responded in a "soft southern accent," according to the columnist.
"I wasn't trying to be personal," Williams purred. "I just thought maybe you were at a movie party or recording or something."
• Dick Williams was Elvis' bitterest critic
Dick was not always as gentle in his treatment of Elvis as he claimed on the Paramount lot that day. In fact, among the dozens of Presley detractors in the press during those early years of the singer's career, none was more virulent and hostile than Dick Williams. Once at a Kentucky barbeque for a film premiere in Louisville, Williams refused when Colonel Parker tried to pin an Elvis button on the writer's coat. "I have made some rather pointed comments on Elvis' professional ability at various times in the past," Williams later stated in his column. "If it ever got out in Los Angeles that I wore an Elvis button, even momentarily, I'm afraid I would never live it down."
Whatever the nature of those previous "pointed comments," they were certainly mild compared to the vitriol that spewed from Williams's pen on October 29, 1957, the day after Elvis' appearance at the Pan Pacific Auditorium in Los Angeles. Williams called Elvis a "sexhibitionist" and likened his concert to one of the "uninhibited party rallies which the Nazis used to hold for Hitler," and proclaimed the show "a corruption of the innocent." Williams continued blasting Elvis in several followup columns.
But the previous March, during his lunch meeting with Elvis, it was a different Dick Williams who interviewed Presley about his role in Loving You. The columnist was a regular "Rona Barrett," asking Elvis muted questions and making cheesy observations.
"Elvis invariably eats the same lunch every day," Williams revealed. "It consists of mashed potatoes with gravy, sauerkraut, crisp bacon and two glasses of milk. He eats strictly southern chow. He doesn't like beef, lamb or fish. He sticks to ham and pork and an occasional chicken dinner."
This day, however, Elvis told the waitress not to bring his usual. "Honey, I don't think I want anything today," he said. "Well, maybe I'll have one of those fruit Jell-Os with whipped cream on it."
• Hollywood was a lonesome town to Elvis
Williams noted that Elvis was intent on a movie career. "What I got to learn to do now is project myself," the actor explained. "I don't have any trouble with learning the lines. Memorizing was always easy for me."
How does he like Hollywood? "I like it fine," Elvis answered with no great enthusiasm, according to Williams, "but I get lonesome and blue. Chill Wills told me a year and a half ago that the bigger you get to be, the lonelier you get. I guess that's right."
"But why are you lonely?' probed Williams. "Your parents are here visiting you. You've got plenty of girl friends, I hear. Your pals are with you. You're cleaning up on the money end."
Elvis shook his head. "I don't know exactly," he said. "I guess maybe I'm lonely for home. I haven't been there much in the last two years. But it's a funny thing. When I get home, after a week or so I'm itchin' to go again. But someday, I reckon I'll settle down." Of course, Williams had no way of knowing, but the personal anxiety Elvis voiced that day over lunch was similar to that felt by Deke Rivers, the character Presley was then portraying in Loving You.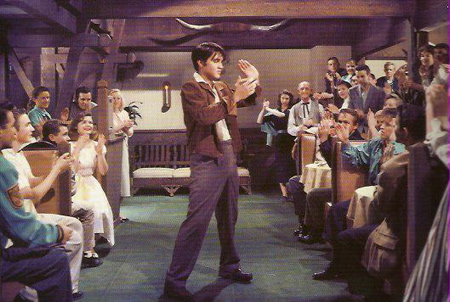 • "Behind the scenes" with Loving You
Besides reporting on Elvis' mood that day, in later columns Williams also included some "behind the scenes" notes surrounding the production of Loving You. Some of the insider details he revealed include the following.
• "Elvis drives a $10,000 gorgeous white convertible, and one sequence called for the car to be covered with loving messages written in bright red lipstick by ardent teen-age fans. This posed a problem for the studio, for it was impossible to remove the lipstick without ruining the paint. A property man finally found a solution: a mixture of red show-card coloring, cornstarch and water looking exactly like lipstick, but rubbed off leaving the paint sparkling white."
• "During the filming of [Loving You] at Paramount, the studio was deluged with an average of five hundred telephone calls a day for Elvis. Some came as far away as London. While the callers were predominately female, there was a surprising number of boys phoning."
• "One day the officer on duty at the main studio gate was approached by a couple, and the man said, with a Southern accent, 'Howdy, officer. Can you tell me how to get into this place? We've got a boy working here.' The officer politely inquired whom the lad might be. Before the man could finish Elvis Presley, the gates were opened, and Mr. and Mrs. Vernon Presley of Memphis, Tennessee, were ushered in."
• "Hundreds of teen-age fans lined up at the gate to watch their idol drive out in his white Eldorado Cadillac at the end of the day. They wanted to take photos, be photographed with him and have him sign autographs. This sometimes took as long as two hours, and while Elvis was cooperative, he came to work around eight each morning and didn't leave until almost seven p.m. So the police chief of the studio hired six extra securing officers to clear the way for Elvis to drive out at night."
• "While Elvis was making [Loving You] the mail department received conservatively two thousand pieces of mail each day for him; one teen-ager was sending him her 128th letter. The mail was turned over to Colonel Parker's secretary and it was her duty to see that it was sorted and answered correctly. A great deal of the mail was shown to Elvis, and he spent a couple of hours each day signing letters and autographing specially requested photos."
• "On the set of [Loving You] Elvis became nervous if interrupted by members of the press, so the set was closed during the shooting so that he could concentrate on his acting."
• Dick Williams more than just a villain in Elvis' career
To say the least, such harmless reporting on Elvis and Loving You by Dick Williams didn't stir up anywhere near the controversy that did his later incendiary column about Elvis' live show in LA. And while Dick Williams' place in Elvis Presley's biography will always be based on that one column, it is unfair to judge any person by a single incident or, in Dick Williams' case, a single column. For Elvis fans, Williams unearthed some interesting information about both Loving You and its star that day he lunched with Elvis and poked around the Paramount lot. —Alan Hanson | © August 2010


Go to Elvis in Hollywood

Go to Home Page