Mary Tyler Moore
Elvis Presley's Last Leading Lady
"Strange casting" … At the time, that's what Mary Tyler Moore called her pairing with Elvis Presley in the 1969 film Change of Habit. Professionally, Presley had established an on-screen persona as an aggressive lothario forever in pursuit of his sexy leading ladies. Moore's prevailing image was based on the wholesome, suburban housewife she played on The Dick Van Dyke Show from 1961-66.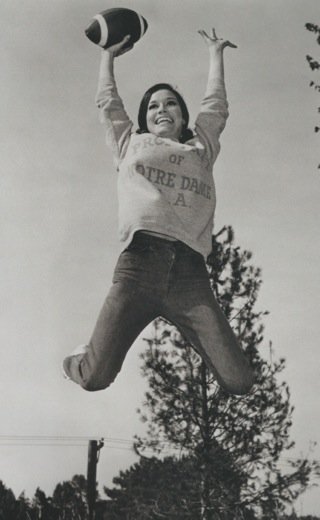 Change of Habit would prove to be a momentary juncture in two careers headed for greater heights—Presley on the Las Vegas stage and Moore on the award-winning TV show bearing her name. As a result, over the years little notice has been given to their work and personal relationship while filming Change of Habit at Universal Studio in Los Angeles during the spring of 1969.
The casting of Presley and Moore opposite each other was more the result of convenience than design. Under an exclusive contract with Universal, Moore was coming off a successful performance in 1967's Thoroughly Modern Millie.  Featured second to Julie Andrews in that film, Moore was then ready for top billing in future movies. In her 1995 autobiography, Moore wrote that one of the films she was "asked" to do by Universal was Change of Habit.
Presley wound up in the film because the deal with NBC to produce his acclaimed 1968 TV special gave Universal the rights to make one Presley movie. Apparently, as with all of his previous films, Elvis had no script approval. He simply showed up on the Universal lot to fulfill his obligation on March 5, 1969, just nine days after he appeared in Las Vegas to publicize his return to live performances there in the coming summer.
Mary Tyler Moore seems to have misunderstood Elvis' strictly dutiful commitment in doing Change of Habit, which would be the last theatrical film of his career. In her autobiography, she contended, "He was looking for a film that would require none of his typical rock-star gyrations but would illuminate his acting ability … Apparently, the studio was able to convince Elvis that this choice would pave the way for dramatic recognition."
• Book uncovered the story of Change of Habit
General knowledge about Change of Habit and its two famous costars increased tremendously recently with the publication of Pål Granlund's impressive book, titled simply "Change of Habit." Granlund pulled together dozens of cast and crew interviews by Bill Bram, movie reviews, articles, and hundreds of photos from the film and behind the scenes. Unfortunately, Mary Tyler Moore was not among the many actors and crew members Bram interviewed. However, comments about her from others, including second billed actors Jane Elliot and Barbara McNair, reveal much about Moore during her work on the film. Much of the information below comes from Granlund's book.
In a December 1969 article in Coronet Magazine, Moore acknowledged a liking for Presley non-rock 'n' roll music, but not his movies.
"I was an Elvis fan before I ever met him, but probably later than most girls were. I began to like the way he sang when he began to put more feeling into his songs. You know, I thought anybody who had been the center of all that insanity for so long would have some of it rub off on him … Most of my preconceived notions were not borne out. For instance, I was very surprised at how awfully good he is as an actor."
 In her autobiography, Moore recalled her first meeting with Elvis at Universal:

"He confessed right from the start that he'd had a crush on me since The Dick Van Dyke Show. He was so shy about it he was literally kicking at the dirt below him as he talked. He had a tendency, even though I was younger (she was 32, Elvis 34), to call me 'ma'am' out of respect: 'Yes ma'am. Be right there, ma'am.'"
Despite their professed respect for each other at first meeting, a contrast in their personalities was obvious to most in the cast and crew. Director William Graham noticed it. "Mary Tyler Moore was wondering what she was doing in an Elvis Presley movie," he noted. "And I remember that she was a little bit on the prissy side, but that was okay because she was playing a nun, so I would expect her to be a little bit reserved."
For her part, Moore found playing the part of a nun a bit discomforting. She explained during a promotional interview in 1969:
"I went to Catholic school, both grammar school and high school, and I was taught by nuns all my life. And it really did make me feel funny because they were always the subject or the object of my respect and awe, you know. They were mysterious ladies, not so much anymore these days as they're dressing pretty much the way everybody does. But it did make me feel funny, and I did find myself holding and fingering the rosary that was draped on the belt, and moving my head in a stiff manner, not snapping it around as I normally do. It did indeed make me feel very strange."
• Mary Tyler Moore didn't socialize … or did she?
In Bill Bram's interviews, both of Moore's fellow nun actors, Jane Elliot and Barbara McNair, mentioned her resistance to mingling with Presley and his boys. "I socialized with Mary and Barbara and Elvis," Elliot recalled. "I sort of moved between the two camps … She didn't get involved. She didn't socialize."
McNair added, "I didn't talk to her much because she really was kind of standoffish. She wasn't easy to get to know. At lunchtime, the lunch wagon would come and everybody would eat together. She never ate with us. She ate in her own dressing room … She didn't really socialize so I never got to know her."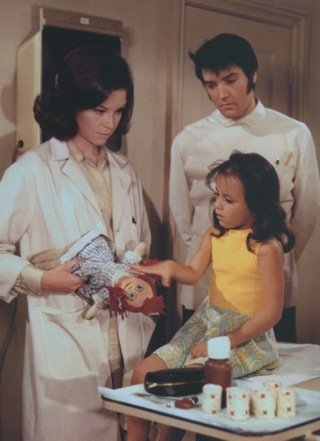 Mary Tyler Moore, however, saw things differently. In an interview at Universal City during the filming of Change of Habit, she described a social atmosphere that she shared with her fellow actors on the set.
"Well, you know, you fool around on the set, and you chat and you joke and you play records, and whatever. And yeah, the three of us, Elvis and Barbara and I had a great time together. We had a couple of nights of shooting where you start—because you need the dark—we'd start shooting at 7 o'clock in the evening and wind up at 5 in the morning, and that's insanity time, you know. And the only thing that kept us going was the camaraderie on the set."
• Allowances made for Mary Tyler Moore's diabetes
Part of the reason she was seen as standoffish by some in the cast might have been the special dietary regimen she followed to deal with her diabetes. (She was officially diagnosed with type 1 diabetes a year later.) Barbara McNair said, "I realized later—I didn't know it at the time—that she had a diabetic condition and could only eat certain kinds of foods. So, she used to bring her own lunch to the set." Actress Virginia Vincent recalled, "She didn't eat much for lunch. I'd say, 'All you're eating for lunch is an apple?' And she'd say, 'Yes, that's it.'"

Moore's diabetic condition also required special attention during filming. Director William Graham explained. "She was also very concerned about how she looked on camera because she suffered from diabetes, which caused her skin to be prematurely wrinkled. And so (Director of Photography) Russ (Metty) was always required to put a special light on her, a light that was right beside the camera so, even if we had a three-shot, she would kind of stand out with a kind of heavenly glow that was created by this light."

• MTM: "Cooperative" … "Work ethic" … "Maintaining a constant level"

Mary Tyler Moore's fellow actors might have wished she had been more social on the set of Change of Habit, but none of them questioned her professionalism and work ethic during filming. Director assistant Walt Gilmore recalled that Mary was "lovely to work with … She was wonderful—very nice lady, very cooperative—a real nice person. Always knew her lines, never complained, never demanded anything—and she could have." Director Graham agreed: "She's a wonderful actor and a wonderful person, and she did a fine job in the movie."

Jane Elliot, who played Sister Barbara Bennett in the film, was a young actress who acknowledged learning much from working with Mary Tyler Moore:

"I liked her work ethic … Making a movie is an extremely arduous, slow process … When you do a movie, if you're lucky, you do three pages a day. Which means the preponderance of the day is spent not sweating and not working, and Mary found a way to keep her energy up, to maintain herself through the hours of sitting around … She took really good care of herself in order to preserve herself for the work. I learned a lot about that. I learned a lot about maintaining a constant level through a day's work."

• Mary Tyler Moore and Elvis Presley's working relationship

Moore has always praised Elvis Presley's's acting ability and said she enjoyed working with him. In the 1969 promotional interview, she said of Elvis, "It is strange casting, but it works; it really does work. He's awfully good in it." On a personal level, she added, "He's charming and sensitive and considerate, and I just enjoyed it immensely." In the 1969 Coronet Magazine interview, she continued her praise of Presley. "It's not just that he always knew his lines; that's true of any real pro. It's the way he probes the character. And he is a lot more fun that I'd have guessed. I think he'd be a fine comedian." She concluded, "I've never worked with a more gentlemanly, kinder man."

In her autobiography, written 26 years later, she declared, "The experience of working with Elvis was a nice one. He was in peak form during that time, careful about what he ate and exercising as if he enjoyed it. He was a thorough professional: always prepared."

Elvis never publicly voiced his professional or personal thoughts about Mary Tyler Moore. Even Presley's "loyal" retainers have seldom mentioned her in their tell-all books through the years. However, some members of the cast and crew of Change of Habit have contended that contrasting personalities created a degree of personal separation between Moore and Presley. Assistant cameraman Frank Thackery observed that, "She didn't know what to think of Elvis. She liked him, but she stayed at a little bit of a distance. She wasn't snobby at all; she just stayed to herself."

In the Granlund book, actress Jane Elliot provided a blunt assessment of the gap that existed between Presley and Moore:

"The truth is, working with Mary was the more difficult for him because they worked so differently and they didn't really have a mutual ground to meet on. Elvis and Barbara, Barbara and me, me and Elvis—he felt more accepted and comfortable. I don't think he felt that either Mary liked him or understood him. Elvis was not comfortable with her because of her inaccessibility. Elvis was a good ole boy. He thought the funniest thing in the world was to light a firecracker, and throw it into a dressing room and slam the door … That was so not Mary's style. I was in my early 20s and Barbara was a good ole girl, so we all could relate on that level and he felt accepted and comfortable and safe. He did not feel safe with Mary."

• The "rage reduction" and "football" scenes

Among the many interesting anecdotes in Bill Bram's interviews in Granlund's book concern two scenes in the movie. First is the "rage reduction" scene, in which Elvis, in his role as a doctor, uses a controversial physical procedure to treat a young, autistic girl. Mary and Elvis had witnessed a demonstration of the procedure before filming the scene, and both were said to be "shaken up" by it and "uncomfortable" with the scene in the script. During the filming of the scene, the child, who was not an experienced actor, became very agitated.

According to Barbara McNair, "Mary Tyler Moore … was very upset about that scene. There was a doctor that came with the child and he knew how to handle the child. She felt he was abusing the child. She didn't want to shoot the scene. She didn't want the doctor to do what he had to do to get that child to have the reaction that was necessary."

Cynine Troup, an assistant script supervisor, described how it ended that day:

"Finally—I have never forgotten this— Mary Tyler Moore stopped it. She said: 'I will not permit this any more. This child is hysterical. We will do this no more. The child has to go … Everybody stopped and walked away … We stopped shooting that scene and went on to something else. A few weeks later, they finished the scene … It was awful, but Mary Tyler Moore was the best."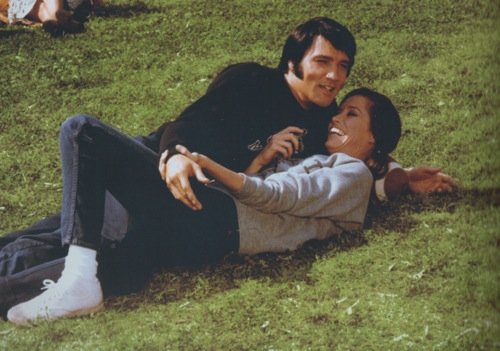 In the same Bill Bram interview, Cynine Troup told a humorous story about the football game scene, shot at Magnolia Park in North Hollywood. Troup heard an assistant director talking with someone about whether or not a double would be needed for Mary Tyler Moore in the football game.
"They were talking; it was not a big deal. 'She just has to run a little bit. She can do it. We do not need a stunt-double.' They asked her about it and she said, 'Is that the game where the ball with real funny shape is?' And they said, 'Excuse me—we need a double for Ms. Moore.' That is how much she knew about the game. They got a girl to double for her—a blonde who obviously put on a wig. She was used on the wider shots where Mary Tyler Moore is seen running."

• Mary Tyler Moore and Elvis … was there a love affair?

Despite testimony by members of the cast and crew that a personality gulf existed between Mary Tyler Moore and Elvis Presley during filming of Change of Habit, speculation that a love affair, platonic or otherwise, existed between them still exists. For starters, when they worked together, both were married and had a child. Elvis had been married to Priscilla for two years and Lisa Marie was a year old. Mary Tyler Moore was seven years into her marriage with CBS executive Grant Tinker. She had a 12-year-old son from a previous marriage.

Of course, other existing connections don't necessarily keep people from making new connections. For those with inquiring minds, here is some gossip that might suggest Elvis and Mary Tyler Moore had a romance. In published interviews in 1969, she called Elvis "charming" and "gorgeous." In a TV guide interview in 2014, Jane Elliot was asked if Elvis had made a pass at her. "He made a pass at everybody!" she responded.

Actor Robert Deanda recalled the scene in which Elvis tackled Mary in the football game at the park. "Then they do a brief scene lying down on the grass and he kept tickling her, just being flirty. She kept going, 'Elvis, cut it out … Elvis … Now come on!'"

Elvis may have been willing, but the preponderance of evidence suggests that Mary was not. At the "wrap party" following the end of filming, make-up artist Jim McCoy observed, "Elvis was trying to put the make on Mary but she wouldn't go for it." And in her 1995 autobiography, Moore wrote, "I was his last leading lady. The King would slyly say later on, 'I slept with every one of my leading ladies but one.' I don't want to bust anyone's cover, but I know who the 'one' is."

Although she demurred from any romantic tie with Elvis Presley, Mary Tyler Moore still saw in him a kindred spirit. For an article in Parade magazine in 2009, writer Kevin Sessums asked Moore which of her leading men—which included Robert Redford and James Garner in addition to Elvis—was "most her type." She answered, "I think maybe Elvis, because he went so against the grain." — Alan Hanson | © August 2015
Photos above from "Change of Habit" by Pål Granlund