"Memphis Mafia" Monikers 




Nicknames in Elvis Presley's World
"Elvis had some kind of pet name for almost anybody who spent some time around him, an outgrowth of the baby talk routine he'd gotten into with his mother years before," explained Elvis insider Alan Fortas in his 1992 book, Elvis: From Memphis to Hollywood. These nicknames were assigned to dozens of people, some by Elvis and others by members of his "Memphis Mafia," which is itself a group nickname that Elvis embraced.
These alternate names usually were used humorously or affectionately, although some were put-downs used behind the designated person's back. Most were based on an obvious physical characteristic of the person being so labeled.
Relatives, musicians, movie co-stars, friends, employees—all who entered Elvis' world, even fleetingly, could potentially find themselves tagged with nicknames. Let's start with 10 members of Elvis's inner circle, the "Memphis Mafia." Within the group, virtually everyone sported an alternate name, and some had several. Check out the following list of nicknames and see how many you can identify among Elvis's crew. Then read on to see how many you got right.
"Moon" / "Birdy" / "Broom" / "The Swami" / "Milk" / "Hog Ears" / "Marble Eyes" / "The Great Explainer" / "Charlie Copper-Cod" / "Crazy"
In addition to Fortas's book, some of the following information comes from the 1995 volume, Elvis Aaron Presley: Revelations from the Memphis Mafia, by Billy Smith, Marty Lacker, and Lamar Fike.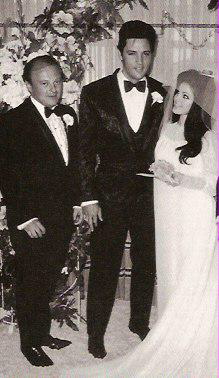 • "Moon": Marty Lacker
A friend of Elvis' since high school, Marty was employed by Elvis from roughly 1960-1967. He performed many duties for Elvis, including those of personal secretary and bookkeeper. He was co-best man at Elvis's wedding.Marty remembers how Elvis gave him the nickname "Moon" during a cross-country bus trip. Marty says it started with Joe Esposito mimicking Andy Williams's song, "Moon River," "Joe Esposito sang out 'Mooo-oon Lacker,' because my face is round and I had lost most of my hair. Elvis looked back at me, and he said, 'Moon Lacker, you poor old bald-headed son of a bitch.' And he started laughing and almost crashed the bus. From that moment on, they started called me 'Moon.'"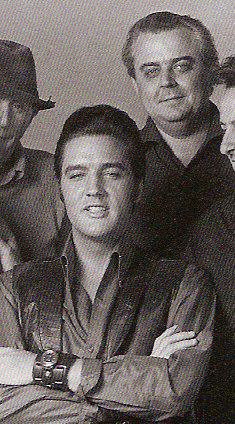 • "Birdy": Lamar Fike

A charter member of the Memphis Mafia, Lamar toured with Elvis starting in 1957. He accompanied Elvis on his army deployment in Germany in 1958-1960. As a Nashville music company executive, he found numerous songs for Elvis to record in the '60s and '70s.
Alan Fortas said Elvis called Lamar "Mr. Bull," then later "Lardass," "The Wrestler," "Buddha" and "The Great Speckled Bird." According to Lamar, "Sometimes as a term of affection, he'd call me 'Birdy.' I guess it was because my eyes were big, like an owl's."
•"Broom": Richard Davis
On and off for about eight years in the 1960s, Richard served as a valet with Elvis' movie wardrobe. Although he left Elvis' employment in 1969, Richard remained Elvis's close friend for the rest of Elvis' life.
Billy Smith recalls, "Elvis called Richard 'Broom' because he was so skinny. He was a lot of fun. Whatever you wanted to do, he was in for it, regardless of how rough it got."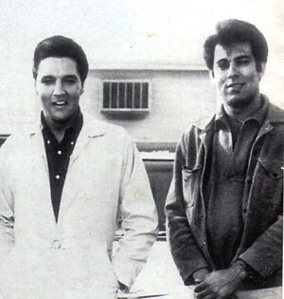 • "The Swami": Larry Geller
Larry became Elvis' personal hair stylist in 1964. His interest in and knowledge of religion and the occult fascinated Elvis, who read numerous books about spirituality that Geller provided. Colonel Parker and others, fearing Larry's growing influence over Elvis, tried to get rid of him, but Elvis remained loyal to his spiritual adviser.
Elvis called Larry "Guru," but Marty Lacker had another nickname for him. "Geller really filled Elvis' head with all that stuff," he recalls. "I started calling him 'The Swami.' Then everybody used it."
• "Milk": Jerry Schilling
Jerry became a full-time Elvis employee in 1964, and served as Elvis' personal aide until 1976. He was with Elvis for the bizarre meeting with President Nixon in 1970. Billy Smith brought Schilling into the group. "I think he first met everybody when he played touch football with the guys, and he was coming to the movies and the fairgrounds," Billy recalled. "We called him 'Mr. Bodybuilder' because he was athletic. Then we called him 'Mr. Milk' and finally just 'Milk.'" One of Elvis' pet names for Jerry was "Cougar."
• "Hog Ears": Alan Fortas
Alan was on Elvis' payroll from 1958 until around 1969, serving as a bodyguard and general assistant. One of Elvis' closest confidants, Alan was asked by Elvis to be on stage during the sit-down segments of his 1968 "Comeback" TV special.
"He called me 'Hog Ears,'" Fortas explained, "partly because my ears were larger than most people's, and partly because he wanted to give me a kind of football players's nickname—like 'Night Train' Lane or 'Refrigerator' Perry." In his book, Alan printed a rare letter that Elvis sent him from Germany in November 1958. It starts, "Dear 'Hog Ears.'"
Later the guys gave Alan another, less affectionate nickname. "He just smoked too much," noted Marty Lacker. "We used to call him 'The Hacker' because he coughed all the time."
• "Marble Eyes": Billy Smith
Elvis and his cousin Billy Smith grew up together and never were far apart as adults. Billy and his wife Jo lived in a trailer behind Graceland. Billy helped manage Elvis' costumes on the road in the '70s and served as Elvis' valet at home. Elvis called his cousin "Marble Eyes" because Billy had such big eyes. Jo Smith, Billy's wife, remembers that Elvis, "wanted Billy to be out of the trailer the minute he woke. He'd call and say, 'Is Marble Eyes' up?"
• "The Great Explainer": Sonny West
Sonny was responsible for the care and maintenance of Elvis' cars, motorcycles, and other motorized vehicles. Outside of Graceland, Sonny was one of Elvis' bodyguards. After he was fired in 1976, he helped co-author a book that revealed Elvis' chronic drug use.
"Sonny was the type of guy who would talk forever on different subjects," noted Lamar Fike. "We used to call him 'The Great Explainer.' He could explain water. He'd tell you a story, and if it took five minutes, he'd stretch it out to an hour. He was a dreamer."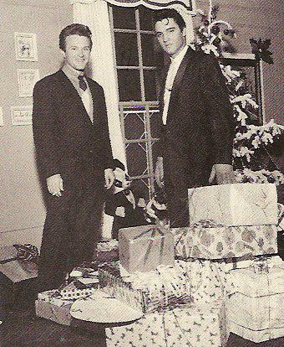 • "Charlie Copper-Cod": Cliff Gleaves
An early member of the Memphis Mafia crew, Cliff worked on movie sets and toured with Elvis in the 1950s. He spent some time with Elvis in Germany in 1959. For several years after that, Cliff occasionally would show up at Graceland.
"Cliff was the consummate con man," according to Lamar. "He started hanging out with Elvis real early, before most of the rest of us. He was amazing. He lost a nut—a testicle—in the Korean War. When Elvis got mad at him, he'd call him a 'one-codded bastard.' Charlie Copper-Cod. That was Cliff Gleaves."
• "Crazy": Elvis Presley
Although Elvis had a nickname for all of the guys, Alan Fortas said he was touchy about a moniker being put on him. "Gene (Elvis's cousin) was the one who first started calling Elvis 'E.' Elvis didn't mind that coming from Gene, but then a lot of guys who wanted to fit in would call him 'E,' or 'El,' or some variation like 'Big E' or 'Big El,' and he didn't go for that at all. He didn't like being called 'Presley,' either."
In the seventies, though, when Elvis' fascination with guns sometimes resulted in bizarre behavior, the guys began referring to him behind his back by a new nickname. Marty Lacker remembers: "Lamar and some of the others started calling him 'Crazy.' They'd say, 'What's Crazy doing today?'" — Alan Hanson | © November 2010
Go to Elvis Universe

Go to Home Page