Millie Perkins
Elvis' Girlfriend in Wild in the Country
Millie Perkins brought an element of respectability and modest star power to the cast of Elvis Presley's 1961 film, Wild in the Country, even though she had only one film on her Hollywood resumé at that time. In 2009, Perkins recalled how she, at the age of 19, suddenly found herself playing the title role in the 1959 film, The Diary of Anne Frank.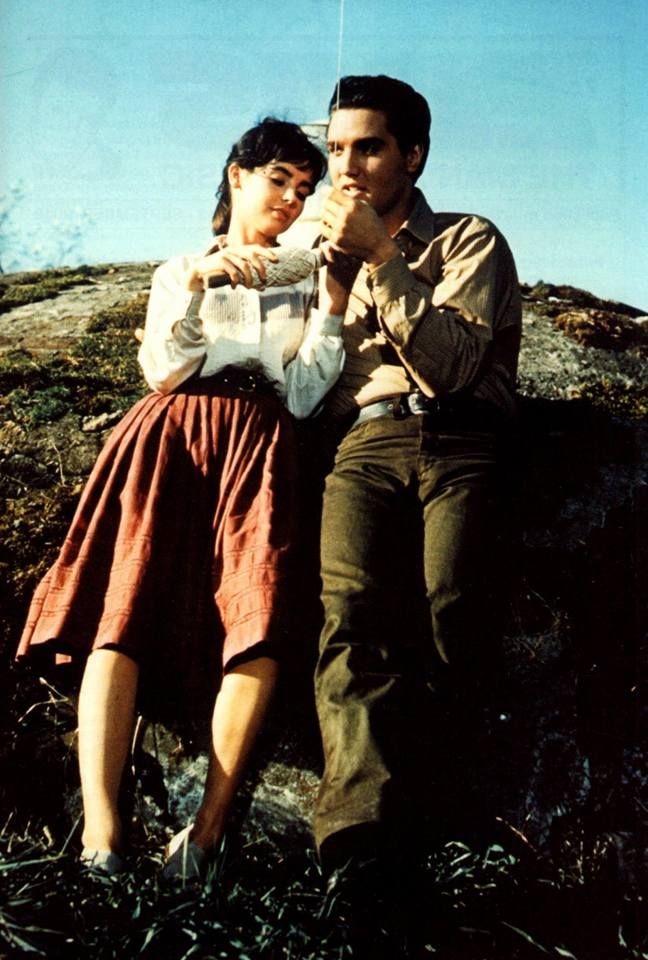 "I had just started modeling in New York City, and I wasn't even interested in acting. I never even saw the play. (Director) George Stevens saw my photos and asked the people from 20th Century in New York to give me an interview test. Afterward, I left for London and Paris for some modeling assignments, and while I was gone they called me and asked me to come to California. I was reluctant. It seemed silly to be an actress! I turned them down at first, and they couldn't understand why I wasn't mad for Hollywood. Two months later, George offered me the part. Once I got involved in the movie, and understood the story, I understood Anne Frank and I knew who she was. Her story hit me in my heart and soul, and there was no question in my mind that I would do it and do it right."
After receiving favorable reviews for her portrayal of Anne Frank, Perkins signed a contract with 20th Century Fox. The studio struggled to find her roles, and she did not appear in another film until 2½ years later when she was cast in the role of Betty Lee Parsons, Glenn Tyler's (Elvis Presley) girlfriend in Wild in the Country. Her role was a modest one compared to those of Hope Lange and Tuesday Weld, whose characters attempted to pull Glenn away from her in opposite directions. Still, Perkins' past glory in the Anne Frank film earned her shared second billing with Lange and Weld in the Presley film.
• Perkins had limited exposure in Wild in the Country
Millie Perkins appears in five scenes in Wild in the Country. Ten minutes after the opening credits, her relationship with Glenn is established in a two-minute scene, during which the meek Betty Lee pleads with her hot-headed boyfriend not to look for trouble. Twelve minutes later, Glenn picks up Betty Lee at her home for what, at five minutes, would be Perkins' longest scene in the film. As they drive along, Presley sings her a song to music playing on his truck's radio. Later, at a road house, Betty Lee pulls Glenn away to keep him out of a fight. Nearly 25 minutes pass before Perkins' next scene, which has the young lovers flying a kite, and then sharing a passionate kiss before Betty Lee's father runs Glenn off. That scene runs a mere 90 seconds, as does Perkins' last scene in the movie. A troubled Glenn seeks her out for help after a violent confrontation with another man.
Perkins' character has no role in the second half of Wild in the Country. She's seen in two quick shots sitting quietly with her mother at a coroner's inquest near the end of the film, and she appears briefly in the End Credits, along with Lange, Weld, and Presley. Altogether, Millie Perkins appears in only about 10 minutes of the film's running time of one hour and 54 minutes.
 • The hoped for classy film failed to materialize
In several interviews over the years since her appearance in Wild in the Country, Millie Perkins has commented on the film and her interactions with Elvis Presley during its production. In a 1990 interview, she recalled the optimistic expectation shared by the cast and crew when it first gathered on location in Napa Valley in early November 1960.
"I think that everybody making the movie thought, 'We're classier than all those other Elvis Presley movies. We're so much better.' Everyone was going around patting themselves on the back for being artists; they were going to do something with Elvis that other people couldn't, or didn't want to, do—and I think they didn't come up with the goods at all."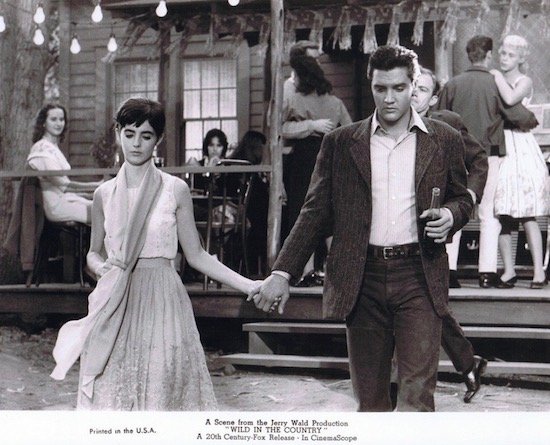 Although she sounded polite in her judgment of Wild in the Country in 1990, she was much more direct in a 2017 interview. "I thought the movie was awful," she said then. One particular scene that she criticized in both interviews was the one in which Elvis sang to her. She explained the scene setup in the 1990 interview.
"I remember doing this one scene; we were sitting in a truck, and we were supposed to be driving home from a dance or going to a dance, and in the script he was supposed to break into song, turn on the radio and start singing. And to me it was like, 'Yuck.' I was very young, and I thought, 'My sisters are going to tease me, this is so embarrassing and tasteless.' You see, I was a snob, too. But—and this was the nicest thing—while we were rehearsing, finally the director walked away, and Elvis looks at me and says, 'God, this is so embarrassing. Nobody would ever do this in real life. Why are they making me do this?' So there we were, both of us having to do something and we just wanted to vomit."
• "There was a mutual respect between us"
According to Presley biographer Peter Guralnick, the original plan called for a straight dramatic film without Elvis singing, which might have prompted the cast's initial upbeat assessment of the proceedings. However, in preproduction, five Presley vocals were recorded for use in the film, with only two of them making the final cut. Perkins' repeated disgust with the scene of Elvis singing "I Slipped, I Stumbled, I Fell" to her may have doubly irritated her because it took up fully a quarter of her film time in the movie.
While critical of the film, Perkins was very gracious in her comments about Elvis. In the 1990 interview, she said, "Elvis turned out to be someone I liked very much … Certainly he treated me as if he cared about me; there was a mutual respect between us." She went on to praise Elvis in a profoundly personal way.
"I felt like he was younger than me, this very humble person who would make statements about what he believed in. And I would think, 'He's saying that to show me he's a fine human being.' All I know is that there was a person there with a refined heart and soul, and I say refined on any level you want to look at it. When you meet someone like that, you know they're there, even if they're sitting there eating fifteen lollipops—that's beside the point. That's just what they're doing at that time, but that's not the essence of the person." 
• Who's to blame for Wild in the Country's failings?
Biographer Guralnick concluded that most of the blame for Wild in the Country's failure to meet expectations falls on it's lead actor.
"If you were to pick out the one thing that is desperately wrong with Wild in the Country, leaving aside a script that is freighted with all the 'sensitive young man' clichés of its time—it is Elvis Presley. He simply seems lost in the role, ambling his way through it, alternating between bouts of sullenness that start and end with bombastic declamation and equally silly posturings of trembling sensitivity. He is flat, he blurts out his lines, there is an almost total absence of timing, conviction, commitment, tone."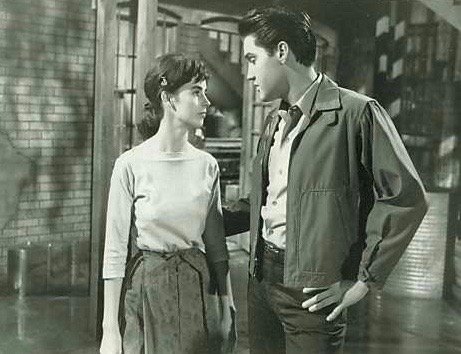 Millie Perkins, however, felt that director Philip Dunne let Elvis down in Wild in the Country. "[Elvis] tried very hard to make this film better than his other movies, and you saw him trying and asking questions," she said in 1990. "And I just believe the sad thing is that [the director] did not have the ability to help Elvis through it." She added:

"[Elvis] never used his star power—never. Maybe he should have. Maybe he did it on some other level, but he sure didn't do it on the set. I felt like Philip Dunne fawned all over Elvis. I saw Elvis looking around that set and summing up people faster than anyone else could have, and I felt that after a short period of time he was disappointed in Philip Dunne, but he was too polite and well behaved to say anything."
• Millie Perkins' career sputtered after Wild in the Country
Although Millie Perkins continued on contract at 20th Century Fox in the 1960s, the studio gave her little work. George Stevens, who cast Perkins in The Diary of Anne Frank, would later say of her, "Millie did not fit in. She was 10 years too early." In the 2007 interview, Millie agreed that she lacked the "profile" in vogue for actresses in that period. 
"20th Century Fox was not coming up with anything for me, because I was skinny. I didn't have any breasts. I was not their type. At that time, Marilyn Monroe, Jayne Mansfield, and Sheree North were the big names at the studio. I was a pain in the neck to them. They never found anything for me."
The studio eventually dropped her. She appeared sporadically in a few films later in the sixties and seventies, but nothing that brought her anywhere near the notoriety of Anne Frank for even Wild in the Country. In the 1980s and 1990s, she appeared in some made-for-TV movies and as a recurring character in a few TV series, most notably "Knots Landing" from 1983 to 1990. 
At the age of 52 in 1990, Millie Perkins played the role of Gladys Presley in the TV series "Elvis." In a 2012 interview, she was asked, "What insight did you have about his relationship with Gladys that allowed you to understand her better when you played her?" Perkins responded:
"We shot the show in Memphis. It only ran for 13 episodes, despite great reviews. Priscilla produced it, and when I went to Memphis, I heard all the negative things about Gladys—that she's a drunk and overweight, and no doubt she had problems before she died. But I met her best friends, and one of them told me that when Gladys once drove near a mental institution, she said, 'If Elvis signs with that Colonel Parker, he'll be dead by the time he's 40, and I'll be in that mental ward.' Of course, Elvis died when he was 42. She just knew Colonel Parker wouldn't treat her son as he needed to be treated."
As for how Elvis treated people, Millie Perkins learned first-hand how well his mother had raised him in that respect. Looking back at her experience with him in Wild in the Country, Perkins asserted, "The essence of Elvis was as fine a person as I've ever met; he treated me as well as anyone has ever treated me in this business." — Alan Hanson | © November 2017