Nancy Sinatra
Elvis Presley's Leading Lady in "Speedway"
Various Presley outlets through the years have reported that Nancy Sinatra was not MGM's first choice to play opposite Elvis in his 1968 film Speedway. Allegedly the role was first offered to British singer Petula Clark, who turned it down. If true, it seems strange that Ms. Clark was seriously considered. Musically she was on a role with 11 straight Top 25 hits on Billboard's Hot 100 between 1964-1967, but she was several years older than the 32-year-old Presley and scored low on the "hot" meter.
(Left: Nancy Sinatra with Elvis at army discharge press conference in 1960)
Nancy Sinatra turned out to be a better fit with Elvis at that time in her career. She followed up her 1966 #1 breakout hit, "These Boots Are Made for Walkin'," with three other top 10 records, including "Somethin' Stupid," a duet with father, Frank Sinatra, that topped the chart in March 1967, about the time she signed on for the Presley film. Plus, she had a decent acting credit with 1966's The Wild Angels with Peter Fonda and Bruce Dern.
A past history with Elvis added to her resume. She first met him on March 3, 1960, at his army discharge press conference at McGuire AFB in New Jersey. Frank Sinatra had sent his 19-year-old daughter to greet Elvis and drum up some publicity for Presley's first post-army TV appearance on Frank's ABC special to be broadcast in May. At the press conference, Nancy presented Elvis with two white silk shirts as a gift from her father.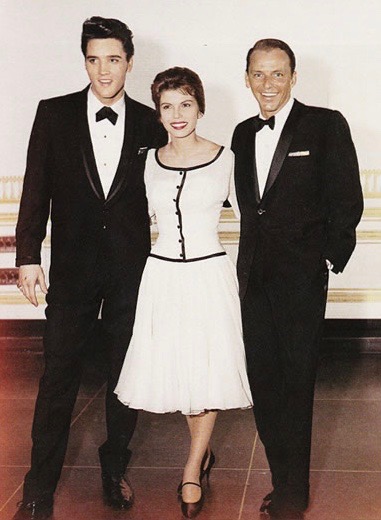 (Right: Elvis with Nancy and Frank Sinatra backstage in Miami, March 1960)
Nancy also appeared with Elvis on stage when the Sinatra special was taped in the grand ballroom of the Fontainebleau Hotel in Miami on March 26, 1960. Sponsored by the Timex Company, the program aired nationally on ABC-TV on Thursday, May 12, 1960. Other participants in the show included Frank's fellow rat-packers Sammy Davis Jr., Joey Bishop, and Peter Lawford. In its review of the broadcast  in May, Billboard noted, "Another feature of the show was Sinatra's daughter, Nancy, who displayed charm, poise, a pleasant singing voice, and an ability to dance."
• Careers of Nancy and Elvis converged at MGM
Much had happened in the careers of both Elvis and Nancy by June 19, 1967, when both reported to MGM for preproduction work on Speedway. According to Peter Guralnick and Ernst Jorgensen's book, "Elvis: Day by Day," on that first day Elvis presented his costar with a car that had "'Speedway' painted on one door and 'Starring Nancy and Elvis' on the other." Principal photography on the film began a week later on June 26.
In watching the finished product, it's tempting to compare Elvis' chemistry with Nancy Sinatra with that of his and Ann-Margret's vibe in Viva Las Vegas several years earlier. Such a comparison is unfair to Nancy, of course, as Ann-Margret's acting, singing, and dancing chops were clearly a cut above Sinatra's. In addition, Speedway's script dictated a delayed and awkward romantic relationship between Elvis' character, Steve Grayson, and Sinatra's character, Susan Jacks.
As an IRS agent investigating Elvis, Nancy is a prim and proper numbers girl at the start. While Elvis plays the lothario, as he so often did in his sixties' movies, to Nancy he was strictly "Mr. Grayson" for most of Speedway. Their relationship turns combative when his tax problems become an issue. "He doesn't send me," she says flatly, while Elvis gets downright nasty. "I wouldn't talk to that iceberg if we were dead broke," he declares, and he tells her, "I wouldn't send you flowers if you were the last person on Earth."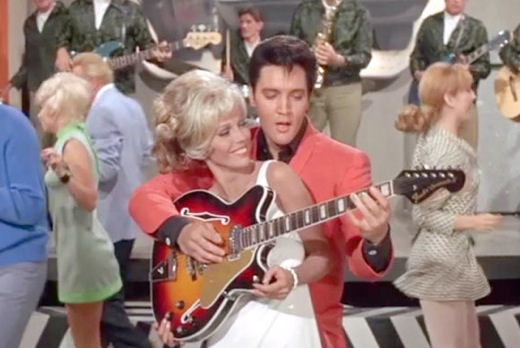 Things escalate uncomfortably, however, when Sinatra's character refuses to help Elvis get the money he wants. He manhandles her and gets properly slapped for doing so. When she flees, Elvis pursues, threatening to "knock some of that stubbornness out of you." He punches out a man trying to protect her, and then, like a cave man, drags her by the hand across the hotel lobby into another room. 
There he gazes into her eyes, commands her to "sit still," kisses her, and, as he sings a love song, she slowly surrenders to romance, even though she had moments before declared them "extreme opposites." It's nonsensical stuff that the best of actors couldn't have made convincing, especially compared to the sensitive manner in which Elvis and Ann-Margret's romance was allowed to blossom in Viva Las Vegas. Unfortunately for Nancy Sinatra, in Speedway, she didn't have a similar opportunity to play a more multifaceted feminine role opposite Elvis. 
Like Ann-Margret, though, Nancy Sinatra was given a solo musical number in her Elvis movie. While singing "Your Groovy Self," she had to throw in some dance moves. Of that production number, New York Times movie reviewer Renata Adler commented, "Miss Sinatra, however, is far better singing than dancing or acting; the 'These Boots Were Made for Walking' spirit is just too formidable in a dancer."
Respected movie critic Roger Ebert also took the time to review  Speedway in 1968. Not surprisingly, neither the film nor its costars impressed him.
"'Speedway' also reflects the ground rules of courtship established in old Ozzie and Harriet shows. Elvis is excessively proper in behavior with his various dates (one of whom is Beverly Hills, the Hollywood stripper whose charms rival Brigitte Bardot's, and another of whom is Nancy Sinatra, whose charms do not).
"There is a lot of coyness. 'You locked us in here on purpose,' Nancy pouts, and Elvis gets his extra key to prove he didn't mean to. Meanwhile, Nancy climbs out the trailer's window, which seems excessive under the circumstances. But maybe not. At least one of the girls in 'Speedway' is convinced by tape-recorded animal roars that the lions have escaped from the zoo, and that Elvis' trailer is the only safe haven. And so it goes, with Elvis buying a station wagon for a poor family, and Elvis arguing with the tax man, and Elvis climbing into his Plymouth, and Nancy Sinatra still desperately trying, at this late stage of her career, to sing." 
• Did Nancy and the King "get it on?"
Of course, when it came to Elvis and his leading ladies, inquiring minds desperately wanted to know the racy details of any hoped for off-camera romance. The Hollywood scandal magazines at the supermarket checkout lanes could always be counted on to stoke the rumor mill. It was no different with Speedway. "How Can Elvis Resist His Sexy Co-Star?" asked one headline, and another inquired, "Will Nancy Sinatra Steal Elvis From Priscilla?"
So, for those Elvis fans (mostly female, obviously) who have retained their inquisitive nature after all these years, let's take a quick look at what's known about Elvis and Nancy's relationship while filming Speedway back in 1967.
First, here's a sampling of the titillating commentary found in one of the aforementioned Hollywood rumor mags:
"When one gorgeous, voluptuous, absolutely mind-blowing girl like Nancy walks up to Elvis on the set of Speedway, Elvis' newest flick with Nancy as his romance, and says, 'I've idolized two people in my lifetime—my father and Elvis Presley,' we know there's nothing but trouble ahead!
"Can Priscilla withstand another siege? Will she come out on top as always? I wonder how stiff the competition really is. On one side, we have a very tantalizing woman and on the other, a wife and mother with much love in her heart for her husband. How do those odds stack up? Will Nancy steal Elvis from Priscilla? How do you vote?"
Now back to reality. In a 1995 book, Elvis Memphis mafioso Marty Lacker contended, "Of course, he was putting the moves on Nancy Sinatra … I guess you could say they had a flirtatious romance on the movie."
Nancy addressed the issue directly on Geraldo Rivera's TV talk show in 2004. "Did you and the King get it on?" Rivera asked. For a few seconds, Sinatra seemed shocked by the tactless question, but answered, "I wish I could say yes, but no … didn't happen … When we did the film, he was married and pregnant. There (were) very strict rules about that sort of thing." Rivera asked, "With your family?" She responded, "I don't know about my family … but with me. There was flirting, but just friendly flirting."
Nancy correctly portrayed Elvis' family situation when they were working on Speedway. Elvis married Priscilla on May 1, 1967, just seven weeks before reporting to MGM on June 19. According to Guralnick and Jorgensen, on July 12 Elvis told everyone on the set that his wife was pregnant.
By all accounts, Elvis was a serial cheater on Priscilla, both before and during their marriage. Would he have been willing to do so again at that emotional time for her? Marty Lacker thought so. "I don't think he saw anything wrong with fooling around," he concluded. "Just because Elvis was a newlywed and getting ready to become a daddy didn't mean he wasn't going to continue being Elvis."
How Elvis may have characterized the relationship will never be known, but the only other participant has declared it a friendship, and I see no reason to doubt Nancy Sinatra's memory.
• Nancy and Elvis crossed paths again in Las Vegas
Speedway was Nancy Sinatra's final film. Elvis Presley made just a few more before quitting Hollywood. Their careers continued in other directions before converging at a Las Vegas venue in late August 1969. When the International Hotel prepared to open its new, immense showroom that summer, it booked the biggest stars it could get for its initial engagements. Barbra Streisand opened the room in July, followed by Elvis in August. When Presley finished his four weeks on stage, he gave way to Nancy Sinatra's show.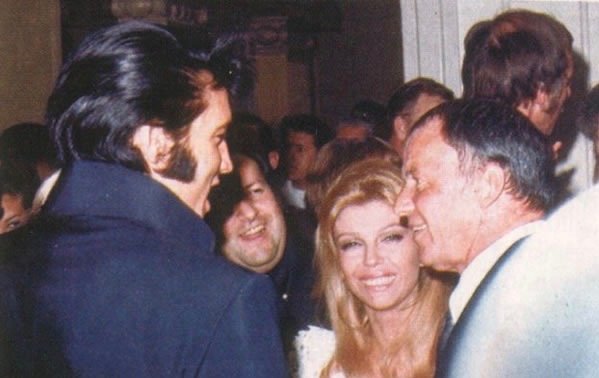 Elvis with Nancy and Frank Sinatra, Las Vegas, August 1969
In his Presley biography, Peter Guralnick described the evening when Elvis Presley and Nancy Sinatra met again just two years after they costarred in Speedway.
"With the Colonel, the Colonel's staff, and all the guys, their wives and girlfriends, Elvis attended Nancy Sinatra's opening (August 29) at the International the night after he closed. In keeping with the expansive way he was feeling, Colonel took out newspaper and radio ads in his and Elvis' name, urging people to attend the Sinatra engagement … Then they all went off to a party hosted by Nancy's father."
Nancy did not attend Elvis' funeral eight years later. "Please don't come; it's going to be impossible," Joe Esposito told her when she called Graceland that day. "Stay home."
In a 2015 online Daily Mail interview, Nancy Sinatra responded to the question, "Who would be your dream dinner date?"
"Elvis. He always made me laugh. He was silly, funny and such a lovely guy to be around. When we did our movie, he had a tandem made for the two of us. He'd say: 'Nancy, let's go for a ride' and then we'd go off and within seconds all these Elvis fans would descend on us and we wouldn't get more than a few minutes of cycling done. But it was fun. He loved life, he loved to laugh."
Alan Hanson | © February 2017