Everybody Had an Opinion
About Elvis in the Fifties
Over the last decade, I've spent hundreds of hours mulling over newspaper archives searching for interesting information about Elvis to use in my Elvis blogs. Occasionally, I came across comments about Elvis by celebrities of all sorts. Many of them, though, were too brief to warrant expansion into a full blog essay. Still, I copied the interesting quotes down, pending an opportunity someday to share them with Elvis History Blog readers. A good opportunity has never presented itself, so I'm creating one.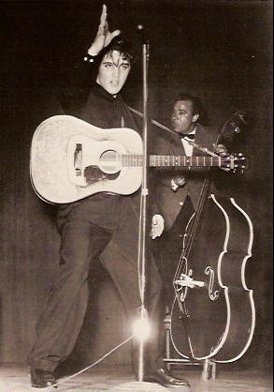 Below are 20 brief comments about Elvis Presley from 19 celebrities, mostly other entertainers. All of the following quotations come from the 1950s. As could be expected from that volatile time in his career, some of the comments are negative and others are positive. They are presented in chronological order, followed by some brief commentary.
• "Elvis Presley? I can't see that he has any talent." — Cab Calloway (The Ottawa Citizen, April 3, 1956)
Cab Calloway was a jazz singer, dancer, and bandleader who appeared regularly at the Cotton Club in Harlem. He was 49 when he denied Presley's talent in 1956. Calloway's opinion was shared by most his generation's entertainers, who considered jazz to be America's greatest contribution to the arts.
• "I think this wild, debauching stuff is a frightening trend. I have two young children and when I think of their growing up exposed to it, I feel ill. I was shocked to hear that a man of integrity like Hal Wallis had referred to Presley as a great dramatic actor. It just shows how far a man will go for the almighty dollar." — Mel Torme (June 14, 1956 in The Arizona Republic.)
Nicknamed "The Velvet Fog," Torme was a singer and composer of jazz music. Ten years older than Elvis, he witnessed the popularity of his generation's music fading before the onslaught of Elvis and rock 'n' roll. Some accepted the change gracefully. Torme was not among them.
• "They talk about Elvis Presley. He might be attractive when he grows up." — Anita Ekberg (August 18, 1956, in Earl Wilson's "Last Night" column.)
A Swedish born Italian actress, Ekberg was best known for her role as Sylvia in La Dolce Vita. Less than four years Elvis' senior when she made the above remark, she obviously was suggesting that Elvis acted childishly at the time. 
• "This is a little beyond the fad stage … I haven't seen him but it seems that he appeals to the lowest, baser instincts of life … he's a negative influence on young people." —Reverend Billy Graham (September 2, 1956, in the Asbury Park Press.)
Many people in the 1950s looked to religious leaders, such as Billy Graham, for guidance on social issues they found confusing. Although Graham blasted Presley initially, a year later, after learning about Elvis' religious values, he was willing to give Presley a spiritual pass.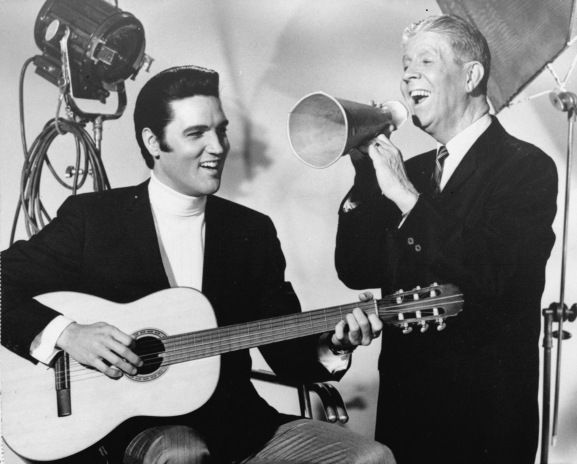 Above: Elvis and Rudy Vallee in 1968's Live a Little, Love a Little
• "Presley feels as I did back in 1929. He doesn't have much of a voice so he compensates with assorted gyrations. But people say they enjoy his performances and who am I to question what someone else likes?" — Rudy Vallee (October 15, 1956, in a United Press article.)
• "Presley's all right. I'm for him. He sings on key once in a while and he doesn't play the guitar too much." — Rudy Vallee, (December 5, 1956, in Vernon Scott Hollywood column.)
Since Vallee was one of the first modern teen idols in the 1930s, he could understand Elvis better than most of his generation. His quotes above reveal his belief that entertainers high in charisma still could make it big with a modicum of talent.
• "You don't have to See Elvis Presley to Dislike Him." — Groucho Marks (November 2, 1956, in Jack O'Brian's Hollywood column.)
Although his run of classic Marx Brothers movies was in the past, at age 66 in 1956, Groucho kept his quick alive as MC of TV's "You Bet Your Life" quasi-quiz show. A master of the double entendre, Groucho observations often caused the audience to pause before realizing the underlying humor. The above statement about Elvis is a classic example.
• "Elvis Presley is a credit to the profession. He has a great talent and a fine style, although I believe that the 'wiggle' definitely has to go. I worked with him on the road and he is really a nice guy, not at all like the papers have made him up to be." — Bill Haley (November 21, 1956, in the Quad-City Times, Davenport, Iowa.) 
A fellow rock 'n' roll pioneer, Haley usually had the King's back. Even he, though, at 29 years old in 1956, was befuddled by Elvis' stage antics.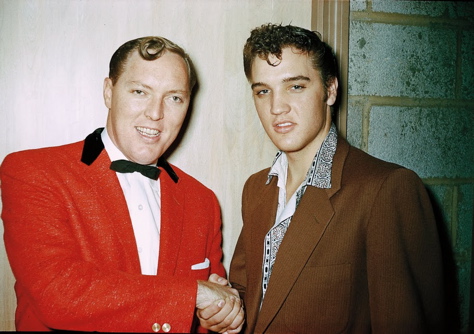 Above: Bill Haley and Elvis in Cleveland, November 1956
• "He's not the sort of artist I'd choose to listen to for my own pleasure—nor am I, for that matter." — Johnny Ray (December 17, 1956, in Sheilah Graham's Hollywood column.)
Elvis meteoric rise to fame in 1956 was often compared to Ray's sudden stardom the year before. Ray, two years older than Elvis, was not a rock 'n' roller, but his "in your face" singing style helped smooth the road to popularity for "shouters" like Elvis.
• "I wouldn't write off this Elvis Presley too fast either. That guy is a symbol to a lot of kids with troubles—but he's got something above his neck, too, and it comes out." — Paul Whiteman (January 17, 1957, in the San Bernardino County Sun.)
Whiteman led one of the most popular U.S. dance bands in the 1920s and 1930s. He was 66 years old in 1957 when he demonstrated a rare understanding of the Presley's ability and his appeal to young people. 
• "Presley has a pretty good beat, and he sings in tune, but he needs more training and more diversified material … You can't just sing 'Hound Dog' all the time, and his tunes all sound like it. I think he's a sexy-looking kid … but he has to take those sideburns off." — Bing Crosby (January 1957 in Variety.)
In 1957, Crosby seemed to be taking the middle road in his assessment of Elvis. Of course, some years later he famously declared that Elvis had never made a contribution to music. He did say some nice things about Presley after Elvis' death, however.
• "Elvis originally grew those sideburns to make him look older. As for the movements, I wish I could do them. But they've got to be natural, as they are with Elvis, for them to come off well." — Tommy Sands (March 12, 1957, in Harold Heffernan's Hollywood column.)
A year younger than Elvis, Sands became an instant teen idol with his recording of "Teenage Crush" in 1957. After he turned to making movies, the shine on his star wore off for teenagers. His quote above provides a simple, but insightful explanation into why others were unable to duplicate the energy of Elvis' stage movements. Sands was married to Nancy Sinatra, Elvis' Speedway co-star, from 1960 to 1965.
• "In our Easter show (of "Your Hit Parade") they had me as a sleeping princess. The prince woke me with a kiss and I started singing 'All Shook Up.' Can you imagine? The choreographer kept telling me—just THINK it's a beautiful ballad. But who can think 'All Shook Up' is a beautiful ballad? You know, some day I'd like to meet Elvis Presley, who's responsible for all this. All I'd have to say to him would be—thanks buddy, thanks a lot." — Gisele Mackenzie (April 26, 1957, in United Press article out of New York.)
Gisele Mackenzie was a Canadian-American actress and singer, best known for being a crooning cast member on the TV program "Your Hit Parade" in the mid-fifties. She was a generation older than Elvis, and her music tended toward the romantic songs of the Crosby era. When Presley and other rock 'n' rollers took over the pop chart, Mackenzie and her cohorts on "Your Hit Parade" found themselves trying to sing the lyrics of current rock hit songs to old pop arrangements. They thought they were being made to look foolish. And they were right!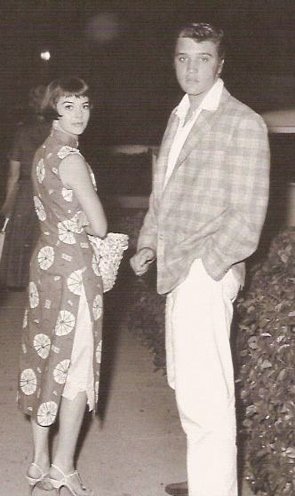 (Left: Natalie Wood and Elvis, 1956)
• "There never was anything between Elvis and me. How could there be? We never had enough time alone. My biggest mistake was going to visit him at his home in Memphis. I didn't realize people would make such a circus out of it. I'm not saying I wouldn't do it again. I probably would. But I wouldn't let anyone know about it." — Natalie Wood (September 25, 1957, in Bob Thomas' Hollywood column.)
In 1956 Natalie Wood brought too much noise to Elvis' personal life. She apparently believed that's why Elvis never sought a relationship with her. In Alanna Nash's Memphis Mafia book, one of Elvis' guys offers a different reason for Elvis passing on Natalie Wood. It's too crude to mention here.
• "Presley's good, but it will take him years to become an accomplished artist." — Flamenco guitarist Carlos Montoya. (November 9, 1957, in an Associated Press article out of Los Angeles.)
Montoya was a widely respected flamenco guitarist, who played with symphonies and orchestras around the world for several decades. It seems unlikely that he was speaking of Elvis' talent with the guitar in the quote above. However, any positive comment about Presley from such a renowned musician was welcome in 1957.
• "His influence is corrupt, horrible and diseased. You know he can't do a thing: he can't act and he can't sing. The only thing he has is you know what … He is a terrible influence on our young girls, the future mothers of this country. He's destroying our homes." — Elsa Maxwell (December 1 1957, in a wire service article out of New York.)
An American gossip columnist, author, and hostess, Elsa Maxwell was 74 years old when she lit into Elvis in 1957. At the same time, though, she was criticizing many other people in all walks of life. That was how she got her name in the papers long after most people had stopped caring what she thought about anything.
• "It's not that I'm jealous of Elvis Presley. I think he's wonderful. He's an American boy who does in public what everybody else does in private." — Bob Hope (January 25, 1958, in "Les Dine Says" column, Honolulu Star Bulletin.)
Bob Hope was the country's preeminent humorist in the 1950s. Some people began to walkout on him when he made some unpopular political comments in the seventies, but in the fifties everyone was a target for his famous one-liners. I'm sure even Elvis  laughed at Hope's comment about him above.
• "We must not condemn music which is not on a level as high as we'd like. A person who is listening to Elvis Presley in a five and ten is listening to a folk singer and is getting something from it." — Victor Borge (February 14, 1958, in "Television and Radio" column by Richard Maney, The State Journal, Lansing, MI.)
A Danish pianist and comedian, Borge achieved popularity on American radio and TV programs in the 1950s. At age 49 in 1958, he had seen popular music go through many changes during his career. He didn't embrace Presley's musical style, but he was intelligent enough not to dismiss it, as did many others of his generation.
• "I'm not interested. He's not refined." — Bridget Bardot (October 6, 1958, quoted in numerous newspaper columns.)
When Elvis was asked what he'd like to do while serving with the U.S. Army in Europe, one of his responses was, "I'd like to meet Bridget Bardot." Her response needed no analysis.
• "If he can throw Cadillacs into the water jus' because there's dust on 'em, he must be doin' all right." — Louis Armstrong  (May 5, 1959, The Union Standard, Uniontown, PA)
Of course, Elvis never threw a dusty Cadillac into the water anywhere, but Louis Armstrong's tongue in cheek quip showed that he joined the likes of Paul Whiteman, Rudy Vallee, and Bob Hope in accepting the musical changes that Elvis Presley brought to the American scene in the 1950s.     — Alan Hanson | © June 2019